India specialist James Carpenter brought back this recipe for Keralan fish curry from a recent trip to Kerala, where he spent a few days at a rural homestay in Palakkad. Take a look and give it a try.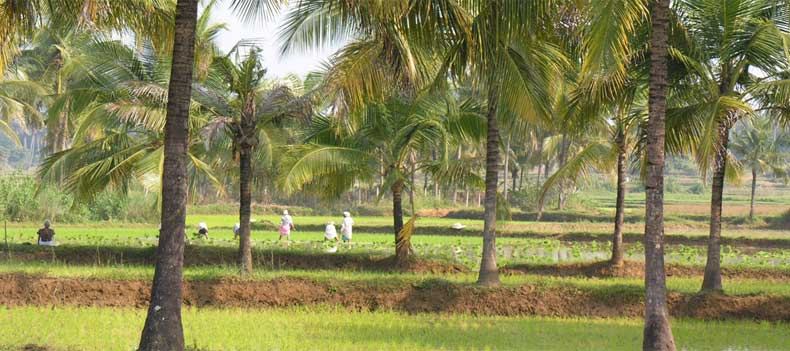 In addition to the warm, friendly service and beautiful surroundings, it was the delicious, home-cooked food that became a highlight of the visit for James. One such culinary delight came in the form of a traditional Keralan fish curry, which he and the other guests were treated to.
The freshness of the ingredients and the subtle and expertly blended spices struck a chord with his taste buds, so much so that he had to get the recipe to try it for himself when he got home.
And here it is:
Ingredients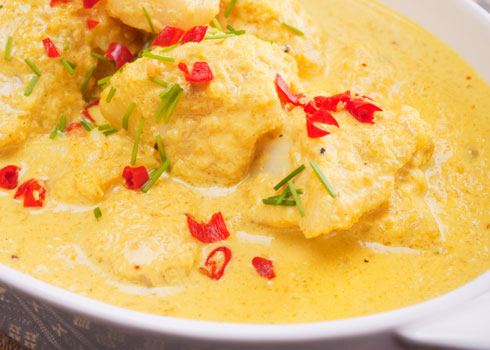 Approx. 10 pieces of fish cut into 4 cm cubes (any fish goes, although traditionally Seer Fish or King Fish is used, both members of the mackerel family).
15 shallots, peeled.
10 cloves of garlic, peeled.
A chunk of ginger (approx. 2.5 cm).
30 ml coconut oil.
½ tsp mustard powder.
¼ tsp fenugreek.
1 tbsp red chili powder (less if you prefer your curry mild).
A few curry leaves.
4 pieces Malabar tamarind or 2 tbsp tamarind paste.
Salt to taste.
Method — serves 6
1. Crush the shallots, garlic and ginger in a pestle and mortar or food blender.
2. Pour the oil into a large, heated pan or wok and add the mustard, fenugreek and the crushed ingredients.
3. When well sautéed and fragrant, add the red chili powder and pour in enough water to loosen the sauce.
4. Add the curry leaves, tamarind and salt.
5. Once the mixture is boiling, add in the fish and allow it to cook for a few minutes until tender.
6. This dish is best served a few hours after cooking, so that the flavors develop and are absorbed by the fish.
Find out more about Kerala, Palakkad and India with Audley
Book a trip to India and enjoy tiger watching vacations in Ranthambhore and Kanha National Parks. Visit Delhi and enjoy wonderful architecture, or spend time in the tea plantations of Darjeeling and Sikkim in north eastern India.