India's diverse landscapes and varied climate are reflected in its many national parks and sanctuaries, each offering its own slightly distinct wildlife experience.
The country supports a huge range of both unique indigenous species and those passing through on their annual migrations. It is home to more than a dozen cat species alone and India remains the only country in the world where both the tiger and lion can be found in the wild.
Plan your wildlife trip to India
---
Start thinking about your experience. These itineraries are simply suggestions for how you could enjoy some of the same experiences as our specialists. They're just for inspiration, because your trip will be created around your particular tastes.
Plan your India safari
Having visited the parks ourselves, we use the best local guides available who do their utmost to ensure that you get the best sightings possible.
Though sightings cannot be guaranteed, you can be assured that every game drive is a unique event and the multitude of animals and birds will keep the keenest eye busy.
We suggest travelling at a slow pace so that you have time for photography, detailed wildlife exploration and some relaxation as well as the chance to get to know the country's culture. We want your tour to be enjoyable as well as informative, to inspire you to return and see more of the subcontinent's great natural wealth.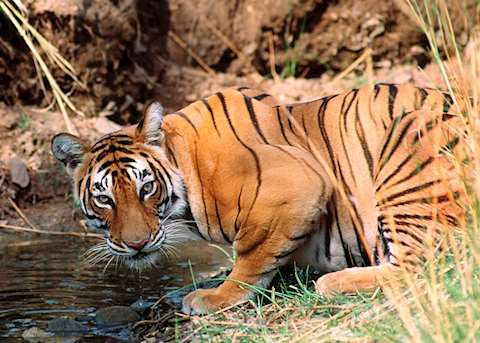 Tiger drinking, Kanha National Park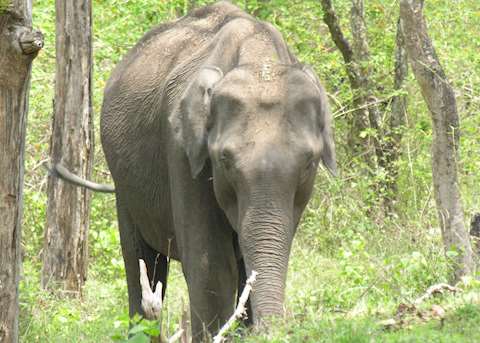 Wild elephant, Nagarhole National Park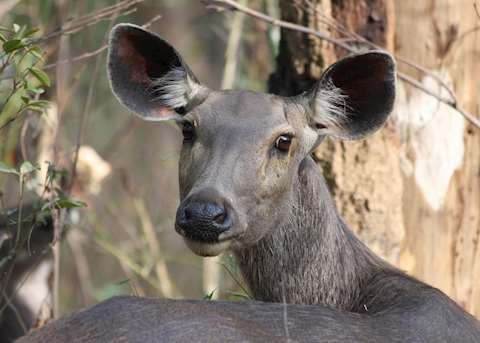 Sambar Deer
Audley and TOFT
Audley is a member of TOFT, (Travel Operators for Tigers) who, in conjunction with Global Tiger Patrol, supports a sustainable approach to tourism in the wildlife reserves.
This means you can be sure that your tour and itinerary are being operated in a responsible manner and will benefit the local villagers and the wildlife within the parks you visit.
Audley has been a member since 2007 and this year as part of our commitment to TOFT £15 will be contributed for each person who travels to one of India's national parks where tigers are present.
Our top tips
The accessibility, infrastructure and facilities of the Subcontinent's parks varies considerably. For example, though some parks are just a short drive from main cities, others are more remote and can be reached only by taking an overnight train.
Our specialists can advise you on such aspects based on their own personal experiences.
In rural areas electricity supplies can be erratic, and although most properties have generators as essential backup, light levels in rooms can be low at night and a torch is also handy in case of power cuts.
Game drives are made in open jeeps so you should take a jumper and fleece with you as the parks can be cold early in the morning and evening. December and January are the coldest months and gloves and a hat are also advised on game drives at this time of year.
In January and February there may be an occasional heavy downpour in Kanha in India so a light rain jacket, which will also protect against wind chill, is recommended.
The day quickly warms up and sunhat, neck scarf (which can also be pulled up over your face when dusty) and good sunscreen are essential as you will be outdoors in full sun and temperatures can easily reach 40°C. You should drink plenty of water to avoid becoming dehydrated.
Binoculars are highly recommended.
There are some wonderful photography opportunities while on safari so remember to take plenty of film or memory cards and batteries as these are not always widely available locally. Photography and video fees are often payable.
Please note that the lodges and hotels in these remote areas rarely take credit cards. You will need to take enough cash to cover any extras such as drinks, souvenirs and tips for your stay.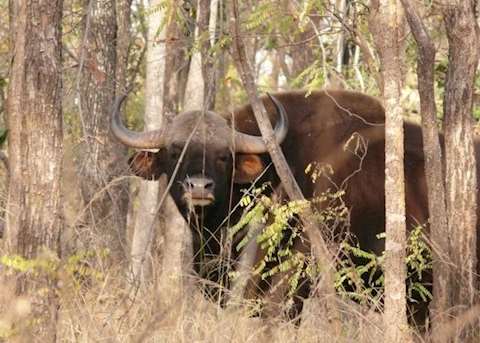 Bison spotten on a walking safari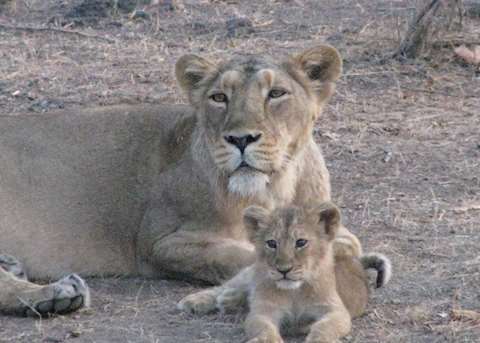 Mother and her three month old lion cub seen on a jeep safari at Gir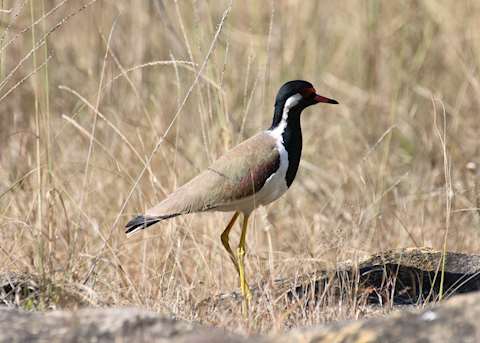 Red-wattled Lapwing, Chambal Safari Lodge, India
When to go
The best time to visit India to view its incredible wildlife is between the months of November and April. The climate is warm in the daytime and cool in the mornings between these months and more importantly the weather is generally dry.
Sightings can be higher in the hotter months of March and April as the waterholes dry up and animals congregate at the few that remain. However, the temperature reaches 40°C or more in the middle of the day and some tented accommodation will be closed. Most national parks are closed from July through to September.
A typical day on a wildlife safari
Jonathan is an Audley specialist who found the early drive worth getting out of bed for when he came face-to-face with one of the world's most impressive animals in one of India's national parks.
At a light knock on the door I opened my eyes to find it was still dark. As I looked at a clock that told me it was not yet 5am, there was another knock and I realised that this was the alarm call for my first day in India's national parks. Opening the door, I found a tired but smiling young man carrying hot tea, biscuits and the news that the jeep would be ready in one hour. This is all very civilised for the centre of India, I thought, though I later realised that this is the norm for this area. Woken up by breakfast and a hot shower, I was soon champing at the bit for a day of adventure.
After a 20-minute drive I found myself inside the most beautiful national park I have ever seen, wide mouthed in admiration at its jungles, mountains and meadows. As I nestled under warming blankets while we meandered along the endless miles of pathways, my naturalist explained how he tracks tigers and what he needs to look out for. Just as I was admiring the beautiful white-spotted deer, the jeep stopped and the driver pointed to the ground, whispering 'pug mark' - the footprint of a tigress. Apparently these were fresh and the tiger was close by, so we slowly followed the pug marks until they disappeared into the thick of the forest 20 metres down the road.
After sitting and waiting for a few minutes the naturalist told the driver to drive on, and for the next hour or so we wandered through the jungle, spotting many deer and a myriad of birds before finding a nice clearing surrounded by hills for a welcome breakfast of tea and coffee, eggs, toast and potatoes. This is exactly what I needed, and soon I was ready to get back on the road and find my tiger.
Back in the jungle I started to understand a little of what the naturalist was doing. He constantly cocked his head, listening to every sound with his eyes zipping around looking for movements. Occasionally he even sniffed the air and mumbled directions to the driver, and I started to realise that he really knew what he was doing. Sure enough, he soon spotted more pug marks - this time male, though they looked the same to me - and we slowly began to track them. Hearing something that sounded like a dog in the background, he explained that this was a barking deer and that a tiger was close by, a conclusion with which the langur monkeys in the branches overhead agreed, jumping from tree to tree and giving the alarm call. The naturalist whispered that we were really close, and my heart jumped to my mouth - was I about to spot my first ever wild tiger? Better get the camera ready just in case... all of a sudden, not 20 feet away, appeared the most beautiful creature you could ever possibly see.
He looked at us with suspicion in his eyes, but after a few seconds decided that we were no threat to his kingdom, just those strange creatures on wheels. He slowly wandered towards us with an arrogant lope, and sidled up towards the jeep. Suddenly he stopped and looked right into my eyes, freezing me in his glare and sending my heart racing faster than I had ever felt it beat before. Then he resumed his patrol along the path, but just before he disappeared into the jungle again he looked around at us as if to say goodbye.
For a moment nobody said a word, and I just stared at the path where this beautiful cat had just been. Beaming proudly, the naturalist explained that I had just seen a three-year-old male who was becoming the dominant male of the forest, though he hadn't seen him for a few weeks. The sound of my camera turning itself off startled me, and I realised that in all the excitement I hadn't taken a single photograph.
The morning's objective accomplished, my naturalist suggested we head back to the lodge as it was already 10:30 am. As soon as I heard this I realised just how amazing the morning had been. Time had no meaning in this place, and had simply flown by. We were in the presence of this incredible creature for only a few minutes, but with the pure exhilaration it felt like only a second.
Everything I had heard from friends about seeing tigers paled in comparison to actually seeing the real thing, and I was already addicted. I couldn't wait for the next game drive - roll on 5am and my early morning cup of tea.