By India specialist Jason
Opulent palace-forts, marble monuments inlaid with precious stones, temples carved by the finest artisans… Rajasthan is where the enormous wealth of the Mughul empire left its most enduring cultural legacy. This regal heritage is reflected in the types of hotels and experiences you can include in your trip here, making it my go-to destination if you're eager to travel in luxury.
I suggest basing your trip around the Golden Triangle — the trio of Delhi, Agra, and Jaipur — with a few additional stops, depending on what interests you. To get you started, I've outlined some of the most lavish stays and exceptional experiences, which can be combined into a luxury Rajasthan trip.
Best luxury experiences in Rajasthan
There are myriad ways to immerse yourself in Rajasthan's vivid culture — cooking classes, guided tours, game drives, and workshops, to name just a few. However, for a memorable and indulgent trip, I suggest including some exceptional, once-in-a-lifetime moments, like these.
Private safari, Ranthambhore National Park
For most visitors to Ranthambhore National Park, game drives happen with the park's excellent rangers and include a handful of other visitors. These are amazing experiences, of course, but not intimate ones. Only a few camps around the park are allowed to offer private safaris, with their own naturalists in their private vehicles. The most luxurious is Sher Bagh, which combines a private safari with a truly luxe stay (more on that below).
The private game drives allow you to focus on whatever wildlife you're particularly interested in. Yes, there are tigers here, but you might want to look for leopards, hyenas, wild dogs, or some of the park's rare birdlife. I also find it's easier to appreciate the natural beauty in luxurious solitude.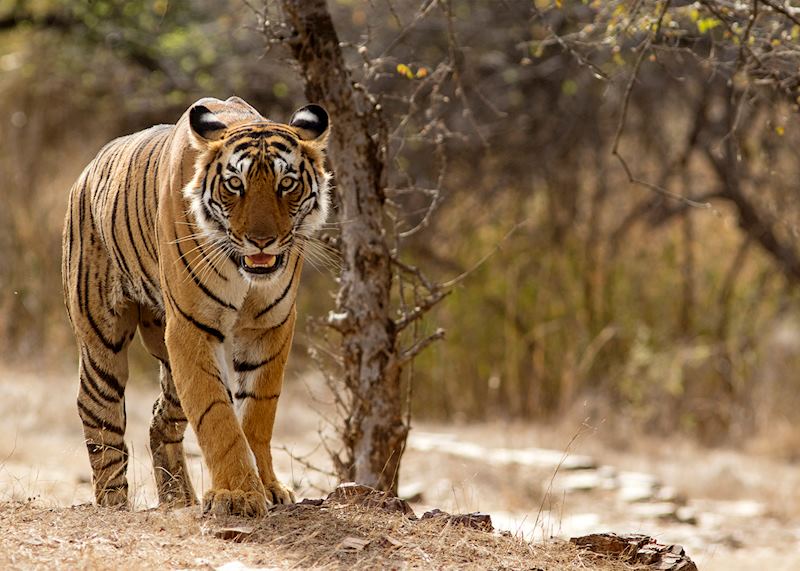 After hours visit to Fort Mehrangarh, Jodhpur
Carved directly into the sheer stone cliff that dominates the Jodhpur skyline, Mehrangarh is a rugged fort with elaborate palaces sheltered behind the imposing walls. This is one of the most important and impregnable forts in this part of India and a visit here is vital to understanding the history of Rajasthan, making it an excellent addition to any Golden Triangle trip.
I can, of course, arrange a guided tour during the day, but for a deeper insight, I suggest a private after-hours visit. You'll arrive as the other visitors filter out the gate and meet the museum's curator, who is one of the world's foremost experts. As you get a personal tour of the citadel (which is still run by the local royal family), you'll gain insights into the local history and hear stories dating back to the 1808 construction of the complex.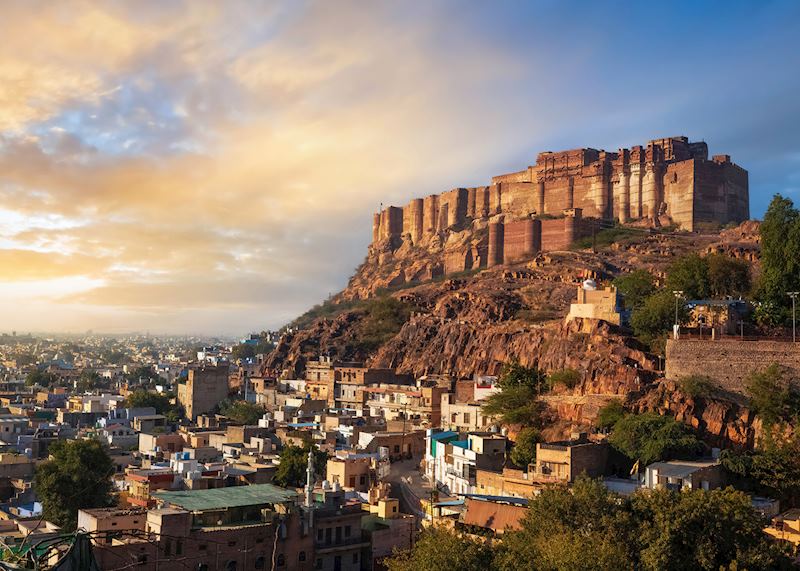 Dinner at a stepwell, Narlai
Deep and wide wells lined with rows of steps cut into the rock walls, stepwells date back to the 2nd century AD. They are often elaborately carved and have played a key role in sacred rituals — many are still in use today.
To deeply appreciate the beauty of these ancient structures, I suggest having a private dinner at one. This is a treat you can only experience while staying at Fort Rawla in Narlai, between Jodhpur and Udaipur. The experience begins with a 20-minute ride through the local village in a cart, the way lit by men in bright turbans carrying oil lanterns.
The well itself, which dates back more than 1,000 years, is lit with hundreds of lanterns. Sitting at the edge of the well, you'll enjoy a traditional thali meal cooked over an open fire just a few feet away. As you dine, a local performer will sing or dance for you, lit only by the stars and the many flickering flames.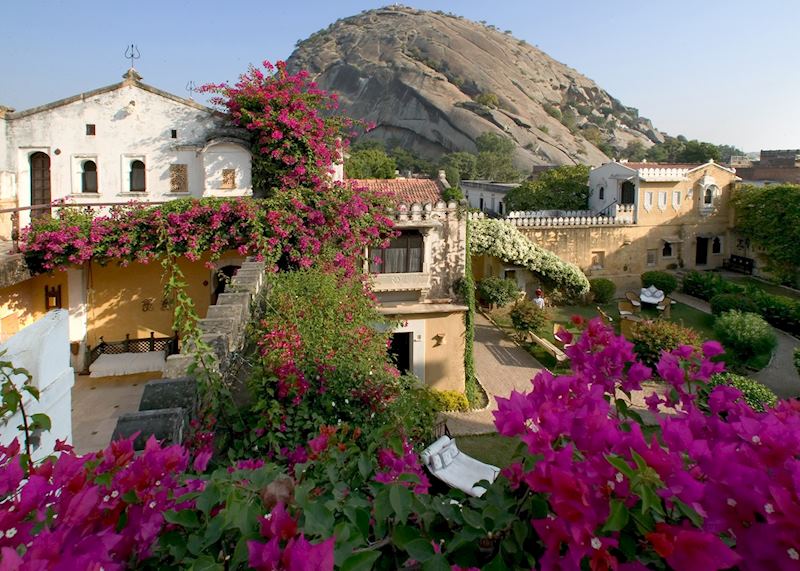 Five of the best luxury hotels in Rajasthan
Ranging from regal hilltop forts with thick, turreted stone curtain walls to decadent, delicate pleasure palaces made from the finest white marble, the palace-forts of India are one of the country's most iconic elements. You can stay in one in many places across the country — we have a whole guide on how to do just that — but I feel like the crème de la crème are here, in Rajasthan.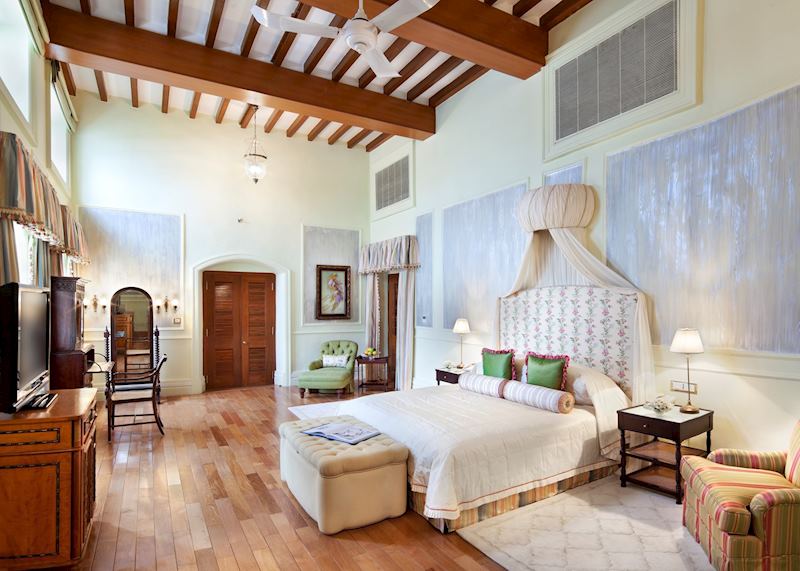 Six Senses Fort Barwara
Inside the imposing walls of this 14th-century citadel, Fort Barwara has converted its series of palaces and temples into a haven for indulgent self-care. It's located between the tiger-stalked jungles of Ranthambhore National Park and the pink royal architecture of Jaipur, making it a conveniently placed option for a restorative two-night pause on your trip.
There are no mere rooms here. Instead, you'll choose from a variety of expansive, tranquil suites that range from luxe to majestic — you can even opt for the Raja Man Singh Pool Suite, which has a private pool inside a turret, with a dining pavilion that's surrounded by the water of the pool.
The hotel's focus on wellness embraces both body and spirit, so you can opt for both a guided fire meditation as well as a relaxing massage in the sprawling spa (in the former women's palace).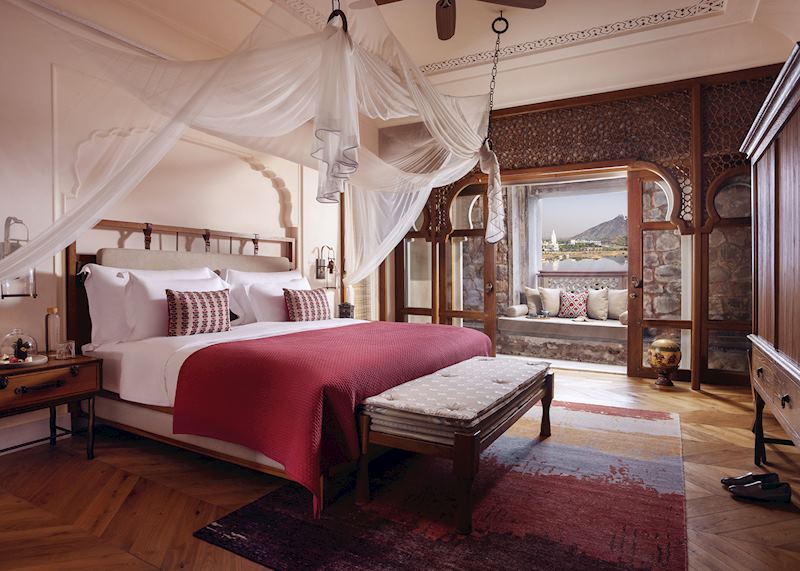 Taj Lake Palace, Udaipur
The artisans who constructed the Taj Lake Palace sculpted gleaming white marble into domes, arches, and galleys so airy that the whole confection seems to float on the shimmering waters of Lake Pichola. This was the island summer retreat of Maharana Jagat Singh II in the early 1700s and today it's still a retreat worthy of royalty. (It's also hosted Hollywood aristocracy — scenes from the 1983 Bond film Octopussy were shot here.)
Only guests are allowed to even step foot on the island palace, even to have a drink at the restaurant, making it an exclusive venue indeed. The rich decor recalls the original 18th-century extravagance — ivory velvet and jewel-tone silks glimmering with gold-thread embroidery and dark wood that's been elaborately carved and then gilded. You can opt for a view of the lake or one of the cool green courtyard gardens.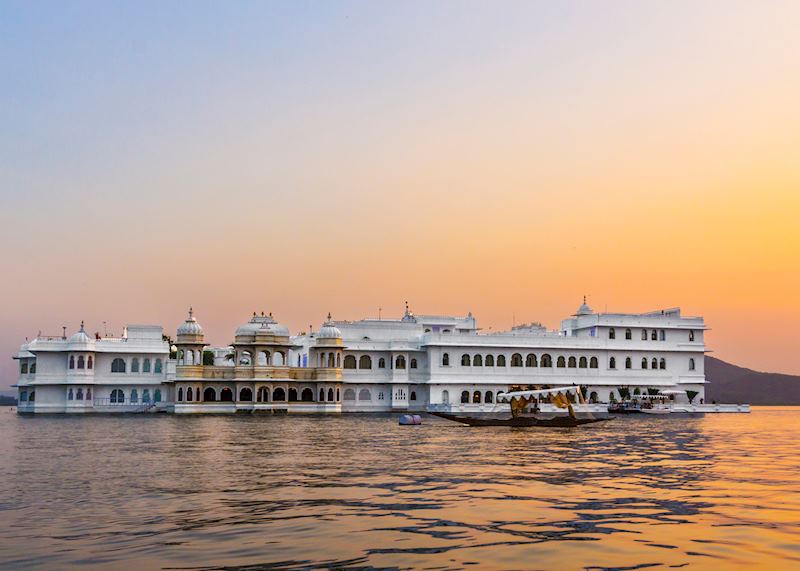 Umaid Bhawan, Jodhpur
Constructed from the same palm court marble at the Taj Mahal, Umaid Bhawan is perhaps the most opulent hotel we offer anywhere in India, perhaps anywhere in the world. When I say this is a regal hotel, I mean it quite literally — one wing is still the principal residence of the royal family of Jodhpur.
Unlike the hotels I've already mentioned, this was built during the British occupation of India and the interior reflects a seamless marriage of 1930s Beaux Arts and traditional Rajasthani motifs, creating a style that was known as Indo-Deco.
The sprawling complex, done in warm-golden sandstone, includes acres of lush gardens populated by peacocks. Inside, you'll find rooms that redefine decadence, with soaring ceilings, gold Art Deco accents, and furniture carved by hand from rich-brown teak. The location offers exceptional views of the historic Blue City itself, as well as nearby Mehrangarh Fort, which I've already discussed.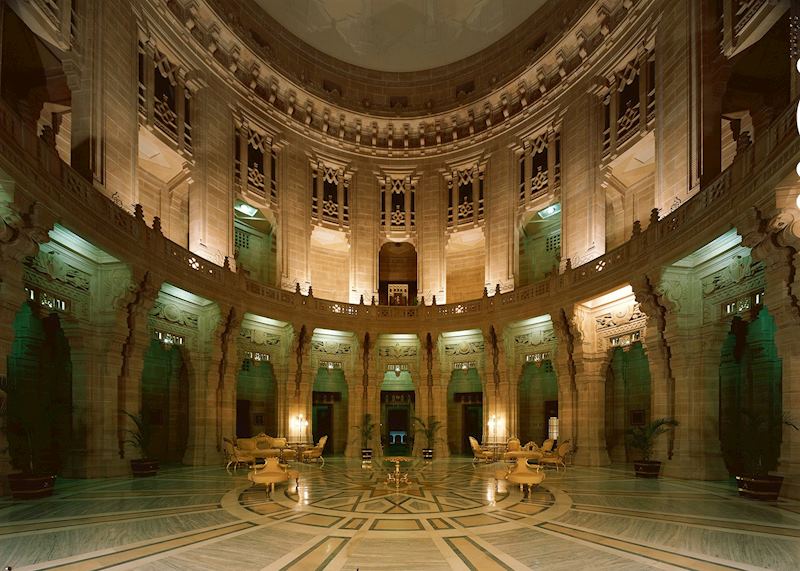 Oberoi Amarvilas, Agra
Though it's also a modern hotel, the Oberoi Amarvilas evokes the height of the Mughal Empire in every peaked arch, splashing fountain, tranquil garden, and graceful pavilion. Additionally, every room and suite has a view of the Taj Mahal, which is just a short stroll away — this hotel just might have the best location in world and it's my top choice for staying in Agra.
The dining here is equally impressive — in particular, I love Esphahan, which features a menu of Mughal classics complimented by traditional naan. Last time I visited, I had a plate of dal, which I admit sounds a bit pedestrian. However, the lentils were simmered in a deftly balanced mix of tomatoes and pomegranate, the rich broth lightened with fenugreek, and you could believe that it was, as the menu claimed, a recipe straight from an emperor's kitchen.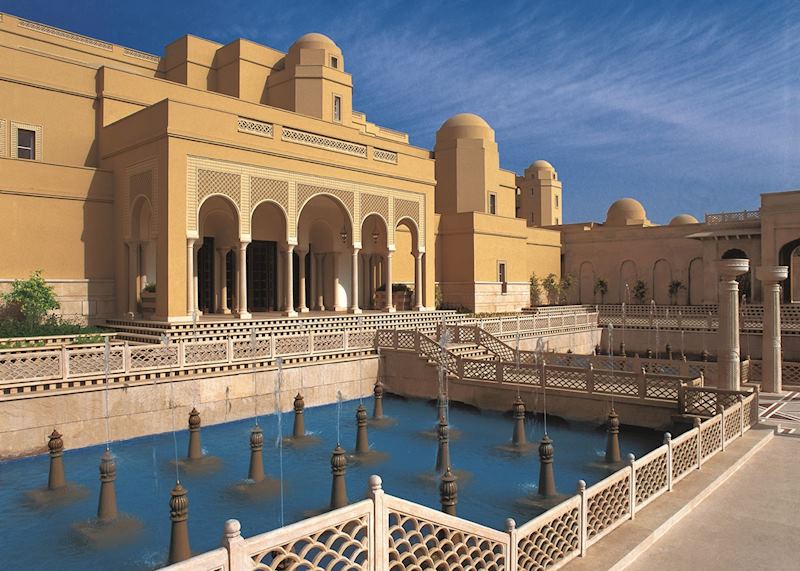 SUJÁN Sher Bagh, Ranthambhore National Park
As I said above, a visit to Sher Bagh is both an exclusive experience and a luxury stay. Sher Bagh offers lavish safari living, with all the creature comforts under canvas. Hand-carved rosewood and teak furniture, spacious tents, a pool, and a near constant parade of Anglo-Indian feasts all mean you'll never feel like you're roughing it, even nestled in the heart of the jungle, just a short drive from the park. You can even opt for an alfresco massage or reflexology treatment from their spa staff.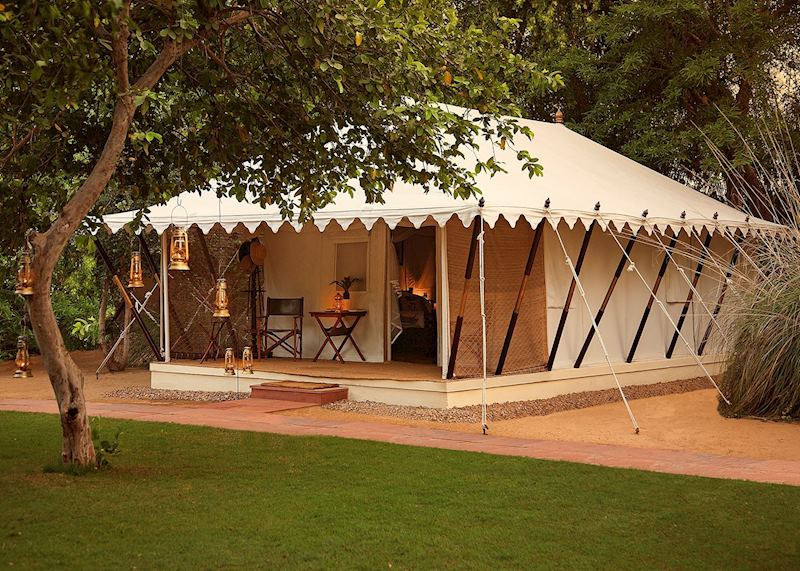 Start planning your luxury trip to India

Start thinking about your experience. These itineraries are simply suggestions for how you could enjoy some of the same experiences as our specialists. They're just for inspiration, because your trip will be created around your particular tastes.
View All Tours in India