Mightily big, sometimes brash but certainly never boring, the USA is a country of striking contrasts and exhilarating experiences.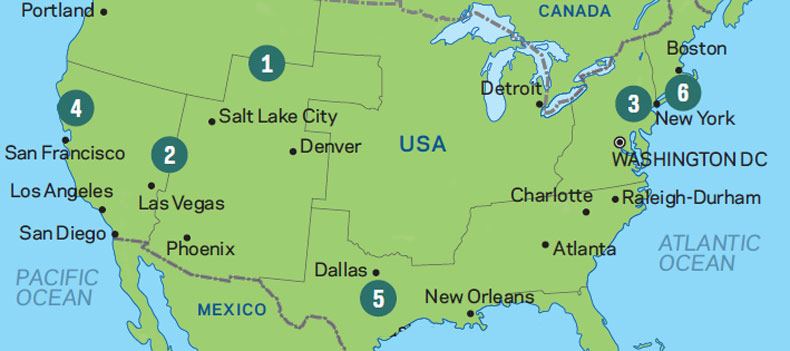 The Grand Canyon, New York, San Francisco, Yosemite, Yellowstone — all wonderful places that are sure to resonate, but there's so much more to a trip to the USA. From abundant wildlife, mountain glaciers, tropical beaches, native civilizations and breathtaking lesser-known national parks, to the soaring skyscrapers of great cities and grand architecture of the southern states.
Read about the experiences that captured the imaginations of our USA team whilst traveling in the USA.
1. Wildlife Watching in Grand Teton
Flying into Jackson in Wyoming is an experience in itself. Crouched in the foothills of the perfectly formed, snow-capped Grand Teton Mountains, it feels just like you've stepped onto the set of the new Bond movie.
On first impressions Jackson is the quintessential Wild West town, but as I discovered on my day out with the Teton Science School, the area gets a lot more 'wild' as soon as you leave the cowboy bars and head toward the mountains. Think bears, bison and wolves: the arid sagebrush plains that cover the Jackson Hole basin are actually full of native wildlife.
At 6am though, I wasn't particularly looking forward to dragging myself out of my snug bed at the Amangani Resort and stepping out into the misty dawn light. However, as soon as I was handed a strong cup of coffee and was greeted with the traditional "howdy, how y'all doing today" welcome that I was becoming accustomed to in Wyoming, I suddenly felt excited that today was the day I might actually get to see some local wildlife.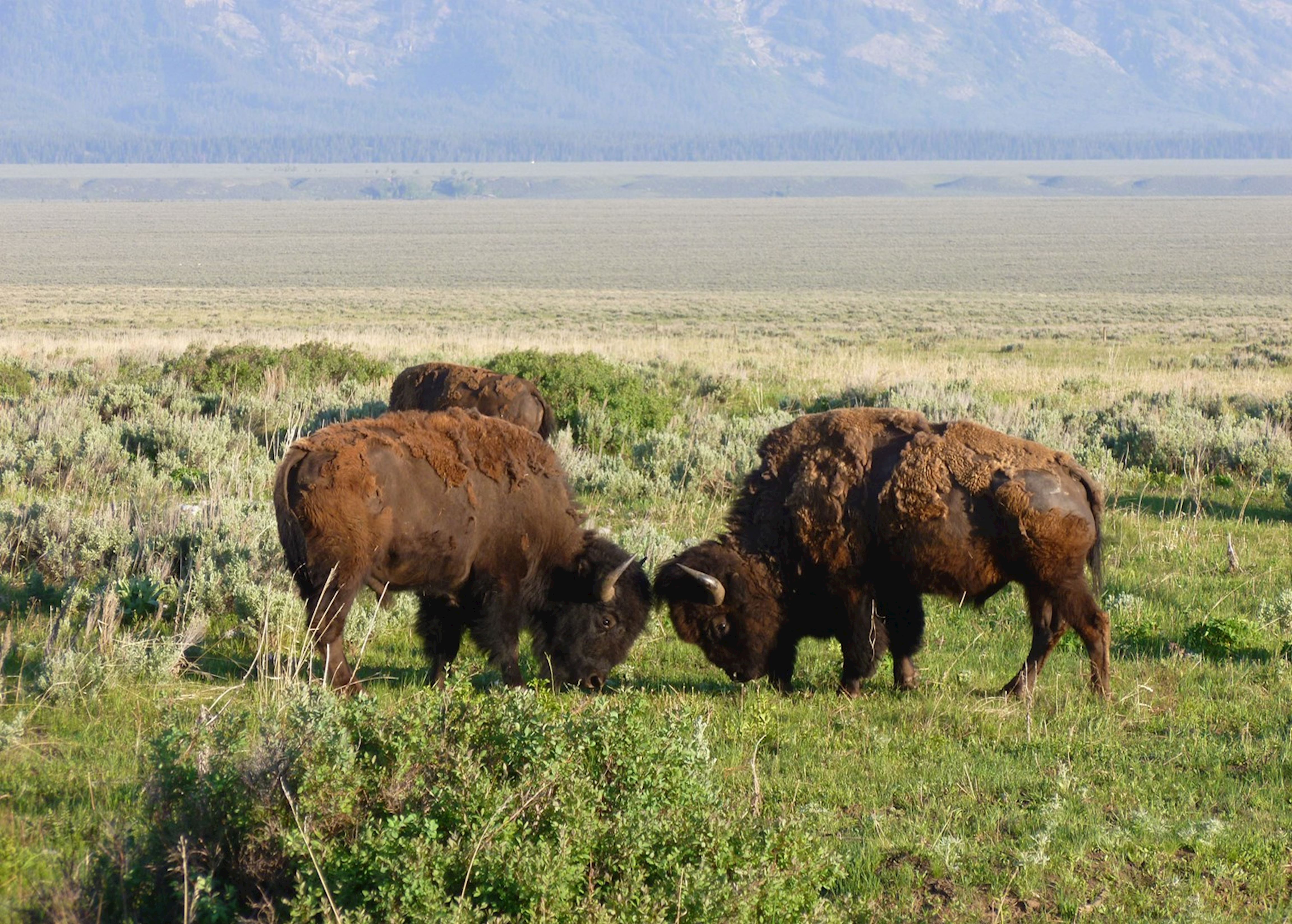 I was hoping to see some bison on this trip. Stampeding bison are an iconic image of the American frontier. Once a staple food source of Native Americans and then victims of the ruthless slaughter of the early western settlers, today bison are sadly seen more above mantelpieces than they are roaming the plains.
It didn't even take our guide half an hour before we had come across a moose basking in the morning sunshine, a beaver dam, several chipmunks, and a huge selection of birds, bugs and butterflies. All the while our guide was scanning the hills for bears and wolves and the grassland for antelope and my beloved bison. We passed pronghorn antelope and a pack of elk before turning a corner and driving off the beaten track and finding a whole herd of bison.
As if on cue, two males started tussling, clashing tusks and fighting for the females' attention. Cameras cannot capture these creatures in enough detail to show how majestic and powerful they are in real life.
Other wildlife experiences:
See stampeding bison in Wyoming and Montana; wolves during winter around Yellowstone; alligators in the swamps of Louisiana; bears roaming in Yosemite and Sequoia National Parks; whales on the coast of Alaska; whales and Hawaiian monk seals in Hawaii.
---
2. Zion National Park
"Are you okay?" asked the stream of hikers boldly striding past me. My official response was that I was just catching my breath, or enjoying the view, although my face clearly displayed an expression of fear. When a gentleman on his way down bluntly advised me that the climb got worse beyond my current position, not better (as the majority of people had been telling me), I knew it was time to make a decision.
For the previous 20 minutes I'd been sat, rooted to the spot, my arm wrapped around a chain handrail. I was on a particularly difficult and narrow stretch of the Angel's Landing Trail in Utah's stunning Zion National Park. Either side of me were 1,000-foot sheer drops and I'd been overcome by a mild, but restricting, case of vertigo. The view of Zion Canyon was indeed spectacular. However, I was taking up too much room on the meter-wide collection of rocks that served as a path.
It was time to check that my legs hadn't turned to jelly, turn around and head back down the trail. It may have been my imagination but I blamed my premature descent on the increased wind blowing over the ridge of the mountain and climbing back down was even more nerve-racking than hiking up.
When I reached the safety of Scout Lookout I consulted my guide book and wished I'd read it in more detail on the way up. It advised that hikers fearful of heights should not venture beyond this point and that people have fallen to their deaths from Angel's Landing. After chatting to fellow hikers I realized that this was a well-known turn around point on the trail, so I felt a little less sheepish on my way back down, and was able to fully appreciate the incredible scenery around me.
Zion Canyon is often overshadowed by neighboring Arizona's world-famous Grand Canyon. However, it offers some of the best hiking on the Colorado Plateau with many options that aren't so vertigo inducing. If you've time for only one activity, then even the canyon's six mile scenic drive is well worth visiting the park for. An overnight stay makes a fantastic side trip from the glitz and glamour of nearby Las Vegas, or en route to Bryce Canyon and the less-visited national parks beyond.
Other walking experiences:
Descending below the Grand Canyon rim on the South Kaibab Trail; tackling parts of the mighty Appalachian Trail from Georgia to Maine; or simply exploring the meadows of the Yosemite Valley in California — there are walks to suit all abilities.
---
3. Helicopter Flight Over Manhattan
There she is, proudly standing all on her own, torch held aloft, watching over the city. She is my first point of focus as the wind gently buffets the rising helicopter, now banking around to the left as I make my way along the Hudson River.
Soaring above the docks of New York's Lower West Side, I pass by the site of the World Trade Center and the old immigration area on Ellis Island. I bank left again, and she is right in front of me, imperious as I circle above, before leaving her and moving along the East River.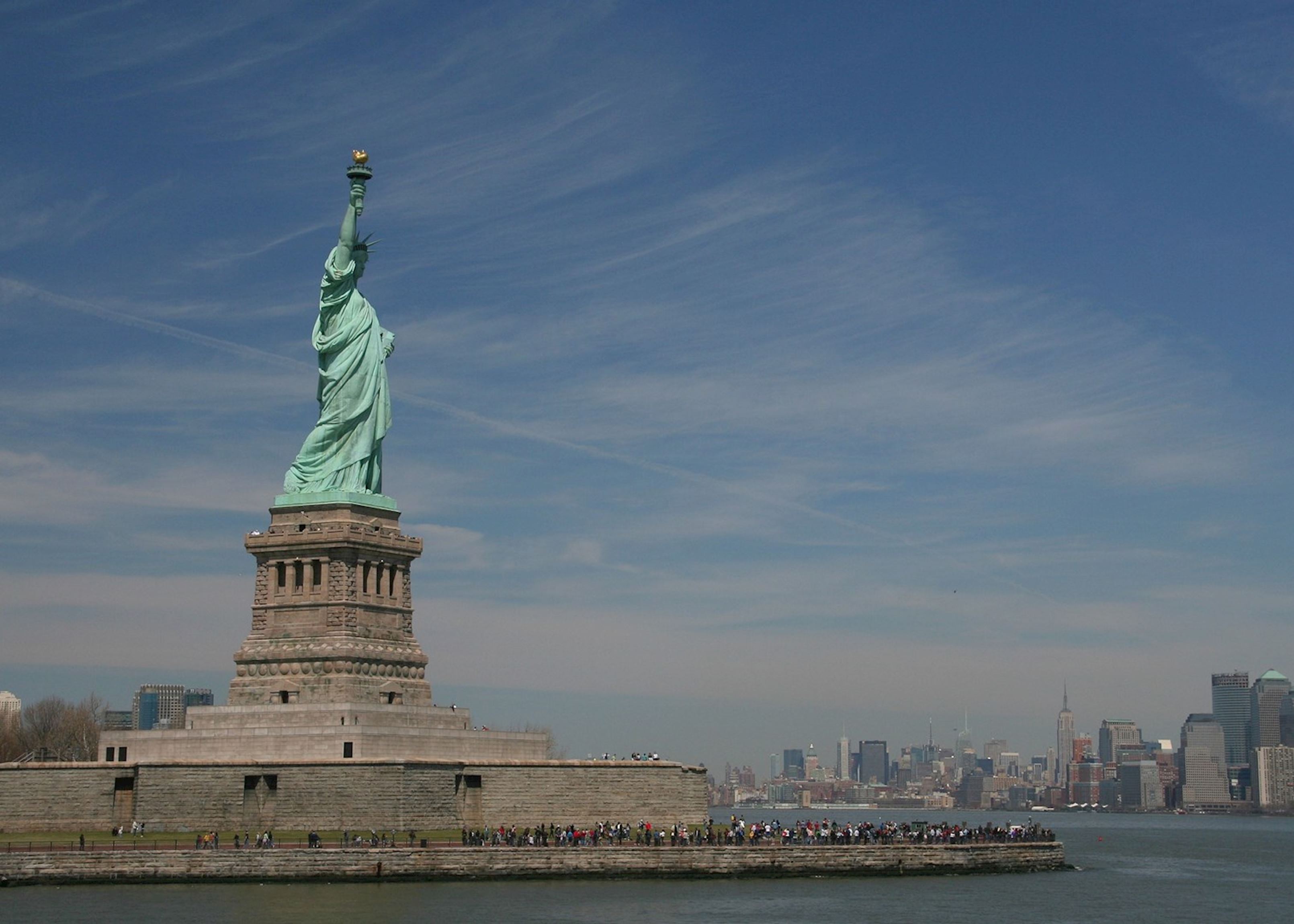 Below, there is now the Brooklyn Bridge, NATO HQ and Yankee Stadium, while off to the left is the towering Empire State Building, dominating the skyline among a multitude of skyscrapers reaching high into the air.
I turn again, this time I'm heading for home, hoping for one last glimpse of her before I touch down. But she's hiding now behind the island's vertiginous architecture. Not that I'm all that disappointed — after all, I know I saw her at her best.
Other airborne experiences:
A helicopter trip over the Las Vegas Strip (at night) or over the Grand Canyon's South Rim; a hot air balloon ride over the vineyards of the Sonoma and Napa Valleys or see the peaks of the Sonoran Desert on the outskirts of Scottsdale in Arizona also by hot air balloon.
---
4. Wine Tasting in the Napa Valley
The thought of having to spit out perfectly good wine was disconcerting, as I and fellow USA specialist, Kim Bailey approached the famous Robert Mondavi Winery.
Our guide and wine educator was Richard, an enthusiastic and theatrical character to say the least. After a fun, informative tour around this grand winery, we got down to the part we were really looking forward to — the tasting!
Entering our very own private tasting room, we took our seats in front of the beautifully laden table, each place adorned with specific Riedel crystal stemware for the different types of wine we were about to enjoy.
Richard placed a number of wines on the table and the lesson began. His energy and boundless enthusiasm for the wine made the experience one we shall never forget. Both novices at wine tasting, we certainly came out the other side a little more sophisticated. Well, that's what we shall tell our manager anyway!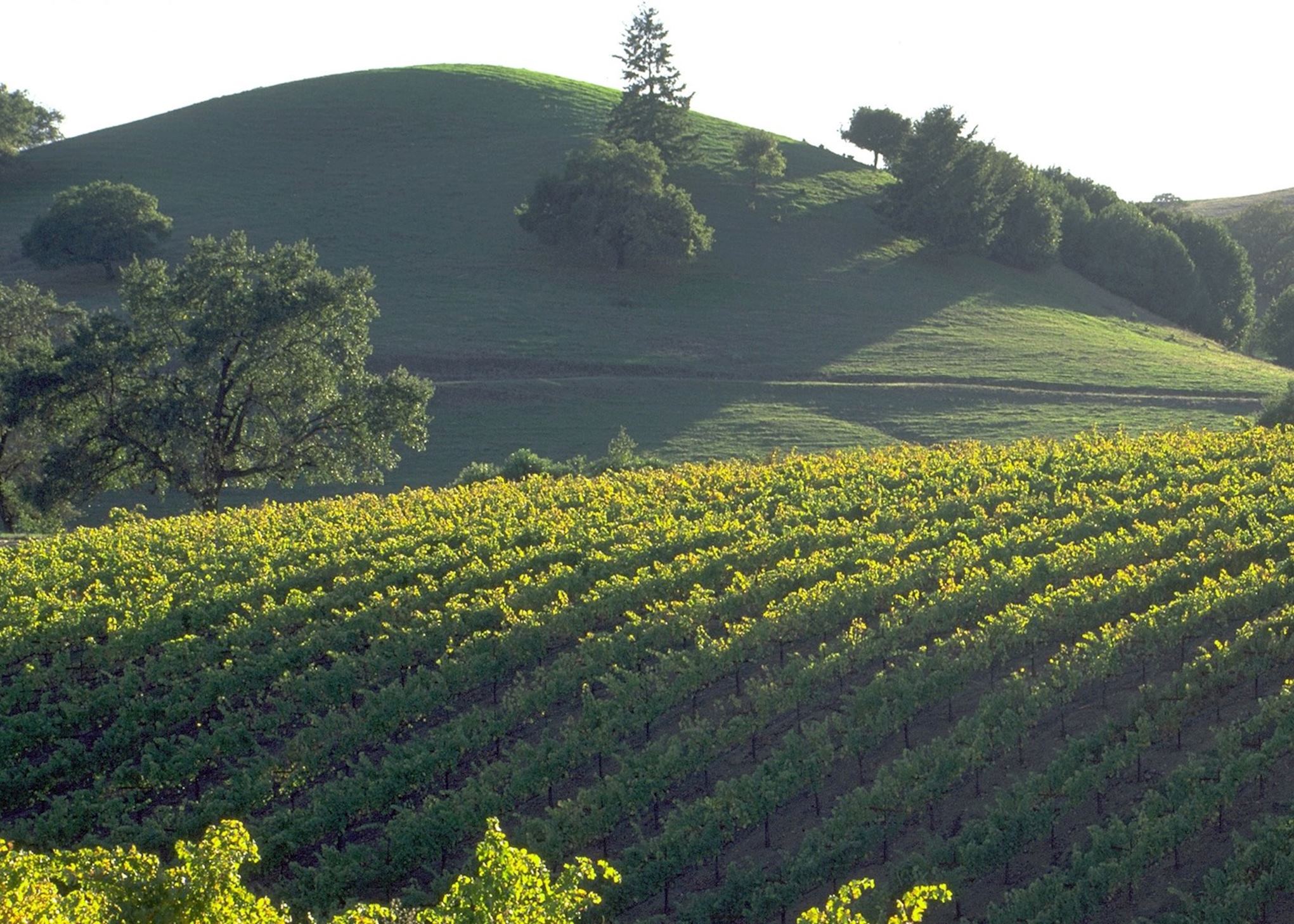 Our Napa experience didn't stop there. On hearing about the magnificent three Michelin-starred restaurant at The Meadowood Resort near St Helena, (one of two on the west coast) we decided that it was not to be missed and how right we were! Eleven courses of the most delicious, surprising and thought-provoking dishes ensued, forever changing our perspective on fine dining.
The Napa Valley boasts some absolutely stunning scenery, with hundreds of miles of lush green vineyards and fantastic weather all year round. The world-class wines, historic surroundings, fabulous shopping and cultural areas really make Napa Valley a place for everyone. Now for the next glass of wine...
Other wine experiences:
Next to Napa Valley is Sonoma County, which offers visitors a more intimate wine experience. Further south is Santa Barbara, while California's hidden gem is Temecula; Ithaca in upstate New York is moving up in the white wine industry and on the Pacific side is Washington State with beautiful red wines in Walla Walla.
---
5. Texan Ranch Experience
My sense of anticipation was growing as I drove up the long and winding entrance road toward the Wildcatter Ranch in the Lone Star state of Texas. I was definitely in 'cowboy country' now. On arrival I was greeted with big friendly smiles and got an immediate sense of this being somewhere really special. Walking into the main hotel was like taking a step back in time to an upmarket Wild West saloon. I loved it instantly.
The following morning, the ranch bathed in sunshine, I headed down to the stables excited about what my day would bring. My horse, General, was an interesting character with bright blue eyes, and learning to ride him Western style was a great experience.
The trail led us through some of the most beautiful and rugged Texan landscape, and we stopped to take pictures and soak up the gorgeous views of the lakes, the old 'nodding donkeys' that pumped out this oil-rich land, and the stunning native cacti along the way.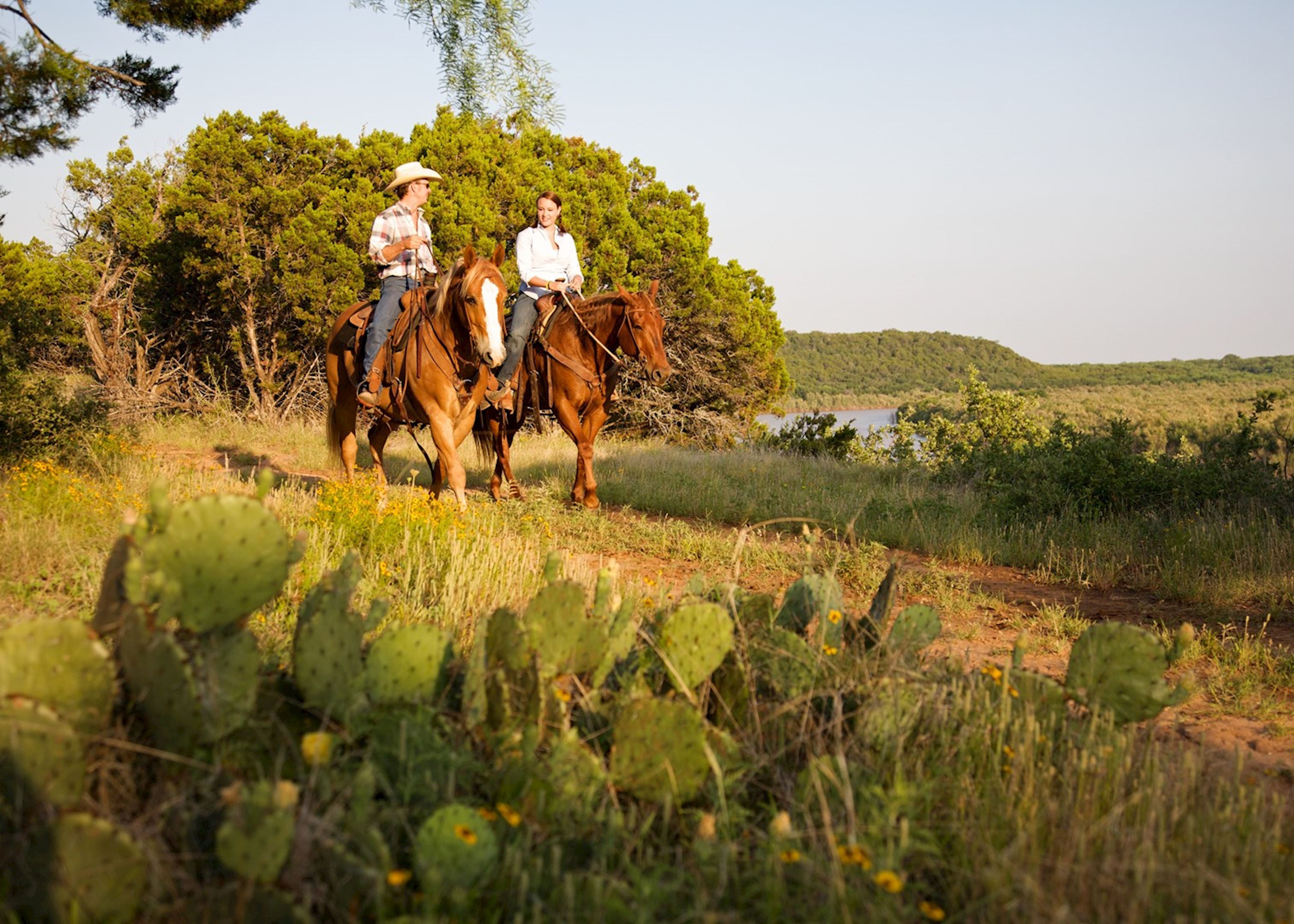 My guide was knowledgeable about the area and was lots of fun. With the heat on my skin, the fresh, country air and the views from high up in the peaceful hills, I got the sense that things had been like this for centuries.
After a lovely lunch at Neri's, a converted antiques gallery in the historic town of Graham, I was ready for my afternoon activities of clay pigeon shooting and archery. Even after a relaxing dip in the hot tub and pool, the next day I found aches in muscles I never knew I had.
The steakhouse at the ranch was a top choice for dinner, boasting incredible views and live music. I spent my birthday here, and after the most amazing steak I'd ever tasted, the chef went out of his way to make things even more special, presenting me with a 'happy birthday' brownie, complete with candles.
I didn't find it hard to drift off that night in my luxury cabin, with a huge stone fireplace, king size bed and even a rocking chair on my private porch overlooking the 1,500 acres of the ranch. Simply heaven on Earth...
Other ranch experiences:
Our favorites include the White Stallion Ranch near Tucson, Arizona; the Zapata Ranch in Mosca, Colorado — famed for its bison — and further north in Wyoming, you can stay at the Willow Creek or T-Cross Ranch for a truly authentic Western experience.
---
6. New England Sunset Schooner Sail
I was milling around Newport harbor, and much like the hungry gulls lingering a few feet away from me, I was itching to get a sight of the crates of fresh lobster being unloaded — drawing in not just the birds but locals and visitors too. But, distracting though it was, I ultimately remained focused on a classically beautiful 80 ft schooner sailing ship, the Aquidneck, where I was about to begin a two hour cruise on one of the most spectacular waterways in all of New England.
With most of my previous sailing experience a distant memory, I was struggling to remember my starboard from my port, my aft from my, erm, front? As a consequence, I was more than a little relieved to see that the most work I'd be doing was taking in the views of Newport harbor as the sun slipped into the ocean. After leaving the dock, to the envy of all the onlookers stuck on dry land, the champagne was poured.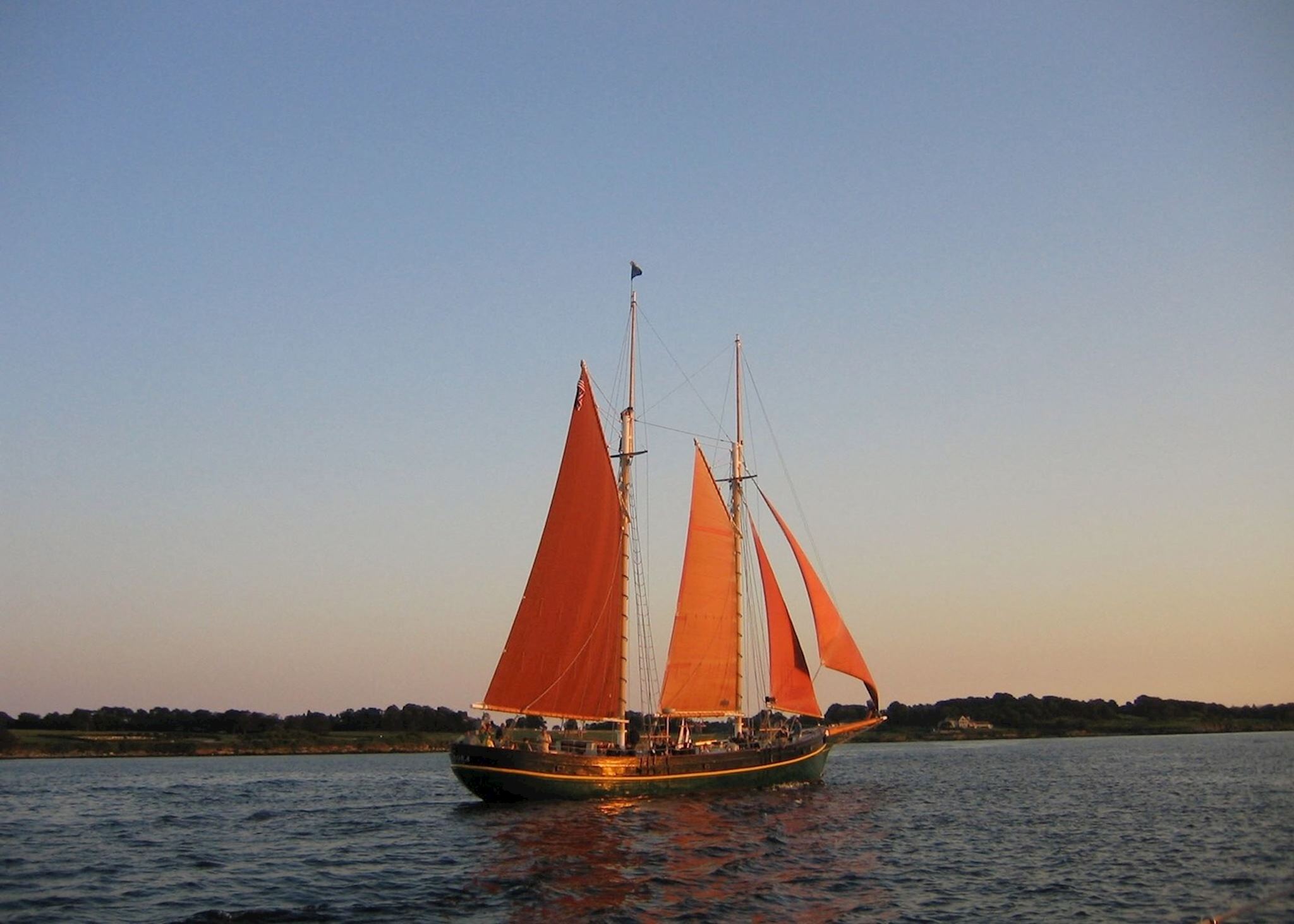 Drifting out of Newport harbor and entering Narragansett Bay, I saw the outline of the million-dollar mansions, a remnant of the Gatsby-esque gilded age of New England society living. We turned, the only noise coming from the gentle wind against our sails and the boat headed toward Hammersmith Farm, the home of the Kennedy's. The long lawn up to the house looked as green now as it was in the footage of Jackie and John taking their wedding vows here over 50 years earlier.
We continued round the bay, our skipper pointing out the more historically and visually intriguing parts of our route. The rest didn't need explaining, as the bubbling champagne in my hand went down with ease, and I took in the sky flaring red and gold against the backdrop of this colonial town and the beautiful rocky shoreline.
A sail around the stunning seaside estates and other visually arresting sights of Newport harbor is a great way to get a real sense of why this part of New England is so well regarded. There's truly no better way to spend an evening in Newport.
Other sailing experiences:
Studying wildlife of the coast of New England's only national park — Acadia — in Bar Harbor, Maine; taking a historical boat trip round Alcatraz in San Francisco; catching sight of whales of the coast of Cape Cod or watching the sun set on an evening cruise up the Mississippi in New Orleans.
Further reading