Summer is often considered to be the best time to visit New Zealand. But here's why we think spring and autumn make perfect sense.
Prices are lower
In high season, New Zealand's best accommodations are priced at a premium. But in the so called 'shoulder' months, rates are lower and advance booking isn't so crucial. You're more likely to secure your ideal spot or get a good deal on a secluded wilderness lodge or ideally located boutique hotels. Quality properties such as the Sofitel and Langham in Auckland offer great shoulder-season rates — enjoy a five-star stay for three-star prices. Likewise, motor-home rentals are cheaper — prices can be up to 50% lower in spring than in high-summer — making a self-drive campervan trip even more affordable.
"We're currently revisiting our most popular self-drive routes in New Zealand to find those best suited to motor-home travel," says New Zealand specialist Sara. "As well as selecting the best campsites, we'll be including wineries where you can set up, so you can sleep amid the vines and take a tour with the vintners."
October and late March/early April are the best times to drive in New Zealand for other reasons, too, according to Sara. "Not only is the climate comfortable, but there are also far fewer visitors, which leaves the roads emptier. You're less likely to get stuck behind a slow-going vehicle on a single-track route."
Availability is better
It's not just accommodations that can be in short supply in peak season. Everything from guided walks to bike rentals can sell out — another good reason to visit in spring and autumn, when activities are running (some close over winter) but aren't full up. For instance, cycling is hugely popular in New Zealand. There's a fantastic trail network, encompassing everything from easy pedals along disused railways to mountain-bike thrills and a nationwide Cycle Trail spanning 2,500 km (1,553 miles).
In summer, bike rental companies can see their entire fleets booked out in advance. In spring, not only is the availability of equipment better, but the bikes are more likely to be in the best condition, having been refurbished or replaced over winter. The trails are emptier, and potentially more scenic, too.
"The Hawke's Bay Trails, connecting Napier with Hastings, comprise three distinct cycling experiences, and are lovely in autumn when it's harvest time at the region's vineyards," says Sara. Other popular activities — such as snorkeling with dolphins in Kaikoura, overnight cruises on Doubtful Sound and the TranzAlpine train — require forward planning in summer, but are more easily secured in quieter months.
Nature is spectacular
Mother Nature certainly likes to put on a show during New Zealand's shoulder seasons. In spring, forests are well watered and lush. The melting snow brings 'waterfall season', when the country's cascades are at their fullest and most spectacular — Fiordland is a particular treat at this time. There are beautiful bursts of color, too. Visit Christchurch's open spaces to see a riot of cherry blossoms, magnolias and rhododendrons, or head to Wellington's Botanic Gardens for the Spring Festival, set amid the site's tremendous tulip displays.
The Hobbiton Movie Set is peppered with bluebells, while Otago's fruit orchards are blooming. Autumn is equally vivid. Birch, maple and poplars planted by early settlers burst into fall flame in April. Good places to wander include Hawke's Bay, central Otago and along the Whanganui River. Head to the gold-rush hub of Arrowtown, near Queenstown, for vibrant foliage and the Arrowtown Autumn Festival.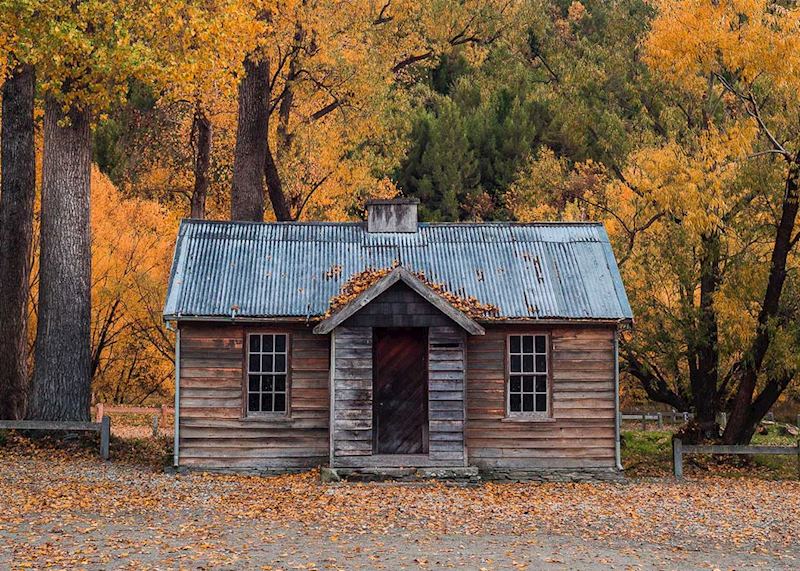 Trails are quieter
Lush, rugged and mountainous, New Zealand is home to some of the world's greatest hikes. The historic Milford Track, the shore-hugging Abel Tasman Coastal Track and many other excellent well-serviced routes feature high on hikers' wish lists. "New Zealand offers some of the most enjoyable walking in the world," says Sara. "The Kiwis call it 'tramping', and it's possibly the nation's favorite pastime. However, because of that, many of these wild and wonderful trails can get busy in summer."
Hiker numbers are limited on the country's nine official Great Walks during the main trekking season, which runs from late October to late April. Slots fill up fast as soon as the booking window opens in May. If you visit earlier, in September and early October, there's no need to book. At this time you'll find empty trails flanked by wildflowers and waterfalls in full flow. When the clocks go back in September, daylight hours start to get longer, too. Hiking in March and April, after the season's peak, is also a delight. Hikes must be booked, but crowds have thinned so availability isn't an issue. The weather is cooler and often more settled, too.
Water is wilder
Brim-full with melting snow and spring rains, many of New Zealand's rivers are at their wildest in September and October. This makes for thrilling white-water rafting — try the swollen Rangitata, near Christchurch, or the fast-and-furious Kaituna River near Rotorua. If rafting's not for your, there are plenty of other thrilling options. "The Shotover River near Queenstown is a great place to try jetboating," says Sara. "You get an amazing ride through a sheer-walled canyon in a powerboat, with the driver whipping around rocky outcrops and performing 360-degree spins."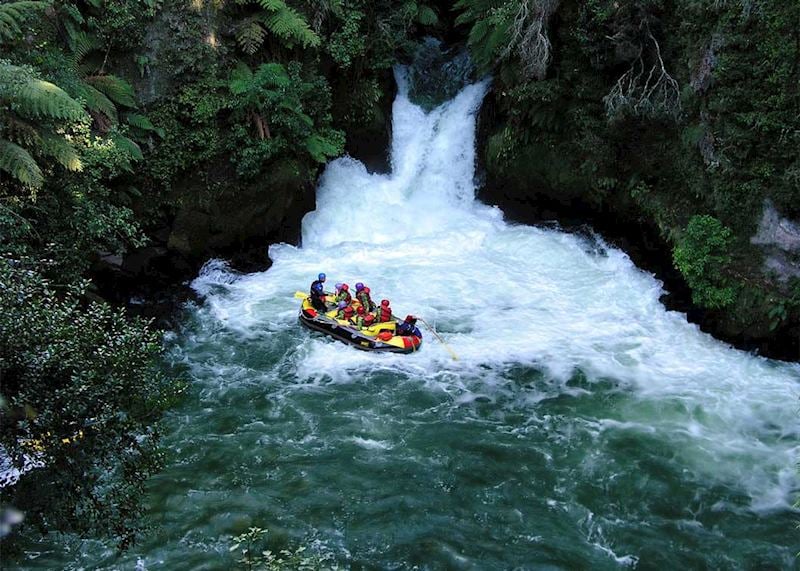 Food is abundant
There's no tastier time than shoulder season. Autumn brings a bevy of natural produce: apples, pears, persimmons, passion fruits, feijoas (a kiwi-size fruit from South America that tastes like a minty pineapple). Bluff oysters are in their prime, and slurped with gusto at the Bluff Oyster & Food Festival in May. Autumn also sees New Zealand's vines heavy with grapes that are ripe for picking — the perfect time to visit wineries in Hawke's Bay, Marlborough and Canterbury.
Spring has its specialties, too. September marks the start of scallop season on the laid-back Coromandel Peninsula, where you can combine good food with beautiful beach walks. The Mount Cook king salmon season begins in October, and the all-too-brief West Coast whitebait glut runs from September to mid-November. Kaikoura's legendary crayfish is celebrated at Seafest, in early October.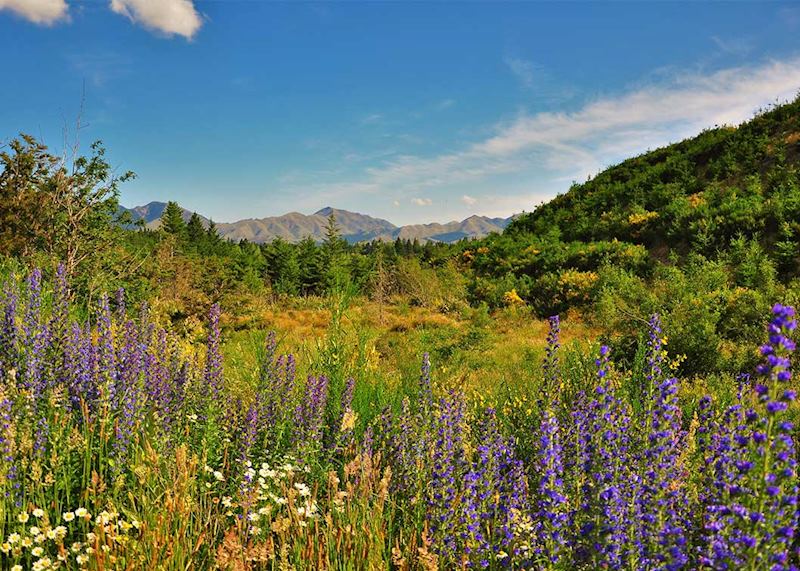 Wildlife is plentiful
There are entrancing wildlife encounters to be enjoyed year-round in New Zealand, but shoulder-season visitors will discover special treats. For instance, orca might be spied in Wellington harbor from April to October, and Bryde's whales prefer the Bay of Plenty in spring. September is especially good — and not just for watching newborn lambs gamboling in lush meadows. It's when royal albatross arrive on the Otago Peninsula, home to the only mainland breeding colony in the Southern Hemisphere. It's also when you can see yellow-eyed penguin chicks making their first forays along the beach. "Special walkways allow visitors to get close without disturbing the birds," says Sara.
The weather is a winner
New Zealand is known for its four-seasons-in-a-day climate. True, summer tends to deliver the warmest temperatures (though it can rain anytime). But don't let that deter you from an off-season visit. In general, New Zealand's climate is warmer, brighter and more stable than the UK's, especially on subtropical North Island. Auckland generally sees over 30% more sunshine hours per year than London.
Average temperatures in Christchurch are around 63°F in October and March — perfectly pleasant for exploring. Winter might be colder but the mountains are snow-capped and the skies often clear and brilliant-blue. "Even if the weather does turn for the worse, there's still plenty to do," says Sara. "You could warm up in the thermal pools of Hanmer Springs, visit indoor attractions such as Wellington's Te Papa museum or seek shelter underground in Waitomo's glowworm caves, where the weather doesn't matter at all."
Start planning your trip to New Zealand

Start thinking about your experience. These itineraries are simply suggestions for how you could enjoy some of the same experiences as our specialists. They're just for inspiration, because your trip will be created around your particular tastes.
View All Tours in New Zealand
Further Reading