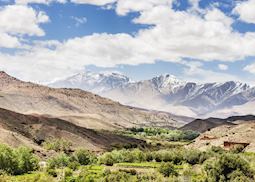 While growing up, my mother would always tell me about the snow covered mountains of Morocco. I couldn't really picture them, especially when she told me people even went skiing. All my past experiences were in the warm areas of Morocco, until my trip with Audley, where I finally saw the High Atlas Mountains.
Traveling from the desert to the mountains was one of the most scenic drives of my life. Riding through the switchbacks I was surrounded by the towering red stone of the mountains, which were sprinkled with greenery. When I reached my final destination I saw the snow-capped peak of Toubkal and felt the chilled breeze coming off the mountains. It was an amazing place to hike along the paths, surrounded by bubbling creeks and boulders covered in lush green moss.
I couldn't believe the sharp contrast in landscape from the hot sands of the desert. I completed my time in the mountains with a local Berber family where I spent the day cooking tagine, making bread over a fire that I had helped build, and sipping Moroccan Mint tea. The High Atlas Mountains offers the best of Morocco's nature along with the most authentic local interactions.