The best time to visit England is in spring (late March to early June) and fall (September to November). You'll avoid the larger summer crowds, and either experience displays of spring flowers or the changing hues of the fall leaves.
However, England is lovely at all times of the year. Temperatures during the summer (June to August) typically stay between 21C and 26C, so it's not too hot to explore.
England does get snow during the winter, although it usually only settles in the north of England and on high ground. Areas like the Lake District can be beautifully snowy, although some hotels and attractions may be closed. Temperatures remain relatively mild at 6C-8C, so winter is a fantastic time to visit when the country is much quieter.
Speak to someone
who's been there

Start planning your tailor-made trip by contacting one of our England specialists
England Climate Guide
Destination
Jan
Feb
Mar
Apr
May
Jun
Jul
Aug
Sep
Oct
Nov
Dec
Bath

7°C

88mm

7°C

64mm

10°C

73mm

12°C

57mm

16°C

68mm

19°C

66mm

21°C

62mm

20°C

74mm

18°C

80mm

14°C

78mm

10°C

84mm

8°C

96mm

Cambridge

6°C

44mm

7°C

33mm

10°C

42mm

13°C

43mm

16°C

48mm

20°C

50mm

21°C

44mm

21°C

53mm

19°C

47mm

15°C

48mm

10°C

51mm

7°C

49mm

Liverpool

7°C

60mm

7°C

44mm

9°C

51mm

12°C

48mm

15°C

53mm

18°C

56mm

19°C

53mm

19°C

66mm

17°C

70mm

14°C

75mm

10°C

76mm

7°C

68mm

London

8°C

57mm

8°C

40mm

11°C

47mm

14°C

46mm

18°C

49mm

21°C

51mm

23°C

48mm

23°C

53mm

20°C

57mm

16°C

60mm

11°C

61mm

9°C

59mm

Oxford

7°C

56mm

7°C

40mm

10°C

52mm

13°C

45mm

16°C

55mm

19°C

55mm

22°C

47mm

21°C

59mm

18°C

55mm

15°C

55mm

10°C

54mm

7°C

64mm

Stratford-upon-Avon

6°C

55mm

7°C

43mm

9°C

51mm

12°C

47mm

16°C

53mm

19°C

56mm

21°C

51mm

21°C

67mm

18°C

53mm

14°C

51mm

9°C

56mm

7°C

64mm

The Lake District

5°C

314mm

5°C

200mm

7°C

243mm

10°C

155mm

13°C

146mm

16°C

156mm

17°C

173mm

17°C

232mm

14°C

269mm

12°C

318mm

7°C

313mm

5°C

318mm

York

6°C

53mm

6°C

40mm

9°C

48mm

12°C

44mm

15°C

51mm

19°C

52mm

20°C

53mm

20°C

64mm

18°C

53mm

14°C

51mm

9°C

54mm

7°C

57mm
Month-by-month guide for traveling in England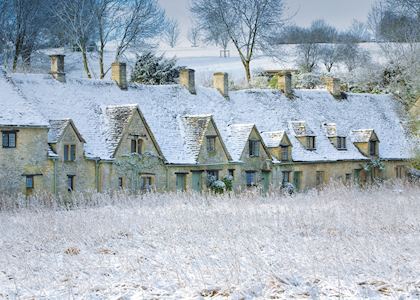 Visiting England in January
This is the coldest month of the year, and you'll find snow in the northern and mountainous parts of the country, the Lake District in particular. The sun rises late and sets early, and the weather is usually cool and damp, although you may experience crisp and sunny days. New Year's Day is January's only public holiday.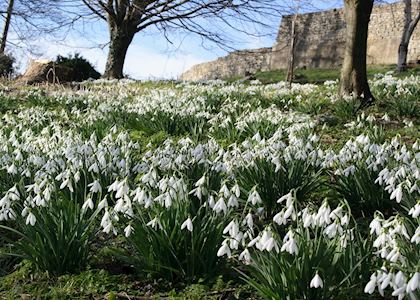 Visiting England in February
February is cold and usually mildly drier than January, but snowdrops begin to poke through the frosty ground toward the end of the month. London Fashion Week usually falls in February, bringing excitement to the capital.
Events & Festivals
London Fashion Week is held in February and September, showcasing the latest styles and fashions on the catwalk.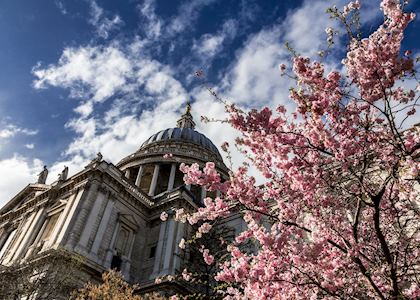 Visiting England in March - April
Temperatures rise and spring flowers emerge in the countryside, most notably daffodils in March and fruit tree blossoms and bluebells in late April. Bath holds a literature festival every March, with talks, shows and readings. Easter is a public holiday and places (and hotels) get very busy over this period.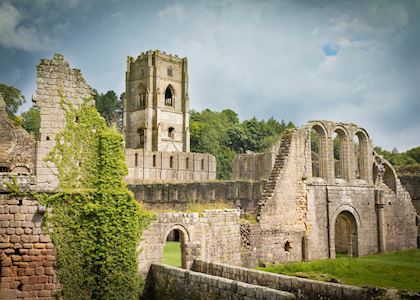 Visiting England in May - June
May and June are typically warm and sunny, with less rainfall than over winter. This is a fantastic time for visiting gardens and parks — indeed the prestigious Chelsea Flower Show is held during late May. May has two public holidays, one at either end of the month, making the first and last weekend of May very busy. June is when the Wimbledon Lawn Tennis Championship is usually held, and Royal Ascot horse races also take place in June or July.
Events & Festivals
Wimbledon Tennis Tournament is held in London for a fortnight, where the best tennis players compete from all over the world on a grass court.
A celebration of the great English garden, the Chelsea Flower Show is held in London over several days and showcases award-winning gardens and their creators.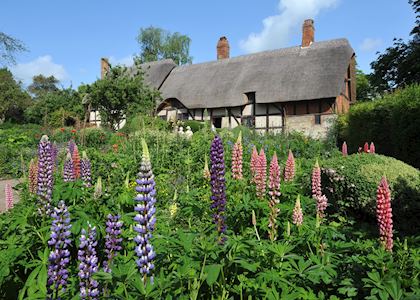 Visiting England in July - August
Ostensibly the hottest, driest months of the year, July and August nevertheless cannot be relied on for good weather. The schools break for the summer in mid-July, so this is one of the busiest and most expensive times of year to travel to England. Several music festivals are held over this period, and the Notting Hill Carnival is celebrated toward the end of August, to coincide with the summer's final public holiday.
Events & Festivals
The Notting Hill Carnival is a celebration of dance and music and decorated floats, held in London on the last weekend of the month, a public holiday.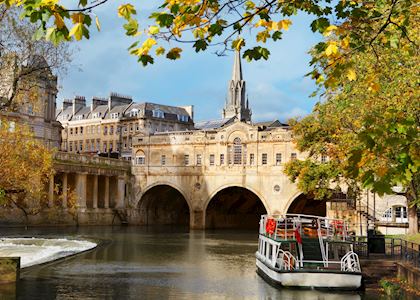 Visiting England in September
Temperatures begin to cool slightly in September, although this is often still a warm, dry and sunny month. Farmers in rural areas prepare for the harvest. York Food and Drink Festival and Bath's Jane Austen Festival are held in September.
Events & Festivals
London Fashion Week is held in February and September, showcasing the latest styles and fashions on the catwalk.
The York Food and Drink Festival is a celebration of Yorkshire produce, with cookery lessons, chef demonstrations, street food, tastings and pop-up bars.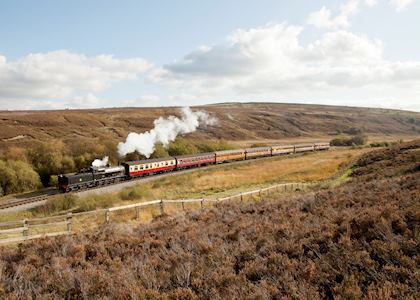 Visiting England in October
Autumn foliage and cool temperatures typify October, a lovely month for countryside hikes followed by a meal next to a roaring fire in a local pub. Schools typically break for half term in the latter half of the month, which is a busy week to travel. Falmouth Oyster Festival is celebrated in October down in Cornwall.
Events & Festivals
Celebrating the start of the oyster dredging season, the Falmouth Oyster Festival is made up of cookery demonstrations, live music and food stalls.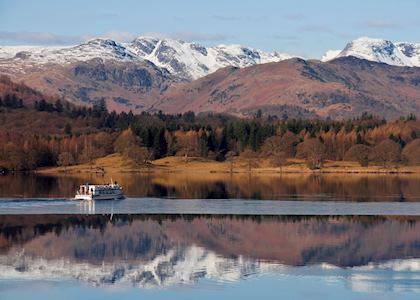 Visiting England in November
November is usually a cold and damp month, with the sun setting at around 4pm to 4:30pm. Guy Fawkes Night is celebrated early in the month with bonfires and fireworks, while on the 11th of the month, Remembrance Day is held in every town, village and city across the country to commemorate fallen soldiers.
Events & Festivals
Guy Fawkes night is held on or around 5th November, with bonfires and firework displays in most towns, cities and villages in England.
Remembrance Day commemorates the fallen soldiers in the wars. Wreaths of poppies are placed on war memorials, in particular, the Cenotaph in London.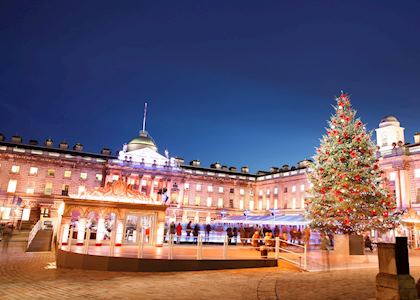 Visiting England in December
Christmas lights decorating England's towns and cities are usually switched on in early December, brightening the dark evenings. Across England, Christmas Day and Boxing Day (26th Dec) are public holidays, and many shops will only close over these days. Other attractions and sites may close for a longer period in between Christmas and New Year.
Events & Festivals
Christmas is celebrated in December with Christmas trees and lights decorating towns, villages and cities and carol singing.
Why travel with Audley?
100% tailor-made tours
Fully protected travel
Established for over 25 years
98% of our clients would recommend us Travel advice
Practical tips for traveling to England, from social protocols to guidance on money matters, with a link to the latest government travel advice.
Trip ideas and travel guides for exploring England