Visit St Andrews, Scotland
A small town with a big reputation, St Andrews is the spiritual home of golf and location of Scotland's oldest and most prestigious university. With a coastal setting, picturesque streets and a host of medieval ruins, its character mixes old-world charm with student vitality. It's an intimate, well-heeled kind of place where cobbled streets are linked by narrow alleys and lined with excellent restaurants and independent shops. At its heart are the ruins of a magnificent cathedral, the reason St Andrews first became a place of pilgrimage.
A student town, diminutive St Andrews has an extremely friendly spirit and is packed with classy restaurants and cafés. Its greatest feature is its location — I love looking out across university quads and steeples to sand dunes and the sea.
UK & Ireland specialist Victoria
Things to see and do in St Andrews
University of St Andrews
Founded in 1413, the University of St Andrews is Scotland's oldest and most respected educational institution. Its buildings are spread across the town, with beautiful colleges, libraries, chapels and student halls spanning the centuries. During term time, the 7,000 students and associated staff make up approximately one third of the town's population, creating a lively, vibrant atmosphere.
Age-old traditions survive here, such as the wearing of red gowns and jumping over particular cobblestones for fear of a curse. Many famous names have either attended the university or lectured here, including six Nobel laureates, various heads of state and, most recently, Prince William and Catherine Middleton, the Duke and Duchess of Cambridge.
The home of golf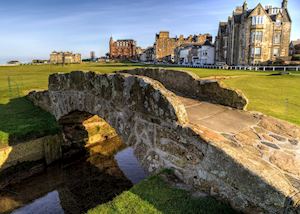 Golf has been played in St Andrews since the 15th century, and was so popular it was banned by the Scottish Parliament in 1457 as the troops preferred it to archery practice. Today, St Andrews can claim some of the world's most famous golf courses. Players flock here from around the world to compete on the hallowed grounds.
The windswept Old Course dates from the 16th century. Although you need to book almost a year in advance or get lucky on the daily ballot to get a game here, you can walk around the course in the evening and get a sense of what it's like.
Nearby is the members-only Royal and Ancient Golf Club, founded in 1754 and one of the leading governing bodies on the international golf circuit.
St Andrews' religious history
Legend has it St Andrews was founded by the Greek monk Saint Regulus, who had been told by an angel in a vision to take the relics of Saint Andrew to the furthest ends of the earth. He was shipwrecked in Fife and built a shrine in what is now St Andrews to house the precious bones he had carried with him.
The shrine became a major place of pilgrimage and, in turn, St Andrews grew into an important ecclesiastical focal point. When Saint Andrew was later officially adopted as Scotland's patron saint, it sealed the small town's fate and paved the way for the building of one of the country's most magnificent abbey churches.
St Andrews Cathedral
Dramatically situated on the coast, St Andrews' 12th-century cathedral was the largest and most significant church to have ever been built in Scotland. Saint Andrew's bones were enshrined here under the high altar, and it was an important Christian pilgrimage site until it was destroyed during the Reformation in 1559, when Scotland broke away from Rome and Catholicism.
The ruins give a clear impression of just how big and ornate the cathedral once was. There's a small museum on the site, and you can also climb St Rule's Tower for views across the town and out to sea.
St Andrews Castle
More evocative ruins lie close by in a dramatic coastal setting, where the remains of St Andrews' 13th-century castle overlook the sea. Originally the fortified home of the bishop, the castle later hosted numerous royals and then became a pawn in the Reformation when its bottle-shaped dungeon was known as Britain's most notorious prison.
A brutal siege took place during this time, and you can explore a series of remarkably well-preserved siege tunnels below the ruins. Although you have to stoop to walk through them, they give a wonderful insight into medieval castle engineering and siege warfare.
Seaside setting
Set right by the sea on Scotland's east coast, St Andrews has a wonderful, if windswept, location just 50 km (30 miles) north of Edinburgh. To the northwest of the town, a long, straight peninsula juts out into the North Sea and is fringed by a wide, golden beach. West Sands Beach, as it's known, was the location for the memorable opening sequence of the film Chariots of Fire and is a wonderful place to walk. Backed by dunes and the Old Course, if offers panoramic views across the North Sea and also hosts the May Dip, a long-standing university tradition that sees students plunging into the freezing sea at dawn on 1st May to ensure good luck in their exams.
Speak to someone
who's been there

Start planning your tailor-made trip to St Andrews by contacting one of our Scotland specialists
Places & hotels on the map
Ideas for experiencing St Andrews
Our specialists seek out authentic ways to get to know the places that could feature in your trip. These activities reflect some of the experiences they've most enjoyed while visiting St Andrews, and which use the best local guides.
Walking tour of St Andrews

Walking tour of St Andrews

Walking tour of St Andrews

Explore historic St Andrews on the Scottish coast in the company of an expert local guide who can lead you down the cobbled streets to ancient university buildings, a medieval castle and cathedral, and a world-famous golf course.