By Cambodia specialist Rachel
Cambodia hasn't always been considered a destination for luxury travel, but in this bitesize article, Cambodia specialist Rachel has picked the best top-of-the-range hotels and exclusive experiences from a growing list. Think luxurious properties near the jungle-tangled temples of Angkor and remote camps where you'll have your own butler, to the white sandy beaches of the south coast.
1. Find a slice of luxury in Siem Reap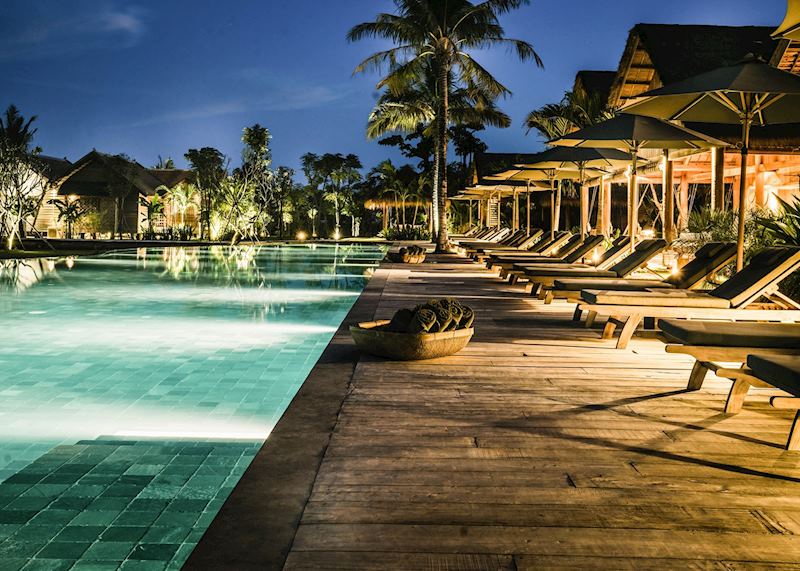 First time visitor, or Southeast Asia regular, I'd suggest Siem Reap is a must on any Cambodia trip, particularly if you're seeking an exclusive experience. I'd argue that Phum Baitang is one of Cambodia's most luxurious properties, and managed to create a calm, tranquil environment, just fifteen minutes from the bustle of Siem Reap's busy night markets.
Featuring traditionally designed, thatched-roof Khmer-style villas, two restaurants, and a cocktail lounge set in a one-hundred-year-old farmhouse, there's enough here to warrant an extra day simply to enjoy the facilities. The main infinity pool is surrounded by perfectly poised loungers overlooking rice paddies, or you can opt for a private pool villa for ultimate seclusion.
Cuisine highlights local ingredients, including rice sourced from the property's own rice paddies and fruit grown on-site. You could take a private dinner overlooking the rice fields, or cooking classes with the chef. There's yoga, a well-reputed spa and staff who seem to meet your need before you quite know what it is.
2. Stay in a heritage hotel in Phnom Penh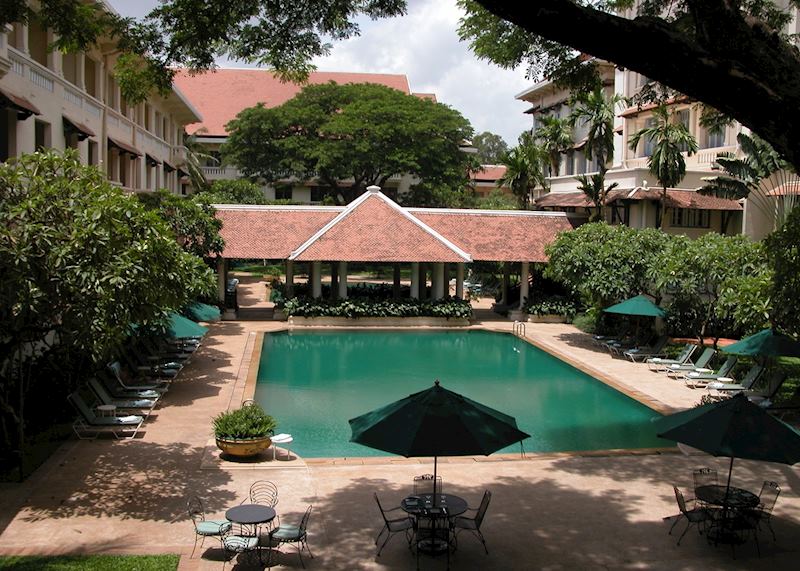 Opened in 1929, Raffles Hotel Le Royal has survived bombings, military coups and time as a hospital. It's since been renovated back to the standard that the heads of state, movie stars and opera singers that once stayed here would come to expect — head to the wood-panelled Elephant Bar for photos of previous illustrious guests.
It's now the old dame of the city, ideally located for exploring the city, while providing a welcome oasis to relax, with a spa and frangipani-fringed pool area.
For me, food is the highlight here. Breakfast is served at Café Monivong, a laid-back colonial style space with indoor and outdoor dining, where you're hard-pressed to remember that you're now in the 21st century. In the evening, don your finest attire to grace the Restaurant Le Royal, which features recipes from the Royal Palace itself, and a pianist on the grand piano in the corner.
3. Explore Cambodia's ecology in comfort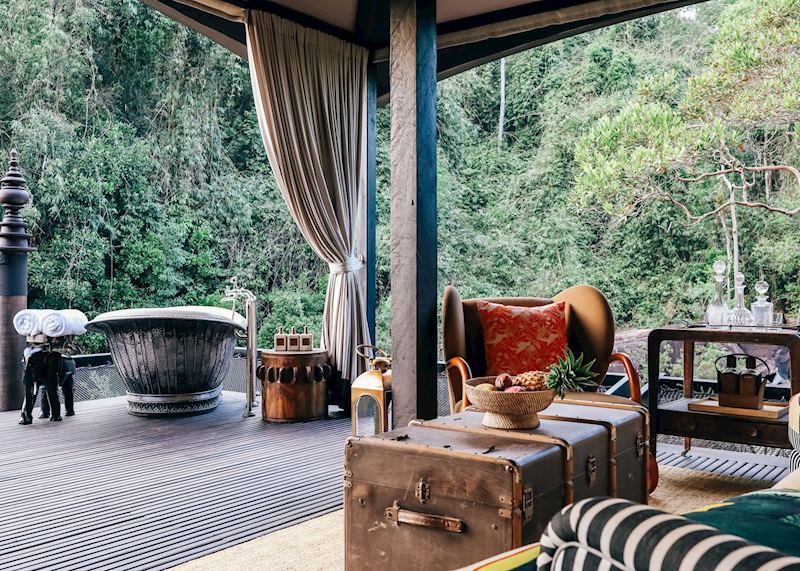 Until recently, Cambodia's wild southwestern jungles were little visited, barely protected and offered a basic range of accommodation. When designer Bill Bensley purchased land around Kirirom National Park in 2010, his key aim was to conserve the area, provide gainful employment for local people, and create a luxurious place for visitors to enjoy the surroundings.
He's stayed true to that vision by building Shinta Mani Wild, and hiring staff from the local village, bottling their own water, and working closely with the Wildlife Alliance to combat poaching within the region. And as for the accommodation — you can zip-line into camp, where your personal butler will meet your every need.
Your stay includes unlimited spa treatments at The Khmer Tonics Spa, private pontoon rides and trekking into the surrounding wilderness. Meals are carefully crafted from local ingredients to meet your dietary requirements and if you like a beverage at the end of the day, you could opt for a private, pop-up bar by a waterfall.
4. Luxuriate on a private island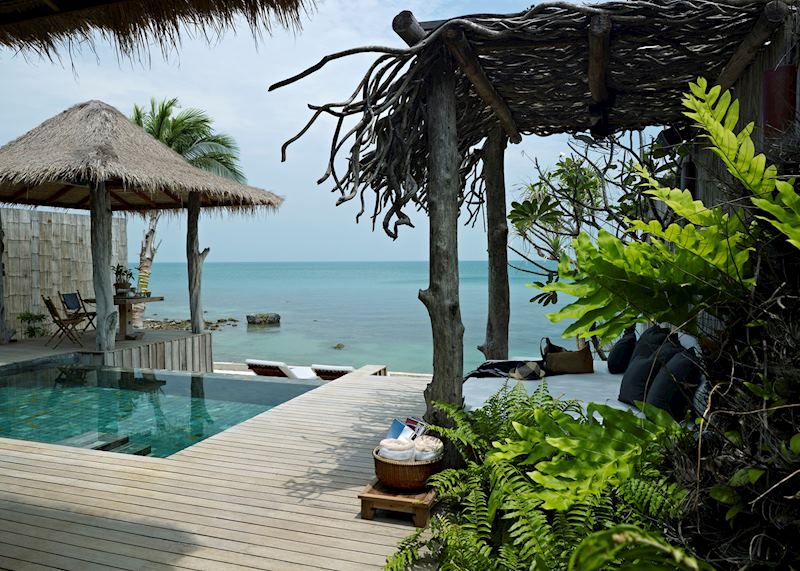 Nearby Thailand may be well-known for its stretches of sand, but Cambodia boasts a clear-watered, soft-sanded coast of its own. Dotted along the coast are a number of tiny islands, including Song Saa Private Island, one of Cambodia's most luxurious beach getaways.
This is barefoot luxury, where each private villa is made from reclaimed wood and local artwork, and you're likely to spend most of your time by your private pool. Although should you ever want to leave, you can take part in traditional Buddhist ceremonies, meditate, scuba dive, snorkel, kayak, or explore nearby islands.
You'll dine on locally-sourced food, which is likely to come with a little pot of seasoning: Kampot pepper, grown in the region. Most guests arrive by speedboat, which zips along the south coast's hidden coves, but if you're eager to arrive in style, you can arrive by helicopter.
5. See Angkor Wat from a helicopter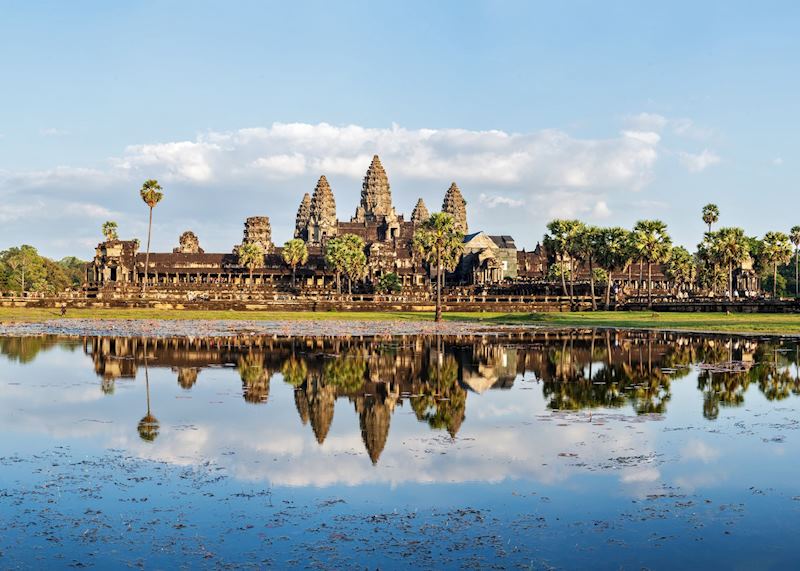 Archaeologists only realised the sheer size and scope of the Angkor Wat World Heritage Site when they flew over the surrounding jungle to take aerial photographs. You can now follow in their footsteps, in a 14-minute helicopter ride that hovers 1 km (0.6 miles) over the Temple of Angkor. It also sweeps across the surrounding landscape of thick jungle, which is crossed with a maze of walls, walkways and outlying temples that give you an idea of how big the complex really was.
If that's too short a trip, you can extend your flight out over nearby Tonle Sap Lake, the largest in Southeast Asia, where you'll see the bright roofs of floating villages spread across the water — which host everything from floating churches to basketball courts.
Read more about luxury trips to Cambodia
Laos, Vietnam, Cambodia and Thailand
Start thinking about your experience. These itineraries are simply suggestions for how you could enjoy some of the same experiences as our specialists. They're just for inspiration, because your trip will be created around your particular tastes.
View All Tours in Cambodia
Further reading