I'm half Canadian, so I have been travelling back and forth to Canada from a very young age to visit my family. Whether it was my time spent snowboarding, zip-lining, hiking, white-water rafting, and 4x4 off roading in Squamish and Whistler, or enjoying the arts and music culture at the Montreal Jazz festival, it was during these years that my love for Canada truly flourished.
In between visiting Canada I try to spend my time travelling to as many countries as possible to experience new cultures and see the uniqueness of different parts of the world. Before joining Audley I was working as a chef, so it's safe to say that I'm a huge foodie. A lot of the travelling I do is based around food, because I believe it's one of the best ways to experience a culture.
With a real passion for travel and Canada, I joined Audley as a country specialist. Since then I have had the opportunity to revisit the places in Canada I had previously been to, as well as having exploring so much more of the country. My highlights have to be whale watching in Victoria, caving in Canmore and hiking in the Rockies. Every place I've visited in Canada has so many different things to offer, and I can't wait to go back and explore even more.
Speak to Zak

Start planning your trip to Canada with Zak
01993 838 755
Q&A with Zak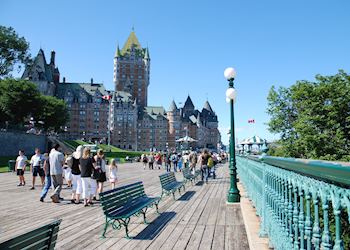 What's the best local dish you've tasted?
This is a really difficult question for me because I'm a huge foodie and Canada's food scene is amazing, but I would say my favourite dish has to be Quebec Shepards Pie. It's a base of buttery mash potatoes and creamed corn with bacon, topped with rich, juicy beef that falls apart because it has been slow braised in red wine and beef stock, served with a side of fruit ketchup/chutney. I'd never heard of this dish before going to Québec City, and now I crave it all the time. I really love recommending places for people to eat, so please don't hesitate if you want to talk about food with me.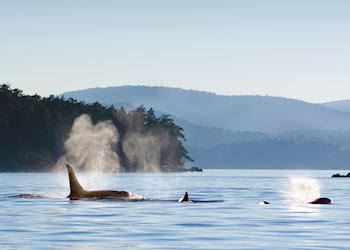 What's your most vivid travel moment?
It was a perfectly clear and hot day morning in Victoria when I set out to go whale watching. On the way to spot the whales on the bluest ocean that I've ever seen, we spotted seals, bald eagles and Japanese dear residing on a remote island. If this wasn't already enough, we soon found ourselves following a pod of 17 orcas. I found it fascinating that our guides knew each individual whale by their markings and fins, and even their whole family history. Towards the end of the tour, we spotted a huge spout of water erupting from the sea in the distance, followed by the slick fin of a humpback whale surfacing from the water. We were then lucky enough to observe three of these amazing whales for the next half an hour. It was truly one of the most incredible things I've ever seen.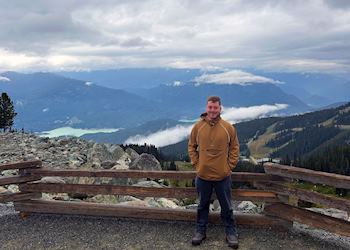 Which book, film or artwork captures Canada the most?
There's a documentary on the YouTube called 'Wild Canada — Wild West' which captures the rural nature and wildlife from the west coast, over to the Rockies. The West is personally my favourite part of Canada purely because of the vast amount of natural beauty it has to offer, and this documentary captures it in such an great way. There's also another 3-4 really good documentaries about different areas of Canada on the same YouTube channel.