In my early 20's I moved from small town USA to small town Germany. This experience sparked my passion for travel and my love for different cultures.
I fell in love with Italy when my husband and I backpacked our way through central Italy. We absorbed the history that painted the cobblestone streets while watching the sunset in Rome. We swam in the aroma of freshly baked bread and homemade pasta after journeying miles through vineyards and olive groves in Tuscany. We tasted the sweetness of hand-crafted limoncello on the cliffs of Cinque Terre. I was encapsulated by different cultures, new ways of living and mouth-watering food.
I enjoy researching hidden gems, the ease of travelling and contributing to the lifelong value of the experience. I look forward to expanding my knowledge with Audley, sharing my passion for travel and creating wanderlust for all, for we all have it.
Speak to Andria

Start planning your trip to Italy with Andria
01993 838 900
Q&A with Andria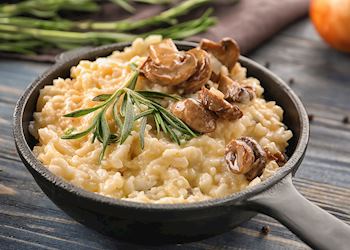 What's the best local dish you've tasted?
Risotto is a traditional dish in the Lombardy region of Italy. It's not something that I would typically seek out, however, a restaurant in the Navigli region of Milan creams their saffron risotto in a Grana Padano Riserva cheese wheel. The process begins by heating the wheel with alcohol and a flame. The cheese is scraped from the sides and bottom, creamed into the risotto and then topped with crispy fried onions. It was an absolute dining experience and a delicious meal.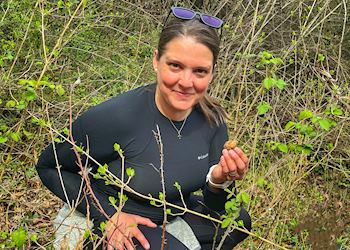 What's your most vivid travel moment?
Truffle hunting in Tuscany was an absolute dream. Our incredibly talented truffle hunting dogs took us on a trek through wandering vineyards, up Tuscan hillsides and past World War II bunkers while trailing the scent of truffles. The retrieval process was delicate, exciting and immersive. Concluding our hike, our wonderful host family used the truffles we found to make an incredible tasting menu to include truffle honey, truffle pasta and truffle ice cream along with several divine Chianti wines. The lunch included some of the best food that I tasted during my trip to Italy. I've never felt so immersed in the Italian culture with locals that left us feeling like family.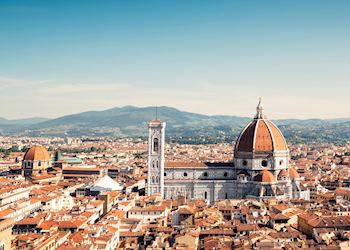 Which book, film or artwork captures Italy the most?
Botticelli's Primavera painting found in the Uffizi in Florence is a beautiful depiction of spring and her fertility. Although the painting shows fertility in the form of pregnancy, Primavera translates to 'Springtime'. Italy is a country booming with luscious food such as pasta, lemons and cheese along with wines and olive oils. The fertility of the farms, animals and plants is crucial for us to enjoy Italy and all her beautiful glory.