Wherever you are in India, it's likely that somewhere in your vicinity, a deity is being commemorated, a sacred astronomical date celebrated, or an event in Hindu mythology is being remembered. We've included the best ways to experience the biggest celebrations in the Indian calendar, Diwali and Holi, as well as giving you a taster of some of the lesser-known festivities.
Diwali, the festival of lights
Celebrated late October or early November
By Andy
India's biggest festival isn't one single celebration. Rather, it's the coming together of legends and beliefs across a range of religions over five days, with the day of Diwali celebrated on the third day.
For many Hindus, Diwali marks the date Rama and his wife, Shiva, return after a period in exile. They put out lights to welcome them home. Some believe it's also the date Lakshmi, goddess of wealth and prosperity, married Vishnu. You might see windows and doors left open by worshippers eager to welcome her into their home.
Jains believe it's the date their spiritual leader reached Moksha (a state of infinite bliss and knowledge). And, for many Sikhs, Diwali signifies when their sixth guru and 52 princes were released from prison and arrived at the Golden Temple in Amritsar.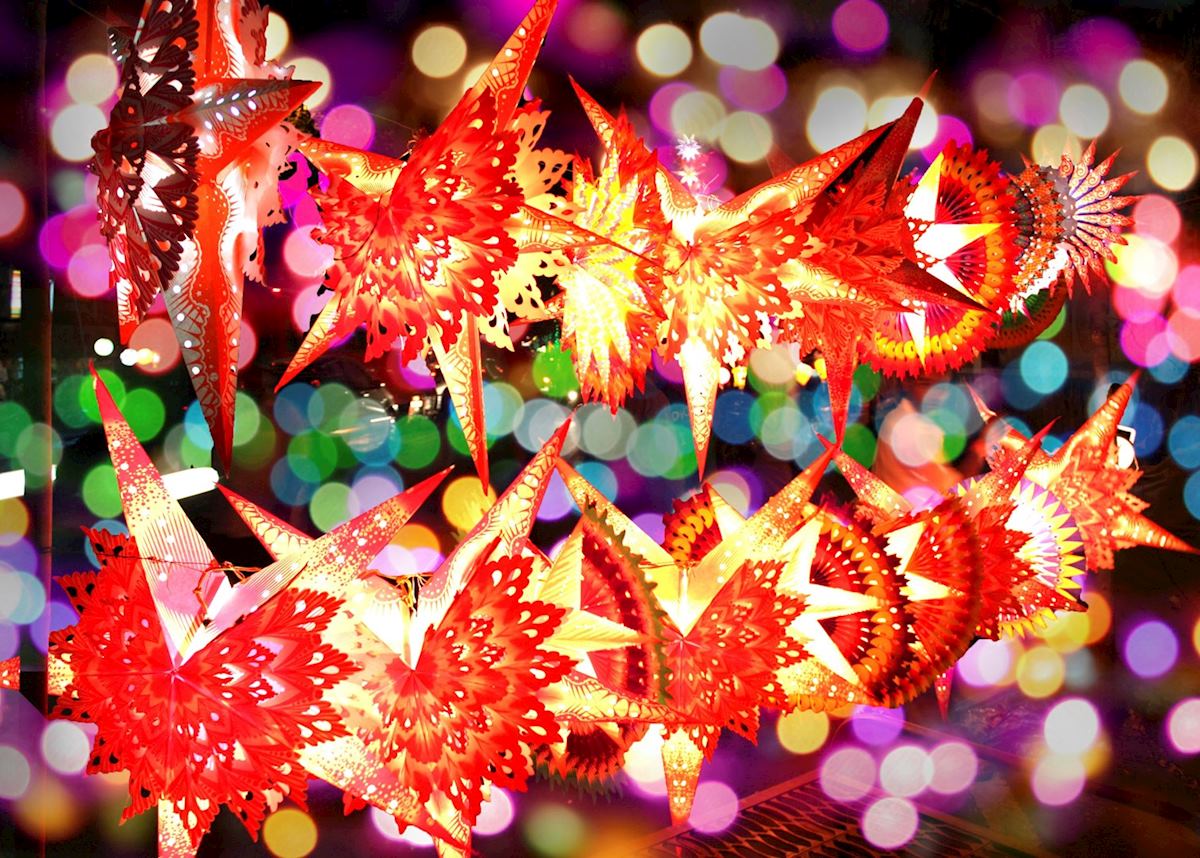 Diwali festival
Where to celebrate Diwali in India
The biggest festivities are across Rajasthan and West Bengal. Reams of lights hang down from the buildings and entranceways glitter with diya (oil lamps) and flowers. Floors are decorated with rangoli, patterns of concentric circles, dots and lines made with bright powders and petals.
While cities like Mumbai and Delhi put on quite the spectacle, personally I find them too chaotic. The enthusiasm for fireworks doesn't wane for the full five days of the festival, and the noise can start to wear thin.
Instead, I'd opt to stay in a family-owned property in a village or town. Chanoud Garh, a fort to the south of Jodhpur, has been in the hands of the Singh family for 13 generations. They've converted part of it into guest suites and welcome you to celebrate Diwali with them.
On Diwali, you can dress in a sari or kurta (men's tunic) and watch a group of women gracefully perform ghoomar. This Rajasthani folk dance is traditionally performed during Diwali by the village dance troupe, who travel from house to house.
The next morning, the men of the village arrive to pay their respects to the Singh family elder, who's the head of the community. Everyone sits down outside the family temple to chat, sip chai and eat barfi, a milk-based sweet.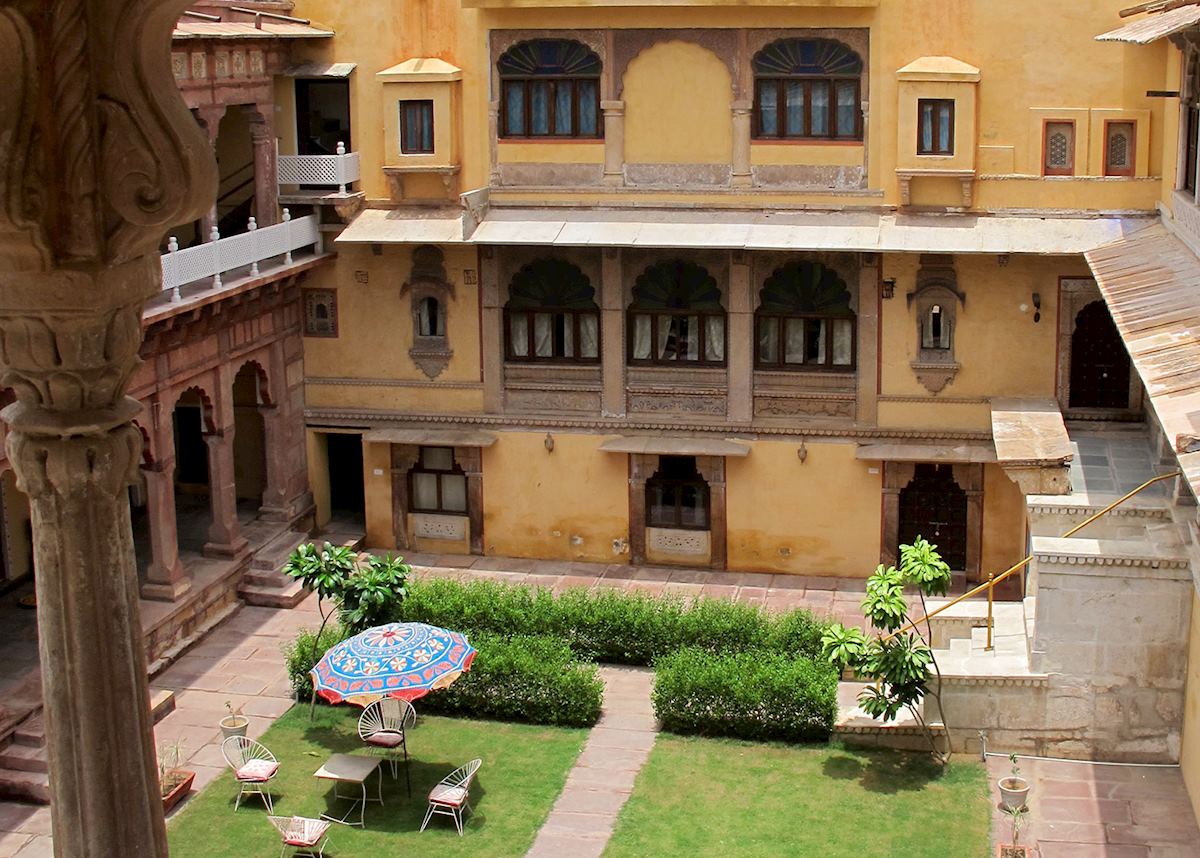 Chanoud Garh
Bengali Diwali
If you want to brave Diwali in a city, go for Calcutta. In West Bengal, Diwali runs alongside another celebration, Kali Puja. This festival is dedicated to the Hindu goddess Kali, who's often worshipped as the divine mother.
In the weeks before the festival, a pandal (a temporary shrine containing a clay effigy of Kali) appears in each street. Handmade by the community, they get pretty creative, ranging from fresh-flower archways to papier-mâché caves.
The statues are paraded through the streets and dunked into the Hugli River. (You'll also see a digger on hand to drag them out afterwards in an effort to avoid polluting the water.)
The next day, you'll notice oil lights being lit, and the fireworks begin. I watched from the roof terrace of my hotel, Calcutta Bungalow (on the un-bungalow-like sixth floor). This restored 1920s townhouse places you safely away from the fireworks as they whoosh across the sky.
Holi, the festival of good's triumph over evil
Celebrated in March
By Anna
Pictures of Holi show bright flashes of fuchsia, yellow and green powder exploding above the heads of revellers. While this is a big part of the festival, it's not the most important aspect. That happens the evening before, when people gather to light fires and pray. There are many Hindu legends linked to Holi, but it's essentially the celebration of good defeating evil.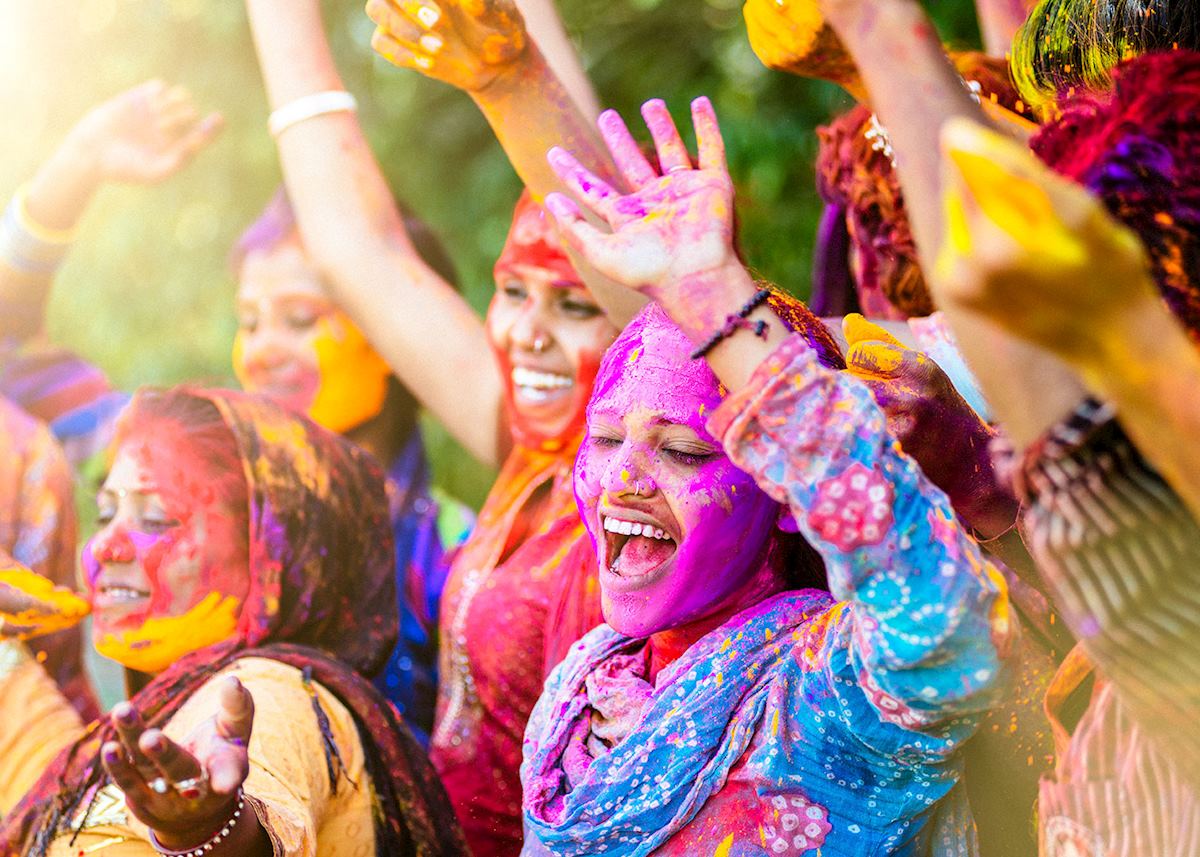 Celebrating Holi
Where to celebrate Holi in India
Holi is marked predominately in Rajasthan. It starts at night-time, when you can watch statues of deities paraded through the streets to singing and drumming. In public squares, people gather around fires to dance and perform puja (religious rituals).
Early next morning, everyone — from tiny children to grandparents — gather in the streets to throw the trademark powder at each other. Now, Holi isn't for everyone. It's difficult to avoid a dusting, as everyone is fair game, including strangers. And, if you think you can brush a little powder off, think again. Most participants also carry a water pistol, to make sure the powder really sticks.
If it is something you'd like to experience, wear old clothes and, if you have fair hair, a hat (as I've found, the powder can dye hair). The gaiety gets rowdier in the afternoon, but you can decide to head back to your hotel by lunch.
For a gentler version of Holi, you can attend a small-scale celebration at a family-owned dera (Indian mansion house). Dera Mandawa is tucked into a residential area of Jaipur and, during Holi, throws a slightly more controlled powder party in the courtyard for guests and family.
Afterwards, you can attend a blessing at the family temple, and nibble gujia, a sweet, deep-fried dumpling (the best has a coconut filling).
Lesser-known festivals in India
Some of the best experiences are to be had at the smaller or lesser-known celebrations, which, unless you're otherwise informed, might slip past unnoticed. There are so many, there's bound to be something taking place when you travel, but we've picked out a few to give you a taster.
Jaipur Kite Festival
Celebrated mid-January
By Hattie

Kites for sale
When I lived in Jaipur, I could tell when it was the day of the kite festival, just from the noise of the kites tickling my window panes. Kites fill the sky as far as the eye can see, not just flown by children (who practise for weeks) but also parents and grandparents, all laughing together.
The Kite Festival is Jaipur's way of celebrating Makar Sankranti, the point in the Hindu calendar when the sun enters the Northern Hemisphere.
In the morning, you can head to the shores of Man Sagar Lake to the north of the city. There are demonstrations above Jal Mahal, a faded yellow palace in the middle of the lake, with kites flying in formations like a squad of acrobatic aircraft.
Many hotels in Jaipur have rooftops, where you can sit back and watch the kites swoop past. If you'd like to fly one, head to Jaipur Polo Ground. People congregate here to fly kites, buy new ones and peruse the stalls selling gajak (sesame brittle).
As a kite-flyer, be aware that the festival is split into two. The morning is usually given over to friendly flying, but things turn competitive in the afternoon 'kite war'. The aim of the game is to knock other kites out of the sky, and be the last kite flying. Prizes are given out at Umaid Bhawan Palace at the end of the festivities.
Bateshwar Cattle Fair
Celebrated in November
By Helena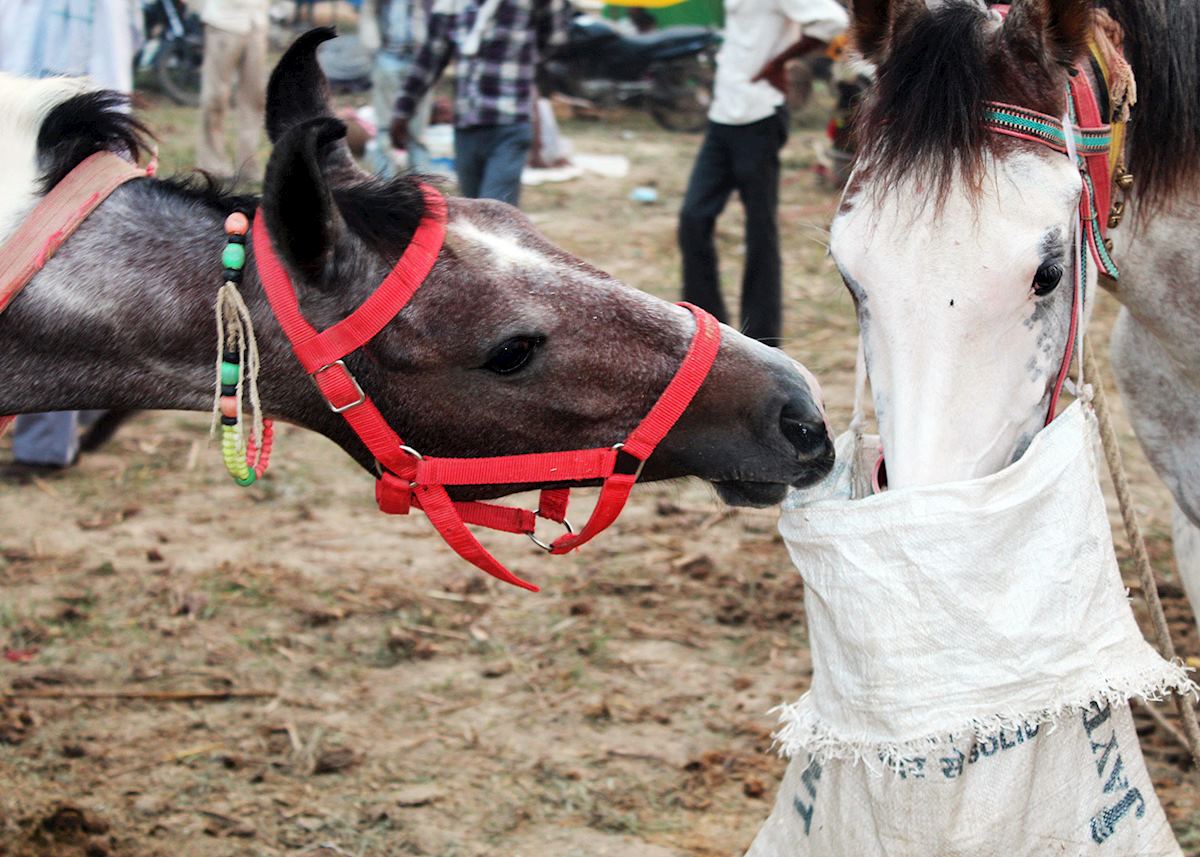 Horses at Bateshwar Cattle Fair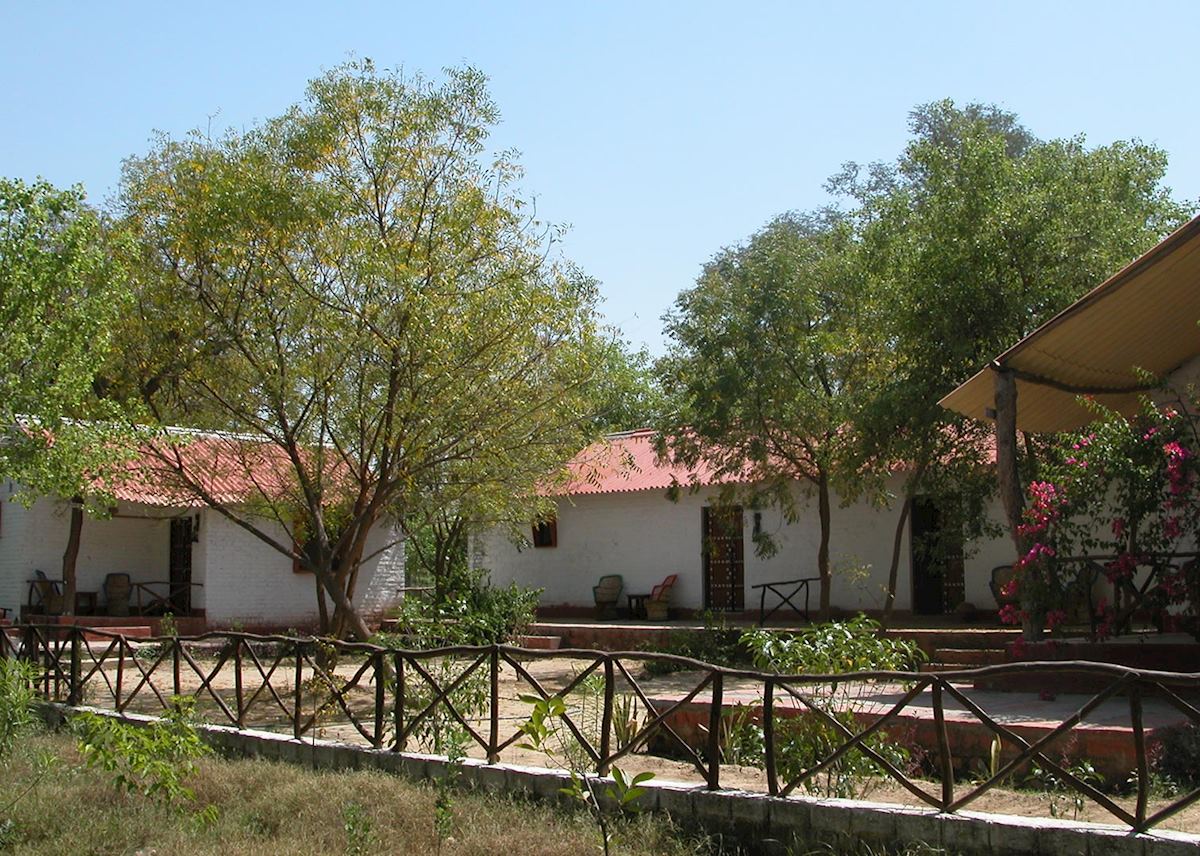 Chambal Safari Lodge
Toward the beginning of November each year, the banks of the Yamuna River south of Agra become a showground for strutting horses, rows of aloof-looking camels and herds of water buffalo. Bateshwar Cattle Fair is one of the largest in the region but, thanks to its remote countryside location, it has remained out of the guidebooks.
I got my first inkling of the festival while taking a boat trip along the river. My guide pointed to the local ferry crossing in front of us. Behind it, the water was churned by a procession of water buffalo following their owners across to the fair, just their heads poking above the waterline.
The fair takes place over three weeks, although arrive toward the beginning to see the broadest range of animals. Stay at Chambal Safari Lodge, the only hotel in the area, and you can visit with a guide (it's easy to lose your bearings amid the thrashing tails and raucous braying).
Many horses are decorated with pom-poms and brightly braided bridles, and the cattle's horns are painted with a complex series of patterns to indicate cost and ownership.
You might see displays of horsemanship or cattle paraded for potential buyers. It's also worth walking across to the Bateshwar temples nearby, from which the fair gleans its name.
Dassehra, the celebration of Rama's victory over a demon king
Celebrated in October
By Alison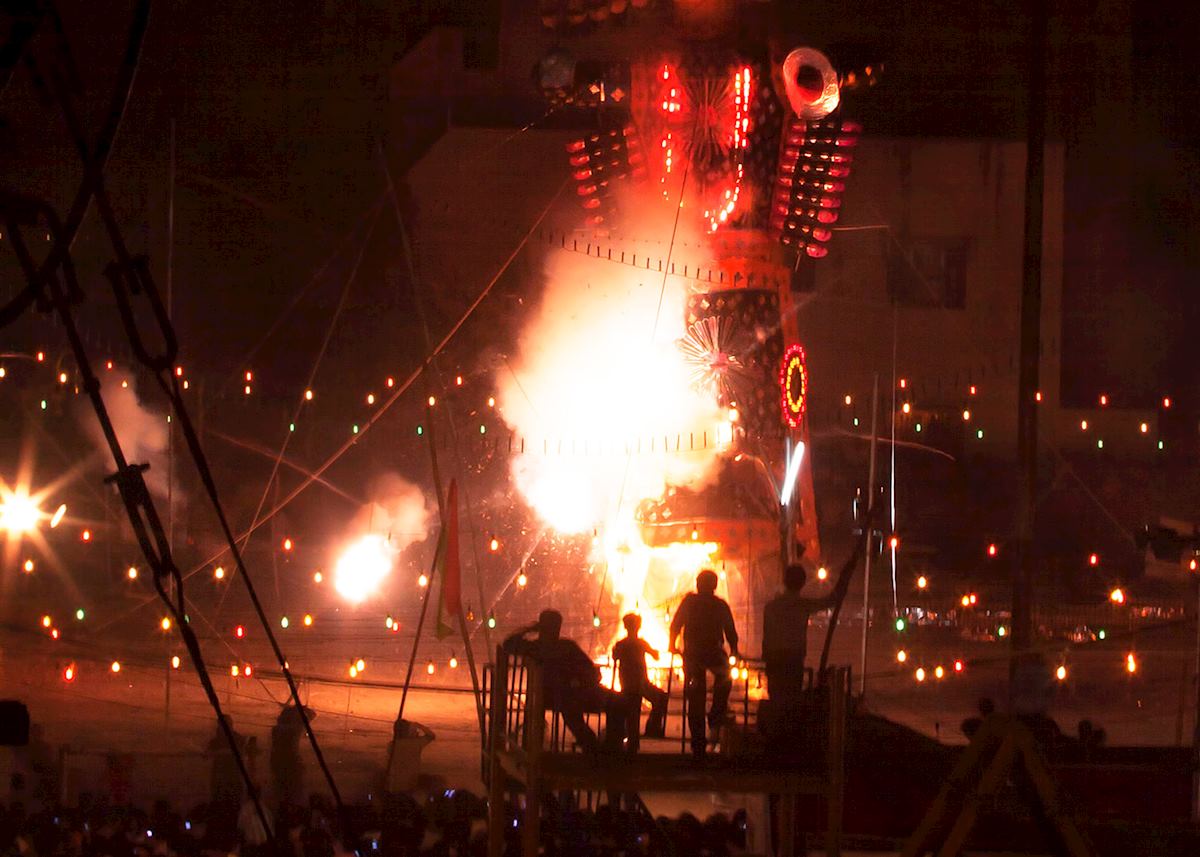 Burning effigy of Ravana
In Hindu mythology, Rama (an incarnation of Vishnu) fights the demon king Ravana, who has kidnapped his wife, Sita. Dassehra commemorates this ten-day godly war, which culminated in Ravana's defeat.
Each evening throughout the ten days, the story of the battle is told through dance, songs and recitals, which take place across the country (although the festival has several names, depending on where you are).
On the final day, effigies of Ravana are carried through the streets before being burned on bonfires. You'll often see women wearing the same shade of sari, a different hue for each day of the festival, and doorways decorated with garlands of marigolds.
When I lived in Mumbai, I often found the chaos of Diwali and Holi a bit overwhelming, but Dassehra is a little more tempered. Visitors are welcome to watch (and join in) the dance recitals — ask at your hotel for ones nearby.
On the final night, you can watch a Ramlila performance (re-enactment of the life of Rama). These range from family celebrations, where children are encouraged to destroy effigies of Ravana by throwing darts at balloons, to huge theatrical shows.
Read more about trips to India
---
Start thinking about your experience. These itineraries are simply suggestions for how you could enjoy some of the same experiences as our specialists. They're just for inspiration, because your trip will be created around your particular tastes.