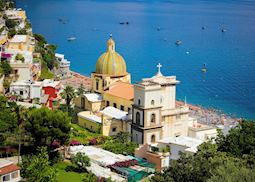 Italy
Sample Naples' traditional street food and explore the historic heart of the city.

Climb Mount Vesuvius with a private guide and peer in the volcano's cavernous crater.

Learn to cook like a local at a private cooking class in a traditional family home.

Tour the ancient sites of Pompeii and Herculaneum for a glimpse into the ancient past.

Relax on the chic island of Capri and soak up the luxurious atmosphere.

Explore the dramatic beauty of the Amalfi Coast.