By New Zealand specialist Chris
New Zealand is a nation of hikers (or trampers, as they'd say), but I've found that cycling is even more popular. The country has a roster of cycle routes and mountain bike trails catering to everyone, whether you're seeking a gentle pedal around vineyards, a child-friendly path, or a high-octane backcountry trail. Plus, cycling is one of the best ways to experience New Zealand's landscapes, as well as its down-to-earth culture, in a destination that's light on traffic. Admittedly, I'm biased: New Zealand reignited my own passion for cycling.
It's easy to include cycling or mountain biking in even the most classic of New Zealand trips: it's just about knowing where's particularly good to go, and sometimes being prepared to try a guided experience.
The North Island's best cycling spot
Rotorua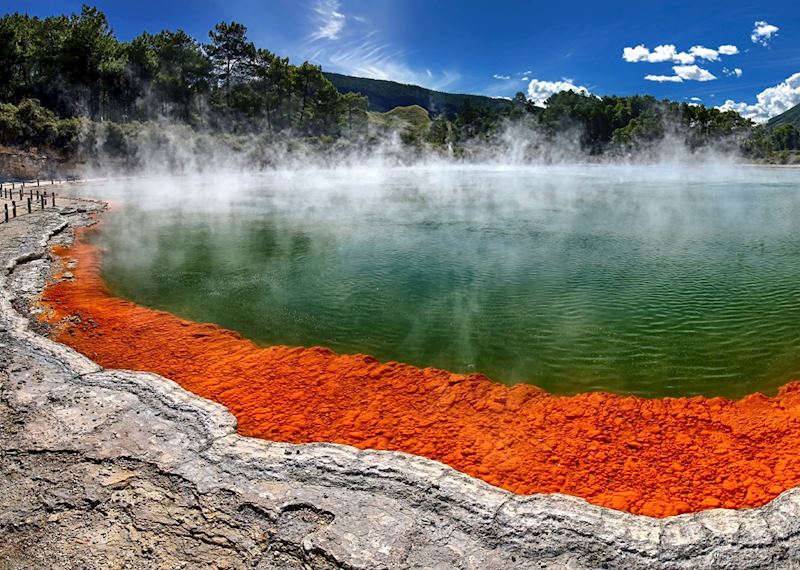 Rotorua has a special place in my heart, as it gave me my first real introduction to mountain biking in New Zealand. A placid-seeming lakeside town, in reality it's a freakish wonderland of fumaroles, steaming sinkholes, belching mud pools, rabidly frothing geysers and luridly green sulphuric pools, whose stench and shade earn them monikers like the 'Devil's Bath'.
Geothermal circus aside, the area is a heartland for New Zealand's Māori culture. And, I'd argue that one of the best ways to explore both Māori cultural sites and the surrounding area's geothermal terrain is on a full- or half-day guided mountain biking trip.
You could explore the mountain bike trails of Whakarewarewa Forest Park, riding through groves of redwoods, firs and native pines on a variety of tracks. This is great for families, as you're provided with extensive safety kit and there are trails to suit all ages and abilities.
There are also longer and more wide-ranging trails, namely Te Ara Ahi. It's great fun riding through this route's geothermal fields. 'Hold your breath here!' my guide would shout, as we plunged through a path pockmarked with pungent steaming vents. You can stop off to bathe in natural hot pools, and take a side trip to Maungakaramea (Rainbow Mountain), whose sides bristle with rare geothermal plant life, including unusual beard orchids.
Cycling in New Zealand's South Island
Around Nelson Bay

Nelson, a compact city of gardens and craft shops, sits in the northern reaches of the South Island, next door to national parks and coastal reserves. The cycling around Nelson Bay is excellent for anyone with a reasonable degree of fitness, as it's flat and not particularly challenging. Trails are well marked, taking you off the main roads, and there are plenty of shortcuts, which lets your guide chop and change routes as you wish.
You can wend your way around the gentle paths fanning out from the seaside town of Mapua, or catch the small ferry across to Rabbit Island, a strip of pine plantations and pillowy sand dunes with a couple of good swimming beaches. For something more strenuous, you can bike in Nelson Lakes National Park, an alpine area of high passes, ridge walks and wetlands.
What I really like about cycle tours in this area is how they allow you to go native in the thriving local art scene. Nelson and its surrounds is the country's arts and crafts hub, and the area is dotted with workshops and galleries. It's New Zealand's answer to St Ives, or Cape Cod.
My guide seemed to know everyone, and she took me on detours to poke my head into the studios of ceramicists, glass-blowers, textile artists, potters, woodworkers and painters. Everyone was happy to stop and chat away about their work. And, some of the artists' workspaces were so tucked away, I'd never have explored them if I were driving.
Christchurch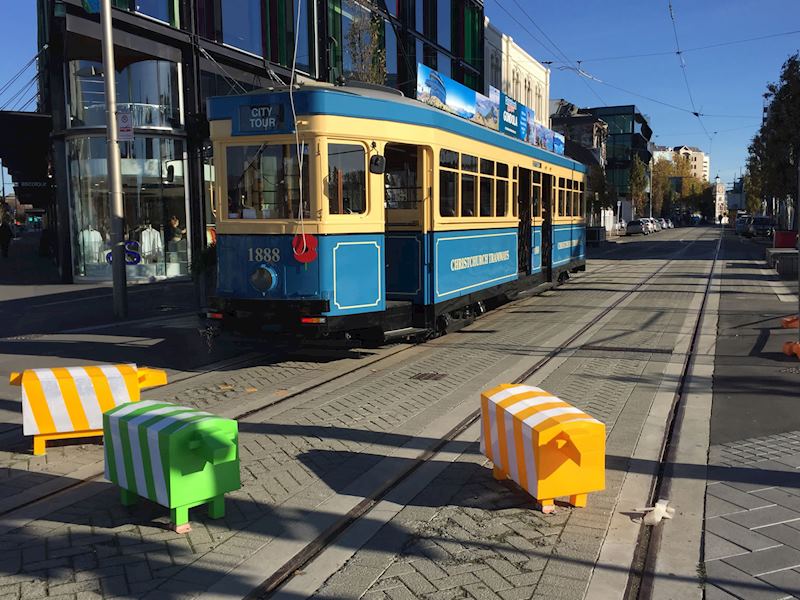 I'm going to be blunt: Christchurch, on the South Island's east coast, isn't love at first sight. The once rather bucolic and most quintessentially English of New Zealand's cities still has a war-torn look following the 2011 earthquake. Many buildings, including the cathedral, look as though they've split at the seams. Especially in the evening, it can feel like a ragged shell of its former self. This is why it's such a good place to explore by bicycle.
On a guided cycling tour, you'll get a real sense of how the city is picking itself up, a sentiment I don't think you feel when you wander around on your own. Guides will take you to the many moving earthquake memorials, and then you'll witness the city's regeneration.
You'll stop at cafés and pop-up restaurants, and businesses that have been ingeniously set up in temporary lodgings such as shipping containers. You'll see vignettes of life carrying on as normal — rugby matches being played, picnickers in Hagley Park. Your guide can explain all about new construction projects and landscaping, the conservation of heritage sites, and the proliferation of urban street art on the buildings.
Wanaka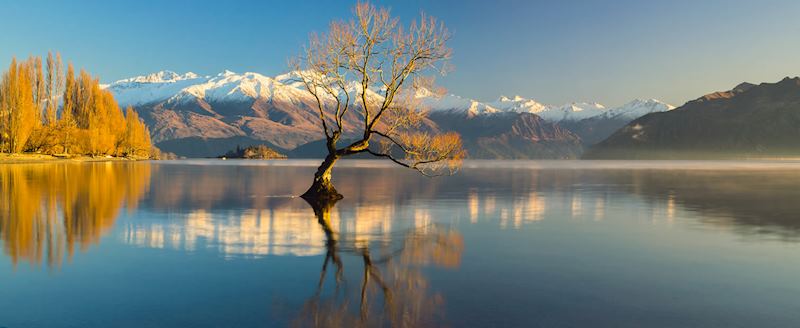 About an hour's drive from Queenstown, the town of Wanaka hugs its eponymous lake and gazes up at green farmland and grazing sheep, the mountain ranges of Mount Aspiring National Park, and the solitary peak of Mount Roy. Despite its mountainous surrounds, Wanaka's roads are relatively flat and it's easy to dive off onto a huge network of well-maintained bike tracks. There are also backcountry single tracks for more experienced mountain bikers.
Many lodges have their own bicycles and mountain bikes, which you can borrow for a few hours. But, to experience the full richness of Wanaka's scenery, I think you need to complement these casual sorties with a guided cycling experience (guided tours also throw in fun little luxuries, such as cups of tea and baked goods).
Two of the best bike tours see you ride from either Lake Hawea to Wanaka (30 km or 18 miles, about four hours), or along the Clutha River and finishing with a loop of Lake Wanaka (15 km or 9.3 miles, about two to three hours).
Lake Hawea is one of those bodies of water you almost become blasé about seeing in New Zealand: glassy, empty, and capable of producing the most surreal shades of blue. One day it could be a velvety cobalt, the next a dappled cyan. You might see trout fishermen on its banks, or even (as I did) bump into a landscape painter at their canvas, who might warmly show you their work in progress.
The Clutha, meanwhile, is New Zealand's widest river, and a broad shingle path runs along its banks. The route to Wanaka requires a few exhilarating rides over suspension bridges — entirely safe, and great for full views of the river.
Around Arrowtown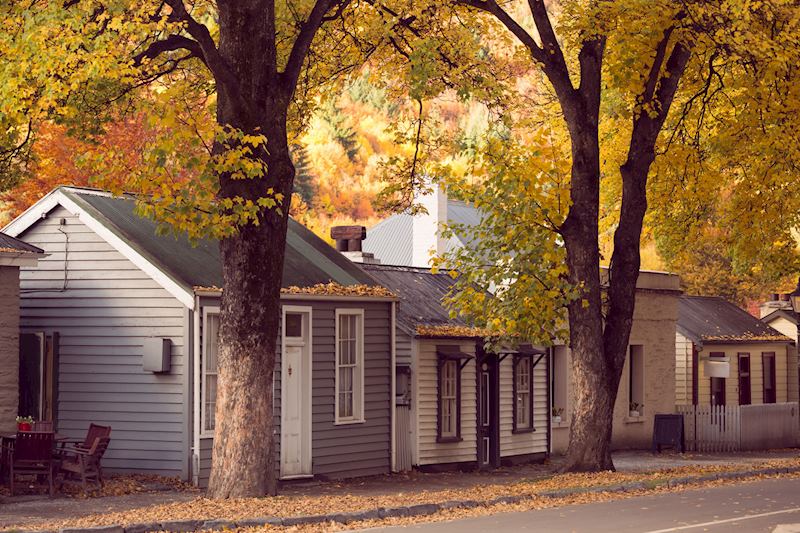 About an hour's drive from Wanaka and 20 minutes' drive from Queenstown lies Arrowtown, a former gold-rush settlement that, like Wanaka, feels shy and retiring compared with nearby adrenaline-sports-capital Queenstown.
Although Queenstown does offer some good, manageable cycle paths alongside its vast S-shaped Lake Wakatipu, I think there's something infinitely more restful and exclusive about basing yourself in Arrowtown and cycling around here instead.
I like the Arrow River Bridges Ride and the Gibbston River Ride. They take you over wooden bridges, down winding country lanes, and through carefully primped and preened vineyards. The cycling is flat and relatively easy and (a bonus for me) takes you right by the cellar doors of many great pinot noir wineries.
Multi-day cycle trails
Otago Central Rail Trail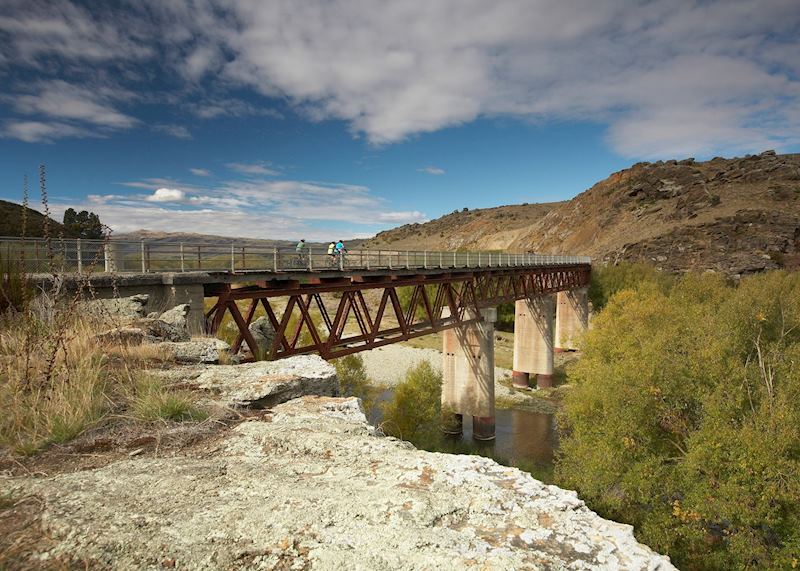 Much like its Great Walks, New Zealand brims with well-maintained cycle trails that take one or more days to complete. Alps 2 Ocean is one of these headline routes, transporting you from the feet of Aoraki/Mount Cook to Oamaru on the east coast, through a landscape of braided rivers, glacial lakes, and highlands bronzed with tussock grasses.
But the original trail (and the best, in my book) is the 150 km (93 mile) route that splices across the South Island's rural Otago region. It follows the path of a now-disused railway from Clyde to Middlemarch.
Following a single shingly track (it's impossible to get lost), you can spend up to five days gliding through farmland and vast open plains with few signs of human habitation. You'll look out over rivers and across to the Southern Alps, but the route is also littered with the remnants of New Zealand's once-lucrative gold trade and supporting railway — abandoned digs, ghostly tunnels and skeletal viaducts.
You can cycle the trail independently, or use a transport and luggage service to drop you off and pick you up at a set point each day (these services are completely flexible: you simply give the company a call when you're done for the day).
The Otago Central Rail Trail is suitable for children, too — the route has few inclines, and there are 'bus stops' where you can receive 'passport stamps' for completing different stages of the route. And, some of the places you can visit en route have much that might charm children. Take Wedderburn, where you can look out over mountains, which are sprinkled with snow at the right time of year, and watch merino sheep being herded.
Read more about trip ideas to New Zealand

Start thinking about your experience. These itineraries are simply suggestions for how you could enjoy some of the same experiences as our specialists. They're just for inspiration, because your trip will be created around your particular tastes.
View All Tours in New Zealand