Track, not trail. Tramping, not hiking. Scroggin, not trail mix. If you're going walking in New Zealand, you need to talk the talk. In fact, tramping is sometimes described as the national sport (just don't tell the All Blacks). It's not surprising, with tracks of all lengths spanning the country. They plunge you into remote, wild landscapes like podocarp rainforest or volcanic terrain.
Avid hikers Holly and Sara-Jane from our New Zealand team answer your questions on their top five multi-day and day walks in New Zealand. And, forget camping en route: think cosy lodges, hearty meals and private guiding.
Multi-day walks
By Holly
Queen Charlotte Track, Marlborough Sounds, South Island
71 km (44 km), 3 to 5 days. Our rating: easy to moderate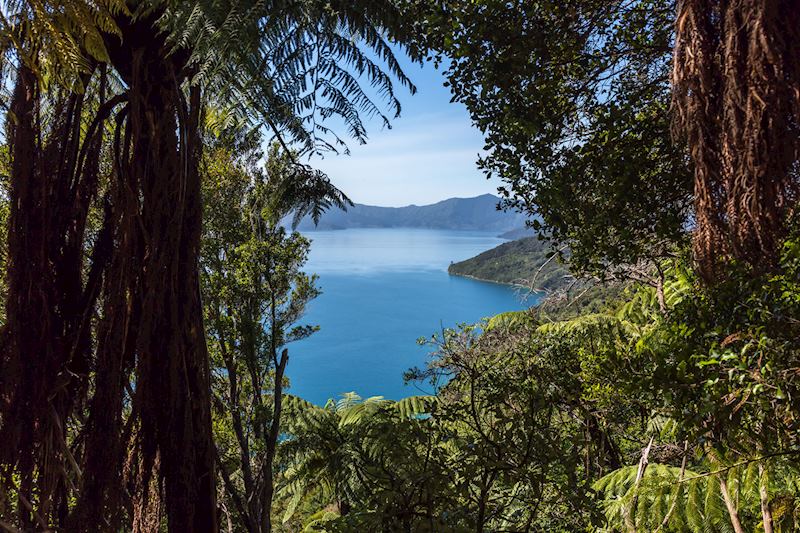 What will I experience on this track?
The Queen Charlotte Track rambles over the gently sloping hills of the Marlborough Sounds, an area of ancient flooded valleys at the top of the South Island, where the land gives way to the Cook Strait.
After a fairly steep start, it's a leisurely meander up and down the track over ridgelines and saddles. You're flanked on both sides by frothy New Zealand bush, ranging from manuka and gorse to tall beech trees.
Starting from Ship Cove out in the Sounds and walking inland to Picton, you have constant views of the glistening waterways, which switch with the sun from a deep, glowing cobalt blue to a neon-bright teal. Sometimes, you'll descend into an out-of-the-way cove.
You'll see boats plying the channels — everything from ferries to pleasure cruises to the local mail boat and little fishing craft. The occasional pod of bottlenose dolphins crests its way through. And, if you're really lucky, you might see orca.
What are the real standout moments?
The constant birdsong. Listen out for the tui's electronic-sounding medley of singing and clicking (it always reminds me of Star Wars' R2-D2). You might also find companions in raucous kakas (a type of native parrot) and the flightless weka, which looks like an oversized kiwi. This is a particularly good track for birdwatchers.
Any downsides?
The views remain the same throughout. It's great if you like (to quote New Zealand author Keri Hulme) 'seawatching', but not so good if you like scenic variety.
How does this walk work, including where you stay?
You stay in comfortable lodges and small hotels along the route. Lodges' water taxis will drop you off each day on the track, before taking your luggage to that night's accommodation. This means you need only carry daypacks.
You can walk independently or with a private guide, who'll point out the track's flora and birdlife as you go.
Where can I base myself in this area?
You can bookend your trip with a night or two at Raetihi Lodge — an ecologically minded property near Ship Cove, accessible via water taxi from Picton. For something a little plusher, the Bay of Many Coves is hidden amid the bush in a quiet corner of the Sounds. Like Raetihi, it offers a spa and a wide range of activities, including kayaking, wine tours to nearby Blenheim, and fishing charters.
The Hollyford Track, Fiordland National Park, South Island
56 km (35 miles), 4 days (3 nights on the track). Our rating: moderate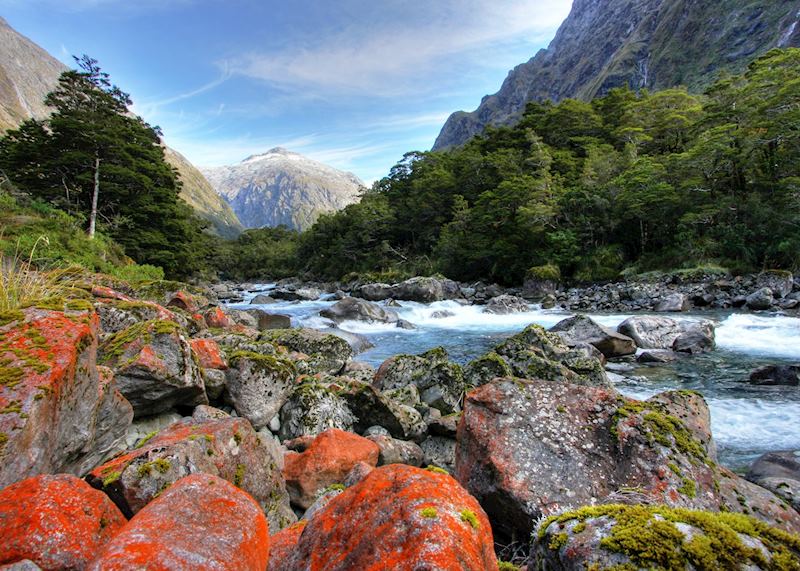 What will I experience on this track?
The Hollyford is a cousin to the better known (and more crowded) Milford Track. But, whereas the Milford takes you up and over a mountain pass on the way to Milford Sound, the Hollyford meanders along valley bottoms and crosses lakes and beaches.
It's also much more than a walk. Your tramp includes a jet-boat journey across Lake McKerrow, a helicopter flight down Milford Sound, and more potential wildlife sightings than other tracks. On the first night, you're shown wild eels; they look like huge streams of ink twisting through the water. You'll also go on an after-dinner stroll to spot glow-worms, which cluster in damp, busy areas like little gatherings of fairies.
The scenery changes with each day. You'll cross rivers and lakes with a backdrop of austere mountain peaks, often spliced with snow. You'll also hike through sprawling silver beech forest opening in places to reveal misty waterfalls, before entering ferny podocarp forest. Here, the path wiggles between gnarled trunks encased in all kinds of mosses. Like Tolkien's Ents, the trees here look like they might just wake up and start walking.
The final day sees you walking along Martins Bay Spit, an area of granite sand beach and wind-warped dunes that marks the meeting of the Tasman Sea and the Hollyford Valley. You can spot New Zealand fur seals lolloping on the rocks here, as well as yellow-eyed penguins.
What are the real standout moments?
It has to be the helicopter ride down Milford Sound. It gives you a better sense of the huge cliff-faces of this great natural fortress and the arrowhead shape of Mitre Peak. And, you gain close-up views of the waterfalls somersaulting down the sound's walls after heavy rainfall.
Any downsides?
Possibly just the long-drop bush toilets. They're hardly fragrant, but you get used to this classic feature of New Zealand's walking tracks very quickly.
Expect rain — Fiordland is, after all, one of the wettest areas of the country, which accounts for its rampant lushness. But, don't waste time worrying about it. It rained for three days straight when I walked the Hollyford, and it remains one of the best things I have ever done.
How does this walk work in practice, including where you stay?
You walk in a group of about 16, top-and-tailed by a pair of knowledgeable and patient guides. You'll carry your pack for the first day, but then it gets moved on for you, and you'll only carry daypacks.
You stay in very well-maintained lodges with roaring open fires, and the food (and drink) is excellent. If you buy a bottle of wine and don't finish it, it will be transported to your next lodge for dinner the following night.
You stay in communal bunk rooms (more spacious than they sound) and share bathrooms. All meals are communal, and it's normal to finish the trip exchanging email addresses.
Abel Tasman Coast Track, Abel Tasman National Park, South Island
51 km (32 miles), 3 to 5 days depending on whether you include kayaking. Our rating: moderate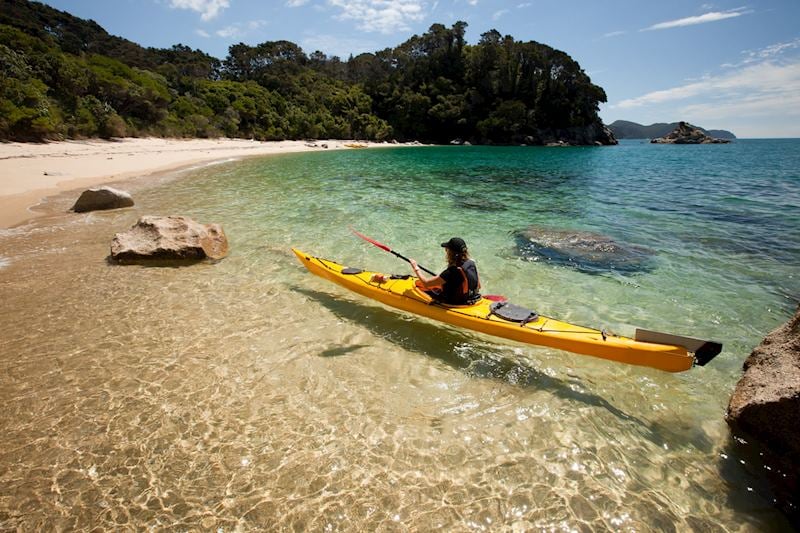 What will I experience on this track?
When you look out from the Abel Tasman Coast Track, in the northwest corner of the South Island, the sea is such a bright shade of aquamarine that you could easily be in the tropics. It's only when you look back at the tangle of wild native bush on the clifftops that you remember you're in New Zealand.
In places, you might have to skirt mudflats. In others, the track is so well maintained it's perfectly smooth underfoot — an advantage of being designated one of New Zealand's nine 'Great Walks'. Sometimes, the beech trees surrounding the track give off the sweet perfume of honeydew globules seeping out through their trunks.
At dusk, glow-worms blink from the depths of foliage, and on the white-sand beaches you'll see throngs of New Zealand fur seals. You can get even better views of them by sea-kayaking part of the track.
What are the real standout moments?
Sea-kayaking lets you access some otherwise unreachable beaches and coves, where you can picnic and play at being the Swiss Family Robinson for a few hours.
Any downsides?
It can get a little rough out at sea, and you'll need strong arms to kayak here. But, a guide is always close by and you're in a double kayak, so you're never alone.
How does this walk work in practice, including where you stay?
This is one of the most flexible tracks in New Zealand. You can just walk a day of it with a guide, and get a boat back to the start (an unassuming car park in Kaiteriteri).
Your lodges are run by Wilson's, a local family-owned outfit, and they're truly some of the most comfortable places I've ever stayed when walking in New Zealand. All food and drink is provided, including hearty packed lunches and ample supplies of scroggin (granola mixed with dried fruits and nuts).
Practicalities
All of the multi-day tracks in this guide can be adapted into one-day walks: please ask your specialist.
Do book as far in advance as possible, as permits are required for multi-day tracks, and they can sell out quickly.
Day walks in New Zealand
By Sara-Jane
Pouakai Crossing, Egmont National Park, North Island
19 km (12 miles), 7.5 to 9.5 hours. Our rating: challenging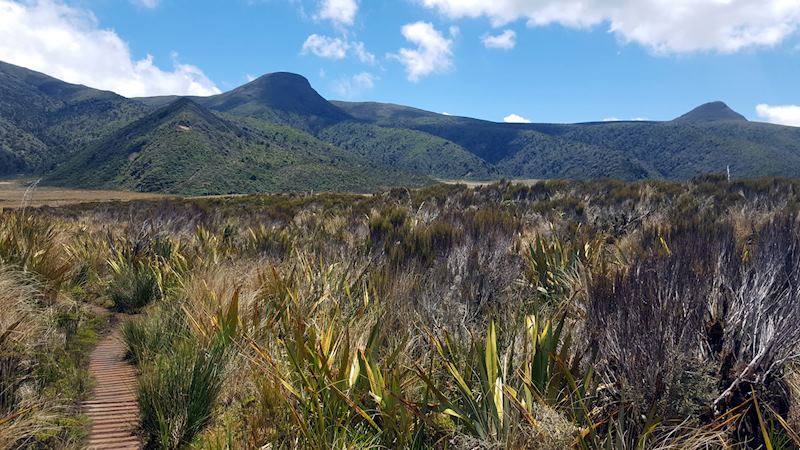 What will I experience on this track?
You'll climb through montane forest, dense with native rimu and rata trees, and fern fronds curled into tight spirals. Then subalpine scrub. Cross an eerily maroon stream, stained with manganese oxide. Pass under fluted, pipe-like lava formations and through a calcified forest of bone-white mountain cedars.
Then, you'll traverse the Ahukawakawa Swamp, which, from afar, looks more African savannah than New Zealand vegetation, before descending through moist, moss-cloaked 'Goblin Forest'.
And, all the while, you have views of the national park's fearsome stratovolcano, Mount Taranaki, a near-geometrically perfect cone with a snowcap that looks dipped in icing sugar.
Because of this volcanic showpiece, perhaps understandably the Pouakai has garnered comparisons with the Tongariro Alpine Crossing. This better-known day walk, farther east in the heart of the North Island, is acclaimed for its charred Martian landscapes, craters, sulphurous fumaroles and surreally cyan lakes. And the fact that it starred as Mordor in Peter Jackson's The Lord of the Rings.
The Pouakai doesn't have the Tongariro's fame — yet. What you won't see on the slopes of Taranaki are hordes of people. In fact, when I hiked this crossing, I saw fewer than 30 fellow trampers (and that was considered a 'busy' day). In comparison, hundreds hike the Tongariro every day. On the Pouakai, you feel as if you're on a real wilderness adventure; the Tongariro is more about treading a well-worn path.
What are the real standout moments?
That's easy: Taranaki himself (the volcano is male, according to Māori cosmology). It thrusts above the relatively flat landscape and makes the nearby Pouakai Ranges look like tiny foothills. And, once you're standing on Taranaki's slopes, you can see west to the Tasman Sea and inland to Mount Tongariro.
Another highlight is the plantlife and flora you'll see en route. The swamp bursts with tussock, sedge and milfoil, and, in December and January, golden lilies called bulbinella. Hardy alpine plants, such as mountain foxglove, grow on other parts of the track. Then there are some intriguing native plants, such as horopito (mountain pepper tree), traditionally used as a spice by the Māori.
Any downsides?
Like many walks in New Zealand, snow and ice can block the route in the winter months, so this isn't a year-round option.
How does this walk work in practice, including where you stay?
You can walk the route independently (it's well-marked), or with a private guide. My guide, Jeremy, filled my ears with the complex Māori folktales surrounding the area, and helped me identify some of the more unusual plants.
Stay in the nearby town of New Plymouth, which offers easy access to the national park and the hike (we can also arrange transport to and from the trailhead and the endpoint). New Plymouth is a great place to visit in itself. It has an arty buzz with plenty of galleries and good restaurants, and a beach decorated with sculptures.
Hooker Valley Track, Aoraki Mount Cook National Park, South Island
10 km (6 miles), 3 to 5 hours (return). Our rating: easy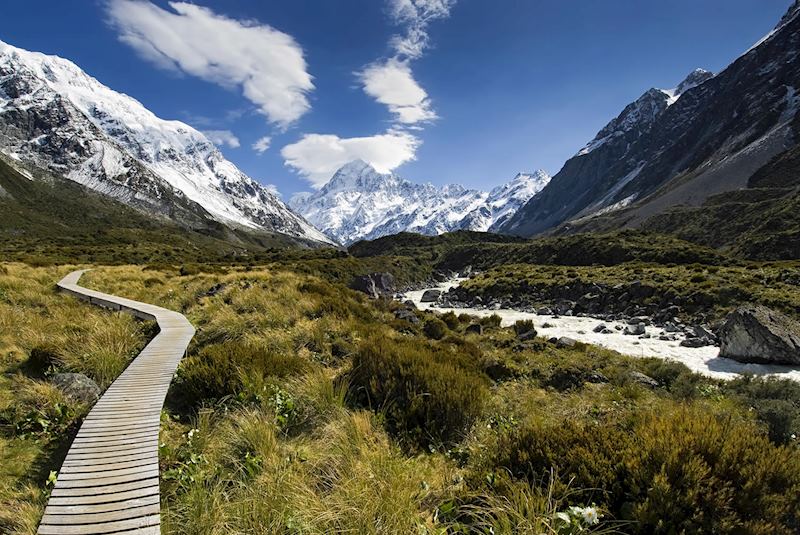 What will I experience on this track?
This is one of my most cherished walks in New Zealand because it's so straightforward, yet scenically rewarding. It takes you over a very level boardwalk track that snakes through the golden tussock of the Hooker Valley.
There's an adventurous feel to it — you'll cross rope bridges and alpine streams — and you'll see icefalls cracking and careering down the surrounding mountains like great frozen waterfalls. Look out, en route, for the Mount Cook buttercup, the world's largest.
What are the real standout moments?
You end up at Hooker Lake, which is strewn with bergy bits from the nearby Mueller Glacier. Funnily enough, you actually see more glacier on this modest walk than you do if you walk to the terminal snouts of the Franz Josef and Fox Glaciers on the West Coast. I like taking a picnic lunch and eating it on the tables by Hooker Lake, overlooking the glacier.
Any downsides?
It can get busy, so do this walk first thing in the morning.
How does this walk work in practice, including where you stay?
It couldn't be easier — you walk out of your hotel in Mount Cook Village and onto the track. Take a picnic to eat by Hooker Lake. Don't worry about missing out on the area's headline activities, such as heli-hikes or skiplane trips: you can do those on the same afternoon as this walk.
Practicalities
As with the multi-day hikes, do book as far in advance as possible, as permits are equally required for some (though not all) one-day tracks.
Best time to go walking and trekking in New Zealand
The spring (September to November) and summer (January to March) months are ideal, as are the months of March to May. But, spring offers the optimum experience: fewer crowds, when everything is bursting into life. Snowfall is still likely on the mountains, for a bit of added drama.
Read more about trips to New Zealand

Start thinking about your experience. These itineraries are simply suggestions for how you could enjoy some of the same experiences as our specialists. They're just for inspiration, because your trip will be created around your particular tastes.
View All Tours in New Zealand