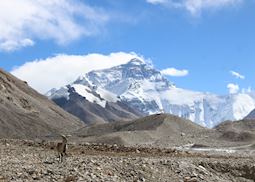 Though the capital, Lhasa, is studded with fabulous sights and attractions, my unbeatable highlight of a trip to Tibet is seeing Everest at close quarters.
The views are simply staggering as you round the last bend on the dusty road to Base Camp and see the world's highest mountain tower above you.
The journey to Golmud and Base Camp is worth every bone-jarring minute and an overnight stay in the Rongbuk Monastery Guesthouse is an ideal way to round off the day, swapping stories with other travellers in the cosy lounge.
You'll see the light change colour on the side of Everest as the sun sets, which is an unreal and magical experience.