By Audley Peru and Ecuador specialist Holly
This may come as a surprise, but you don't exactly travel on Peru's Belmond Andean Explorer for the scenery. Comparatively little travel takes place during daylight hours, and you can look out onto exactly the same mountainscapes, desolate Altiplano and river valleys if covering the route by car (at one point, the road even runs parallel to the tracks).
No, the experience is really about the giddy romance of exploring Peru by Agatha Christie-esque sleeper train, and all that entails. Conversely, Ecuador's Tren Crucero, though not as plush as the Andean Explorer or a sleeper service, takes a decidedly scenic route, passing active volcanoes and cloudforest in its journey to the coast.
The Belmond Andean Explorer (Arequipa to Lake Titicaca to Cuzco)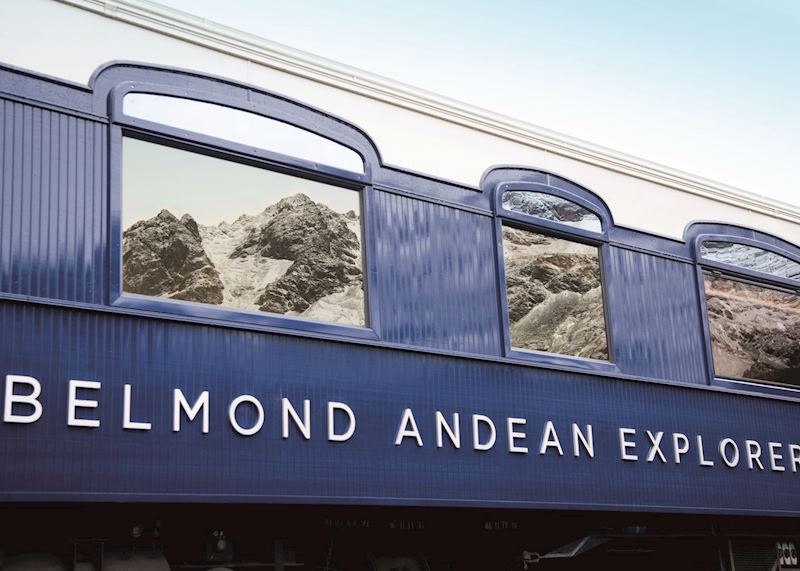 Just as I was taking a sip of my pisco sour, the train gave a judder. Not that anyone seemed perturbed. Someone was tickling the ivories in the piano bar car, which hummed with conversation. We were, after all, journeying on a restored sleeper across the Peruvian Altiplano, and a bit of joggling or clickety-clacking every now and again — along with a few periods where the train only crawled along — was par for the course. Occasionally, the train would stop altogether for engineers to hop off and change the points.
Here's what I really like about Belmond's service: it manages to evoke something of the mystique of the golden age of train travel through several imaginative, nostalgia-inducing touches (more on those, shortly). And yet, at the same time, you never forget you're in Peru while you're on the train.
The walls are hung with vibrant, zigzag-patterned textiles and other handicrafts. The cabins and cars are furnished with alpaca and vicuña wool blankets. There's a library of Peruvian books, and framed pictures of Amazonian butterflies and Andean villages decorate the dining car.
And then there's the food, which is completely high-end while remaining in touch with the country's roots. You can expect canapés and amuse-bouches using cuy (guinea pig), alpaca tortellini, homemade quinoa breads, and dishes using corn and other seasonal vegetables.
The route, day-by-day
I caught the service from Arequipa, journeying to Lake Titicaca and then winding up into the Andes to end in Cuzco. It's also possible to travel this three-day, two-night route in reverse.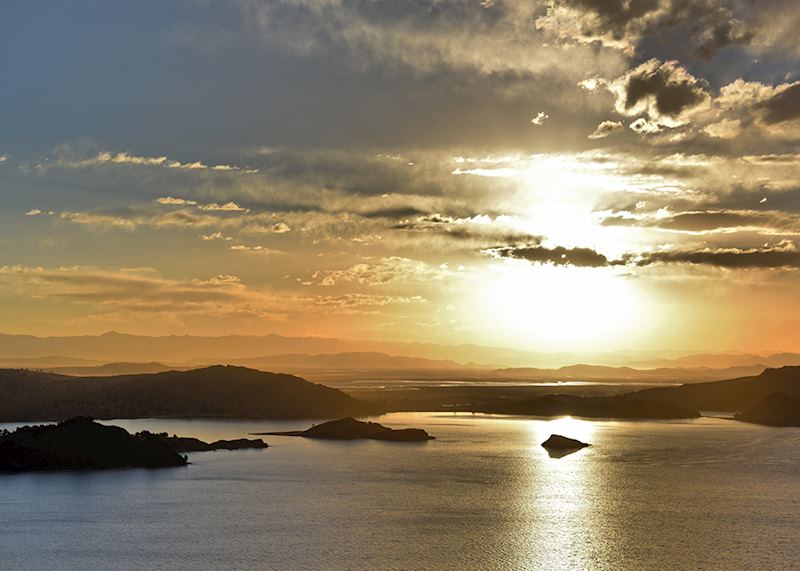 Day 1: Arequipa to Lake Titicaca
Arequipa's train station has received a facelift thanks to Belmond (it was previously only used by coal trains). Since we boarded at 5:30pm, dusk fell quickly as the train began its journey. You travel throughout the night, stopping, if possible, in a siding. The cabins are comfortable, but I admit I did wake in the night once or twice, aware we were ascending in altitude. (As always with travel to Peru, altitude sickness is a risk, although there are ways of mitigating it).
Day 2: Lake Titicaca
You wake up to breakfast overlooking the lake in the train station at Puno, a city on the water's edge.
Included in the trip is a day-long visit to the floating islands of Uros that pepper the lake waters. Your guide will introduce you to the hardy inhabitants who make the islands from meshed-together springy tortora reeds gathered from the lake, which they also use to craft their homes and boats.
After a lunch of fresh trucha (trout), you head to Taquile Island. It looks, on approach, like little more than a grassy hump, but its sides are contoured with terraces for growing crops. The Taquilenos, dressed in bright chullo hats, will show you their dexterous knitting and weaving industry, by which they live as a largely self-sufficient community.
When you get back to the train station, ready to board for the final leg to Cuzco, you're treated to afternoon tea. A saxophonist plays, and I remember being grateful for the roaring log fire in the grate. It was now around 5pm, and the air (due to the altitude) had a sharp chill. The train departs for its final leg at around 5:30pm.
En route to Cuzco, you stop for a while to spend the night in a siding, which most people find gives them a more refreshing sleep. (You'll also stop in a siding for the night on the Puno to Arequipa routing.)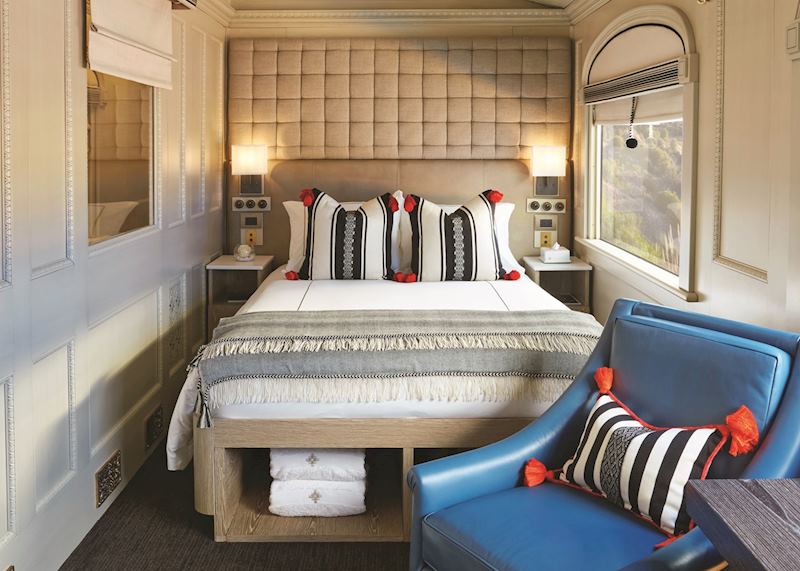 Day 3: travel to Cuzco
Peeking out the window once it's light, you find you have reached the Andes proper.
After breakfast, you disembark and travel for about 20 minutes by private mini-bus to the pre-Inca ruins of Raqch'i, where you can explore the Temple of Wiracocha, the Inca creator-god.
It's an enormous site of mostly adobe structures, and the complex includes a row of columns with carved stone foundations, an artificial lake, bathhouses and qollqas (grain storehouses). You'll also find local handicrafts for sale in and around the ruins, including some excellent ceramics.
The best scenery of the entire journey occurs once you board the train again for the last leg into Cuzco, snaking along the Urubamba Valley floor with mountainscapes on either side. Don't be surprised if you see locals standing and waving from the sidings, especially as the train nears Cuzco, your journey's end.
If you're planning to go on to visit Machu Picchu, I suggest continuing your journey in style by taking the Belmond Hiram Bingham service from Poroy Station, just outside Cuzco. If you can, catch the service that departs around 9am (with an elegant brunch served on board). The alternative evening service travels largely in the dark and thus you miss out on the Sacred Valley scenery. Compared to the inhospitable Altiplano, you're in a much gentler, greener and more compliant-looking landscape: fields are sown with crops, and the agriculture gives way to more and more jungle the closer you get to Machu Picchu. You might even spot hummingbirds.
Reversing the route
It's worth pointing out that if you reverse the route, departing from Cuzco and terminating in Arequipa, you have the opportunity to visit Sumbay Caves. These former dwellings, located in a canyon in the shadow of the stratovolcano known as El Misti, contain a veritable gallery of Paleolithic pictograms and paintings, including figures hunting vicuña.
Life on board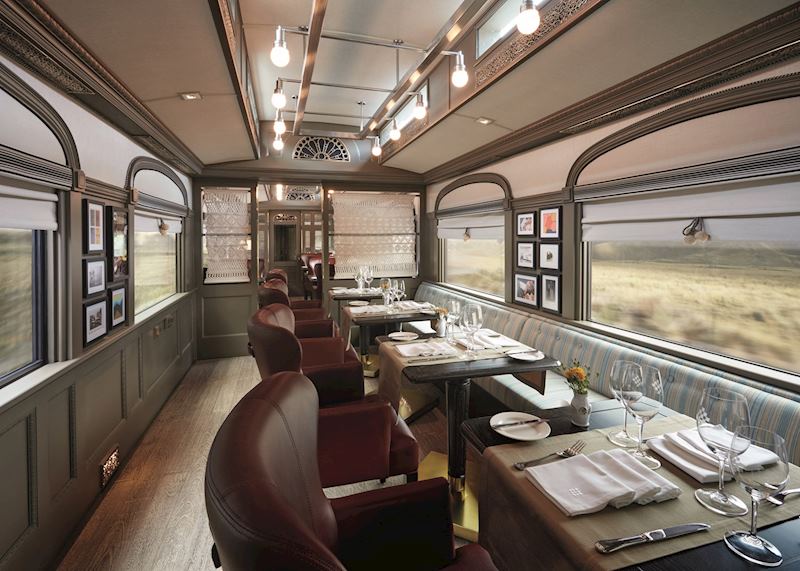 Staying on the train really is like heading back to the travel ambience of the roaring twenties.
It's the novelty of going to bed in a traditional sleeper train bunk-bed cabin, complete with en suite shower, slippers, a robe, a safe box and chocolates left on your pillow in the nightly turn-down service. It's spending several hours idling in the piano bar. Or slipping out onto the train's observation deck at night, well wrapped-up, for a spot of stargazing (you're passing through areas with minimal light pollution, and this, combined with the altitude, makes for superb visibility).
I also appreciated being able to chat to the all-Peruvian staff, who'll willingly point out anything of interest through the window. One lady once stopped what she was doing to explain to me that the farmers in the passing fields were freeze-drying potatoes.
I'll stop waxing lyrical for a moment to throw in a small tip about the cabin choices: as fun as the bunk-bed cabins are, I'd recommend booking a double cabin, if you can. They're so much more spacious (I could barely open my suitcase in the bunk-bed cabin).
Remember, too, to admire your room's ceiling. It's delicately painted to look as if it's made out of tiles (in fact it's tin), an Art Deco technique that I first saw in the hotel Casa Gangotena in Quito.
Practicalities of riding the Andean Explorer
The Andean Explorer also offers a one-night sleeper option between Cuzco and Lake Titicaca. Your specialist will be able to advise you on whether this suits your travel plans better than the two-night route.
Start planning your trip to Peru & Ecuador

Start thinking about your experience. These itineraries are simply suggestions for how you could enjoy some of the same experiences as our specialists. They're just for inspiration, because your trip will be created around your particular tastes.
View All Tours in South America