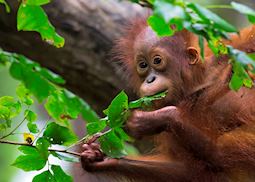 Lankayan Island is a great destination and your typical 'Robinson Crusoe' island situated about one and a half hours of the coast of Sandakan in the Sulu Sea.
Due to its close proximity to Turtle Island you are likely to see many turtles when you are snorkelling or diving on the house reef and the resort also has a small hatchery where you can see hatchlings being released into the sea.
This small idyllic island is a great place to spend a few days relaxing before continuing your wildlife experience.