The best time to visit the Cook Islands is between April and November, during the driest months, when temperatures are warm but still pleasant when you're exploring.
The climate in the islands is tropical and generally agreeable, with steady humidity levels and temperatures between 24°C and 30°C. But Rarotonga's richly green mountainous heart attests to the fact rainfall is possible all year round on the Cooks.
December to March is the damp season, when there's a greater chance of cloudy days and the occasional storm. In reality, this means it's likely to rain hard for a couple of hours and then stop — so travel isn't impossible at this time of year. You'd be very unlucky to have rain for days on end. Temperatures hover around 26°C to 30°C.
Creating tailor-made tours for over 25 years

Excellent
TrustScore

4.7 | 3290 reviews

Month-by-month guide for travelling in the Cook Islands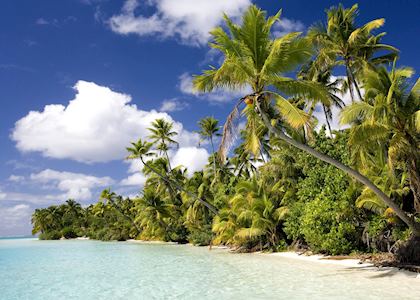 Visiting the Cook Islands in January - February
The middle of the Cook Islands' summer, these months are not only the hottest but also the most prone to heavy rainfall, although continuous days of solid rain are rare. There's also a (low) risk of cyclones.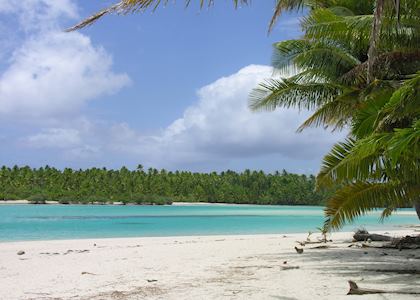 Visiting the Cook Islands in March - April
March sees the tail end of the Cooks' rainy season. From April, the weather settles and the islands become pleasantly warm, the humidity occasionally punctured by the odd refreshing shower or sea breeze.
Events & Festivals
Te Mare Ura, a festival of the Cook Islands' traditional Mare Ura dance, takes place annually in Rarotonga between April and May.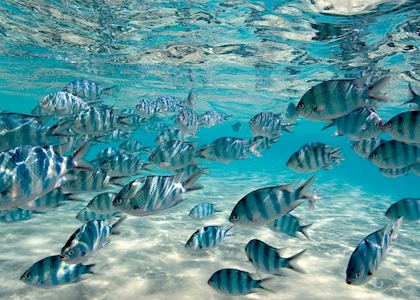 Visiting the Cook Islands in May - June
May and June see the islands becoming warmer still, and steadily busier as tourists from around the world (but especially the Southern Hemisphere) start to visit. Whale-watching season begins mid-June and runs until October. At these times of year, you can see humpbacks blowholing from the shore on the western side of Rarotonga.
Events & Festivals
Te Mare Ura, a festival of the Cook Islands' traditional Mare Ura dance, takes place annually in Rarotonga between April and May.
Visiting the Cook Islands in July - August
This is the middle of the Cooks' winter. Daytime temperatures are warm, while the nights can be chilly. It's also when the Cooks are at their busiest, as Australians and New Zealanders flock to the islands during their school winter breaks.
Events & Festivals
Manureva Aquafest, a water sports festival showcasing some of the world's best kitesurfers, comes to Aitutaki in late August.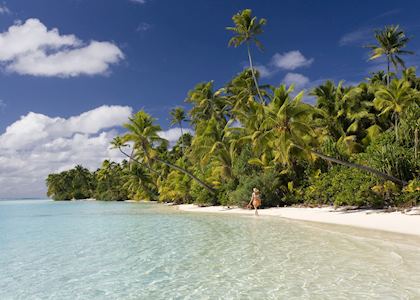 Visiting the Cook Islands in September - November
In September, the weather is still warm, but a thicker, soupier humidity returns to the islands by November. It's still possible to see whales until mid-October, but we recommend avoiding the last week of September as this often coincides with spring break for New Zealanders.
Events & Festivals
Mire Tiare, the Cooks' flower festival, is celebrated on Rarotonga in late November.
Vaka Eiva (a prestigious canoe-racing competition) also takes place in late November in Avarua.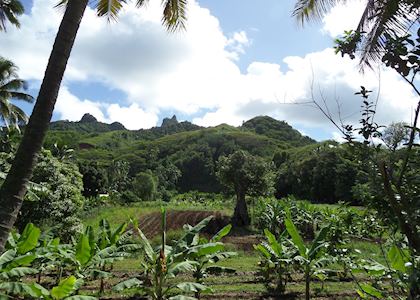 Visiting the Cook Islands in December
In December, the heat ramps up, more frequent rainfall envelops the Cooks, and there's a greater chance of inclement weather and storms.
Cook Islands Climate Guide
Destination
Jan
Feb
Mar
Apr
May
Jun
Jul
Aug
Sep
Oct
Nov
Dec
Aitutaki

30°C

245mm

30°C

237mm

30°C

212mm

30°C

219mm

28°C

181mm

28°C

93mm

27°C

80mm

25°C

90mm

27°C

90mm

28°C

123mm

29°C

162mm

29°C

227mm

Rarotonga

28°C

249mm

28°C

241mm

28°C

216mm

27°C

299mm

25°C

211mm

24°C

144mm

24°C

126mm

24°C

165mm

25°C

163mm

25°C

128mm

26°C

190mm

27°C

286mm
Why travel with Audley?
100% tailor-made tours
Fully protected travel
Established for over 25 years
98% of our clients would recommend us Travel advice
Practical tips for travelling to the Cook Islands, from social protocols to guidance on money matters, with a link to the latest FCDO travel advice.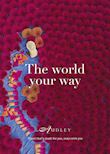 Request our brochure
Covering all seven continents, The world your way shows you how you can see the world with us. It features trip ideas from our specialists alongside hand-picked stays and experiences, and introduces our approach to creating meaningful travel experiences.
Trip ideas and travel guides for exploring the Cook Islands