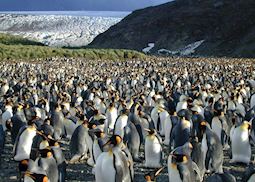 Argentina, Antarctica and Falkland Islands
Walk from Stromness to Fortuna Bay in the footsteps of Shackleton, Crean and Worsley.

See wandering albatross on their nests.

Marvel at icebergs carved into hypnotic shapes by the wind and water.

Spend time on deck watching wandering albatross circle the boat whilst keeping an eye open for whales.

Kayak or trek in peace through untouched regions.

Sit among a king penguin colony with over 100,000 birds.