By Maldives specialist Ludo
As an avid diver, luxury for me is the perfect dive spot — and I'd argue the Maldives has just that. The coral here is thriving, thanks to long-term care by the government and citizens, which means you can see enough marine life to fill a David Attenborough special. I spend as much time as I can in these cyan-blue waters.
I find that the Maldives don't just meet my luxury ideals, I propose that, whatever luxury means to you, you'll find it here. Whether you're looking for spacious overwater bungalows, top-class local cuisine or over-the-top spa indulgence, you'll find it here. I've hand-picked the four luxurious island escapes I like best.
Wreck diving and excellent dining at Baros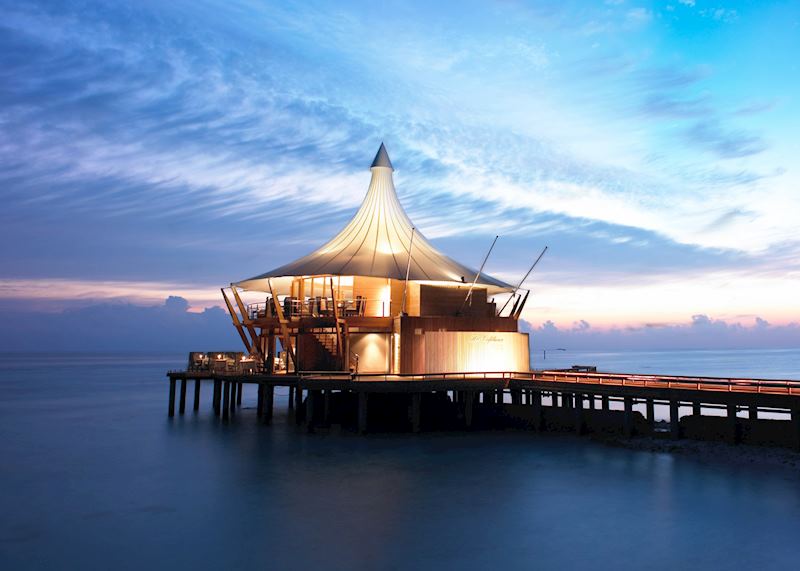 One of the oldest private-island hotels in the Maldives, Baros is the most popular hotel among our clients for good reason. Mature palm trees cast deep and cooling shade on the villas, where you can enjoy modern island luxury inside traditional thatched-roof bungalows.
The staff offer the impeccably attentive service that you expect at a resort of this caliber and it's easy to reach — just a 40-minute speedboat ride from Malé airport. Baros, like all the hotels I mention, employs primarily Maldivians, which ensures your money goes back into the local economy.
Dining on Baros
The hotel is home to the Lighthouse, probably the best-known restaurant in the Maldives. Perched on an overwater deck, you can dine under the stars or sheltered by the swooping sailcloth canopy that glows over the two-story restaurant, giving it the name. The French-inspired food here is exceptional — I have very fond memories of a flambéed Wagyu steak, but the menu also features local seafood and vegetarian options.
For less formal meals, there are three other dining options and you can arrange a candle-lit meal for two on a sandbar, if you're visiting with a romantic partner.
Diving and snorkeling from Baros
But, for me at least, the real attraction is the diving and snorkeling opportunities. If you're planning to simply don a snorkel, you'll find the house reef just a few strokes from the beach.
The orientation dive is on the house reef. There are two wrecks where I saw a dozen sharks, including a blacktip shark nursery and a sleeping nurse shark. A rainbow of tropical fish shimmered through the reef, moray eels gaped menacingly from dark crevices, and slow and stately turtles paddled by gracefully.
And the house reef is just the start. The hotel can arrange trips to a wide array of nearby thila (underwater islands that typically teem with marine life), as well as night dives to a dramatic black-coral reef that comes to neon-lit life under a special light.
Like all the hotels I'll discuss, there's a 5-star PADI Centre here. This was the first EcoDive Centre in the Maldives certified by International Reef Check, and I was impressed how deeply the dive leaders care about protecting the health of the reef.
The best in barefoot luxury at Velassaru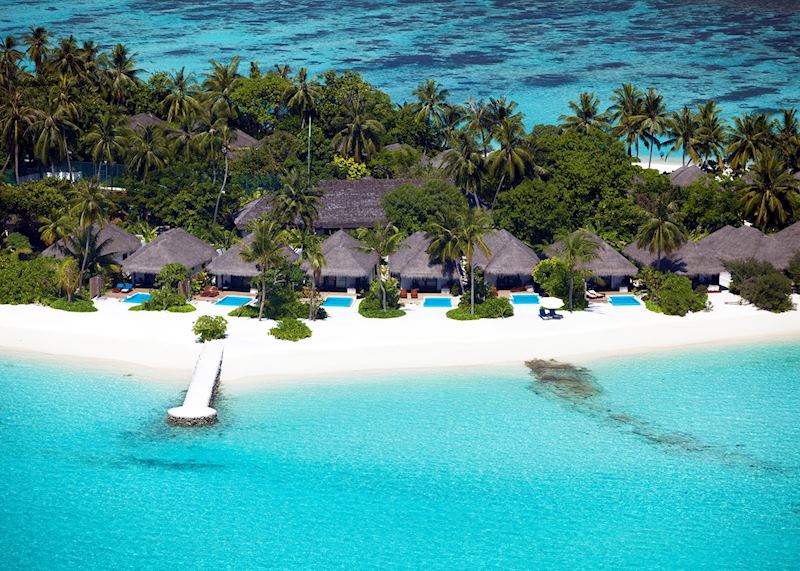 If you prefer luxury with a laid-back atmosphere, I suggest Velassaru. Like Baros, it's located just a short speedboat ride from Malé and offers modern amenities and décor in traditional villas. The overwater bungalows make a lovely option for honeymooners, and the beach villas are great for families with older children.
Families might also enjoy the wide menu of water sports available. You can spend your days water skiing, sailing and wakeboarding, or try your hand at windsurfing and parasailing. For more sedate adventures, there are also transparent kayaks as well as more traditional sea kayaks.
Dining on Velassaru
Of the island's five restaurants, I like Sand the best. The name says it all — the waterside tables sit right on the powdery white sand and the menu spotlights locally caught fish with a pan-Indian Ocean palate. You might as well arrive without your shoes.
Other options include two bars, a sushi bar in an overwater bungalow, a globally inspired lunch menu, and an elegant Latin American fine-dining restaurant. Everywhere has a kid-friendly menu as well.
Diving and snorkeling from Velassaru
But, as I've said before, I come for the diving and it's excellent at Velassaru. The hotel's dive facility arranges trips to more than 60 dive sites, and there's an in-house marine biologist on hand to lead dives, answer questions and explain the hotel's efforts to preserve the coral. The snorkeling here is also excellent, with regular boat trips out to a selection of reefs around the island.
If you go between February and March, you can also take a trip out to a popular gathering spot for manta rays. Time your visit for a full moon if you can — you're more likely to spot them then.
Spa pleasures and whale sharks at COMO Maalifushi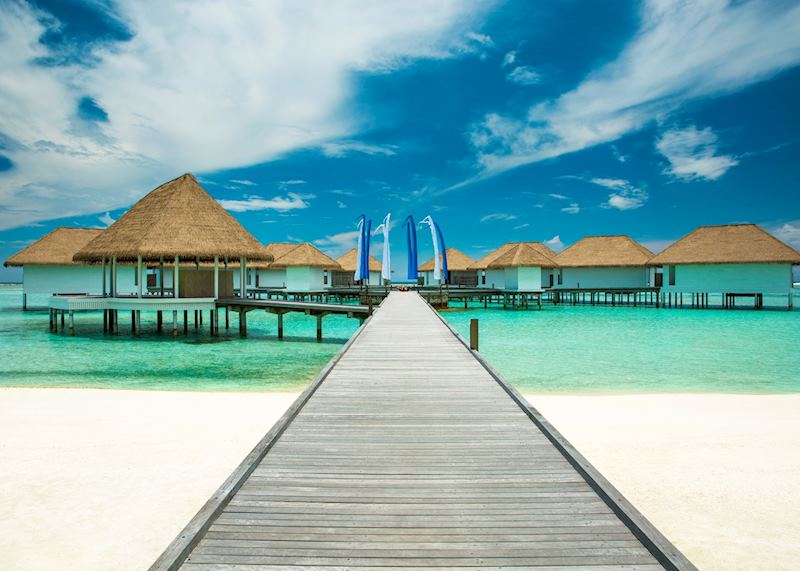 Intimate and peaceful, COMO Maalifushi is the only hotel located in the remote Thaa Atoll, on the southern edge of the scattered islands that make up this watery country. It's far from everything — just getting there requires an hourlong seaplane journey — but your efforts are rewarded with indulgent isolation.
The hotel is known for Shambhala Spa, a holistic spa that offers treatments inspired by local botanicals and Asian traditions. The treatment pavilions rise out of the waters on stilts so you can enjoy the view and the sound of the waves as you soak in a hot tub or get a massage.
The villas here are spacious, both the overwater and the beach villas, making Maalifushi ideal for groups of two or three couples or multigenerational trips. You can also choose one of the Como villas, which boast both a private butler and personal pool. No matter which you choose, the airy interiors gleam with blonde wood and lightweight white fabrics.
Dining on COMO Maalifushi
There are three restaurants, including the elegant Madi — the name means manta ray in Dhivehi. The open-aired pavilion offers oceans of space around your table, providing you with privacy as well as a view of the water. The menu here features locally caught fish and tropical produce prepared in a variety of international styles. The dishes are delicious but also healthy, in keeping with the theme of the hotel.
Diving and snorkeling from COMO Maalifushi
The house reef here stretches along the northern edge of the island and is filled with a myriad of creatures, including dolphins, eagle rays, turtles. In addition to the excellent diving, the hotel can also arrange an aqua safari with a marine biologist, a champagne dolphin cruise or UV-light night snorkeling.
But the most exciting thing on offer here is the whale shark experience. If you visit during the right season (early November to April), whale sharks are likely to be moving through the warm waters on their annual migration.
These majestically massive creatures are the largest fish in the sea and getting to see one is a rare treat. The hotel can arrange a night visit to see these harmless giants — you can either stay onboard the boat or slip into the water with them, getting an exceptional view thanks to the glass-clear Maldivian water.
Hanifaru Bay at lavishly lux Milaidhoo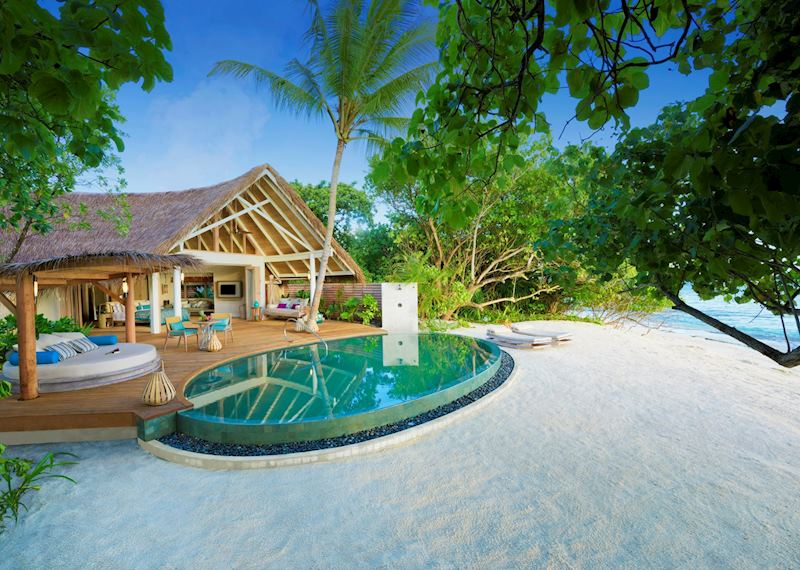 Tucked into the heart of a UNESCO Biosphere Reserve, Milaidhoo is the ne plus ultra of tropical opulence. The island hotel offers extravagantly spacious villas, some of the best food I've ever eaten anywhere in the world, and the pleasures of exclusivity thanks to its remote and protected location. Located in the Baa Atoll, a 35-minute seaplane ride north of Malé, Milaidhoo feels much more remote than many Maldivian resorts.
Whether over water or on land, the villas and residences all come with their own private pools. The thatched roofs are shaded by dense tropical foliage and the interior decor is breezy, bright and thoroughly modern. Residences come with private butlers, for that completely indulgent touch.
Dining on Milaidhoo
There are five different restaurant options, each one more tempting than the next. If one can be said to stand out, it's Ba'theli. The hotel converted several traditional Maldivian cargo boats, known as ba'theli, into an elegant lounge and restaurant that serves a menu featuring local cuisine, something that's almost unique amid the Maldives' 1,200 islands.
You can choose to dine under the stars on the deck or inside, where you can admire the marine life through the glass bottoms of the converted boats. The dishes feature curries that nod towards nearby India and Sri Lanka.
You'll find white fish poached in fresh coconut milk, its delicate flesh flaking apart at the slightest touch, and the whole dish warmed by island spices. Be sure to save room for screwpine ice cream, a local delicacy made from the pink fruit of a mangrove tree. The taste is hard to describe — sort of fruity with a resinous, herbal twist.
Diving and snorkeling from Milaidhoo
Of course, astounding food and sumptuous rooms aren't enough for me. Milaidhoo also has some exceptional diving and snorkeling, as well as a wide array of watersports and an on-staff marine biologist. But the real highlight for any diver is nearby Hanifaru Bay.
This is the jewel of the UNESCO biosphere and, between June and November, the most popular place in the world for manta rays to gather. Vast flocks of these graceful creatures gather in the deep blue-green water, flapping their dark wing-like fins and performing a silent aquatic ballet.
The number of boats and visitors are heavily restricted and carefully monitored, but Milaidhoo is one of the only hotels with access. Staff run a boat out the bay three times a week for diving when the rays are visiting, and you can snorkel or dive amid their gentle feeding frenzy. (There's a strict set of guidelines for the animals' health — staff will instruct you on how best to keep them safe.)
Read more about trips to the Maldives
Maldives and Sri Lanka

View this tour

Maldives and Sri Lanka

View this tour
Start thinking about your experience. These itineraries are simply suggestions for how you could enjoy some of the same experiences as our specialists. They're just for inspiration, because your trip will be created around your particular tastes.