My life has been planes and passports ever since I was an infant. Growing up as a young kid in Albania, going to Turkey was always the highlight of every year. This was my first taste of what the Middle East had to offer, and the rich culture and history there was to explore.
My travel experiences would go on to expand with each year that passed. Road trips through the Balkans and Central Europe further ignited my curiosity about seeing the world. Each country brought new sights, new languages, and new people, and it only made me want to see more.
During my college years I spent a summer living in Shanghai, China. This was the farthest I had ever been from home. The experience was one of the most fulfilling of my life, and it made me realize that travel was my true calling.
Speak to Desti

Start planning your tailor-made trip with Desti
01993 838 400
Q&A with Desti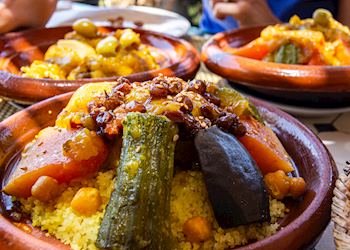 What's the best local dish you've tasted?
Couscous is a weekly tradition in Morocco, with all families having a big feast on Friday's after returning from the mosque. Its small, fine grains of semolina wheat are accompanied by an assortment of vegetables such as carrots, zucchini and artichokes. Then, to make it a properly hearty meal, lamb or beef is added on top, leaving you truly full.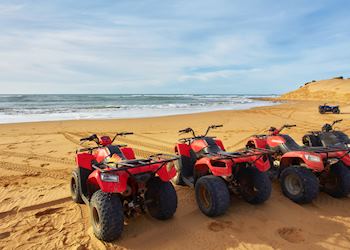 What's your most vivid travel moment?
I went quad biking along the coastal sand dunes of Essaouira. The sun was bright and there wasn't a single cloud in the sky. The ride took me along the beach, where I could feel the breeze of the ocean as I raced down the sand. Before I knew it I was then making our way down the winding paths along the desert brush, leading us to the dunes. The grip was tricky to manage here but I began to get used to driving in the sand. At the top of the dunes the breeze picked up and all I could see was the endless Atlantic Ocean, glistening behind the sand. I felt completely free, like nothing in the world could hold me back.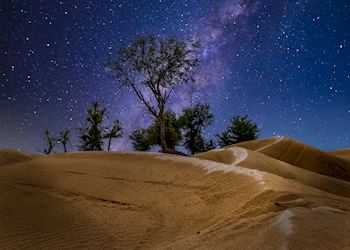 Your best piece of travel advice?
One of the best parts about being in the desert is the stargazing at night. I learned there that the moon can affect visibility just as much as city light pollution when it's bright. One of the locals taught me that waking up at 3-4 am will yield the clearest night sky view, as the moon will be gone and the stars will have the space to shine their brightest. I verified this myself and the sights were well worth the effort of waking up that early.