We're unable to offer trips to Tunisia at the moment. We'll continue to monitor the situation.

Things to do in Tunisia
With ancient ruins, characterful towns and a long Mediterranean coastline, Tunisia offers plenty to see and do. Explore Tunis' medina with its narrow streets full of colorful wares and enticing food, learn about the country's fascinating heritage at the Bardo Museum, home to an unparalleled collection of Roman mosaics, or visit the ancient city of Carthage. Further afield, the extensive ruins of Roman Dougga overlook the rolling countryside, while in the picturesque coastal village of Sidi Bou Said you can wander the winding cobbled streets, flanked by pretty white and blue buildings, and look out over the glittering sea.
Speak to someone
who's been there
Ideas for experiencing Tunisia
Experiences you have as you travel often hold the longest memories. As part of their research trips, our specialists seek out authentic ways to get to know Tunisia, and the best local guides. These activities reflect some of their best-loved experiences.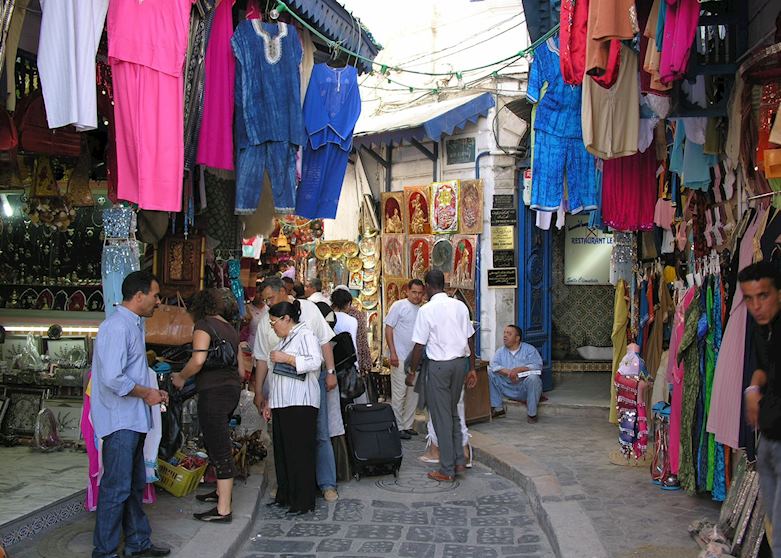 Tunisia
Medina comes from the Arabic word for city, and it refers to the old quarter of Tunis. Your first entry to the Medina of Tunis will most likely come through the Bab Bahr at Place de la Victoire, the Gate into the medina from Avenue Bourguiba.