In 2009 Costa Rica topped the Happy Planet Index, reporting the highest life satisfaction in the world, and, once you've visited this beautiful and diverse land, it's easy to understand why.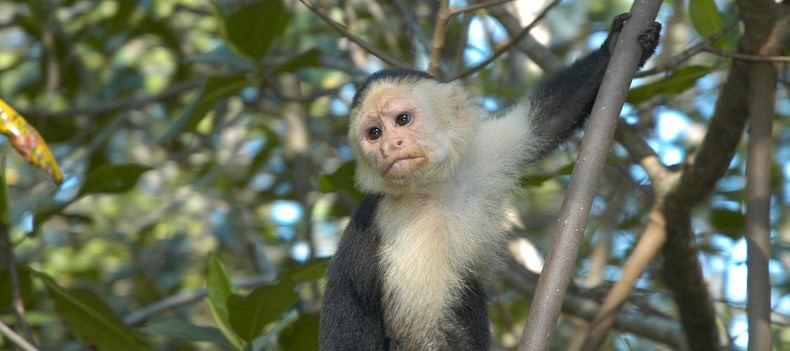 Costa Rica is a small country (just under two and a half times the size of Wales) and for those who enjoy beautiful scenery, activity and wildlife, it's hard to beat.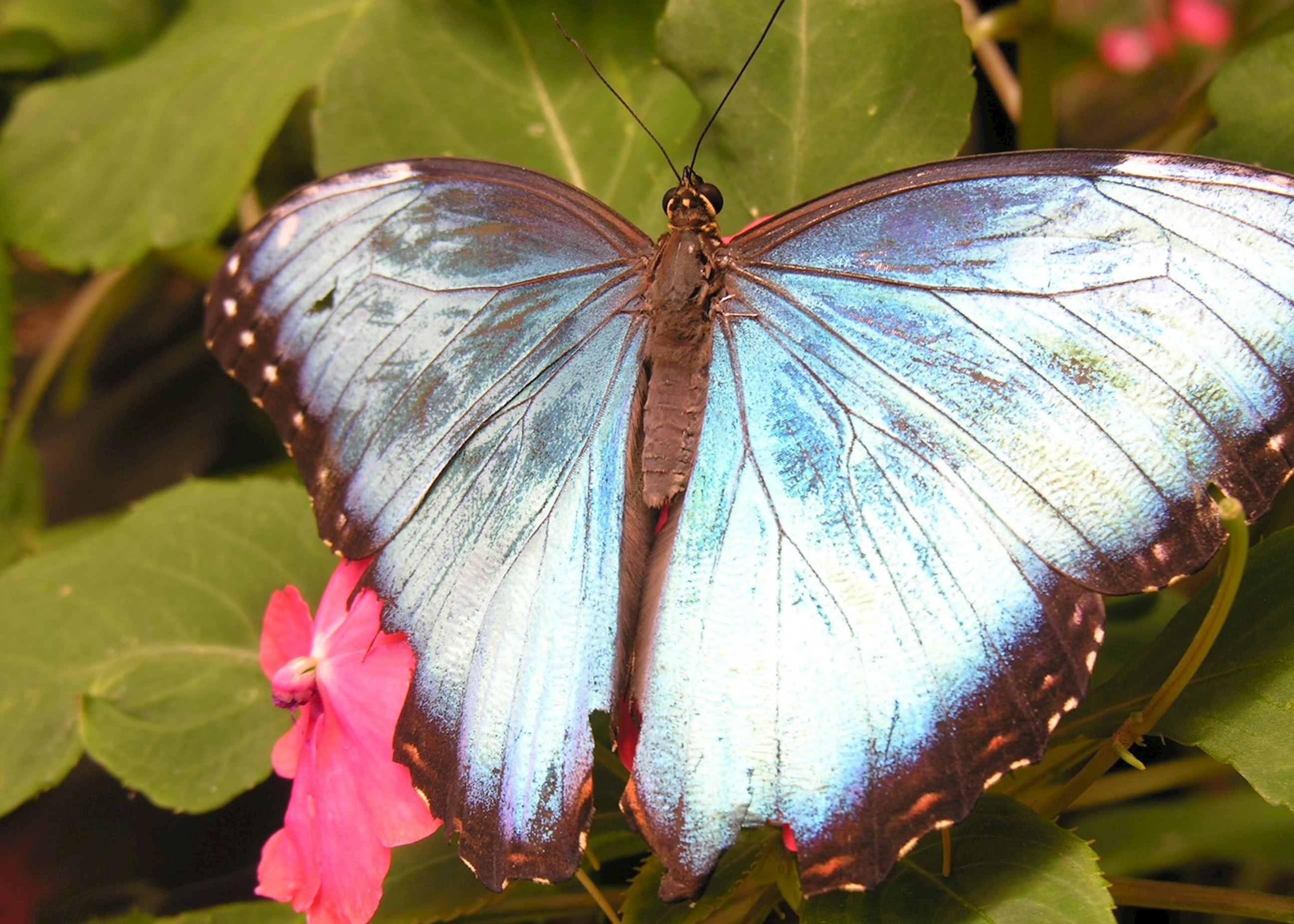 The landscape is varied with dense jungle, mystical cloudforest, active volcanoes and great beaches all teeming with exotic wildlife.
Although the country only covers 0.03% of the world's land mass, it is home to over 6% of the world's total identified species. That's 850 species of birds and 250 species of mammals. And with about a quarter of the country dedicated to national parks, wildlife refuges or reserves, Costa Rica's best assets are well protected.
Here are some of Costa Rica's highlights
Tortuguero National Park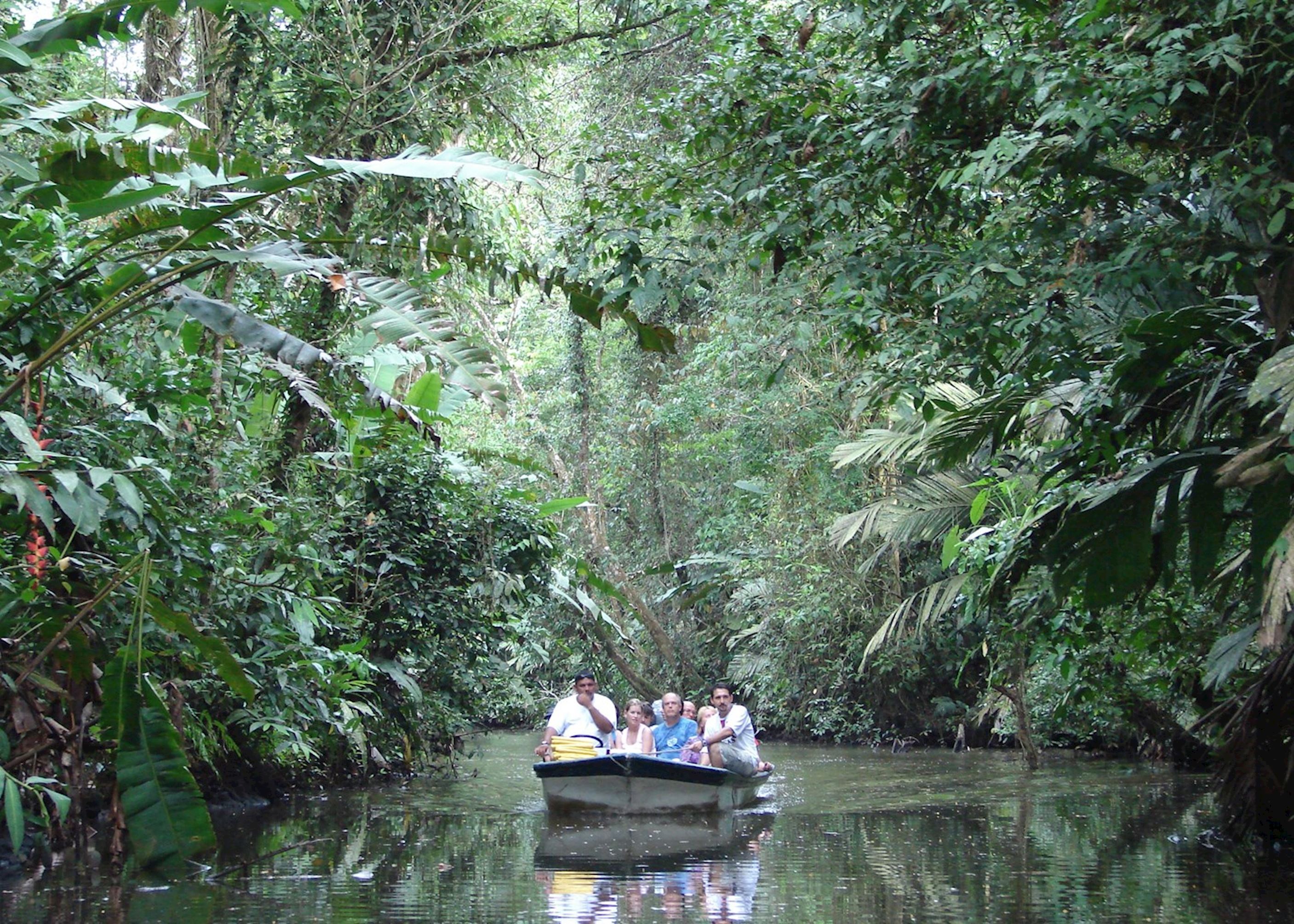 A great area for spotting a range of wildlife and water-birds, Tortuguero National Park is one of the most visited in Costa Rica. Although it is a reasonably remote area just over 250 km (155 miles) from San José on the north east Caribbean coast, it is easily accessible by road and boat or by plane. The park covers 190 sq km (73 sq miles) and is well worth the journey, particularly between July and September when endangered green turtles make their way up to the beach to lay their eggs in the sand.
Arenal Volcano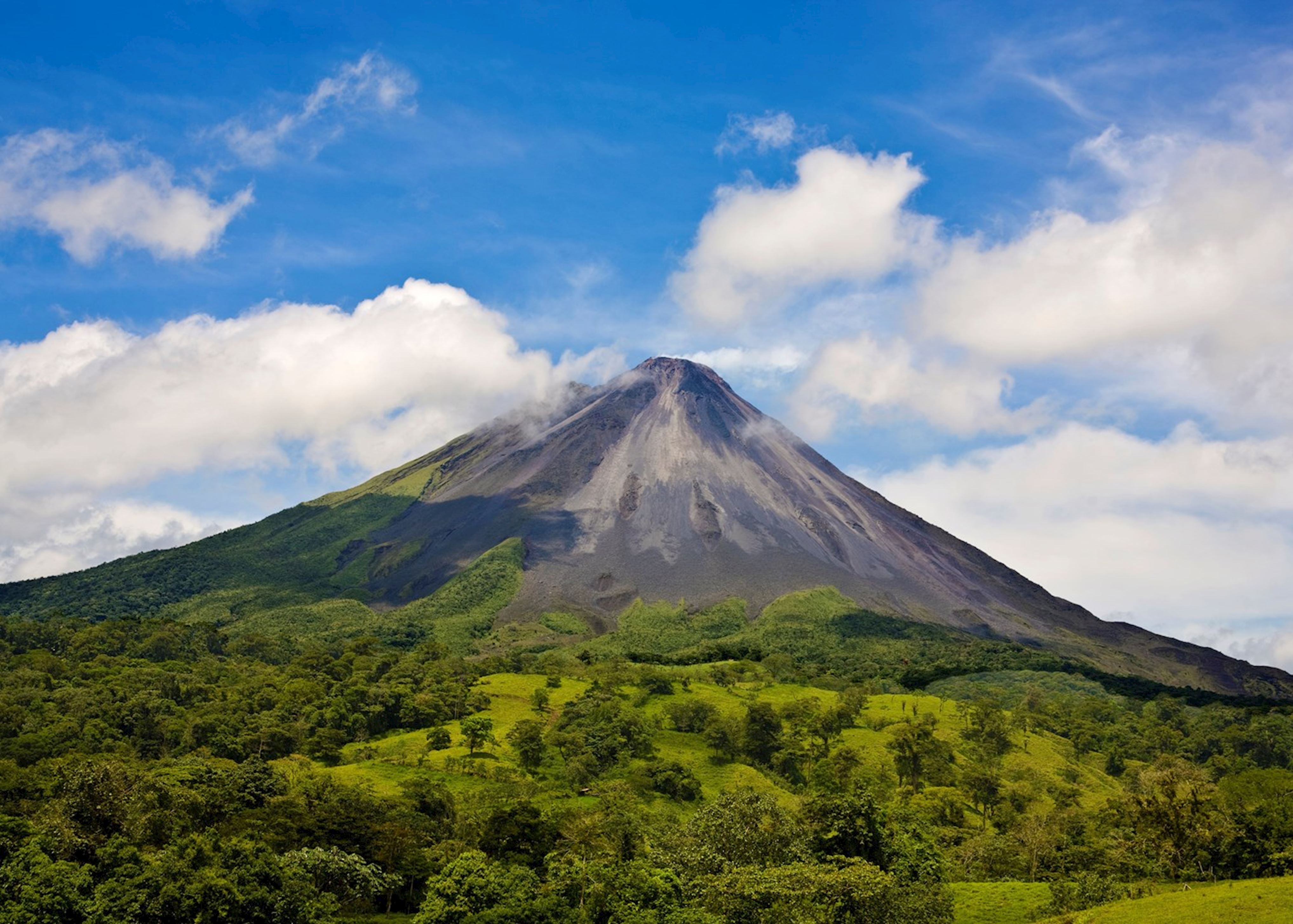 Considered Central America's most active volcano and in the top ten most active in the world, the impressive Arenal volcano is not to be missed. The last major explosion was in 1968 and the volcano has been erupting ever since. On a clear day smoke can often be seen billowing from the top and by night lava flows down its sides. Even if bad weather obscures the summit, you will certainly hear the explosions at night. The area around the volcano is rich in wildlife and after exploring on foot, on horseback, or by boat, you can relax in the naturally-heated thermal springs found nearby.
Itinerary ideas
Example 14-day itinerary
A 14-day trip to Costa Rica including San José (1), Tortuguero National Park (2), Arenal (3), Monteverde (4) and time on the beach in Playa Potrero (5).
Example 18-day itinerary
A more comprehensive 18-day trip that includes some of the hidden gems of Costa Rica, such as Turrialba (6) and Pacuare Lodge (7).
Cloudforest Reserves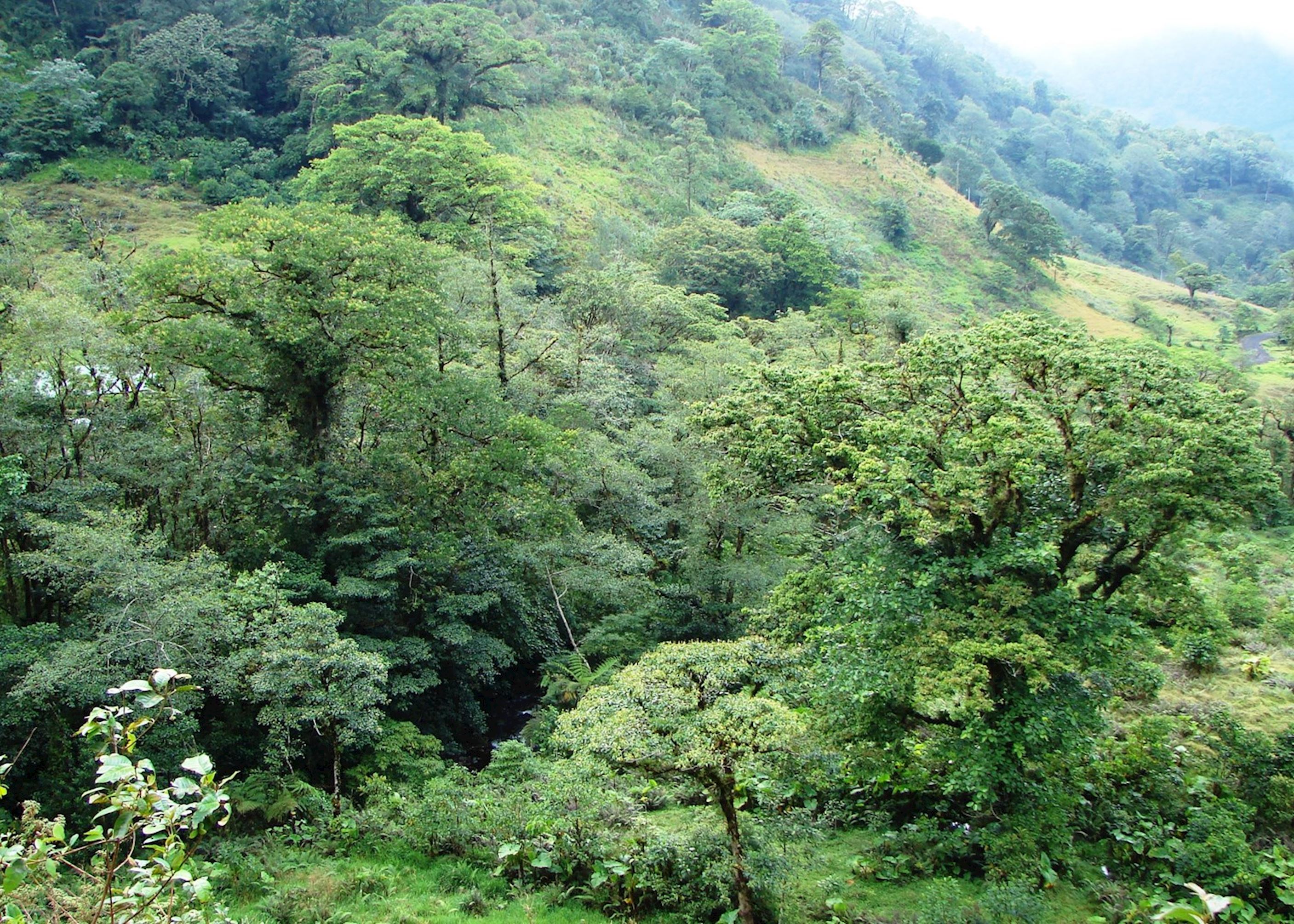 Thanks to their high altitude Costa Rica's magical cloudforests attract different species of flora and fauna from their low-lying cousins. One of the most memorable is the beautiful resplendent quetzal, a stunning little bird of emerald green and ruby red plumage. The most well-known of the cloudforest reserves is Monteverde, which offers a variety of experiences from birdwatching to horse riding, canopy walking and zip-lining. Monteverde is now quite a substantial town, so for those in search of a more peaceful ambience, the more remote San Gerardo de Dota to the south of San José, or the Los Angeles cloudforest reserve near San Ramon may be a better bet.
Osa Peninsula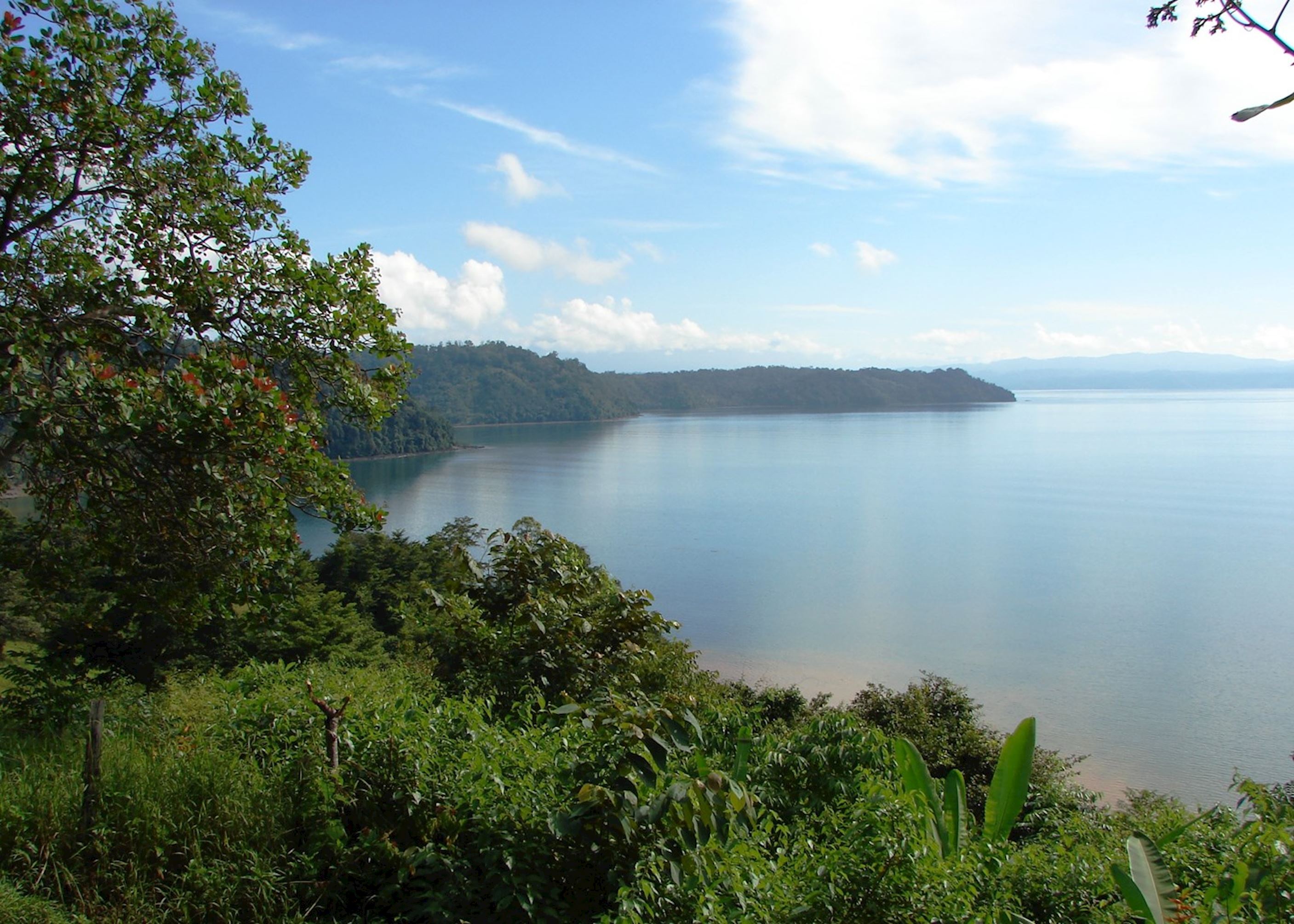 The Osa Peninsula to the south of the country is a wild and rugged area, accessed only by plane, and is the most biologically diverse place on the planet. Since it is less visited and less developed than much of the rest of the country, the wildlife and birdlife here is prolific.
In addition, the marine life can be fantastic with humpback whales from the Arctic visiting between late October and the end of April, and those from the Antarctic here between late July and early November. This gives Costa Rica the longest humpback whale watching season in the world, and if you are there in August you are likely to see the mothers with their calves.
Beaches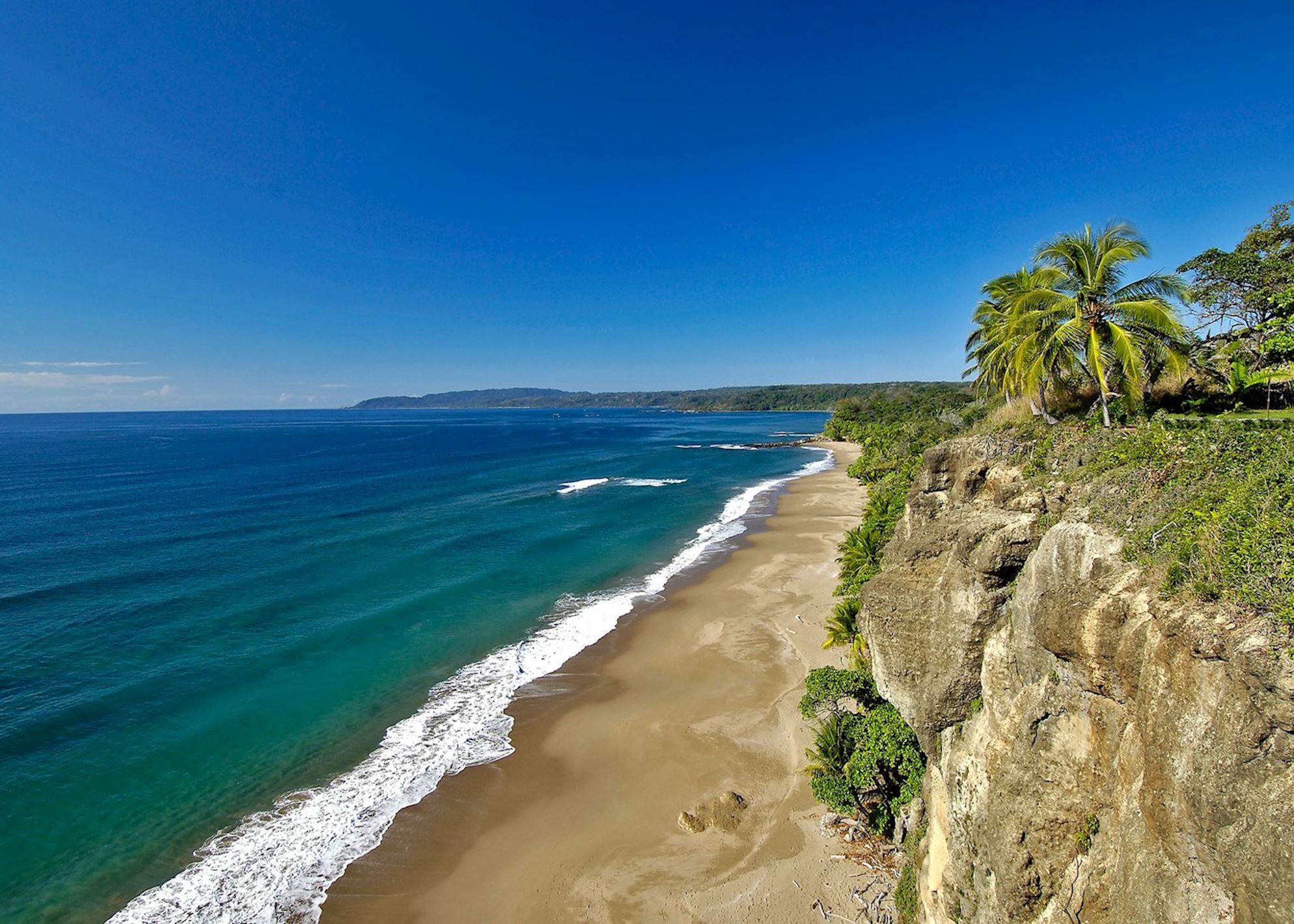 With over 1,300 km (807 miles) of coastline, Costa Rica has a variety of beaches, from sheltered, golden sands ideal for swimming to more rugged and wild beaches with black volcanic sand and strong surf. As a general rule the Pacific coast is more developed and has a wider range of accommodation options. The Caribbean coast is a more laid-back area, with smaller, more simple hotels and virtually deserted beaches.
Getting around
There are many ways of exploring Costa Rica depending on your route. Car hire, shared shuttle transfers, private chauffeur-guide and light aircraft flights are all available, and we also offer expedition cruises between Costa Rica and Panama.
Responsible Travel
In Costa Rica, we have teamed up with Friends of Conservation to support VIDA, an NGO, who are working with communities to conserve threatened habitats and species. Areas demanding particular attention are the cloudforest region of Monteverde and the southern coastline where research continues into whale populations.
Please see www.vidavolunteer.org for more information.
Find out more about tailor-made vacations to Costa Rica
Book a vacation to experience one of Central America's more popular destinations. Enjoy white-water rafting, volcanoes and hiking in Costa Rica, along with breathtaking wildlife in the Monteverde Cloud Forest.