By Audley specialist Nik
In Costa Rica, wildlife-loving children could spot everything from a hummingbird in a hotel garden to a fingernail-sized tree frog, to larger creatures such as coatimundis and tapirs. Yet, compared with the Brazilian or Peruvian Amazon, reached through a series of internal flights and boat transfers, Costa Rica's primary rainforests are extremely accessible. You can drive right up into them on well-maintained road networks: it's the chance to experience an exotic ecosystem without the hassle of complicated logistics.
Then there's a multitude of adventure activities for energetic families, especially in the Arenal region. Rafting, zip-lining, canopy walkways, horse riding: you name it, you can do it easily and safely in Costa Rica. It's a well-developed country, having nurtured its travel industry since the 1970s. The beaches are an added bonus: some are surf hubs; others have a mellow, desert-island feel.
Family experiences in Costa Rica
I've found that Costa Rica's more classic routes and regions work best for families, as they give a good mixture of wildlife viewing, jungle experiences and soft adventure activities. The experiences and places I highlight in this guide are ones I'd choose for my own young family.
Watching nesting turtles at Tortuguero National Park
Journey through the patchwork of banana plantations in Costa Rica's northeast corner and solid ground soon runs out: you're obliged to continue by boat to reach the area's flagship national park.
Heading toward the Caribbean Sea, you hit the freshwater canals and lagoons of Tortuguero. It's a vast area of flooded rainforest and marshy islands formed by sediments washed down from the country's interior mountain ranges.
On the coast, beaches of black volcanic sand provide nesting and hatching grounds for the park's namesakes — endangered green, hawksbill, loggerhead and leatherback turtles.
I'd spend a few days exploring this sleepy waterworld through boat tours or canoe trips along the canals, looking for creatures hidden among the buttress roots of ceiba trees and marsh-loving crabwood and mangroves.
Look up to the canopy for sloths, and spider, capuchin and howler monkeys; scan along the waterline for plumed basilisks. You may see Amazon kingfishers (an iridescent clash of orange and teal) perched on overhanging branches, and, in quieter spots, endangered green macaws. Possible sightings along the banks include southern river otters and spectacled caiman.
If you're visiting between June and September, consider taking a guided trip to the beaches to try and view spawning turtles. Guides know the best spots and make sure you witness the ritual sensitively, without disturbing the nesting process. If you're lucky, you might see a female haul herself out of the sea, dig a hole on the beach with her flippers and lay up to 120 eggs in it, before burying them in sand.
As nesting season overlaps with hatching, it's sometimes possible to see tiny hatchlings — not even the size of a young child's fist — scuttling down the beach toward the sea, drawn phototactically by the moonlight.
Family hotels in Tortuguero National Park
Evergreen Lodge is a solid choice with spacious cabin-style rooms and a number of guided activities included in your stay. There's also an on-site canopy tour and a swimming pool.
Rafting at Arenal
Dense jungle perforated by white-water rivers, waterfalls, hot springs and lava fields, all towered over by the green-sloped stratovolcano of Arenal: this region is Costa Rica's adventure playground.
Out of all the soft adventure activities on offer for families, I particularly recommend white-water rafting and the Sky Trek zip-line.
Rafting on the Balsa River takes you through Class II-III rapids (moderate to moderately difficult) that provide just enough froth and speed to make an exhilarating ride for young or first-time rafters. (Incidentally, if your children are slightly older and real thrill-seekers, think about spending a couple of days at Pacuare Lodge in central Costa Rica. It's possibly the only lodge in the world where you have the novelty of arriving and leaving by raft, plus the surrounding rapids are much more challenging).
The zip-line is great for children aged eight upward. After taking a gondola to the top of a peak facing the south slope of Arenal Volcano, you zigzag back down the mountainside, accompanied by unbroken views over Lake Arenal. Be warned: you reach fast speeds, but overall I think it offers a more stimulating experience for children than zip-lines in other areas of the country (such as Monteverde Cloud Forest Biological Preserve), which are more about immersing yourself in and observing the forest canopy.
Aside from zip-lining, Arenal is a good place to hike hanging bridges and canopy walkways, where you get the sensation of being swallowed up into a dark, green world of strangler fig trees, fungi, orchids and bromeliads.
You can also swim in the waterfalls' plunge pools and hot pools that dot the area.
Family hotels in Arenal
Hotel Arenal Springs has its own geothermally heated pool system, tropical gardens and views over Arenal Volcano's cone.
Off the grid on the Osa Peninsula
Nature runs rampant in Costa Rica; it's a place where the line between the man-made and the wild is at its thinnest. I've pulled over to grab a coffee at a roadside pit-stop and noticed the nearby tree brimming with iguanas.
In certain areas you're likely to be woken by howler monkeys' strange roars, while the night is full of the chatter of nocturnal creatures. It all makes for an exciting, baptism-of-fire initiation into the tropics for children who are already curious about the natural world.
The Osa Peninsula, in the farthest reaches of the southwest, is where all Costa Rica's exuberant biodiversity is at its most concentrated. Getting there requires flights and a 4x4 ride over a bumpy off-road track, but you'll soon see why. The peninsula is a virtually roadless backwater of tangled primary rainforest and mangroves that have been left to their own devices, barely touched by man.
The forests eventually spill onto rocky, ocean-ravaged beaches, sections of which see very few footprints. At certain times of the year, humpback and pilot whales visit the waters of the gulf, but you can see bottlenose, common and spotted dolphins all-year round.
Why go? I'd say to experience the jungle wilderness, and possibly the most detailed wildlife viewing the country has to offer.
The benefits of guides for wildlife spotting in Osa
I used to work as a wildlife guide in Costa Rica, and although guiding standards are high throughout the country, I've found that the guides on the Osa Peninsula are particularly skilled.
They can identify animal and bird calls, and pinpoint some of the smallest animals, such as the red-eyed tree frog. On one night walk, my guide was able to lead me straight to a Mexican burrowing toad, which are particularly elusive.
The night walks here are particularly fun. Children might be surprised at the number of creatures they can spot after dark, from many species of frogs and snakes to larger mammals such as kinkajous (also called the 'honey bear') and silky anteaters.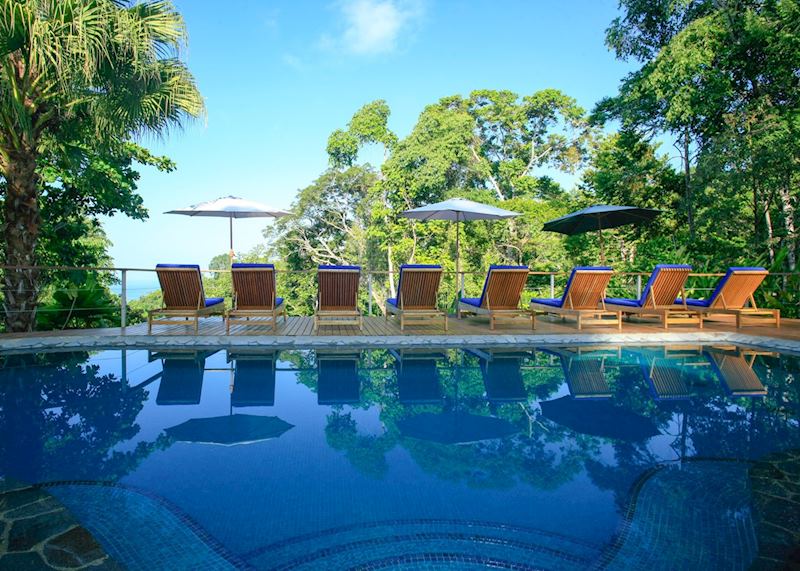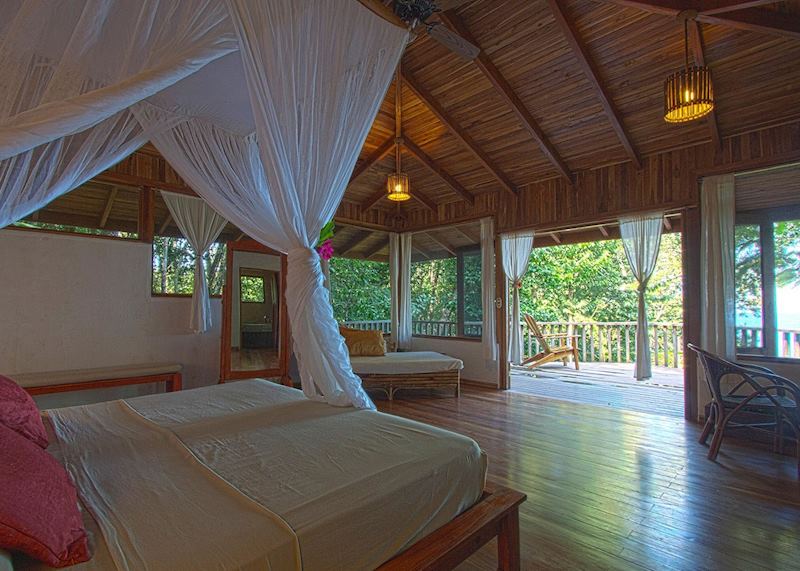 Family hotels on the Osa Peninsula
This is a place to stay at an upmarket ecolodge like El Remanso Rainforest Wildlife Lodge. Many of the nature walks and guided hikes are included in your stay. It also offers surf lessons for beginners and horseback riding, along with many other activities.
Costa Rica's beaches
Bound by both the Pacific Ocean and the Caribbean Sea, Costa Rica has a great variety of beaches running along its two coastlines. While the Pacific coast is great for surfing, the waters are generally calmer, and better for swimming, on the more sheltered Caribbean side.
Active families would enjoy Tamarindo on the northern Pacific coast. Once a bohemian town beloved by backpackers, it has gradually become more developed (though not over-developed) and family friendly, with a long stretch of soft, tawny volcanic sand and several flourishing surf schools catering to complete beginners.
Manuel Antonio, about halfway down the country's Pacific coast, is a white-sand beach fringed by mangroves and palms. It has several shallow tidal pools to snorkel in, although it can get busy with visitors who flock to its national park: be prepared to arrive early.
The beach I'm probably most fond of is Puerto Viejo de Talamanca, tucked away in the Caribbean-facing Limón region in the south, just across the border from Panama. Surrounded by cacao and fruit farms, it has a carefree, island-life feel to it. Think bright cyan water, coconut palms leaning out across the sand, beach shacks, and vendors selling Bob Marley memorabilia. You'll also find low-key sodas (small, rustic restaurants) serving rice and beans. There's a sloth sanctuary a short drive away.
Puerto Viejo de Talamanca generally experiences drier weather during the summer months (June to August), so it can be a good option for families choosing to visit Costa Rica during this period.
Family hotels in Puerto Viejo de Talamanca
Cariblue is set in verdant tropical gardens. It has a room dedicated specifically to families with more than one child: the two-bedroom Jungle Family House has a large porch with a hammock and its own well-equipped kitchen.
A note on booking family trips to Costa Rica
Eastertime brings drier weather than the summer months (June to August), so if you'd prefer to go at this time of year, be prepared to plan ahead. Bear in mind that Costa Rica experiences rain all year round and it can occur at any time. Most showers are typically tropical: short and sharp.
Start planning your trip to Costa Rica

Start thinking about your experience. These itineraries are simply suggestions for how you could enjoy some of the same experiences as our specialists. They're just for inspiration, because your trip will be created around your particular tastes.
View All Tours in Costa Rica