Costa Rica is the perfect destination for families looking for either an active or relaxed holiday.
With a low malaria risk and numerous activities such as rafting, zip-lining, canopy walkways, active volcanoes, tubing, snorkelling, whale watching, birdwatching and boat trips, Costa Rica provides a wonderful way to experience the rainforest and cloudforest with incredible wildlife viewing that will appeal to children of all ages.
A wide range of excellent lodges and beach hotels to choose from in Costa Rica also means you are not stuck in one area, and whilst those with children aged 3 and under may be more limited with the activities in which they can partake, there are many hotels with excellent child facilities that are more than capable of keeping children entertained.
Start planning your family trip to Costa Rica
This tour of Costa Rica takes in three of the county's highlights. Distances are not vast so you are able to make the most of your time with a good mix of wildlife viewing, activities and beach time.
Visit Costa Rica's best known highlights including Tortuguero, Arenal and the Monteverde cloudforest.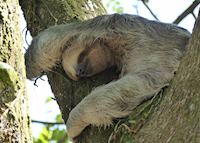 A wildlife-focused trip taking in the wonderfully diverse regions of the central volcanic range, Manuel Antonio's tropical coastal forests and the beautiful Osa Peninsula, Costa Rica's jewel in the crown for wildlife.
---
Recommended family accommodation in Costa Rica
Family activity ideas in Costa Rica