By Costa Rica specialist Nik
A land of cloudforests, smouldering volcanoes and rugged beaches, Costa Rica's natural environment provides a perfect setting for wildlife experiences and adrenaline-fuelled activities alike.
Covering an area of only 51,000 square kilometres (19,700 square miles) it's a compact country, yet one of the most biodiverse on Earth. Thick forest canopies protect all manner of flora and fauna, from red eyed tree frogs that peer out at you from their leafy home, to sleeping three-toed sloths curled up high above you, while on the coast turtles come to nest along Costa Rica's Caribbean and Pacific facing beaches.
Explore the canals of Tortuguero National Park

On the Caribbean coast of Costa Rica, a network of marshy islands and wetland plays host to a variety of wildlife. Tortuguero National Park's remote swamps and waterways are only accessible by boat or plane, and as you venture into the park you're greeted by a cacophony of sights and sounds.
Howler monkeys bark from the treetops, and you might see Amazon kingfishers, blue herons and toucans, as well as the endangered green macaw, flying through the air, while otters and caiman hunt along the riverbanks.
Between July and October the park's protected shoreline welcomes green, giant leatherback, hawksbill and loggerhead turtles, which lumber up the beach where they were born to lay their eggs in the sand. This is a popular time to visit the park, and many lodges arrange night-time trips to the beach to watch the turtles.
Outside turtle season, Tortuguero remains a great place to visit for the unique experience of exploring a national park entirely made up of flooded forest and tranquil canals.
River rafting in Pacuare

For those seeking adventure, the Pacuare River is a good spot for white-water rafting. Running through the Turrialba Valley, which sits nestled against the slopes of the Central Mountains, Pacuare's waters include grade III and IV rapids. These make for a thrilling ride through virgin forest, steep gorges and past crystalline waterfalls.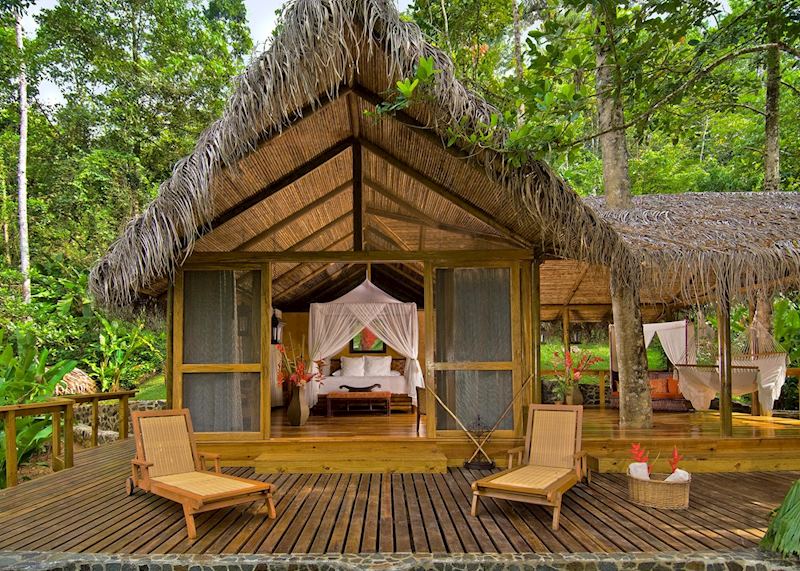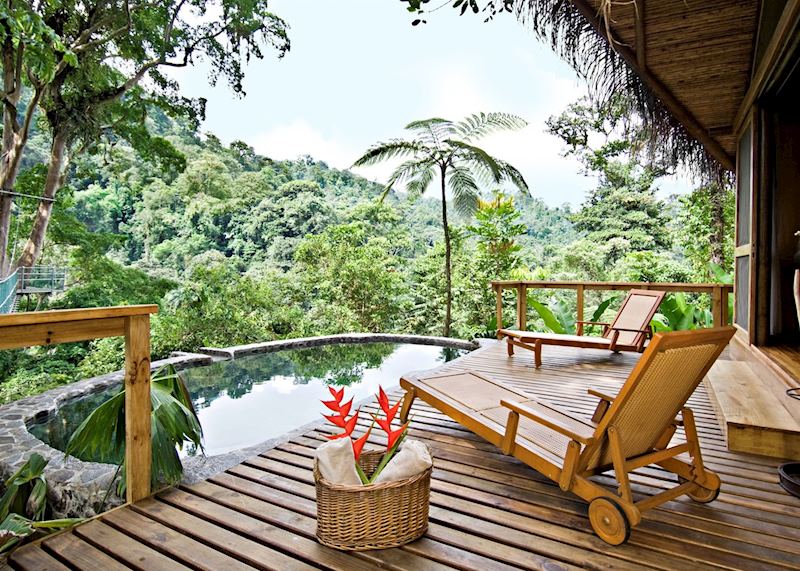 The river also provides access to one of the places I particularly love to stay in Costa Rica: Pacuare Lodge. You arrive at this 'barefoot luxury' ecolodge by raft and will be greeted by the sight of palm thatched roofs in keeping with the natural surroundings. The cabins themselves are elegantly furnished and highly indulgent — some even feature their own plunge pools.
Pacuare Lodge offers a real immersion into the Costa Rican rainforest, and I found myself falling asleep to the sounds of chattering monkeys.
Adventure and birdlife in Monteverde

Costa Rica's best-known cloudforest, Monteverde, straddles the Central Mountain Range. It's the last sizeable pocket of primary cloudforest in Central America and supports six different ecosystems. You can explore the area on foot, by horseback or by zip-line.
Birdlife is prolific here, the resplendent quetzal, with its bright green plumage, red breast and long, trailing tail is a highlight for many. Other species include hummingbirds, as well as butterflies that flutter among delicate orchids and ferns.
Visit the remote Osa Peninsula

Being one of the more remote and inaccessible areas of Costa Rica has its benefits. The Osa Peninsula, which juts out from the southwestern corner of the country, is one of the most biologically diverse places on the planet. Much of the region is protected by the Corcovado National Park, sheltering rare mammals such as tapirs, anteaters and ocelots, as well as being one of the last strongholds of the scarlet macaw.
Marine life is prolific here too, with some lodges offering excursions to Caño Island for snorkelling. Beneath the surface you'll see pristine coral reefs and schools of tropical fish, as well as turtles and rays. It's also possible to spot humpback whales throughout the year. Between October and April these magnificent creatures travel down from the Arctic, while from July to November they migrate up from the Antarctic.
Adventure zip-lining in Arenal

Until recently, the Arenal Volcano was the most active volcano in Central America. Although it no longer delivers sporadic eruptions and night-time lava flows, it remains an impressive, almost perfectly conical peak, and is the heart of Arenal National Park.
One of the most thrilling ways to view it, and one that I would highly recommend trying, is from an elevated position above the green canopy of the park as you whizz down a zip-line. Other options for exploring Arenal National Park include kayaking, hiking and horse riding.
The wider region is Costa Rica's activity hub, and another favourite pastime is to soak your limbs in volcanic thermal springs.
Discover the Turrialba Valley

Reliable rainfall, powerful rivers and rich volcanic soil have made the Turrialba Valley, an area of the Central Mountains, an important agricultural region. Coffee, sugar cane and macadamia are grown here, and as part of your visit you can take tours of the plantations.
This is a good place for adventure activities, such as the white-water rafting mentioned above, but if you'd like to experience something a little more sedate, you can also hike through the Turrialba Valley, where the birdwatching is superb.
Beach relaxation: Manuel Antonio or Northern Pacific?

As a country bounded by both the Caribbean Sea and the Pacific Ocean, it comes as no surprise that some of Costa Rica's coastline is fringed by idyllic beaches. Manuel Antonio, on the Central Pacific Coast, is perhaps Costa Rica's most popular beach destination, its golden beaches and turquoise waters backing onto the jungle of the adjoining national park.
However, if you want to escape the crowds, I'd recommend the Northern Pacific Coast. The Nicoya Peninsula and some sections of the Guanacaste coastlines are relatively untouched compared to Manuel Antonio. It's possible to spend a few days here relaxing on the dark sands and then sipping cocktails as the sun dips into the Pacific.
Look out for the quetzal in San Gerardo de Dota

The resplendent quetzal is Costa Rica's most colourful bird and one of the best places to spot it is in the quieter cloudforests of San Gerardo de Dota, where it's possible to catch a glimpse of this beautiful bird year-round.
Just three hours south of San José, this area is great for birdwatching in general. The range of altitudes in the cloudforest and delicate ecosystems make it the ideal habitat for hundreds of species of highland bird, as well as tanagers, hummingbirds and woodpeckers.
Other activities include walking and horse riding, though it is the tranquillity here, compared to other cloudforest regions that is one of the main attractions.
Start planning your trip to Costa Rica

Start thinking about your experience. These itineraries are simply suggestions for how you could enjoy some of the same experiences as our specialists. They're just for inspiration, because your trip will be created around your particular tastes.
View All Tours in Costa Rica