Sara Brough and her family traveled to Morocco with Audley in May and June 2011. Here, she recounts her adventure and explains why Morocco is such a great family destination.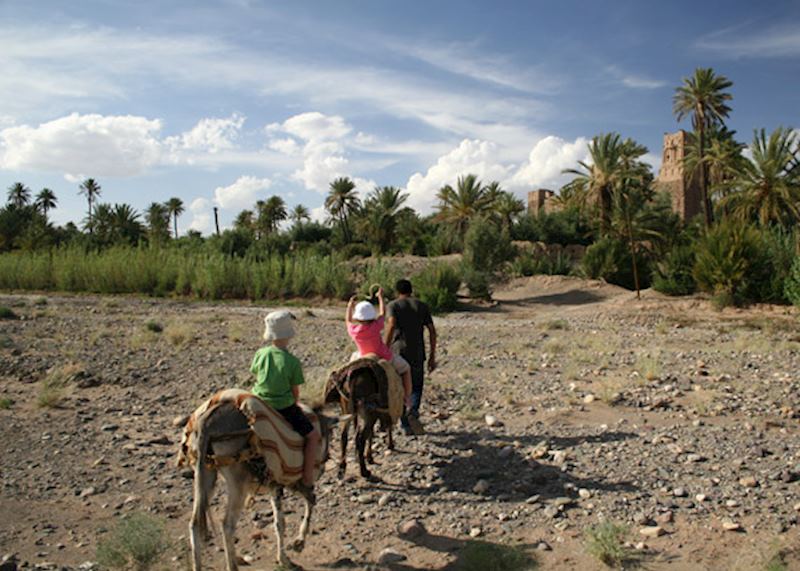 Tailor made family vacations in Morocco

To find out more about family vacations to Morocco with Audley, read our Family Vacations travel guide or speak to a Morocco specialist directly on 1-855-838-6420.

View our Morocco family vacations
"Leaving Marrakech, we were soon weaving up the Route du Tizi-n-Tichka with fabulous views over pink oleander clad valleys"
I love traveling and over the years I have worked my way through its various stages — from a naïve backpacker on her first trip to Southeast Asia sleeping in 50p a night dives, through to more audacious trekking expeditions in the Himalaya, to tailor-made vacations staying in wonderful boutique hotels (with Audley!). Then came the children, and time was spent exploring our own backyard, Europe, in tents.
However this year, with the children aged five and six, I felt we were ready to tackle something more exciting. The choice was easy — Morocco. Only 3½ hours by plane and no time difference, but suitably exotic — and Audley Travel. Megan organized us a wonderful itinerary with a couple of days in Marrakesh; traveling to Skoura with stop-offs at Telouet and Aït Benhaddou, and rounding off with a couple of days in the High Atlas. The accommodation was chosen with children in mind, i.e. there were swimming pools — one easy way to keep them happy.
The staff at the Riad Noga, where we spent our first three nights, were particularly obliging; sorting us out with a TV in their office with satellite reception for the Champions' League Final (kept the husband happy), and sweet little tortoises and parrots kept the children enthralled.
Marrakesh was exciting; the grown-ups loved meandering through the souks, enjoying the vibrancy and the sounds and smells. The children were less than impressed — we held their hands tightly for fear of losing them, it was 30 degrees plus, and of course we tried to cover far too much. However some things did catch their attention — I'd tried to prepare them for Morocco with a wonderful children's book by Ted Lewin called "The Storytellers", and thus at every passing older man, with a beard, wearing a jellabah, my youngest would pipe up — "is he a storyteller?" There were rather a lot of them.
They also learnt some French, well… the fine art of saying "non merci" every time a snake was draped round their shoulders or a toy was thrust into their arms to buy. They say travel is about experiencing the culture, but perhaps they did not mean imitating the muezzin's call to prayer in a crowded restaurant, as six year olds want to do.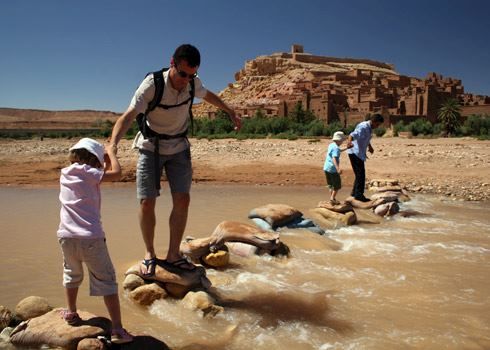 Leaving Marrakesh, we were soon weaving up the Route du Tizi-n-Tichka with fabulous views over pink oleander clad valleys, and then through the other world Oued Mellah to Aït Benhaddou. Of course the children were not admiring the views but were engrossed in their Nintendo DSs! This mudbrick village strung up the hillside lived up to all expectations. It was delightful to explore and perfect for photography. I was so busy trying to get "The Shot" of children crossing the river with the ksar in the background that I hadn't even noticed quite how difficult they were finding leaping from sandbag to sandbag! I must make a special mention of our driver who not only drove extremely well, answered all of our questions and led us through the maze of alleyways, but made friends with our youngest and coaxed her all the way to the top of the hill and down again.
After the frenzy of Marrakesh, Skoura had a welcome laid-back atmosphere, and we had a very relaxed quiet day enjoying the gardens and pool of Les Jardins du Skoura. We did venture out briefly in the morning to visit a Kasbah, hitching a ride in the back of the owner's pick up truck. Late afternoon the children were treated to a two hour donkey ride around the oasis passing crumbling kasbahs, through mudbrick villages, under date palms — the eldest was most excited when his donkey leapt across an irrigation channel!
We spent the final couple of days in the High Atlas, making short forays into the delightful countryside and viewing Jebel Toubkal from afar.
All in all it was a successful vacation. Of course it is a bit of a parental indulgence; ask the children what their favorite part of the vacation was, and not surprisingly they reply: the swimming pools (but what a pool, set in a tiled courtyard enclosed by a riad). They not only learnt new words but experienced them oases, souks, snakecharmers… I can thus thoroughly recommend Morocco as a destination for families with young children.
Further reading