New Zealand's dramatic scenery draws visitors from across the globe but, for many, Kiwi hospitality leaves an equally lasting impression. By sharing their passions with guests, many locals have created a business for themselves and a once-in-a-lifetime experience for their visitors. Whether you're a rugby fan, history buff, wildlife enthusiast or lover of fine foods, our favorite properties offer the chance to combine
your interests with an expert guide to New Zealand life.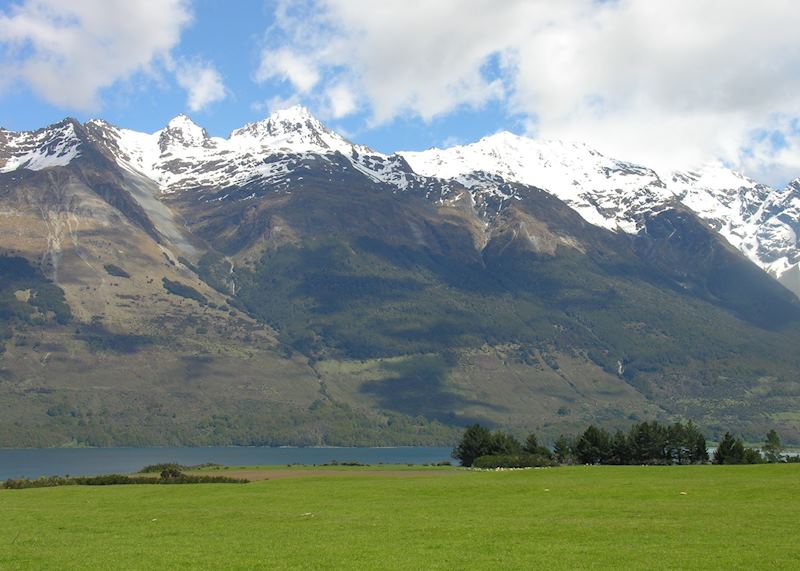 Architecture, Miles and Hall, Otahuna Lodge, Christchurch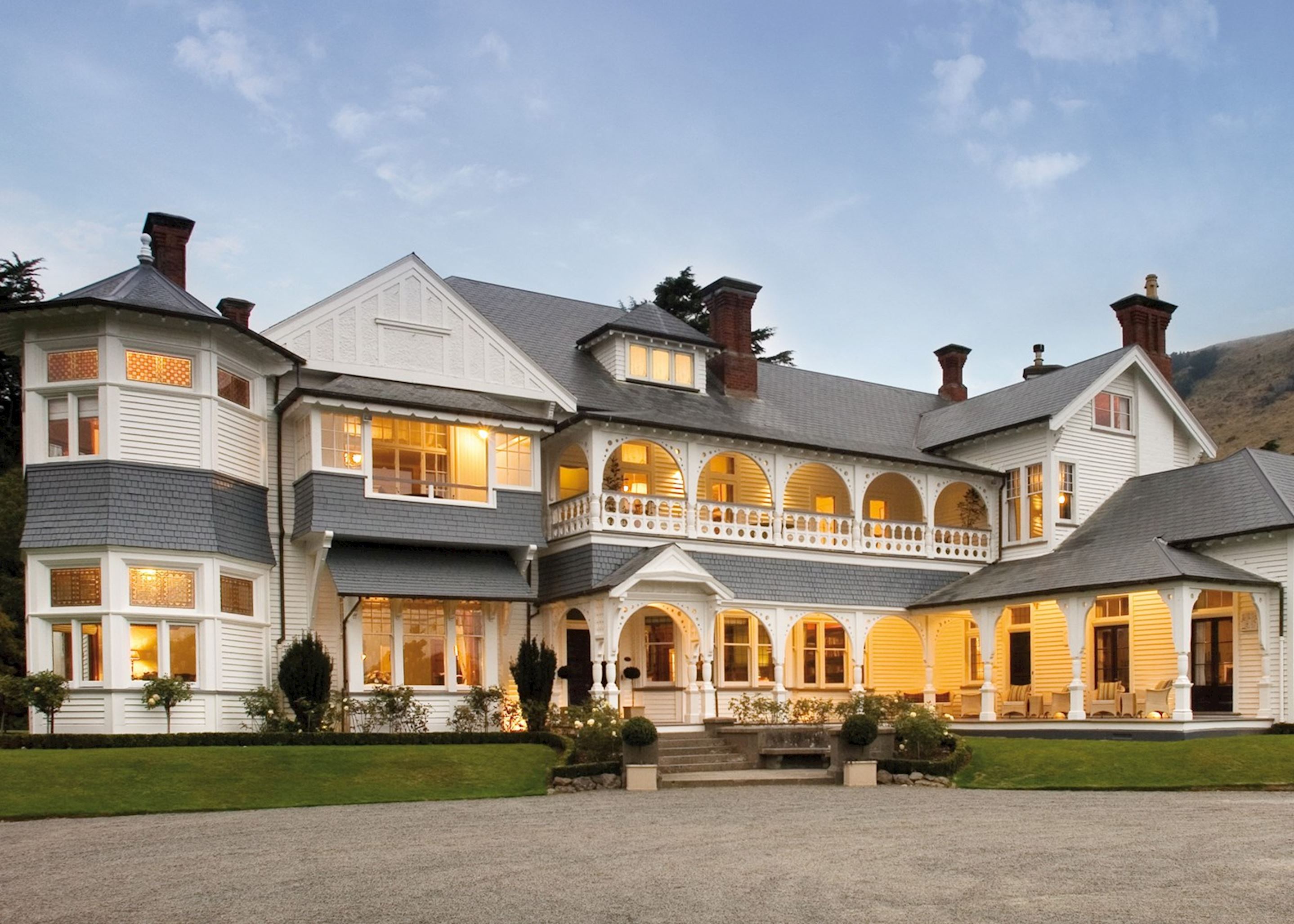 When Miles and Hall came to New Zealand from America they were looking for a project which would combine their passion for history and architecture with their love of hospitality. They found exactly that in the shape of Otahuna Lodge. Built in 1895, the lodge was originally the home of leading New Zealand parliamentarian Sir Heaton Rhodes, and is considered the best example of Queen Anne architecture in Australasia.
The lodge's exterior is just as captivating: "One of our favorite things to do is to stand on the Otahuna veranda on a clear winter morning looking across the garden at the snow-covered Alps shining in the sun," says Miles.
Miles and Hall bought the historic country estate in 2006 and began an extensive restoration program across the house and gardens. Today you can once again enjoy the stained-glass windows, carved inglenooks, ornate fireplaces and elaborate architectural details in all their glory. Careful restoration means that many original features have been retained, including the embossed green-and-gold wallpaper in the formal dining room which dates from 1895.
A true labor of love, this wonderful heritage building is a fantastic place to stay and both Miles and Hall and their enthusiastic staff are happy to share the history of Otahuna and its restoration with visitors. "We often find that our guests' most memorable experiences of New Zealand have to do with their interaction with local personalities — our staff, guides or even random encounters at a museum or the airport. We tell our guests that you come to New Zealand the first time for the landscapes and you come back the second time for the people. Kiwis are an amazing lot."
---
Great Outdoors, Greg and Ali, Waihi Beach Lodge, Coromandel Peninsula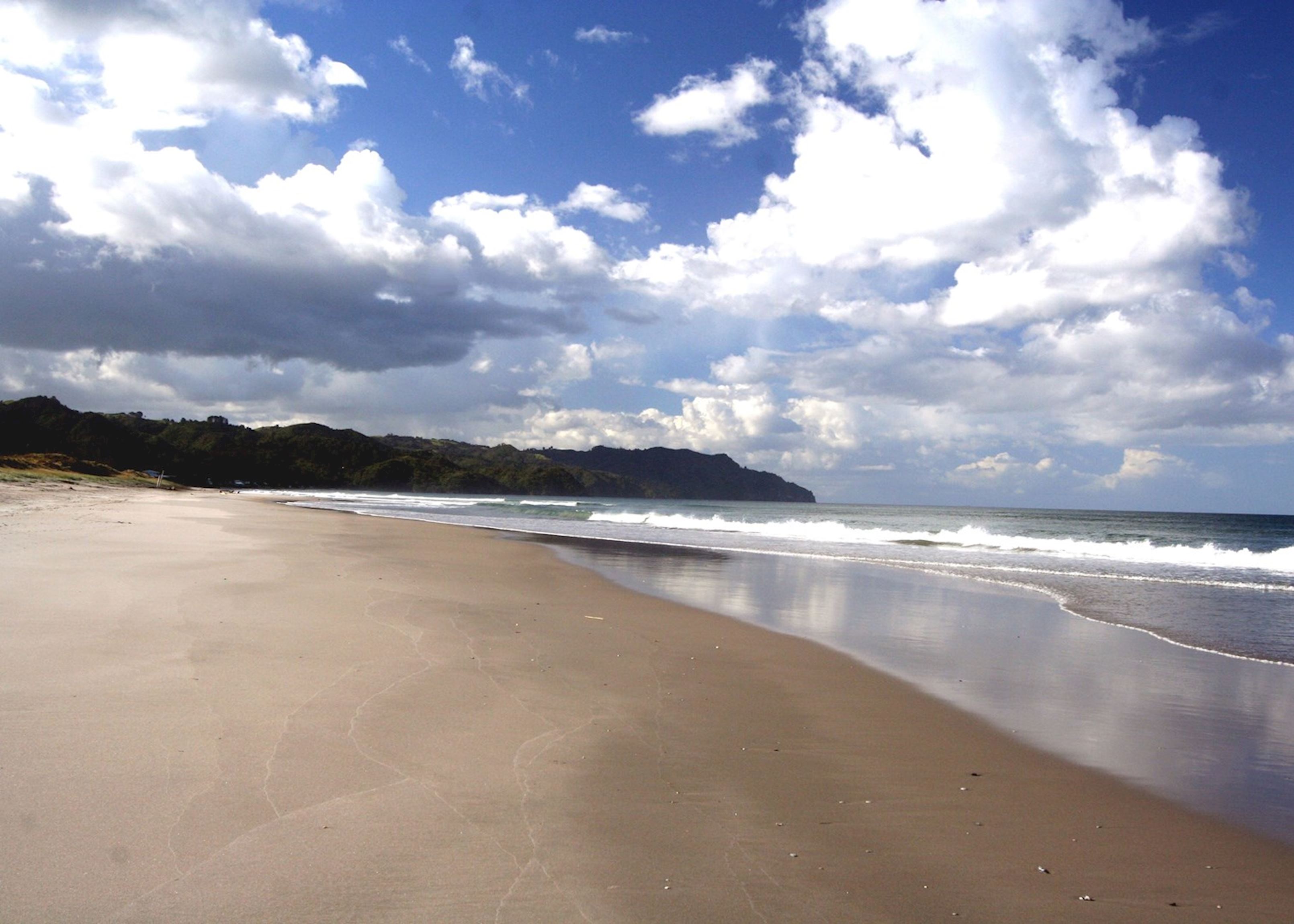 New Zealanders have a reputation for being adventurous but you don't have to bungee into a gaping chasm to enjoy the great outdoors. Greg and Ali, owners of Waihi Beach Lodge on the Coromandel Peninsula, love nothing more than introducing their guests to New Zealand's outdoor lifestyle.
"Waihi Beach is our favorite spot in the country," says Ali, "it's the reason we left the city six years ago. We love this little piece of paradise and love sharing it with our guests." Unlike many European beaches, Waihi Beach is never crowded but, as visitors will soon realize, it's hard to spend a day here without making new friends.
"One of our guests remarked how you could always spot the Kiwi on a European beach as they were the ones introducing themselves to the people around them. It's the same here, head for the beach and you'll soon meet lots of interesting people." Greg and Ali encourage their guests to get stuck in to local activities and visitors to the lodge can take a chauffeured Harley-Davidson tour, numerous scenic walks or even try their hand at torpedo fishing, a typical local pastime. "Torpedo fishing is great for people who don't really have sea legs," explains Greg. "You just launch the torpedo from the beach and pull it in later, hopefully with a catch or two on the line."
Greg's other great love is rugby and with New Zealand hosting the Rugby World Cup this year he is looking forward to seeing some international action on home turf. "I'd happily take visitors to a local game. For us it's all about sharing the wonderful life we have here, and the most important thing is for guests to really feel like this is their home away from home."
---
Wine, Heather and John, Takatu Lodge and Vineyard, Matakana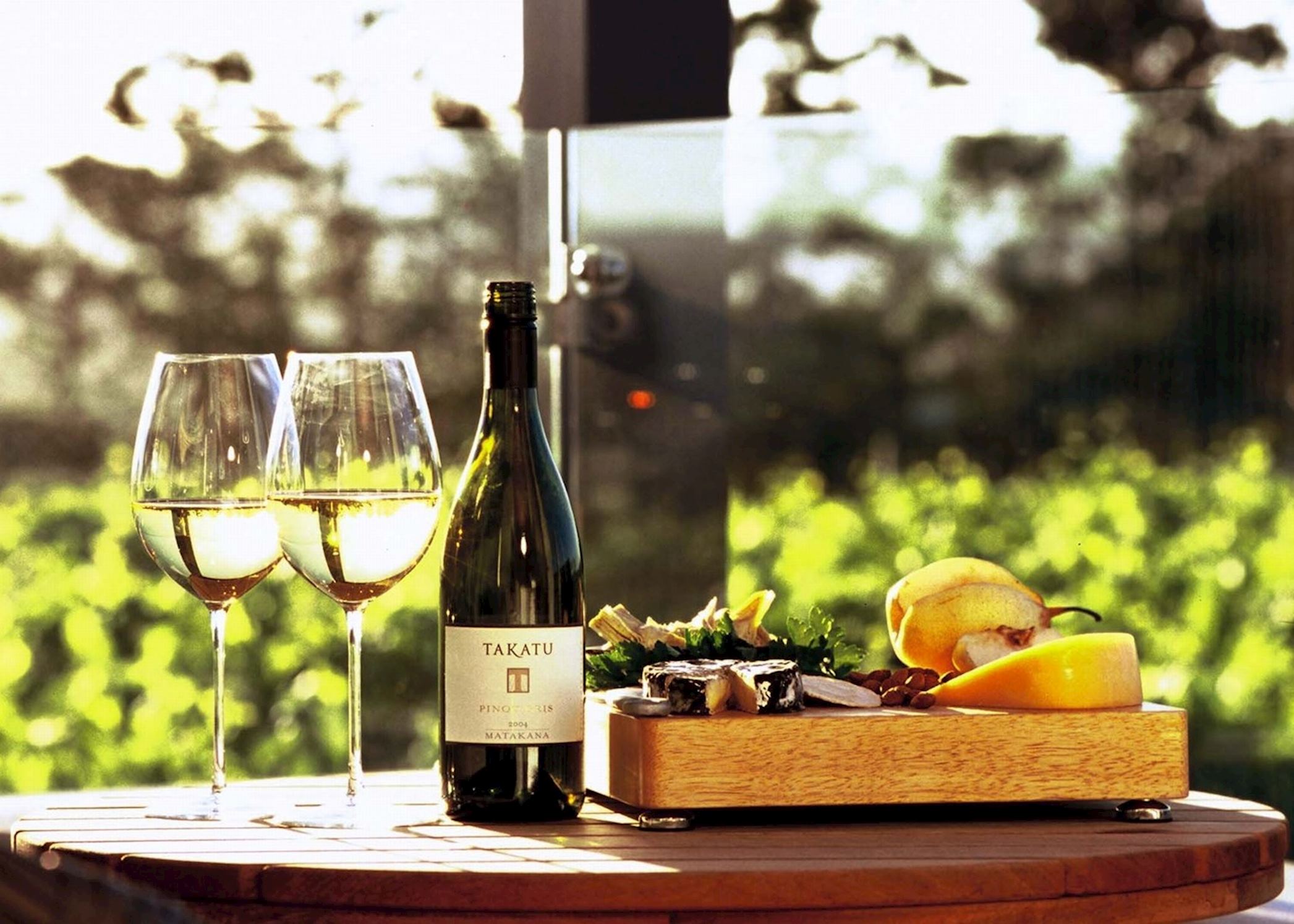 Heather and John have always been passionate about good food and wine and after years of traveling and sampling the world's finest wines they decided to create their own. Having found the perfect site in Matakana, they set about their project using sustainable viticultural practices in order to produce wine which has won accolades the world over.
"John and I don't see a separation between life and work," says Heather. "With both the lodge and the wine production it is all about passion, giving excellence and always looking for new ways to build on what we do. The beauty of both businesses is the interesting people we meet. We've made wonderful friends on the way with the same interests and similar synergies."
"John is a pilot and we've traveled as much as we can pursuing our interests and picking up ideas we can incorporate into the lodge and vineyard. I love finding new recipes I can cook for our guests. John has studied wine for 35 years so has an intricate understanding of the growing of grapes and making of wine but each trip broadens his knowledge."
Guests staying at the lodge can enjoy views out over the vineyard and surrounding mountains, complimentary wine tastings and exquisite cooking prepared using the lodge's own olive oil. Heather and John make wonderful hosts and are quick to praise their compatriots. "New Zealanders have a natural curiosity and genuine interest in visitors and love to help tourists and ensure they feel welcome. I think this originates from our isolation. We're just two little islands at the bottom of the Pacific Rim and this gives people a thirst to know more about the world."
---
Wildlife, Hildegard, Nisbet Cottage, Dunedin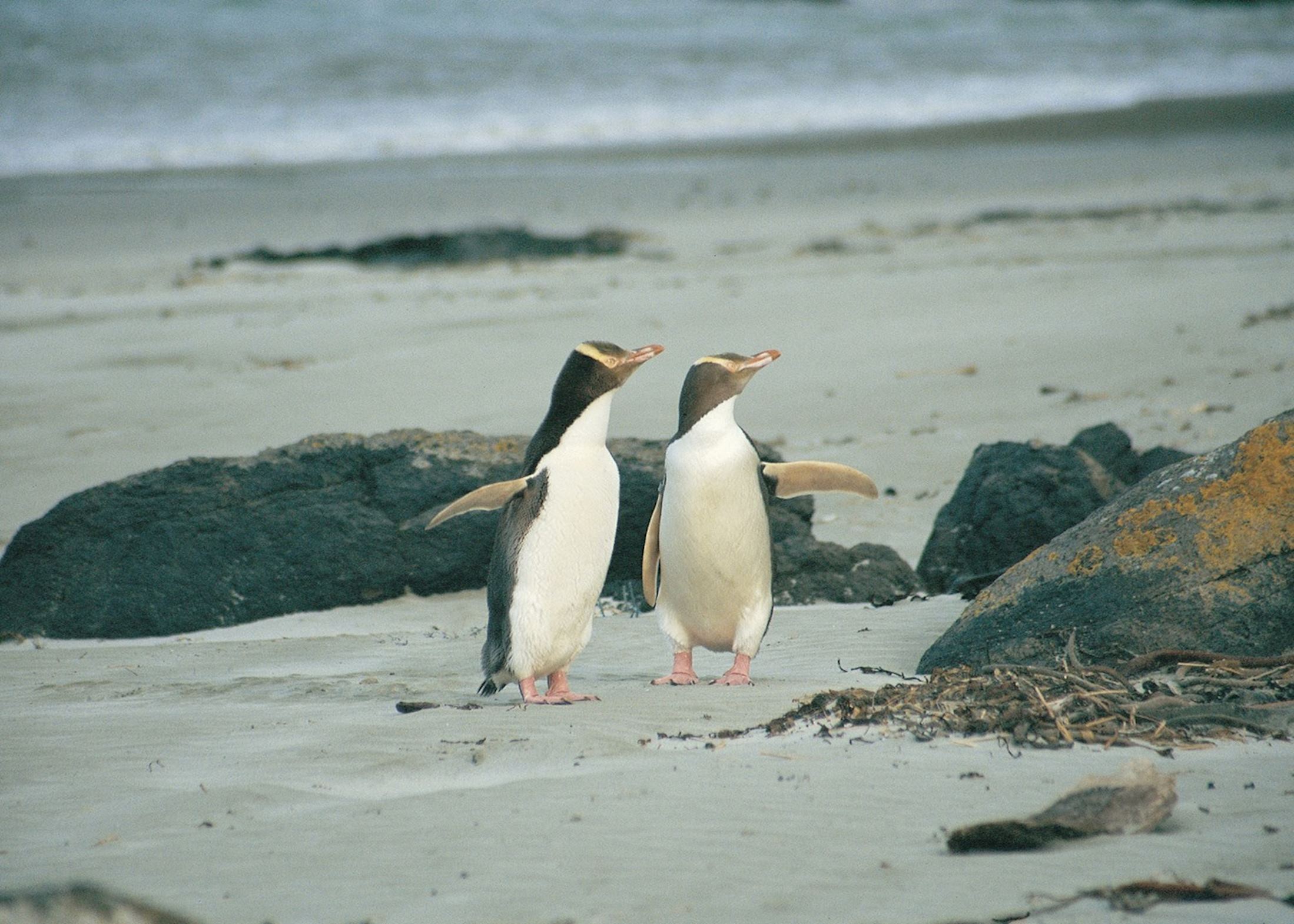 Hildegard arrived in New Zealand from Germany for a temporary stay with her family and 26 years later is still living in Dunedin on the South Island. A trained biologist, Hildegard turned her passion for wildlife and conservation into a full-time job by studying tourism and creating a nature-guiding business and bed and breakfast.
One of Hildegard's main concerns is the protection of the rare yellow-eyed penguins found on the Otago Peninsula. Her Sunrise Penguin Walk takes guests down a sand dune and past sleeping sea lions to a penguin hide, where, as the sun rises, they can watch these beautiful creatures leave their nests and make their way down to the ocean. It's an unforgettable experience and Hildegard's enthusiasm is infectious, leaving her guests with the fondest of memories.
New Zealand

Whether you're a first-time visitor or are making a return trip, the sheer majesty of New Zealand's landscapes are a wonder to behold. What's more, there's excellent local food, wine and accommodation, and the people who make up the tiny population are a model of hospitality.

Find out more about vacations in New Zealand