Anne and Stephen Harriman returned to Ecuador with Audley in March this year.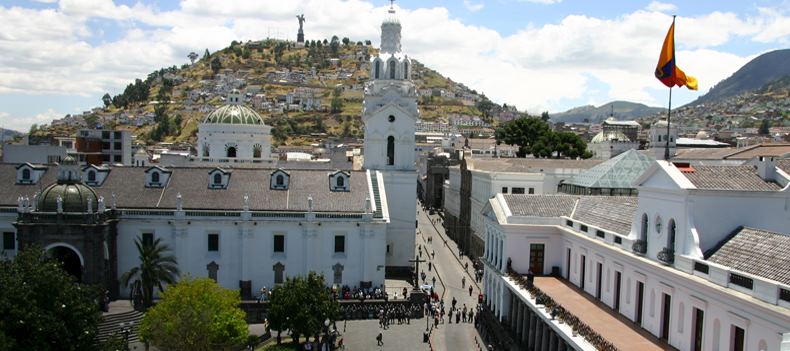 We contrasted the street now with 39 years ago back in 1973.
Flying into Quito in March this year contrasted greatly with our arrival by bus in July 1973. Back then we had traveled from Cuzco on local buses packed with indigenous people and in some cases an assortment of livestock and produce. Traveling from Cuzco to Lima and then following the coastal road north, we entered Ecuador just beyond Tumbes. The road through Cuenca, Riobamba and Ambato finally brought us to Quito.
Driving from the airport through the suburbs this time highlighted the huge expansion of the city over the years. Once we entered the center of Quito the squares and elaborate churches of the old town were familiar, but overlooked from the Panacillo Hill by the huge winged virgin constructed since our previous visit.
There were more cars, more people, but few wearing the traditional dress. It is a shame that some of the old traditions have disappeared. The lovely squares, buildings and churches, now declared as a World Cultural Heritage Site by UNESCO, are beautifully preserved and cleaner than we remember. Staying in a hotel in La Ronda we contrasted the street now with 39 years ago and although cleaner and well maintained it has perhaps lost some of the old charm. The experience of visiting earlier was perhaps more memorable as the differences between the societies have since slowly eroded away.