By Latin America specialist Rebecca
You lose all sense of direction in the Amazon. Your guides and boatmen navigate using lilypads, overhanging branches, bends in tributaries: theirs is a world devoid of conventional signage. To outsiders, it can be discombobulating — but this, for me, is part of the Amazon's allure. Its gargantuan network of vegetation, waterways and lakes is a beguilingly alien landscape, and this alone makes it worth the visit: spotting wildlife is secondary. But, given that the Amazon Basin is almost equivalent in size to the USA, with territory reaching across nine different nations, deciding where exactly to go can be a challenge.
You might, as many do, wish to include the Amazon in a broader tour of Brazil, Peru, Ecuador or Colombia. Or, you can take a more thematic approach and select a corner of the Amazon which dovetails with your own interests and priorities (see below).
Why you should go to the Amazon, and what to expect
It's not really about the wildlife…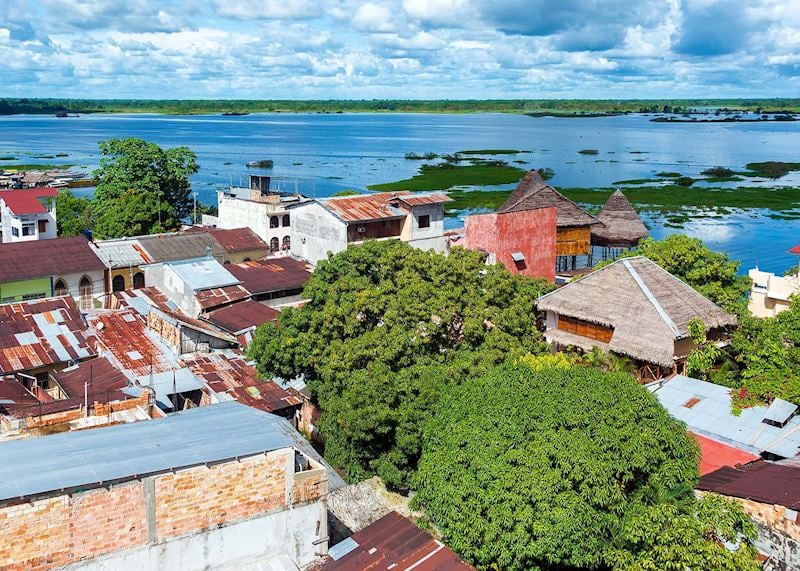 Wildlife viewing in the Amazon can yield up astonishing specimens, and it can also be notoriously unreliable. In some areas, notably Brazil, you're unlikely to see much in the way of heavy-footed mammals and rare birds. This is because most of the fauna journeys into the deep forest, where it can live undisturbed. Instead, I think exploring the Amazon is about the little, incidental sights. It's about paddling past a tree and seeing six bats lined up on it, their wings folded and resting. Spying a tiny kingfisher darting around. Or observing ranks of leaf cutter ants march across the path carrying pieces of foliage far bigger than their bodies.
Then there's the whole sensory experience of being enveloped in jungle. You'll walk paths thickset with lianas, and be dwarfed by huge buttress roots. Sometimes, you'll travel down densely vegetated, impenetrable-seeming caños (tributaries) on small boats. It's like entering a tunnel of trees; it's impossible to see the sky. But open spaces exist, too: oxbow lakes and clearings dot some areas, such as around Puerto Maldonado, in Peru's southern Amazon.
It's the sounds of the rainforest, too, that I find entrancing, even oddly hypnotic. Sometimes it's eerily hushed; at other times you'll hear the motor-car-like growls of a howler monkey, the crashing of unseen monkeys or birds through the trees, or the booming of cicadas. Many lodges have open-sided rooms, the better to take in the forest's soundscape.
There's a human side to the Amazon, too… I'd also argue that visiting the Amazon involves experiencing the character of its frontier towns: Manaus (Brazil), Iquitos and Puerto Maldonado (Peru), Coca (Ecuador) and Leticia (Colombia).
They're frenetic, liminal places. Motor-taxis whizz past decrepit Spanish and Portuguese colonial buildings, and motor-driven canoes crowd the piers. Each has a dockside market heaving with the surrounding jungle's bounty — fresh cashews and Brazil nuts, bananas, coriander and even rare fish such as the pirarucu. They're places where the barrier between civilization and total wilderness feels thrillingly thin.
These towns are of interest to anyone looking to better understand the socio-economic situation of the heavily contested Amazon territory and its communities. At Coca, for example, you'll see oil pipes running right by the river, and although you'll leave all this behind when you head out to your secluded lodge, it's a stark but important reminder of the complex politics surrounding the mother of all rainforests.
Lodge stays versus cruises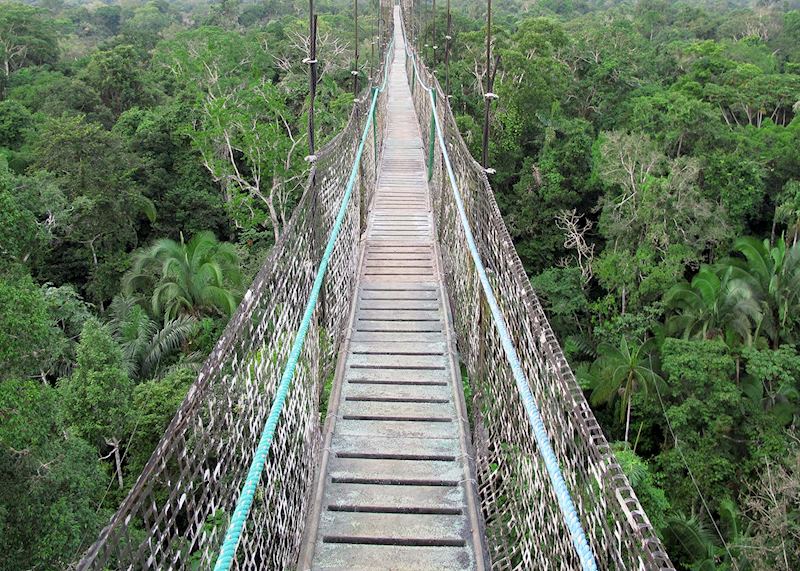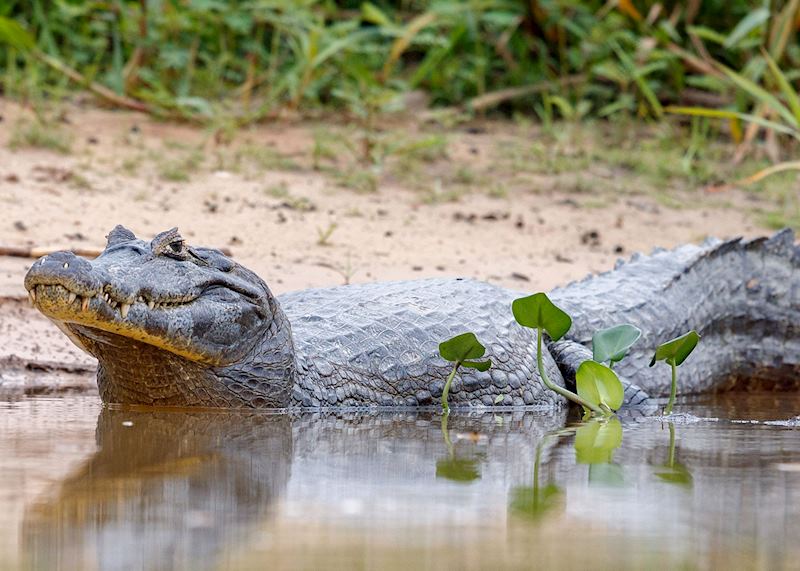 There are two main ways to experience the Amazon rainforest.
Lodges present the widest range of opportunities to explore the jungle and, as such, usually offer better value for money. Experiences range from walking well-marked nature trails looking for various types of birds and species of monkey and sloth, to paddling a canoe across a blackwater lake in search of caiman. There are also night safaris.
Lodges often try and work with the jungle, not against it, wrapping their buildings around it. For example, Ecuador's Sacha Lodge has walkways suspended above the forest floor, and you can sometimes see coatis scurrying about there. You can also ascend canopy towers, and watch the morning mist rising from the treeline, melting into a watery dawn.
Cruises generally offer fewer guided trips on shore, and you'll generally need to stick to set itineraries. But vessels do offer a more luxurious experience (see below). And, you can also visit areas that can't be reached from your lodge: the vessels can launch skiffs into small, isolated tributaries, where you'll have a greater chance of seeing interesting plantlife and wildlife.
Where to go in the Amazon, depending on your priorities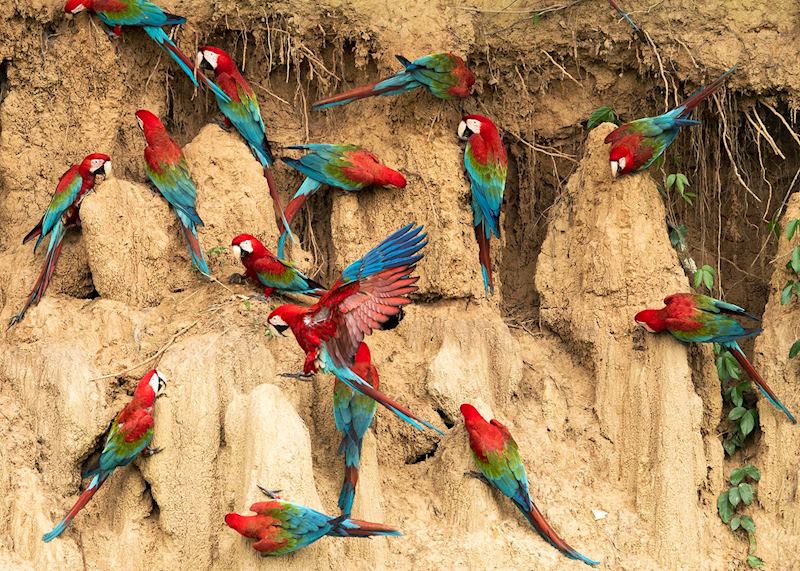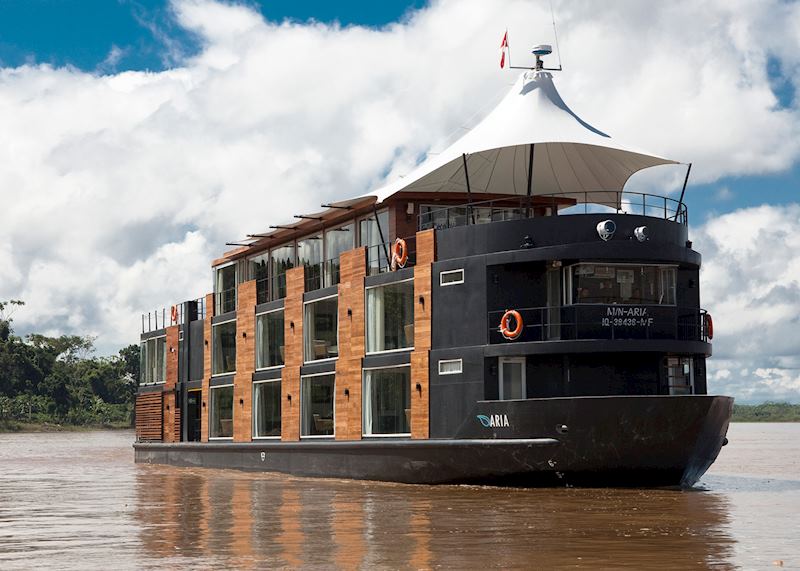 For purists (who want to see the 'true' Amazon): Brazil
You don't go to the Brazilian Amazon for the wildlife: you go to see the immensity of the river. As you head out of Manaus and into the rainforest, you'll witness the meeting of the waters, where the Rio Solimões and the Rio Negro merge to form what we know as the Amazon proper. Even here, 1,600 km (994 miles) from the Atlantic, it's 10 km (just over 6 miles) wide.
For comfort-seekers: river cruises on Peru's northern Amazon
The vessels that ply the waters around Iquitos are practically floating boutique hotels. Rooms are plush and there's the option of private Jacuzzis, and sometimes air conditioning. We especially like the Delfin I and the MV Aria, but other vessels exist. There's something very relaxing, too, about sitting on deck and watching the jungle glide by.
Here, fellow Audley South America specialist Fiona describes her experiences of cruising the country's northern Amazon.
For birdwatchers: Tambopata Reserve in Peru's southern Amazon
Serious birdwatchers who don't mind staying in more rustic accommodation should consider heading to this protected region deep in Peru's southern Amazon, near Puerto Maldonado.
The claylicks are frequented by many breeds of parrots (such as mealy, blue-headed and yellow-crowned varieties) and macaws. You might also catch manakins, with their bright, jewel-like plumage. They have madcap mating rituals during which they skate along branches as if they're performing Michael Jackson's moonwalk.
The costs of visiting this reserve can be prohibitive for some. In which case, there are also accessible claylicks near the Napo Wildlife Center in Ecuador.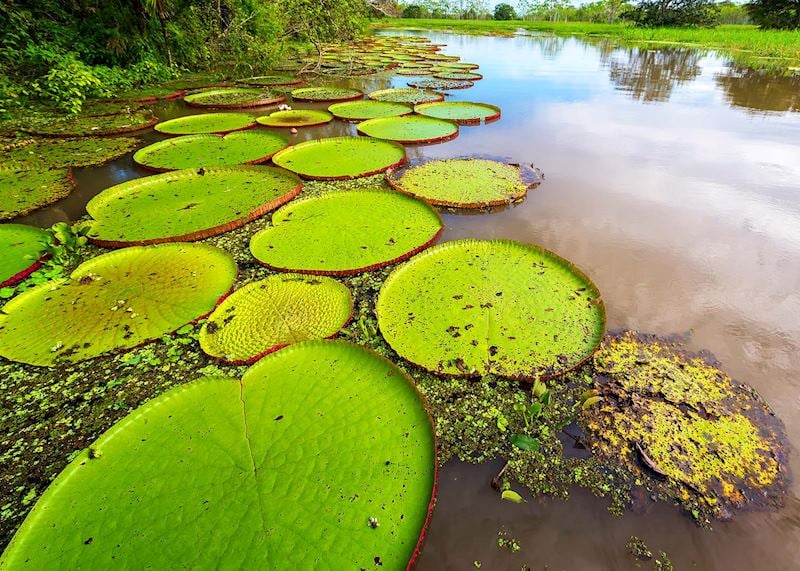 For wildlife-spotting in general: Uakari Floating Lodge, Brazil
You can take night-time boat safaris here — look out for caimans' eyes flashing in the dark. Walking on the forest trails throws up other, overlooked delights, such as a tree full of stick insects.
The birdlife, too, is rich, from riverine species to oddities such as the pterodactyl-like hoazin, and even birds of prey, including harpy eagles.
In addition, the lodge offers jaguar expeditions. I've never been lucky enough to see one, but Uakari has been conducting and supporting scientific research into these elusive felines, so your chances of viewing one are perhaps greater here than almost anywhere else.
You also stand a good chance of seeing elusive pink river dolphins (in reality they're more dusky-pink-and-gray) in the waters around Uakari, which has been conducting biological research on them.
For giant waterlilies: Brazil and Peru's northern Amazon
You'll find these mammoth upturned saucer-like plants principally in the Brazilian Amazon, or in the waterways outside of Iquitos, in the Pacaya Samiria National Reserve. Sometimes, you'll hear the calls of frogs and insects from inside their widespread, rounded leaves.
For meeting indigenous communities: Colombia
The Amazon's indigenous peoples are sometimes overlooked by visitors eager to explore its flora and fauna. For an encounter that's low-key and authentic without being manufactured or twee, I recommend the village of Vergel near Leticia in the Colombian Amazon.
Its spokesman is José Antonio, a 60-year-old native villager who has made it his mission to 'rescue' (his words) his tribe's culture. To that end, he teaches village youngsters traditional dances, and how to sing in their tribal tongue.
Visiting Vergel is an intimate experience: José Antonio will start by explaining his aims, before a group of children perform. But it's a two-way street: you're definitely expected to join in with the swirling and drumming.
Visits can be arranged as part of a stay at Calanoa Jungle Lodge. South America specialist Fiona recently spent time at this property and recounts her experiences in this blog post.
For going completely off-grid (but keeping home comforts): Cristalino Jungle Lodge, Brazil

This lodge is cocooned in the middle of a state park in the country's southern Amazon, and getting there requires a combination of plane, automobile, and boat. But its remoteness means that the primary rainforest surrounding it is exceptionally healthy, and has hardly been touched by man.
Founded on strong ecological principles, today the lodge works to increase awareness of conservation among the locals of Alta Floresta, the nearest settlement of any size. Audley specialist Rachel explains what to expect when you visit Cristalino.
For a good-value all-rounder: Ecuador
For the best chances of spotting wildlife, matched with the good-quality accommodation, the Ecuadorian Amazon ticks the boxes.
I've seen baby marmoset monkeys here, and a mata mata, an Amazonian turtle with a strange horn on its ridged carapace. Scott from Audley's South America team explains why experiencing this corner of the Amazon is so rewarding in his in-depth guide to wildlife on mainland Ecuador.
Read more about trips to the Amazon and South America
Ecuador, Galapagos Islands
Start thinking about your experience. These itineraries are simply suggestions for how you could enjoy some of the same experiences as our specialists. They're just for inspiration, because your trip will be created around your particular tastes.
View All Tours in South America