Ian and Susan Johnson visited Sumatra and Malaysia with Audley in August 2011. They describe their experiences of wildlife viewing, jungle trekking and some welcome relaxation on one of Malaysia's east coast beaches
At long last we think we have found our ideal vacation format. A long flight to somewhere exotic, a few days to recover from the flight in a nice hotel, about a week doing something active involving wildlife then about a week relaxing on a tranquil beach with a bit of diving. This format worked wonderfully on our first trip with Audley to Borneo, and again this year when we went to Malaysia and Sumatra in Indonesia.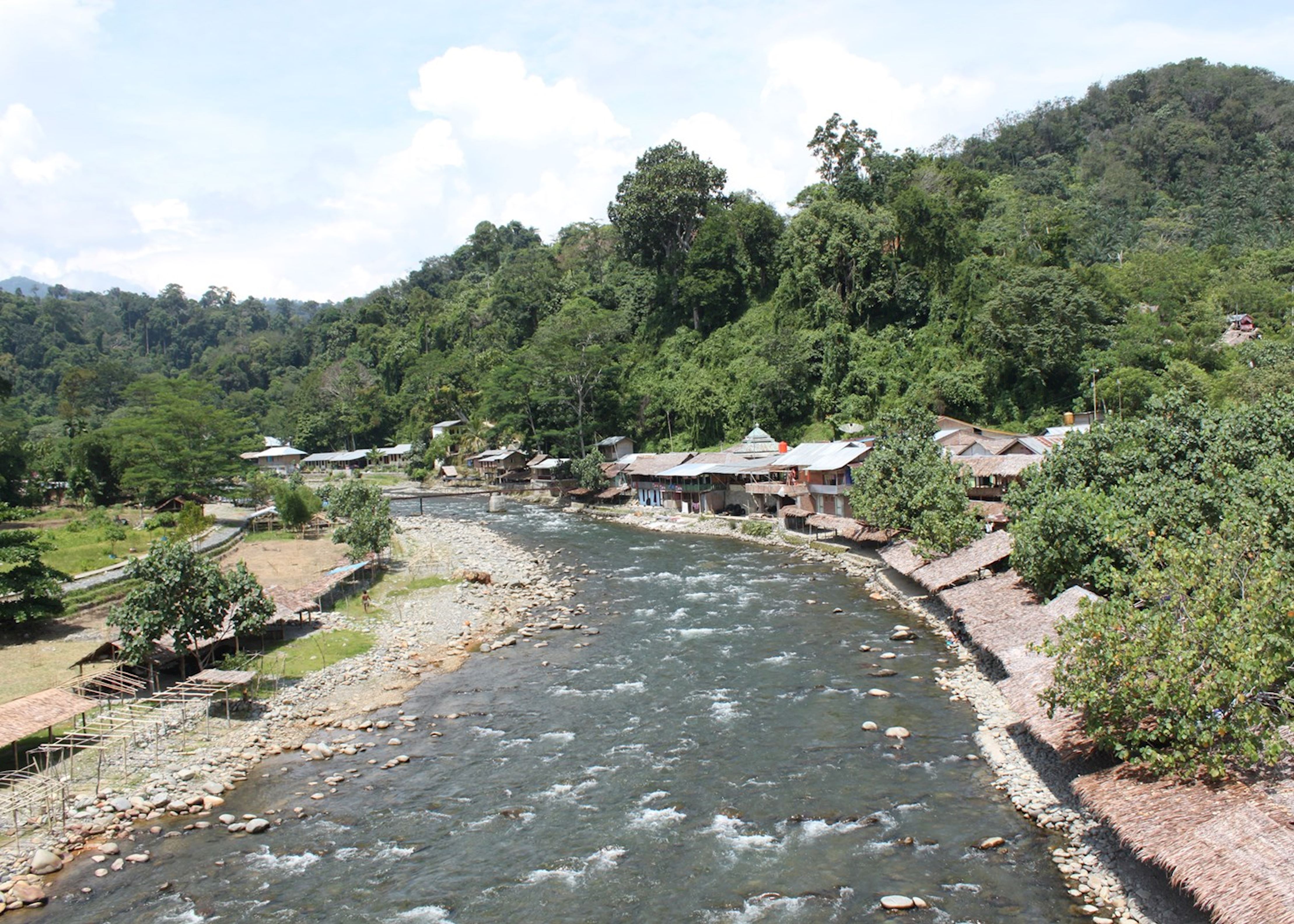 After three nights in the old colonial town of Malacca we headed out to Indonesia, Sumatra and the jungle. First stop was Bukit Lawang. Access to the ecolodge was by a precarious, wobbly rope bridge across the river, local lads carried our bags over for a small tip — I would have paid ten times as much! Next day we went trekking with our jungle guide — first through rubber plantations, that were straight out of 1960s school books, rows of trees with V-shaped grooves and latex collected in coconut shells, then into the jungle proper. It was a tough walk, lots of very steep climbs and twisting descents through streams. The area was once an orangutan rehabilitation center, and there were still plenty around, and breeding successfully too. They are used to people and generally take little notice, but they do understand what is carried in backpacks and will inspect them carefully given half a chance — hoping to steal your lunch.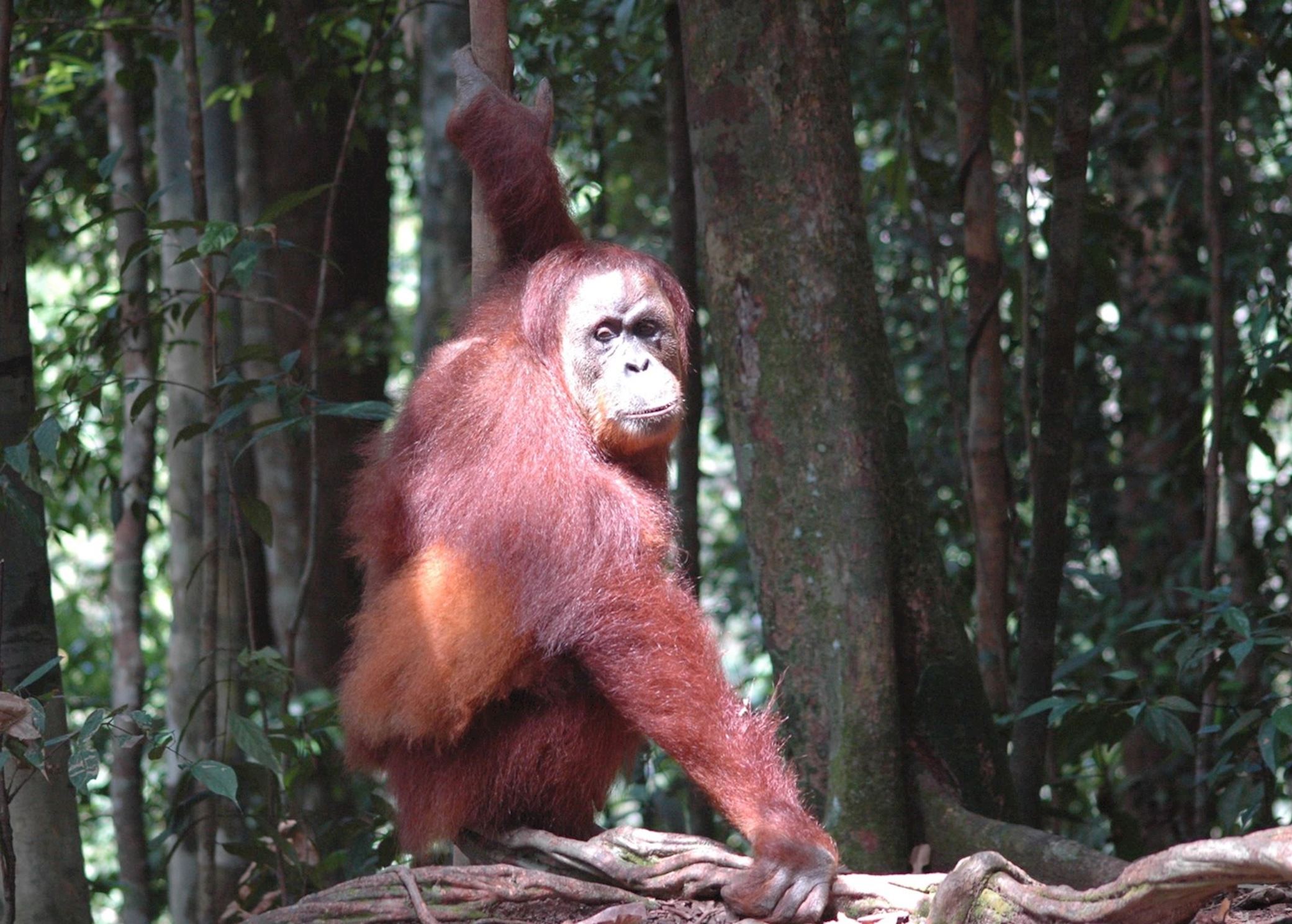 Ever since the Goodies sung about the Funky Gibbon in the 1970s — I have been fascinated lucky enough to watch a group of white handed gibbons looping through the trees just 50 meters away. Then there were the Thomas leaf monkeys, really laid-back, just sitting in the trees watching the frantic macaques dashing around. With a black and white body and a David Beckham haircut they have earned the nickname of 'punky monkey'. Toward the end of the day the rain started — it is called a rainforest for good reason. Boy, did it rain. The steep paths became like waterfalls, the streams became torrents and the route became 'challenging'.
As the crow flies it is just 14 km (8.5 miles) from Bukit Lawang to Tangkahan but it took 2.5 hours to drive along dirt roads with steep climbs, steeper descents and rickety log bridges. We passed through rural villages on the way where everyone stopped to wave and the children ran alongside our 4x4. At Tangkahan we had to cross the river to get to the lodge and this meant using the Tangkahan Ferry. I have never seen anything quite like it before. It was just two rows of oil drums with a floor, a thatched roof and a rope about 100 m (328 ft) long tying it to a tree upstream and half way round a bend. By using the rudder only, the ferry would swing from one side to the river to the other — like a pendulum. Technology at its very best — no engines and nothing to go wrong — magic.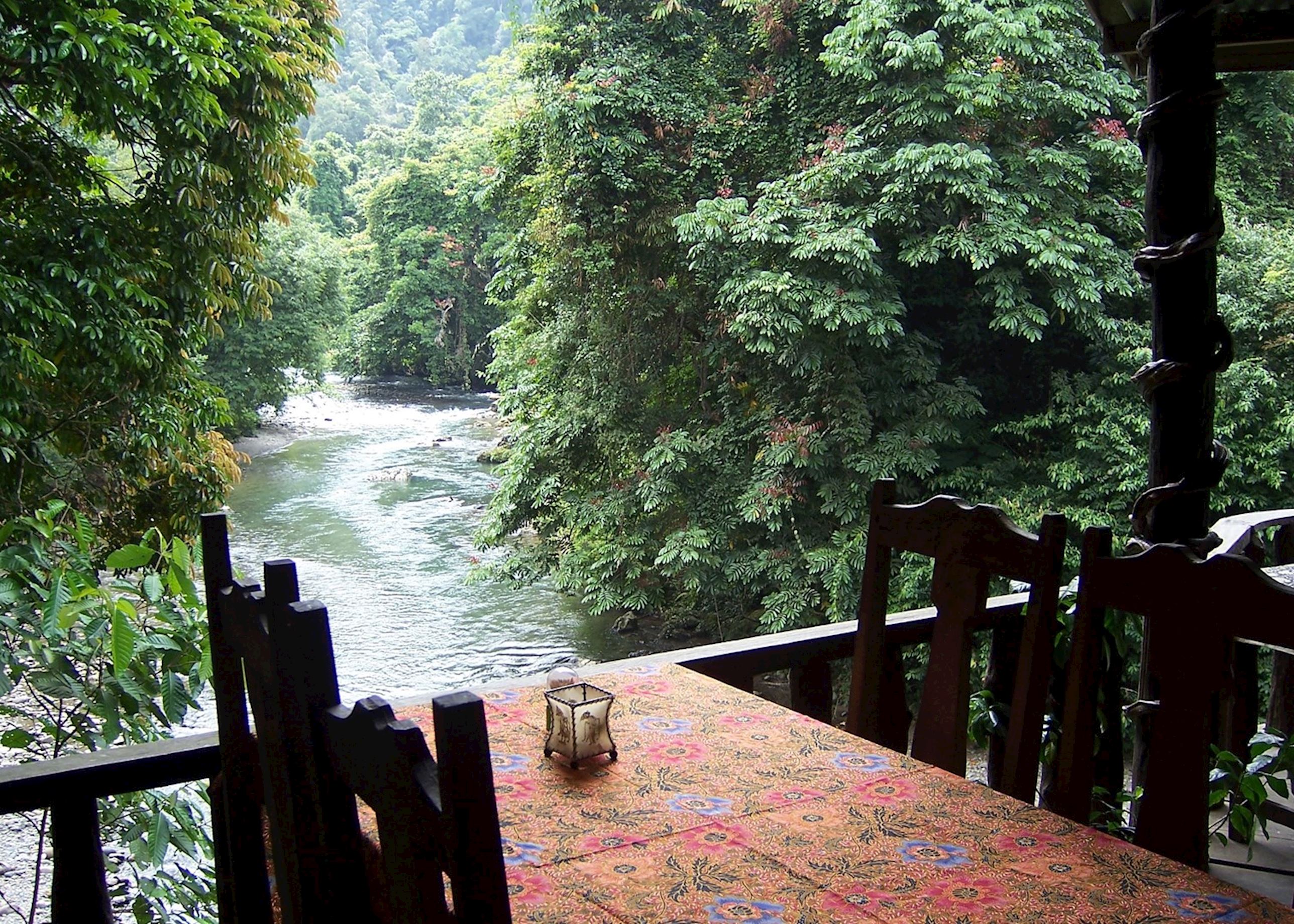 The lodge at Tangkahan was accurately described by Audley, but somehow, seeing it in the flesh was still a bit of a shock, the 'basic' rating well earned. There were three blocks of two plywood rooms on stilts, no hot water, no electricity, except for a few hours in the evening and you had to flush the toilet with a bucket. Oh… and then there were the leeches.
Our jungle trek started by wading across the Bamboo River and then off with the sandals and on with leech repellent, leech socks and boots.
The jungle hike was if anything more strenuous than at Bukit Lawang, and far more remote, we didn't see another person. It was difficult to stop for a break because as soon as we did there would be leeches looping across the ground and through the undergrowth toward us, like a scene from a Harry Potter film — sitting down for a rest was out of the question. After five hours' steady walking we emerged from the jungle into the sunshine on the river beach opposite the lodge. My pocket GPS told me we had covered just 4 km (2.5 miles).
Tangkahan had a lovely atmosphere, the people were really friendly, the food excellent, and the lack of electricity meant everything was very fresh and local. In the evening we would enjoy a meal to the sound of the river below while bats flew through the open-sided restaurant. We felt we were at the extreme edge of tourism, not quite explorers but pretty close — beyond Tangkahan there was just jungle — no roads, no villages — just jungle.
Our trip ended on Tioman Island, off the east coast of Malaysia, for some welcome relaxation.