By New Zealand specialist Miriam
On 14th November 2016, the town of Kaikoura on New Zealand's South Island — celebrated for its whale watching, and coastal and mountainous scenery — suffered a magnitude 7.8 earthquake.
Damage was significant: subsidence and landslides temporarily cut off the town, with naval ships coming to rescue stranded residents and visitors.
Fast-forward 12 months, and Kaikoura is back up and running. New Zealand specialist (and avowed marine life fan) Miriam recently visited the town, and she explains what you need to know about post-quake Kaikoura — plus why you should include it in your trip.
How has Kaikoura changed since the 2016 earthquake?
The landscape has changed quite dramatically. Around the Kaikoura Peninsula, a phenomenon known as co-seismic movement has uplifted large swathes of the seabed by 2 to 5 m (6.6 to 16.4 ft) above ground.
It's an alien sight, this sudden exposure of an area previously only visible at low tide: in places you can see where whalebones have been uncovered. Strangely spherical rocks have been found at an area called Gooch's Beach. They're possibly concretions, though locals have affectionately nicknamed them 'dinosaur eggs'. Now, Kaikoura has some of the geologically youngest coastline in New Zealand, and you can actually walk around the entire peninsula at low tide.
While these changes are fascinating to observe, they're admittedly bittersweet for local people, especially those who've lived here all their lives. 'It's like getting to know your home all over again,' said a B&B owner, a little sadly.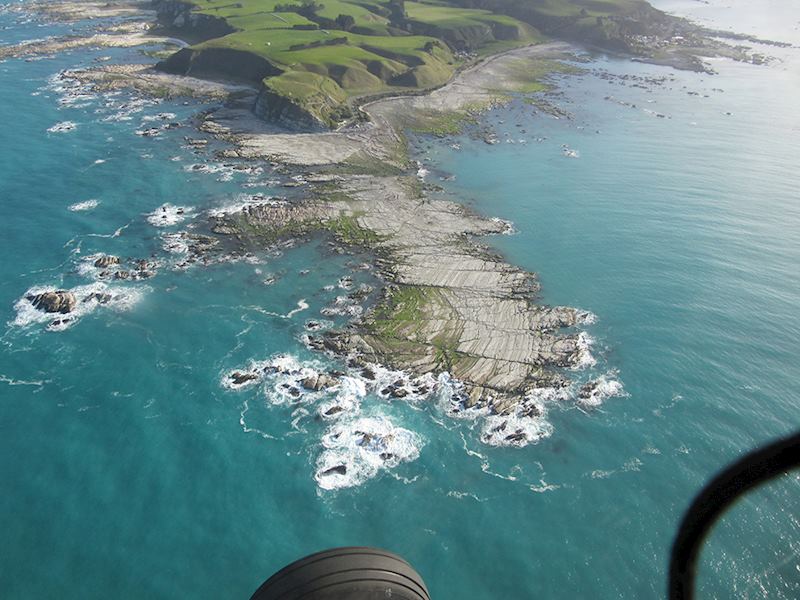 But Kaikoura residents — and New Zealanders in general — are a resilient lot, and they're pragmatic and clear-sighted when it comes to earthquakes and their after-effects. I'd say, in general, the community has really embraced the changed topography and the new opportunities it brings.
For example, a week after the quake, two kayak guides discovered an underwater hot spring at Whaler's Bay, which had been created by dissolved gasses rising from new fissures in the seabed. They're now leading kayak trips out to witness it.
Has the marine life been affected by the earthquake?
Generally, no. Whales are fast-moving creatures and capable of covering vast distances, so the earthquake didn't have much of an effect on them. Now, it does seem that all the whale species, as well as the dusky and common dolphins who famously frequented this coastline, have returned. In fact, sightings have slightly increased.
On my visit, I saw sperm whales (who like to deep-dive into the underwater canyon that opens up a 20-minute boat ride from Kaikoura's shoreline). I was also especially thrilled to see a wandering albatross again and to learn that their numbers are still strong in this part of New Zealand. I've been entranced by these birds ever since I first read The Rime of the Ancient Mariner. They're so huge, they almost completely bathe you in their shadow when they fly overhead.
Regrettably, there have been some casualties. New Zealand's Department of Conservation believes that some New Zealand fur seals may have been wiped out in a landslide at Ohau Point. Some of the fragile habitats of Hutton's shearwaters — a rare coastal bird — were also destroyed. The Department of Conservation is now doing all it can to help these birds re-establish their breeding grounds.
But there's good news, too. The New Zealand fur seals who seemed to have disappeared post-earthquake have returned. Thanks to the raised seabed, they have even more living space — and they're thriving. Not only is the area known locally as the 'seal retirement village' still intact, but the raised seabed has also created an additional hangout for adolescent seals.
What has been the effect on local businesses?
Most restaurants, retail stores and places to stay have fully re-opened; a few are still closed while they're assessed for stability. Some repairs are ongoing, and there are plans to develop a new pop-up container retail mall like Christchurch's.
The new marina is due to be officially opened on 14th November 2017, the first anniversary of the earthquake. The atmosphere in the town is generally positive, and far from sleepy or downbeat.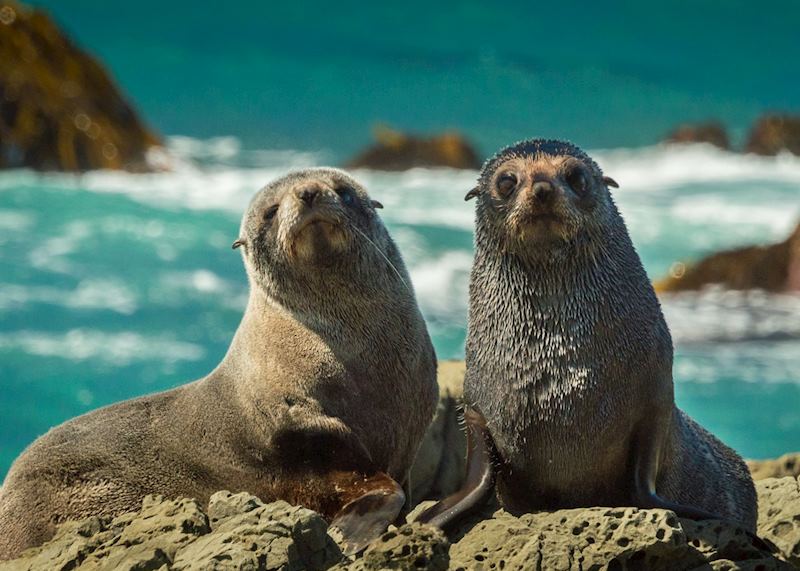 What about road access?
For several months, the only road access was via a circuitous inland route. It could be slow going — especially if you got stuck behind farm vehicles, as I did — and it took between seven and eight hours to reach Kaikoura from Christchurch. Pre-earthquake, it only took around two, using the coastal road.
Now, this road that connects Christchurch and Blenheim to Kaikoura is open almost daily between 7am and 7pm. The entire new and improved coastal road (it's designed to be virtually wave-proof) will be fully open by Christmas this year, while the Coastal Pacific Train, which runs from Picton to Christchurch, is expected to open in early 2018.
There are also plans to install a cycle path that follows State Highway 1 from Picton to Kaikoura, taking you right along the coastline on a flat track. You're likely to be able to see seals en route.
What advice can you offer on visiting Kaikoura?
Simply this — do go ahead and visit. The roster of whale watching trips and dolphin swimming experiences are operational, and I think it's just generally good to support an economy that's trying to rebuild itself.
I'd advise you to book as early as possible. Not only does this ensure you get your pick of where to stay, but advance bookings also boost the town's business and confidence.
The weather can be unpredictable and the sea is sometimes rough, so try to build in contingency time if you're planning to get out on the water. One of the best things to do in Kaikoura is walking the coastal tracks, which range from half-hour loops to full-day hikes. Given the altered landscape, there are now even more possibilities to choose from.
Start planning your trip to New Zealand

Start thinking about your experience. These itineraries are simply suggestions for how you could enjoy some of the same experiences as our specialists. They're just for inspiration, because your trip will be created around your particular tastes.
View All Tours in New Zealand