By Borneo specialist Sophie
It may not be an obvious choice, but for families seeking an adventure, Malaysian Borneo offers comfort and safety alongside its rainforests, tribal villages and remote waterways to explore. It's easy to get around, and the combination of short domestic flights, and car, 4x4 and boat journeys provide a lot of variety.
You'll find that the hotels offer all the practical facilities you need, as well as space to explore. And best of all: there isn't much standing around. Borneo is a place that keeps tempting you into another active adventure, be it little hands pointing out a keenly spotted proboscis monkey or your older children traversing jungle ropeways.
Malaysian Borneo is split into two states: Sarawak and Sabah. If you have a young family, I'd focus on Sabah. If your children are older, spending an initial few days in Sarawak provides some interesting cultural experiences.
Family experiences in Sarawak
Exploring for wildlife from Kuching

The capital of Sarawak, Kuching acts as a base from where you can take trips into the surrounding countryside. One option is to spend the day trekking through nearby Bako National Park to spot Bornean bearded pigs and flying lemurs before bursting out onto the beach. You can also take a boat trip through the park's mangroves to see Irrawaddy dolphins (your best chance is between April and September) or visit the orangutans at Semenggoh Nature Reserve.
Sitting on the mouth of the Sarawak River on the northwest of the island, Kuching is a busy commercial city with a mix of Malay, Indian and Chinese influences — best appreciated through its street food. I always stop off for a piece of Sarawak layer cake — made from kaleidoscopic thins of sponge — followed by a bowl of fried rice.
Spending the night with an Iban tribe

The Iban are a branch of the Dayak people, the original inhabitants of Borneo. Living in long, communal wooden buildings known as longhouses, they are predominately a farming and gathering community. They gained fame as a headhunting tribe when the Dutch and British began to colonize the island in the 19th century — although this has long since abated.
After a five-hour drive northwest from Kuching, you're greeted at the bank of the Lemanak River by a member of the tribe. Climbing into a longboat, it's then a 30-minute journey upriver, passing longhouses and monitor lizards basking on the banks. You're accompanied by a guide, who can translate jaku Iban, the tribe's local dialect.
The tribe will be ready to greet you, and show you around the longhouse. Each family has its own living quarters which lead onto a communal area, filled with tools and a hangout for the occasional chicken.
In the afternoon there's plenty of time for swimming in the river and roaming around the rice paddies and vegetable garden. As evening approaches, a dinner of home-grown rice and vegetables is prepared, with everyone circling together to eat around a hearty fire.
I found the tribe, overseen by their ever-watching chief, were keen to show me how they lived. My visit was seen as a wonderful excuse for handmade costumes to be aired and traditional dances performed. The chickens were chased out of the longhouse just before bedtime. The sleeping arrangements are simple, but I was comfortable on a sleeping mat, protected by a mosquito net draped from the ceiling.
In the morning, a simple breakfast is prepared before you depart the longhouse for the journey back to Kuching.
Family experiences in Sabah
Visiting Sepilok's wildlife sanctuaries

Borneo's thick cover of rainforest doesn't lend itself well to road travel, but a network of good-value domestic flights provide an alternative, hassle-free way to get around. Fly into Sandakan Airport (there are direct flights from Kota Kinabalu or Kuala Lumpur) and you're all set to explore the eastern state of Sabah.
During a few days in Sepilok, a half-hour drive from Sandakan, you can gain a gentle introduction into Borneo's wildlife before setting off into the wilds. Sepilok has become known for its orangutan sanctuary. The Sepilok Orangutan Rehabilitation Centre shelters around 70 orangutans that are being gradually rehabilitated for release back into the wild. As I was staying nearby, I joined one of their night walks along the boardwalks of the sanctuary. You won't spot the orangutan at night as they nest up in the trees, but we managed to spot civets, owls and a tiny mouse deer.
The sanctuary's success has led to the development of a rainforest discovery center and sun bear reserve.

When I paid a morning visit to watch the daily feeding, the sanctuary was busy but children were gently guided to the front of the viewing platform. Two huge males were making light work of the fruit on the feeding station below us.
A large nursery looks after new arrivals, usually babies that have lost their parents, or confiscated pets. Separated by glass — to protect them from human illnesses — you can watch the foundling orangutans playing on tires or gleefully swinging from ropes.
The less-visited Bornean Sun Bear Conservation Centre is next door. Its viewing platform is on stilts well above the forest floor, with binoculars on hand. The bears can be spotted down below or as they deftly climb the nearby trees. The staff are keen to share their knowledge of the world's smallest bear, pointing out each bear's name and personality quirks.
Staying in a well-sized chalet at Sepilok Nature Resort, you're within walking distance of the sanctuaries.
Wildlife spotting along the Kinabatangan River

From Sepilok, you can progress into the jungle along the Kinabatangan River, staying in a riverside lodge. Most lodges offer a two-night stay including food, with a schedule of activities. The lodges are simple yet comfortable, with individual wooden chalets offering space to run around. Activities are arranged in small groups but, as they tend to average eight to ten people, you're likely to be joined by just one other family.
You'll journey to your lodge by boat from Sandakan. After settling in, you can head out at dusk for a boat safari. Floating down the Kinabatangan's quieter tributaries, the naturalist guides are on the lookout for wildlife. Proboscis monkeys dangle from the trees and, sometimes, you can see the distinctive silhouette of a hornbill on the horizon. If you stay at Abai Jungle Lodge, you'll be out on the river until dark, when fireflies light up the foliage like Christmas trees.
The following day, you'll take two further boat safaris at dawn and dusk, when the animals are at their most active. For families with younger children, this is a particularly hassle-free way to enjoy wildlife. The boats lie quite low in the water, making it easy to peer over the side to look for monitor lizards and creepy-crawlies along the banks, with binoculars on hand for focusing on birds and monkeys. I also saw a herd of pygmy elephants trampling through the undergrowth.
Scaling the canopy walkways at Borneo Rainforest Lodge

From the river, you're well located to travel into the depths of Borneo's primary rainforest, and Borneo Rainforest Lodge is about as deep in as you can get.
From your riverside lodge, you travel upriver to the village of Sukau before being driven two hours to Lahad Datu, the lodge's nearest town. From here, you swap to a jeep for a two-hour drive into the primary rainforest. It's a long journey, but the ever-changing scenery and regular stops make it bearable for children.
Look at a map of Borneo and you'll struggle to pinpoint Borneo Rainforest Lodge. Aside from a science research post nearby, the hotel is the only settlement in the Danum Valley Conservation Area. The adventurous location is softened by accommodation in the form of luxurious chalets set on stilts. The double-story villas can be kitted out with extra beds and come with their own outdoor plunge pool.

Boardwalks have been fitted around the lodge for ground-level exploring, and canopy walkways brush the treetops above. I've seen children clamber eagerly up to the canopy walkways — they're very secure — but adults who don't like heights may have more of a problem. Head up to the walkways at first light and you'll see the morning mist rising from the trees as gibbons forage for breakfast.
In the daytime, you can trek into the primary rainforest. The walks are conducted in small groups, but it's possible to pay a supplement for a private guide.
Our guide had a flair for keeping everyone's attention as we walked, pointing out bizarre plants, birds and a hairy millipede. If the river is at the right level, it's possible to float downstream on a giant rubber tire, watching the jungle pass by.
At dusk, I suggest heading out on a night safari. Sitting in the back of an open-top 4x4, we drove through some of the pathways surrounding the lodge, my guide armed with a flashlight to illuminate any wildlife. A civet's beady eyes were soon spotted, followed by deer, bearded pigs and a swift glimpse of a mouse.
Ending on one of Borneo's beaches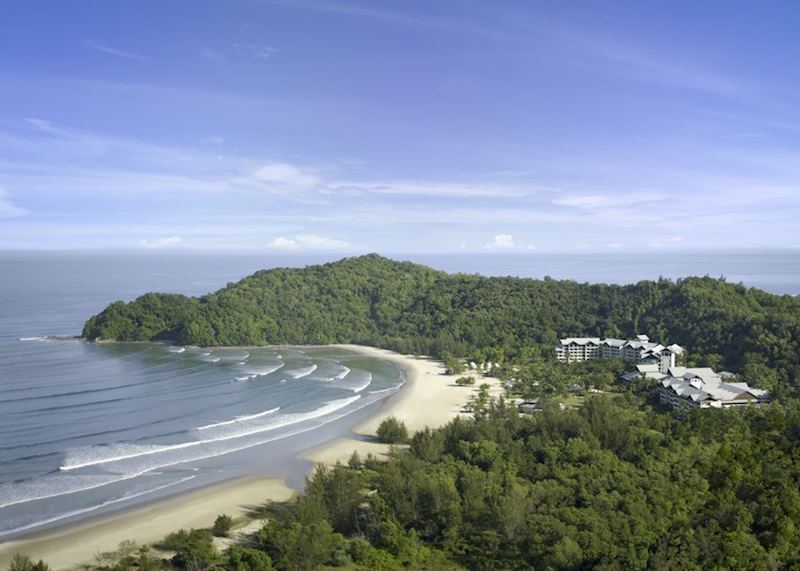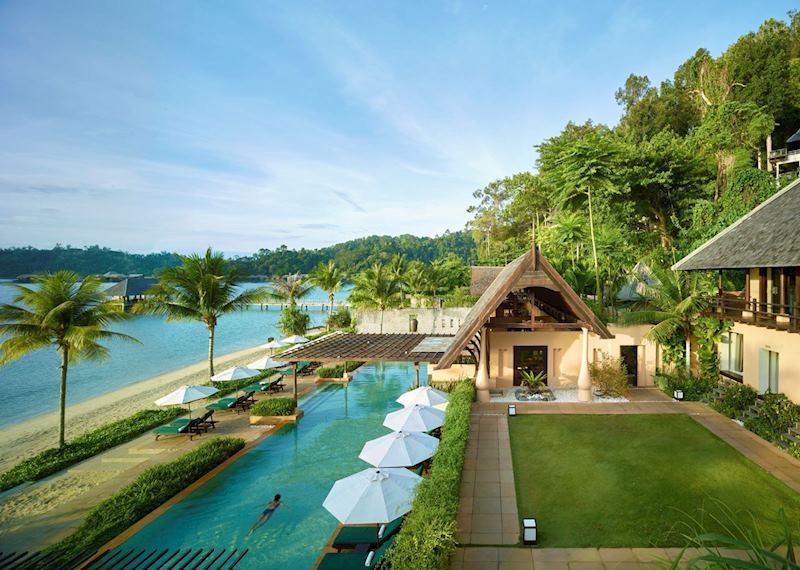 After exploring inland, I suggest heading to the coast. Lahad Datu has a small airstrip that runs domestic flights to Kota Kinabalu on Borneo's north coast.
If you're looking for a classic beach hotel, the Shangri-La's Rasa Ria Resort & Spa, a 20-minute drive from the airport, works well. Set over 3 km (1.8 miles) of private beach, it has a children's club, putting green, horse riding school and a separate children's pool with slides. The ridge of forest behind the resort is a protected reserve, streaked with walking trails — guided walks are run daily.
For families with older children, I'd pick Gaya Island Resort. A short boat ride from Kota Kinabalu, Gaya is one of a handful of islands that make up the Tunku Abdul Rahman National Park. The hotel sits in its own bay, backed by thick jungle. As you step onto the property's tiny jetty, you can just about see the wooden villas poking out of the jungle. Snorkeling trips out to the coral gardens run daily, with experienced biologists on hand to help with creature identification.
Travel onward to Singapore

Long-haul flights don't run directly to Borneo, with most visitors flying through Kuala Lumpur, Singapore or Hong Kong. I find Singapore works well as part of a family trip, its modern metropolis a contrast to Borneo's greenery.
Singapore's Gardens by the Bay is a grove of innovative 'Supertrees', their huge metal structures reaching up 16 stories and covered with more than 200 plant species. On the futuristic forest floor, you'll find biodomes full of exotic flowers as well as an adventure playground and a wet play area — you'll quickly dry out afterwards in Singapore's heat.
On a short walk through Singapore's Chinatown district you can pop into brightly painted temples and find souvenirs in the market. Sentosa Island, just off the west coast, is an entertainment hub with theme parks including Universal Studios and S.E.A. Aquarium.
Practicalities
You'll need to be armed with mosquito repellent for the Kinabatangan River. Borneo is in a low-risk malarial area.
If you're hiking in the Danum Valley, leech socks come in handy, especially if you're planning a lengthy walk.
There are limited accommodation options throughout Borneo, which tend to book up quickly. I suggest planning your trip a year in advance to secure the best options.
Borneo is a year-round destination, although December and January can be particularly wet.
Start planning your family trip to Borneo

Start thinking about your experience. These itineraries are simply suggestions for how you could enjoy some of the same experiences as our specialists. They're just for inspiration, because your trip will be created around your particular tastes.
View All Tours in Borneo