With its plush, intimate camps and emphasis on exploring remote wildlife areas disturbed only by the sounds of nature, Botswana may not immediately spring to mind as a family-oriented destination — but hear us out. The country's exclusivity can work to your advantage: you're likely to have game vehicles and guides all to yourself. Fewer guests means camps can be flexible with your schedule and shape the experience around what you want to see most. And, private reserves along with a unique mix of landscapes means you have a wide range of activities to choose from.
From the watery wildernesses of the Okavango Delta and Chobe National Park to the scorched Kalahari Desert, you'll find camps and lodges throughout the country that welcome children, and which often offer activities designed for younger guests. We asked our specialists to share their best stays for a family safari in Botswana, including a few good-value options you can access without the need for a light aircraft flight.
Best safari camps for families in the Okavango Delta
Footsteps Camp, Shinde Concession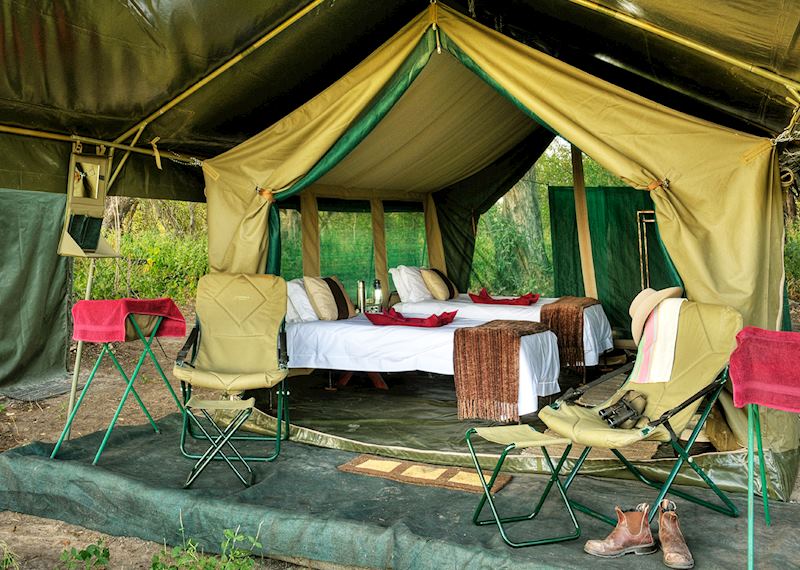 This intimate camp offers a Young Explorers safari that's specially designed for families. You'll stay in your own six-bed camp complete with a personal chef, waiter, housekeeper, and a private guide who's trained to make sure all of you get the most from your experience, no matter your age.
It's not just a case of sitting back as you're shown big cats and elephant here (though you'll hopefully see plenty of those and much more). Instead, you can get stuck in, learning how to track animals while exploring on foot and in a 4x4. Your guide will show you telltale signs to look and listen for, from fresh prints and dung to different warning calls and birdsong.
There's plenty of opportunity for children to get hands on, too — they can learn survival skills like how to make a campfire, try fishing, make an animal trap used to aid research, or, if water levels allow, they can have a go at poling themselves along the waterways in a mokoro (dugout canoe). At the end of the safari, they'll be awarded with a Young Explorers t-shirt, cap, and certificate.
Okuti, Moremi Game Reserve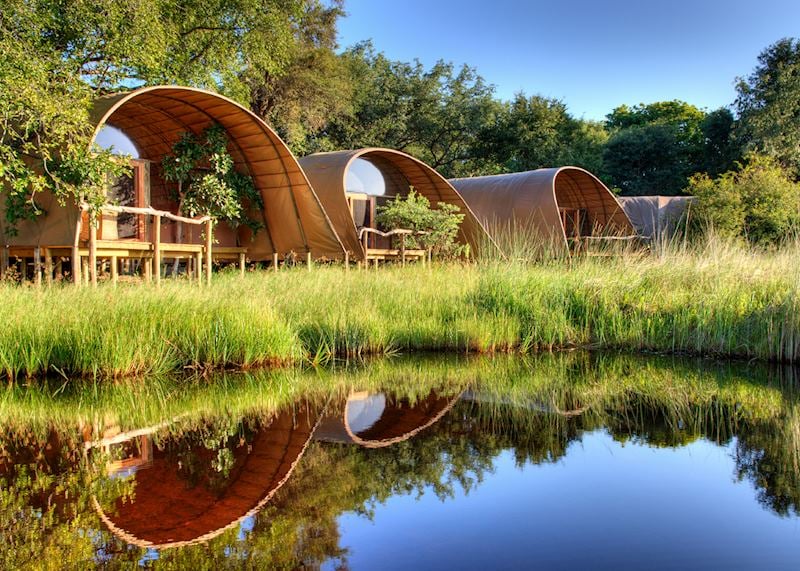 Set on the banks of the Maunachira River, Okuti stands out from other camps thanks to its handful of guest masasas — traditional curved structures made of reeds. Each sits on a teak platform where you can sit and enjoy views over the water. Two masasas are designed for families with children aged seven and over, featuring two bedrooms and a spacious bathroom.
The camp ensures every guest has a window seat on game drives, so as a family you'll likely have a vehicle and guide all to yourself as you explore Moremi Game Reserve's mix of habitats, looking out for leopard, elephant, cheetah, and giraffe. With open lagoons and glittering channels, this is an area rich in birdlife, and your guide will help you to identify different species by sight and sound.
For a closer look, you can explore the waterways by motorboat, spotting herons, storks, and malachite kingfishers among the reeds along with other wildlife drinking along the banks.
Seba Camp, Abu Concession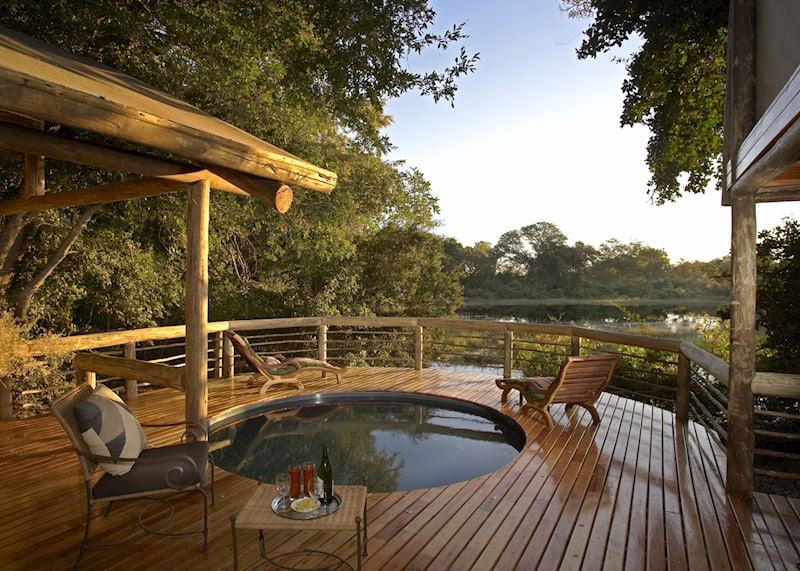 Surrounded by riverine forest and sitting beside a perennial lagoon, Seba Camp is in a private concession in the west of the delta. It has just eight thatch-and-canvas tents, two of which have interconnecting rooms and plunge pools. Best of all, you can enjoy activities aimed at families, whether you want to try making pizzas, learn photography skills, paint your own artwork, or do some catch-and-release fishing (the area's known for its tiger fish).
There's a wide mix of more typical safari activities, too. During day- and night-time game drives you'll spot a varied cast of animals, from giraffe, hyena, and lion to warthogs, elephant, and wild dog. On bush walks, experienced guides will open your eyes to minute details of the ecosystem, zooming in on insects, birds, animal tracks, and plant life. And, you'll have the chance to explore by water in a motorboat or mokoro.
Kanana, Kanana Concession
The ebb and flow of the delta's waters shape how your days are spent at Kanana. In fact, you can sometimes visibly see the water rising as you sit out on your private deck. The luxurious, eco-conscious camp has just seven tents, one for families, with two bedrooms, an en suite bathroom, and an outdoor shower. All are well spaced out for privacy. You can also make use of the camp's pool in-between safari activities.
When water levels allow, you can head out with your guide in a glass-bottomed mokoro for a window into the underwater world, or explore the channels by boat, visiting the nearby heronry (one of the largest in Southern Africa). Fishing for pike, catfish, and tilapia is also popular — both with guests and the abundance of birdlife, including rare Pel's fishing owls.
Back on land, you can take guided walks and — because you're in a private concession — game drives can continue after dark for a chance to spot nocturnal creatures like porcupines, genets, bushbabies, and aardwolf. You can even opt to spend the night on the sleep-out deck to appreciate just how many stars fill the sky without light pollution.
Delta Camp, Moremi Game Reserve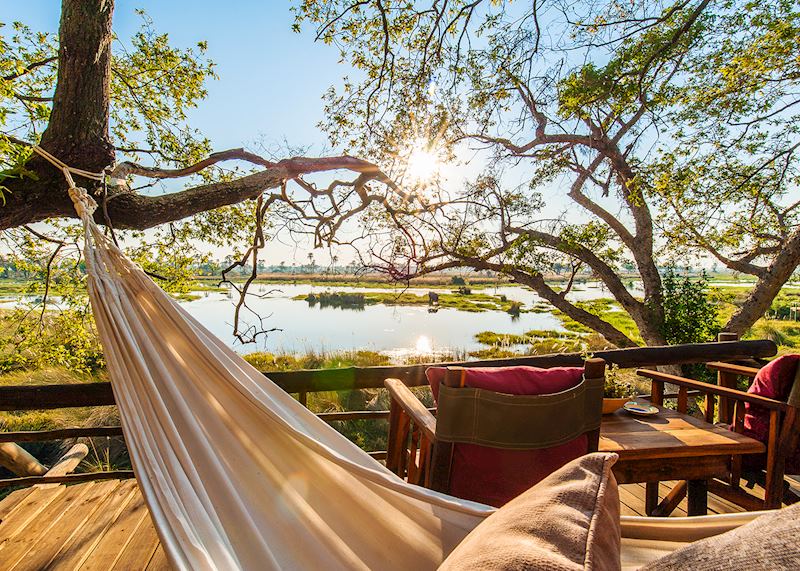 Many camps in Botswana have age restrictions, but at Delta Camp, on the edge of Chief's Island, children of all ages are welcome. There are two wood-and-lethaka (reed) chalets reserved for families of up to four, as well as dedicated guides who are specially trained in helping understand and appreciate the natural world around them. The camp is also flexible when it comes to dining and can serve simple meals for children at a time that suits you.
The focus here is on exploring the bush in its natural state without a vehicle, allowing you to absorb the sights, smells, and sounds of the delta undisturbed. Heading out on foot or, if water levels allow, by mokoro with your private guide, your experience is shaped around what you want to see and do — you might explore the nearby islands and water channels while keeping watch for rare antelope species, giraffe, and hippo, visit the nearby baYei village — where many of the guides live — for an insight into local life, or visit the sunset deck to soak in those golden-hour views.
Best safari camps for families in the Kalahari Desert
Camp Kalahari, Makgadikgadi Pans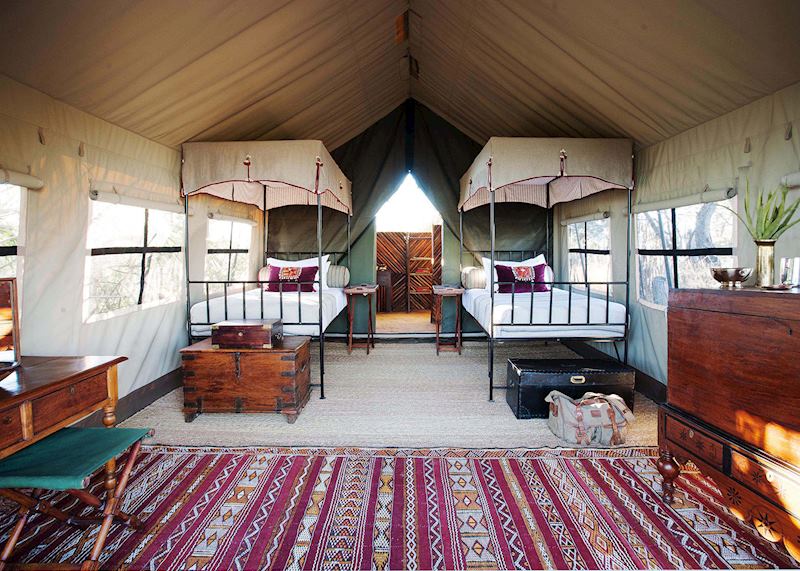 The simplicity of Camp Kalahari is refreshing, with just 12 traditional Meru-style tents and an emphasis on adventure over luxury (though you're by no means roughing it). Children of any age are welcome, with a dedicated suite providing plenty of space for families of up to five.
Despite being in the desert, you're surrounded by the palm and acacia trees of Brown Hyena Island, while still being close to Makgadikgadi's dazzling-white salt pans. Here, you can take exhilarating quad-bike (over 12s only) or horseback rides across the flat, otherworldly landscape — with just two other camps in this vast area, the sense of solitude is tangible.
You also have the chance to follow local Zu'/hoasi bushmen on foot as they share the skills their people have used to survive in this hostile environment for millennia. They'll show you how they make fire, craft tools, and use plants for medicine, as well as opening your eyes to the creatures that have adapted to the desert, from Kalahari worm lizards to black-maned lion. And, nearby, you can visit habituated meerkats for some great photo opportunities.
Game drives are offered too, for a chance to see various antelope species, brown hyena, elephant (which you might also spot drinking from the camp's pool), and, between January and April, Africa's second-largest migration as 50,000 zebra and wildebeest move through the area.
Best safari camps for families in Chobe National Park
Chobe Safari Lodge, Kasane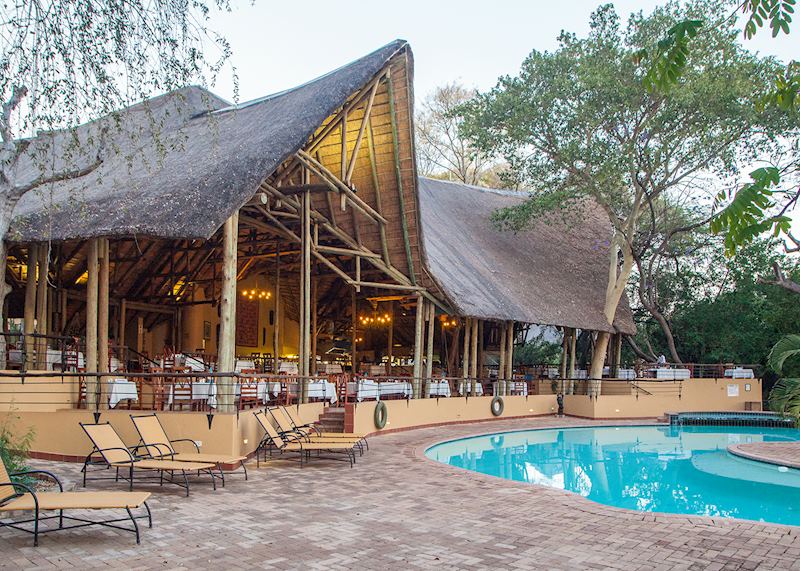 Offering a range of room types, including two-bedroom family suites with private plunge pools, interleading rooms, and triple rooms, Chobe Safari Lodge has no age restrictions. It's close to Kasane's airport so is easy to access, yet it feels like a world away, on the peaceful banks of the Chobe River.
The lodge's team of all-female guides will take you on sunrise or sunset boat safaris along the Chobe River. The park has one of the largest concentrations of elephant in Africa, so you're almost guaranteed to see them rolling in mud along the banks, splashing water over themselves, and swimming, trunks held aloft like a snorkel.
You can also head out on game drives in near-silent electric vehicles to see a mix of species, from big cats to vividly plumed birds. Or, with Victoria Falls just over an hour's drive away, you can take a day trip to see the world's largest curtain of water.
Muchenje Safari Lodge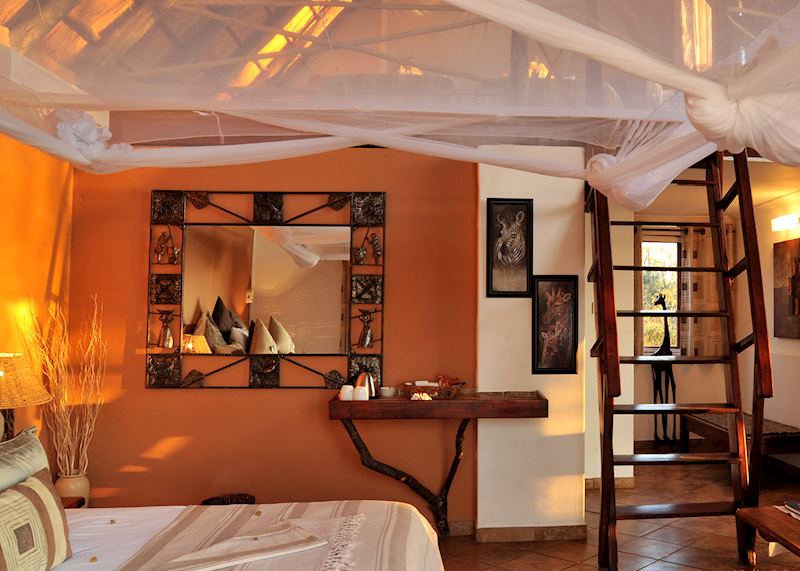 Over in Chobe National Park's quieter western side, but still less than an hour's drive from Kasane, Muchenje Safari Lodge gives you the best of both worlds. From here, you can head out along the river on boat safaris to see elephant in their hundreds and for close-up views of birds flitting between the reeds, hippo peeking above the water's surface, and crocodiles basking on the banks.
The lodge welcomes children aged eight and over (though younger guests may be allowed on request), with the thatched family cottage featuring a mezzanine sleeping area for up to two children, as well as two bathrooms and a generously sized deck where you can watch animals grazing the floodplains below. There's also a communal pool for cooling off during hotter parts of the day.
Game drives head out in the morning, afternoon, and at night, or you can opt for an all-day safari that combines a game drive with a boat cruise, including lunch on deck. For a slower pace, head out on foot with an experienced guide, looking for animal tracks and other signs of life among the floodplains. And, if river levels allow, you might get a chance to explore by mokoro in the early morning light.
Best time for a family safari in Botswana
Wildlife is abundant year-round, so the best time to visit Botswana depends on the type of wildlife and activities you enjoy. If you're visiting Chobe and the Okavango Delta, we recommend May to October — this is when water levels are at their highest, so you're able to enjoy a wider mix of activities. The Kalahari is at its greenest earlier in the year, attracting migratory zebra and wildebeest between January and April.
Read more about family trips to Botswana

Start thinking about your experience. These itineraries are simply suggestions for how you could enjoy some of the same experiences as our specialists. They're just for inspiration, because your trip will be created around your particular tastes.
View All Tours in Botswana