Ideal for the adventurous, mobile camping safaris are a "back-to-basics" way of experiencing a traditional safari in Africa.
As safari camps get ever more luxurious, we find many travelers want to escape from the cut glass, fluffy towels and butler service and are interested in immersing themselves in the true spirit of safari.
Leave behind the plush tents and get back to camping on the ground, dust in your hair and proper bush around you!
Botswana mobile camping safari ideas
Botswana, South Africa and Zambia
Start thinking about your experience. These itineraries are simply suggestions for how you could enjoy some of the same experiences as our specialists. They're just for inspiration, because your trip will be created around your particular tastes.
View All Tours in Botswana
What to expect when mobile camping
Each night you stay in a mobile tented camp in a private campsite. One of our favorite sites is under a huge jackalberry tree beside the Linyanti Lagoon. At night, the sound of the frogs is deafening and you often have a hippo near your tent.
Camp crew
While wild, the mobile camps are by no means uncomfortable. A full camp crew builds the camp, which consists of large dome tents with camp beds and duvets. A small bedside table gives space for your book and flashlight. The crew members are the masters of the mobile camp, erecting tents in minutes, producing three-course meals from a kitchen under an acacia tree, and heating water for bucket showers over an open fire. They are incredibly good at looking after your every need, from a hot chocolate outside your tent on a chilly morning to a glass of red wine around the campfire at night.
Camp facilities
Basic en suite facilities are provided with a canvas basin of water, en suite bush toilet and bucket shower, which will be filled with hot water when you return from game drives.
A word of warning though: don't leave your toiletry bag outside the tent, as hyenas can be rather partial to soap and toothpaste!
Private departures
If you are a family or traveling in a group of four or more, it is often both cost-effective and great fun to take a private mobile safari across the country.
The beauty of this is that you can tailor the trip exactly to your interests, staying in private wilderness spots across Botswana. You will have a private guide and vehicle as well as camp crew to erect camp, cook, and look after you.
There is nothing quite like having a tiny camp on a palm island in the middle of the Okavango all to yourself.
Scheduled departures
On a scheduled departure, the group sizes are restricted to eight people.
We work closely with two mobile operators in Botswana who run scheduled trips across the country. There are a number of departure dates, usually a couple per week, thus offering flexibility to fit into your travel dates.
The mobile safaris as a general rule start in Maun and explore the Okavango Delta, Linyanti Wetlands and Chobe National Park, ending at Livingstone, from where you can enjoy the Victoria Falls. Similar trips run in the opposite direction.
When driving from camp to camp or on game drives you will travel in a modified land cruiser with four rows of seats and open sides.
Trips tend to last for around 10 days, and it is easy to add on more time either at the start or end of your trip.
Recommended places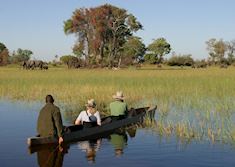 A glistening expanse of swollen rivers, still lagoons and emerald floodplains, Botswana's Okavango Delta draws in some of Africa's star animals. Exploring by mokoro (traditional canoe), game vehicle or on foot, you'll also encounter a host of birdlife.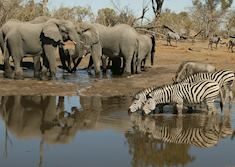 The Linyanti Wetlands are a vast area of pristine wilderness located in the north of Botswana, stretching from the Linyanti River to the Okavango Delta. As well as being superb for elephant, there is also a vast array of other game and birdlife.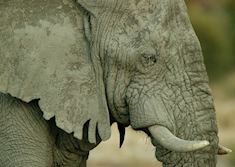 Encompassing an impressive 10,700 sq km of wilderness the Chobe National Park stretches from the tip of Northern Botswana to the fringes of the Okavango Delta. Chobe is most famous for its elephant and buffalo populations.
Choosing your mobile camp
Each night on a mobile safari you will stay in a mobile tented camp.
There are two different types of camps: the simpler Adventurer and the more luxurious Discoverer. Here is a brief description of the differences between the two.
Adventurer Camps
Adventurer Camps have dome tents with camp beds, shared hot bucket showers and bush toilets are usually the short drop variety, always with a seat and often with a view.
Some Adventurer camps have en suite toilets and bucket showers, but facilities are usually shared between two tents.
The camp staff will look after the camp organization for you, setting up each camp and providing you with cooked breakfasts, picnic lunches and three-course dinners.
Discoverer Camps
Discoverer Camps have spacious tents with beds, duvets, bedside tables and tiny en suite bathrooms with hot bucket showers.
The camp crew will look after your every need from bringing you fresh coffee at dawn to a whisky around the campfire at night.
Further reading