Understanding the many Indigenous cultures within Canada is no simple task — while there are three groups of Indigenous peoples officially recognized by the Canadian Constitution (First Nations, Métis, and Inuit), within these are hundreds of distinct cultures, each with their own language, traditions, and heritage. Exploring these as part of your Canada trip gives you a deeper appreciation for the country's diversity, its history, and its identity today.
Across Canada, we've hand-picked experiences that are owned and run by Indigenous peoples. This not only supports these communities but gives you a more authentic insight into their cultures. You can hear stories passed down generations, explore how everyday life is interwoven with the natural world, and take part in traditional ceremonies. And, in museums throughout the country, you'll see artwork, tools, and totem poles preserved over the centuries, as well as learn about the complicated history of discrimination, disease, and brutality that continues to have repercussions today.
Museums exploring Indigenous culture in Canada
To get a good grounding in Indigenous cultures across Canada, we suggest starting your trip with a visit to a museum that holds exhibits on First Nation, Inuit, and Métis peoples. It means you'll appreciate what you see and experience during the rest of your trip all the more, and come away with a greater understanding of the country's rich tapestry of cultures. Below are a few that we recommend.
Canadian Museum of History, Gatineau, Québec
Walking into this mammoth of a museum, set just across the Ottawa River (and provincial border) from the Canadian capital, you're greeted by the Grand Hall's towering totem poles, six Indigenous houses, and artwork and sculptures by esteemed Haida artists Bill Reid and Robert Davidson. You can delve deeper in the First Peoples Hall, which celebrates the history, traditions, and art of First Nations, Métis, and Inuit peoples through its collection of more than 2,000 objects, images, and documents.
Canadian Museum for Human Rights, Winnipeg, Manitoba
Built on ancestral lands, this modern museum explores the evolution of human rights both in Canada and across the world. Most exhibits change regularly, but we particularly recommend visiting the permanent Truth and Reconciliation exhibit, which looks at how the Indian Residential School system violated the rights of First Nations, Inuit, and Métis children, and how they're still seeking reconciliation and healing today.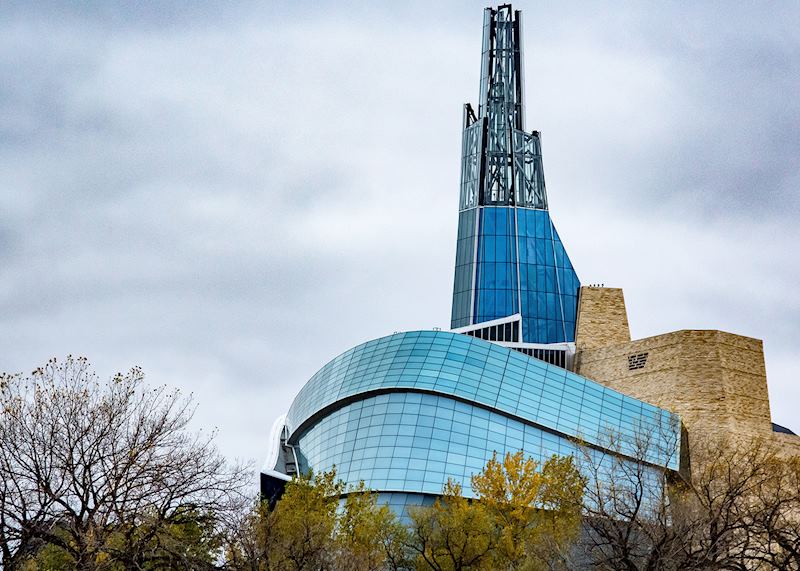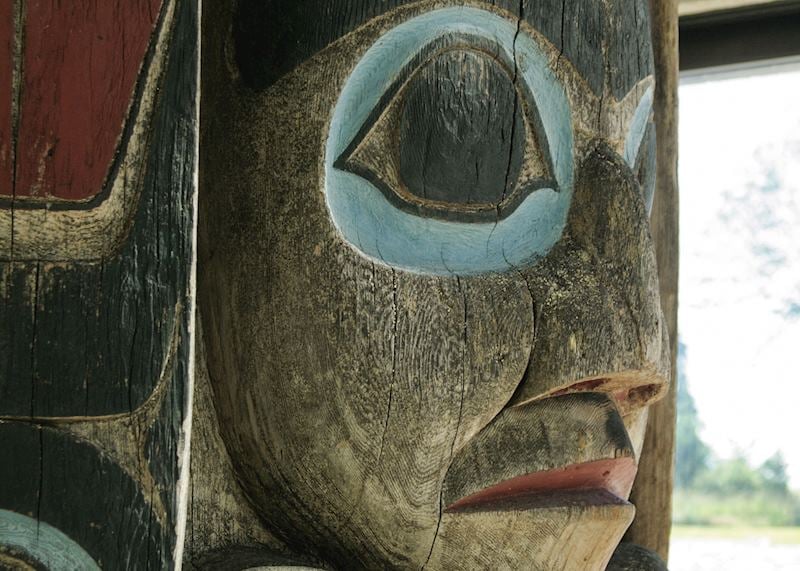 Royal BC Museum, Victoria, British Columbia
With its own Indigenous Collections and Repatriation department containing photos, films, audio recordings, and objects that showcase more than 10,000 years of First Nations history, this is a museum that looks at Canada's Indigenous heritage in depth. While much of this collection is held for private research, you can explore several exhibits focused around First Nations culture, history, art, and language, brought to life by objects ranging from totem poles and ceremonial houses to tools and weapons dating back thousands of years.
Museum of Anthropology, Vancouver, British Columbia
This large museum celebrates art and cultures from around the world, with a special focus on First Nations and other cultures in British Columbia. The huge, light-filled Great Hall welcomes you with totem poles, and you can browse exhibits that help bring the province's many different cultures to life, including In a Different Light, a collection of more than 110 historical Indigenous artworks.
U'mista Cultural Centre, Alert Bay, British Columbia
This small but important museum preserves objects belonging to the Indigenous Kwakwaka'wakw people, whose masks, ceremonial pieces, and other treasured items were confiscated by the government in 1921 and distributed across various museums against their will. Now, after decades of the Kwakwaka'wakw fighting for their belongings to be returned, many of these items are on display in U'mista's Potlatch Collection to ensure their preservation.
Experiences & stays that help you support & understand Indigenous culture in Canada
Our Indigenous and First Nations partners are passionate about sharing their traditions and beliefs, as well as the landscapes around them. Whether you want to get hands on with traditional ceremonies, hear stories passed down generations, or simply know that you're supporting local communities as you look for grizzlies, we can include culturally enlightening experiences — like those we recommend below — in your trip.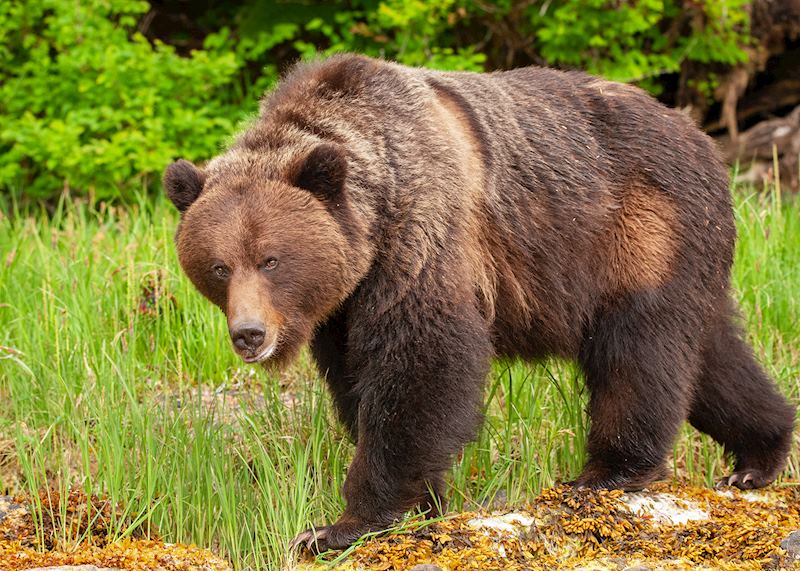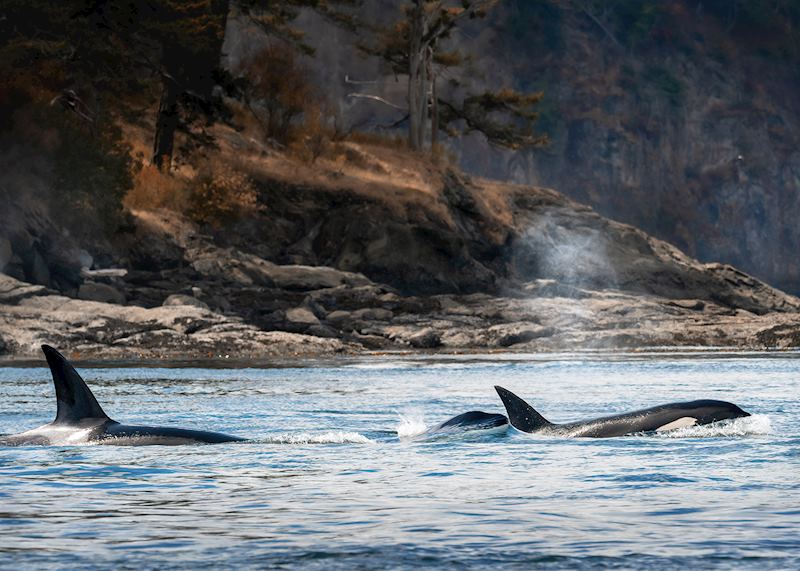 Grizzlies, whales & Kwakwaka'wakw culture boat trip, Port Hardy, British Columbia
Accompanied by a Kwakwaka'wakw guide, you'll head out by boat to explore the peaceful waters surrounding the Great Bear Rainforest, just off Vancouver Island's northern coast. Your aim? To spot grizzly bears foraging along the shoreline — your guide will know the best places to look. As you whizz between forested islets, you could also encounter orcas, humpback whales, Pacific white-sided dolphins, sea otters, and bald eagles.
It's not all about wildlife though, as your guide will show you their ancestral lands, drawing on traditional beliefs to interpret the landscape and pointing out where villages once stood on the shell-strewn beaches. We recommend staying at Kwa'lilas Hotel in Port Hardy, which is owned by the Gwa'sala-'Nakwaxda'xw people and built in the style of a traditional big house using cedar, complete with a smoke hole at the top of the building. You'll find nods to First Nations culture throughout the building, from masks and artwork adorning the walls to the food served in its two restaurants.
Homalco First Nations culture & wildlife tour, Campbell River, British Columbia
On this First Nations-led tour, you'll get a chance to learn about the native Homalco (Xwémalhkwu) culture while exploring their ancestral land by boat and on foot. Setting off from Campbell River on Vancouver Island's east coast, you'll sail across the Salish Sea, looking out for wildlife like orcas, humpbacks, and dolphins, as well as eagles hunting for salmon, before reaching the abandoned Homalco village of Aupe.
Here, your Homalco guide will lead you on an interpretive walk while sharing details about their peoples' way of life, history, and language. You'll hear about why the Homalco are known as 'the people of the fast-running waters', how their culture came under threat during the 19th and 20th centuries, and how they use resources sustainably for future generations. You'll also get a chance to make your own bracelet using cedar, a material the Homalco traditionally used to create everything from shelters and baskets to clothing and canoes.
Haida villages & crafts, Haida Gwaii, British Columbia
An archipelago north of Vancouver Island, formerly called the Queen Charlotte Islands, Haida Gwaii has been inhabited by the Haida people for millennia. Venturing here for a few nights, staying at First Nations-owned Ocean House gives you a chance to absorb the deep-rooted connections of the Haida to this land, all while enjoying pristine natural surroundings.
You can read more about the experiences you can have on Haida Gwaii in our guide to British Columbia, from watching local artisans in action in craft studios to exploring an abandoned village littered with totem poles.
Bear watching from a First Nations lodge, Great Bear Rainforest, British Columbia
Set in the heart of the rainforest, Spirit Bear Lodge is so remote you can only access it via a scenic flight from Vancouver or Port Hardy, followed by a water taxi among fjords and mountains. Owned by the Kitasoo Xai'xais First Nation, the lodge has just 12 rooms, each adorned with Indigenous artwork, and its design reflects a traditional longhouse.
As with any bear-watching lodge, you'll head out each day in search of grizzly and black bears, but also rare Kermode or spirit bears, exploring by boat and/or on foot with expert naturalist guides. On top of this, your Kitasoo Xai'xais guides can lead you on walks to show you medicinal plants, petroglyphs carved by their ancestors in the forest, and other sacred sites while explaining their connection with the land.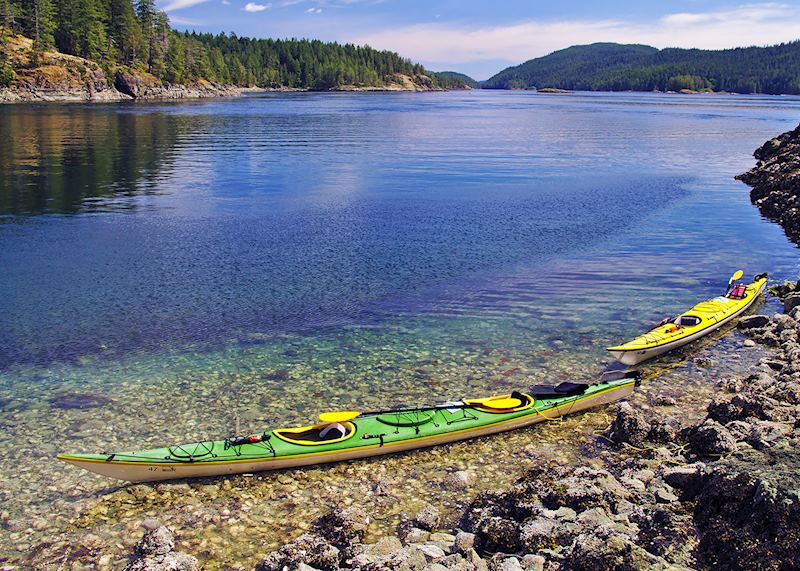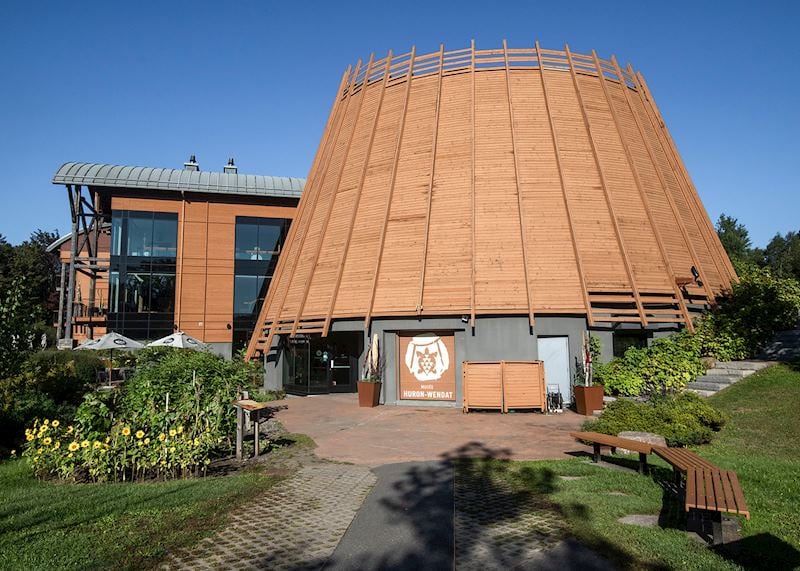 A Klahoose-owned wilderness stay, Desolation Sound, British Columbia
Go completely off grid at this First Nations-owned eco resort set on the waters of Desolation Sound, surrounded by the Coast Mountains. You can only reach this intimate property by seaplane or boat, and there are only ever up to 26 guests, so your stay is peaceful and personal.
While here, you can discover the Klahoose people's long-held traditions and their links to this land — guides will share stories and songs, show you how to try your hand at cedar weaving, and lead you through the rainforest for a chance to learn about the flora and fauna.
There are many other experiences to fill your days with here, depending on your interests — you might head out in search of grizzly bears, try stand-up paddleboarding or sea kayaking, join a boat tour to see waterfalls and marine life, and learn wildlife photography skills. Then, at night, gather around the campfire and gaze up at the star-dazzled sky.
A recreated Huron village, Wendake, Québec
About half an hour's drive from Québec City, Huron Traditional Site is a great option for families looking for a taste of Indigenous culture. And, you can stay at nearby Hôtel-Musée Premières Nations, which has its own museum dedicated to the Huron-Wendat First Nation.
The Huron people have lived on this land for centuries, and guides here are passionate about sharing their heritage. They'll lead you on a canoe ride, a stroll through the forest, and a tour of the recreated traditional village, complete with a longhouse that gives you an insight into Huron home life. You'll also have the chance to learn cooking techniques in the smokehouse, sit in a tepee to hear about other Indigenous cultures, and watch song and dance performances. Finish with a traditonal meal accompanied by Huron storytelling.
Read more about trips to Canada

Start thinking about your experience. These itineraries are simply suggestions for how you could enjoy some of the same experiences as our specialists. They're just for inspiration, because your trip will be created around your particular tastes.
View All Tours in Canada