By Canada specialist Kayleigh
Flicking through my travel plans before leaving for Ontario, I was amazed at the variety of experiences in store. In as little as a week you can taste your way through Toronto's multicultural districts. Or spot moose from your canoe in Algonquin Provincial Park. Feel the spray of Niagara Falls and witness First Nations traditions on Manitoulin Island.
What's more, you can do all this without covering the huge distances required in the western provinces. Drive just three hours north of Toronto and you can stroll through maple and fir forests and paddle along creeks. For me, that's what a trip to Canada is all about.
Toronto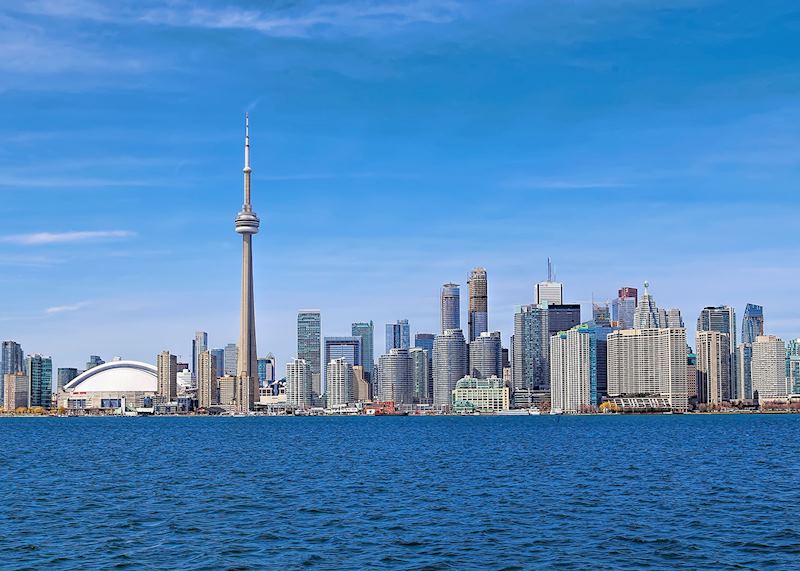 Toronto's skyscrapers rise up from the edge of Lake Ontario, a vast expanse of water that gives Canada's largest metropolis a coastal feel. The 553 m (1,814 ft) CN Tower's familiar outline dominates the skyline — I recommend heading to its restaurant and observation deck for panoramic views over the entire city and lake.
Every time I visit Toronto I find something new to explore, whether it's admiring a new street art mural or tasting the latest food trend.
Most interests are catered for: sports fans can catch a Blue Jays baseball game in the summer or see the Toronto Maple Leafs take on their ice hockey rivals in winter. Art and culture enthusiasts could peruse the Art Gallery of Ontario or the Royal Ontario Museum, whose collections cover everything from Chinese sculptures to dinosaur fossils. Gastronomists can dine on every cuisine imaginable in the city's restaurants and markets. And those who want some quiet time can take a ferry over to the Toronto Islands just offshore. Here, cycle paths wind through green parkland and beaches provide peaceful picnic spots.
St Lawrence Market food tour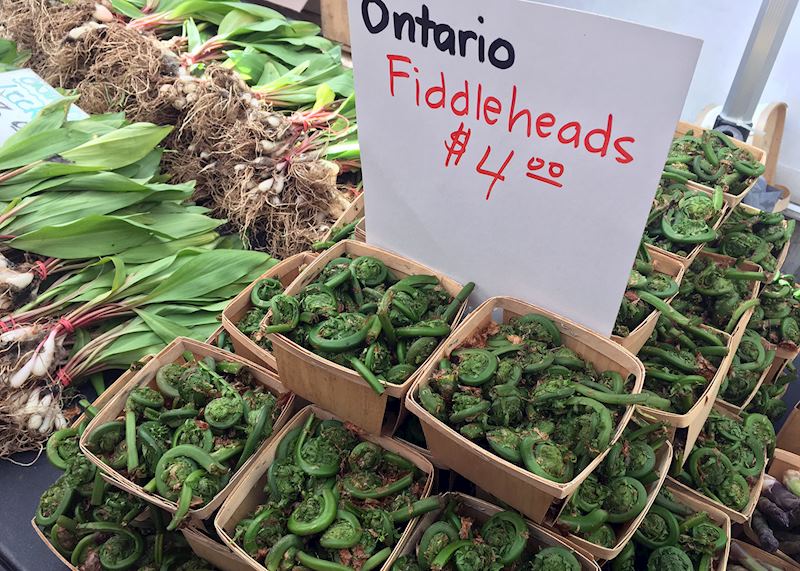 The cultural hub of Canada, Toronto's patchwork of multicultural districts range from Little Portugal, Little Italy and Little Jamaica to Koreatown and Chinatown. The city's long history of immigration is reflected in its food, and nowhere is this plainer than under the cavernous roof of St. Lawrence Market.
Housed in a large red-brick building resembling a train station, the market comprises over 120 vendors selling fresh fruit and vegetables, meat, fish, dairy and bakery products. There's been a market in this part of the city for over 200 years, its product range gradually expanding as new cultures arrived.
You can take a two-hour tour of the market with a local guide. Mine, Kevin, used to own a restaurant in Toronto and is a real food connoisseur. He knew many of the vendors personally, and tailored the tour to my preferences.
I sampled everything from local delicacies, such as maple-glazed salmon and fiddleheads (curled up ferns best eaten fried in butter and salt) to food originating from the Caribbean and Portugal (try the Portuguese custard tarts). Bright piles of olives, great rounds of cheese and crispy-skinned rotisserie chicken caught my eye as we meandered from seller to seller.
En route, Kevin filled me in on the history of Toronto's food and shared anecdotes about the different morsels on display. I was intrigued by peameal bacon sandwiches — so-called because bacon exported to Europe used to be packed in peas for preservation.
Chinatown and Kensington Market walking tour
Another way to experience Toronto's different cultures is by taking a guided walking tour around some of its districts. My two-hour tour covered both Chinatown and bohemian Kensington Market.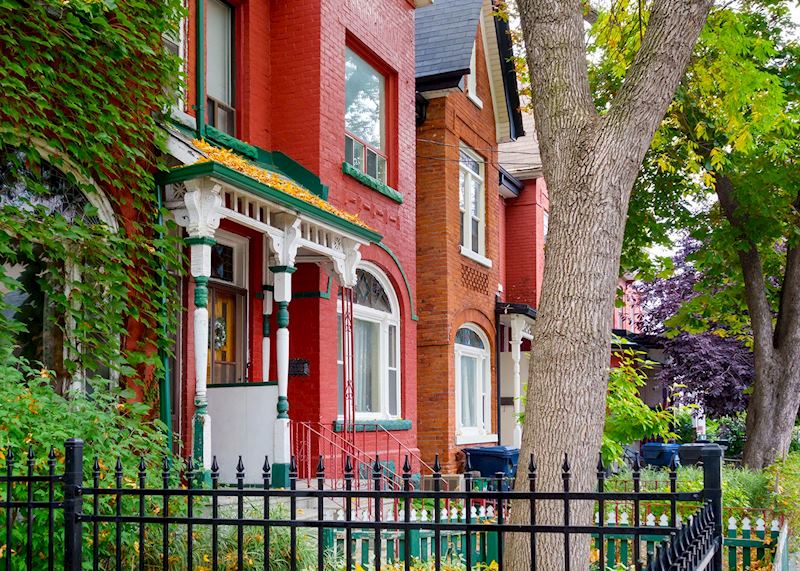 Entering a new district is like arriving in a whole new city. In Chinatown, the street signs change from French and English to Mandarin and English. Bright red and yellow signs crowd the sides of buildings lined with grocery stores, noodle restaurants and trinket shops, and dragon motifs crop up everywhere.
My guide, Mike, filled me in on the history of Toronto's Chinese population, including the integration and discrimination issues immigrants faced in the late 19th and early 20th centuries. He also showed me evidence of integration's progress, pointing to a model moose that had been painted with Chinese symbols.
The tour takes you down side streets you wouldn't necessarily think of venturing into. One revealed some fine street art, including a huge mural of the Great Wall of China. After peeking into a few more side alleys, the atmosphere changed completely as we arrived in Kensington Market.
Like a village within the city, this area has a distinct bohemian vibe. Shops adorned with rainbow banners, prayer flags and dream catchers brim with beaded necklaces, scarves and Buddha statues. Independent coffee shops serve quirkily named beverages (I tried a 'London Fog': Earl Grey tea, steamed milk and a dash of vanilla syrup). Buildings have a ramshackle appearance while still feeling stylish; some are brightly painted to give them personality.
You'll notice the absence of any chain shops or restaurants in this district. Mike explained that there's a strong community spirit here, with locals banding together whenever a large business tries to set up shop. He lives nearby and described how summer is known as 'patio season': everyone sits outside to make the most of the warm weather following the city's harsh winter, and live music is played in Kensington Market's streets.
Where to stay in Toronto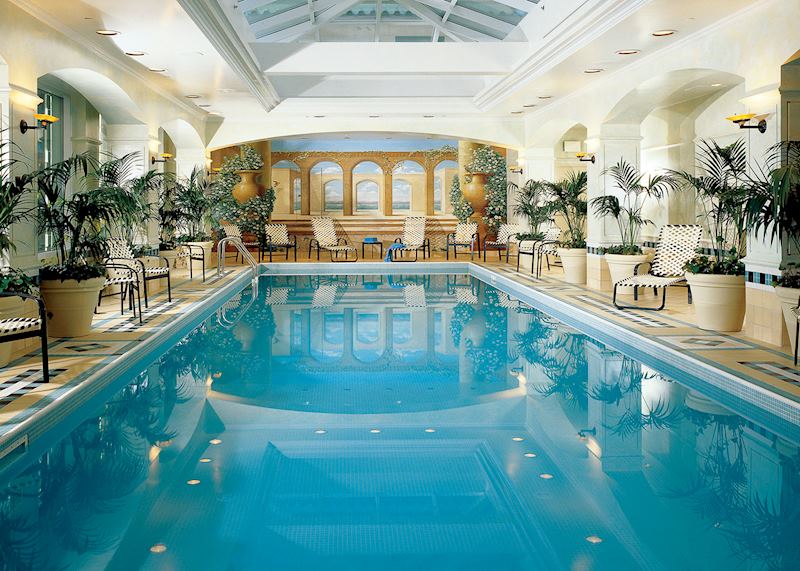 The Fairmont Royal York is conveniently located opposite Union Station in downtown Toronto. There's an indoor pool and spa. Rooms have large double or twin beds; restaurants include Japanese teppanyaki and a gastropub.
Niagara Falls
Canada's most popular attraction can be visited on a day trip from Toronto (around an hour and a half away by car). You can stop at a vineyard en route to sample the sweet ice wines the region is known for. Or, stay overnight in the nearby 19th-century town of Niagara-on-the-Lake. A shuttle runs between here and the falls. They can be seen from various perspectives, including by boat, helicopter, or zip-line.
Niagara City Cruises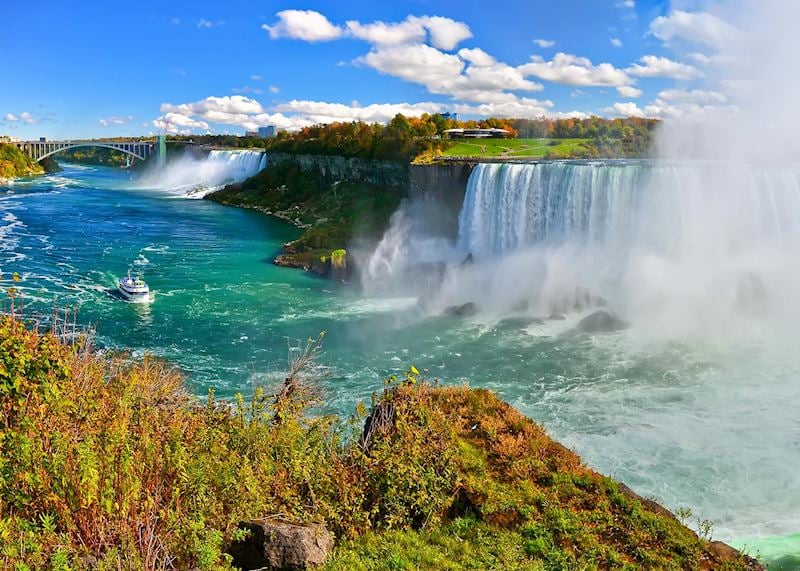 The best way to get up close to Niagara Falls is by joining a Niagara City cruise. Vessels depart regularly throughout the day and into the evening, when the falls are illuminated in different hues and fireworks are set off over the water.
I cruised during the day, donning a red waterproof poncho to help shield me from the clouds of spray. The boat takes you past Bridal Veil Falls and American Falls. Though impressive, they pale in comparison to the main Horseshoe Falls.
As the cruise progresses, the spray gets heavier. The roar of the water becomes louder until you can barely hear anything else. Then the boat slowly rotates so you can see the cascades from every angle. Children (and some adults) squeal in excitement as you're completely surrounded by water on all sides — I couldn't believe how exhilarating the experience was.
Where to stay at Niagara Falls
There are large chain hotels closer to the falls, but Niagara-on-the-Lake offers a quieter, more characterful stay, with several boutique properties.
I like the Shaw Club Hotel, which is small and friendly but with a good range of facilities, including an exercise room, a lounge with a DVD player, and a restaurant. Local art and photography hangs on the walls, and rooms are kitted out with modern amenities.
Algonquin Provincial Park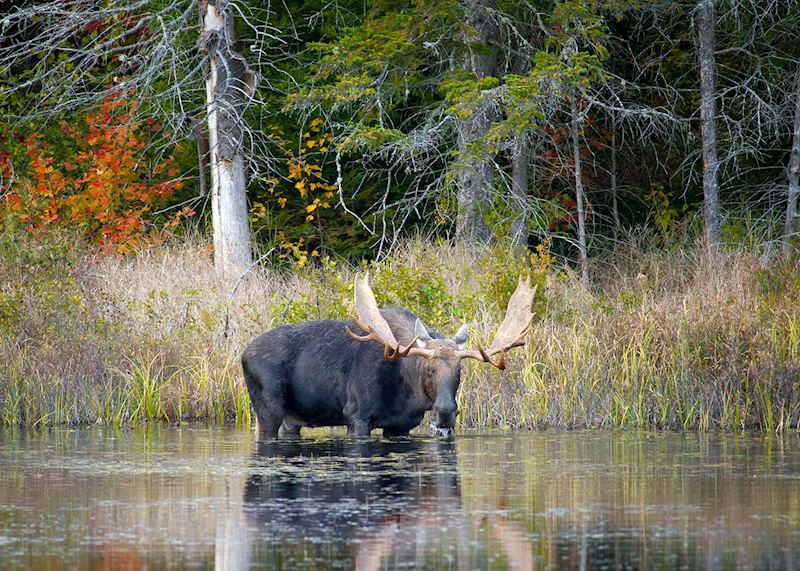 Just a three-hour drive north of Toronto, Algonquin couldn't be more different. Fir trees surround glassy lakes, rivers wind their way through maple-covered hills, and wildflowers blanket meadows where white-tailed deer graze. Established in 1893, the park is one of the oldest in the country, and certainly in Ontario.
Walking and cycling trails lead you through forest where the only sound is birdsong. You can also experience the park's wildlife from a vehicle. I drove along Highway 60, which crosses the south of the park, and saw a female moose by the roadside. I later learned that moose like to lick the salt off road surfaces.
If you only do one thing in Algonquin, explore the park's waterways by canoe. As you paddle up creeks and streams, look for otters, signs of beavers, and moose taking a dip. Birdlife is plentiful — I encountered a crane wading in search of a meal. Other water-based activities include kayaking, paddleboarding and trout fishing.
In the evening, curl up with a book on your porch and listen out for distant wolf howls. If visiting on a Thursday in August, you can join park rangers for a communal 'wolf howl', keeping your ears pricked for replies from nearby packs.
Where to stay in Algonquin Provincial Park
I loved staying at Killarney Lodge beside the Lake of Two Rivers. The log cabins each have their own canoe and spacious porches facing the water. Owners Eric and Poppy offer a warm welcome and plenty of home-cooked food, from shredded lobster and local cheeses to apple pie.
Ontario's lesser-known highlights
Cranberry wine tasting tour in Muskoka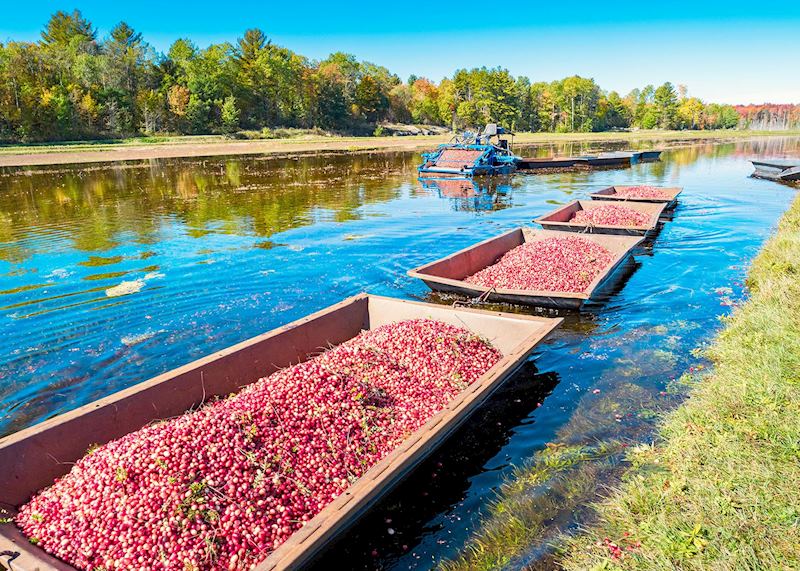 I'd never heard of cranberry wine until I visited Muskoka Lakes Farm & Winery. The property is located in the Muskoka area, halfway between Toronto and Algonquin and around half an hour from the town of Gravenhurst.
Surrounded by forests, lakes and marshland, the farm is owned by Murray and Wendy Johnston, who work the land along with their four sons. To learn about cranberry farming and wine-making, you can join one of the thrice-daily Bog to Bottle Discovery tours.
On this hour-long tour, Wendy filled me in on the farm's history. Established in 1950 by Murray's father, Orville, it was Ontario's second cranberry farm. Over the years it saw growth and declines, but since Murray and Wendy took over it has expanded to become a key regional attraction. You can still see the original farming equipment and old photographs of the family at work.
Wendy then showed me around the grounds and explained the conditions needed for growing cranberries, which are only found in North America. While many think the berries grow underwater, they're in fact only flooded during harvesting to make for easier picking.
Afterwards, you can sample some of the products, which range from chutneys, cheeses and cranberry maple sauce to white, red, rosé and dessert wines.
Manitoulin Island's First Nations culture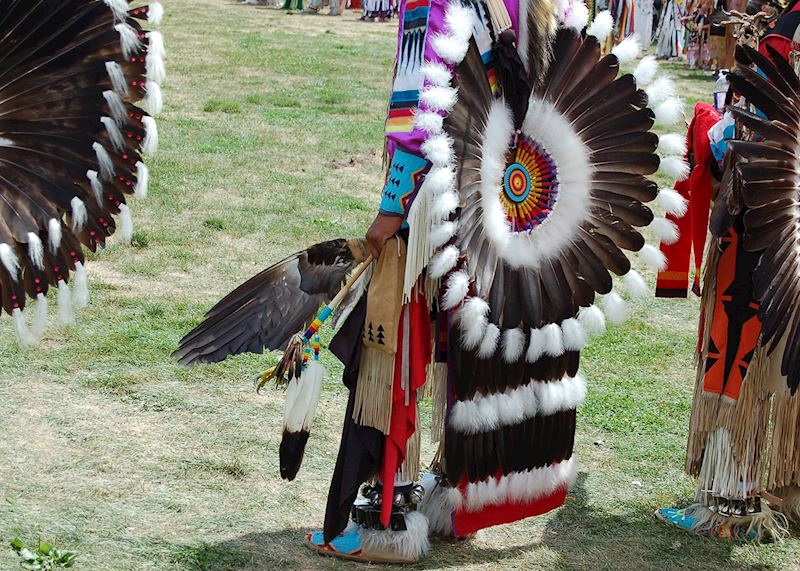 Located on Lake Huron, Manitoulin Island ('Spirit Island' in the Ojibwe tribal language) is covered in freshwater lakes, forest and farmland, making it popular with summertime hikers, cyclists and water sports enthusiasts.
However, it's best known for its First Nations heritage, with a quarter of its population belonging to the Ojibwe, Odawa or Potawatomi tribes. Visiting gives you the opportunity to learn about their traditions and way of life.
During my time here, I got to know the local Ojibwe tribe. With my guide's help, I made a dream catcher before consecrating it in a smudging (blessing) ceremony. This tradition involves burning sage, sweet grass, tobacco and cedar and then wafting the smoke over an object or person to bring luck. I also took part in a 'spirit of the drum' circle, learning about the significance of drumming to the Ojibwe culture through stories told by tribe members.
One of the most interesting places I visited on the island was the M'Chigeeng Immaculate Conception Church. Welcoming both Catholics and those with First Nations beliefs, the church is an example of the melding of European and native cultures.
A statue of the Virgin Mary stands outside the circular, high-ceilinged building, its shape symbolic of tepees, fire pits and the circle of life. The door, painted in vivid primary shades, features each tribe's emblems. Inside, rather than pews, its seats are arranged in a circle leading down to a central platform. As well as a large cross, there's an eagle sculpture and dream catchers hanging from the ceiling.
Getting to Manitoulin Island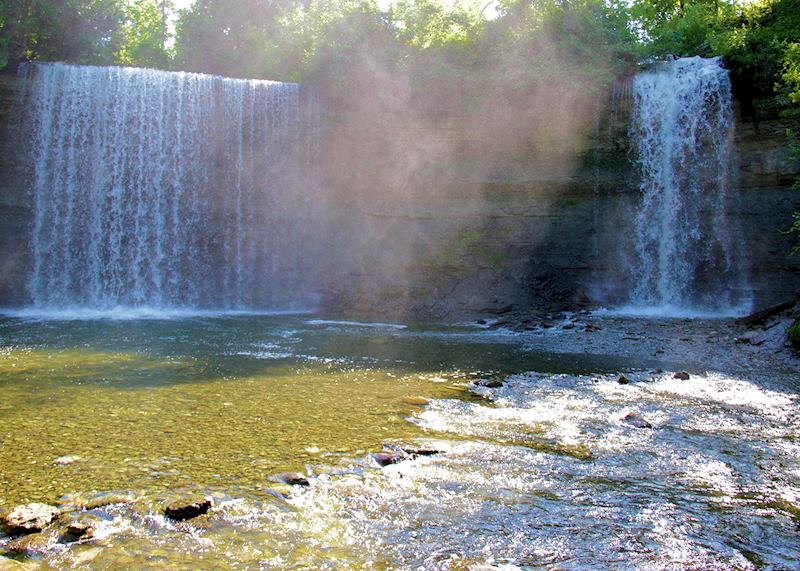 Between May and October you can access the island via a 1 hour 45 minute ferry ride from Tobermory (itself is a three and a half hour drive from Toronto). Alternatively, drive along Highway 6 and cross the Little Current Swing Bridge. This takes around six hours from Toronto, or five and a half hours from Algonquin.
Due to the island's remoteness, I'd only recommend those with a strong interest in First Nations culture visit. However, those who do venture here are rewarded with experiences you won't find anywhere else in Ontario.
Best time to visit Ontario
Visiting Ontario during the autumn (end of September to early November) means you can appreciate the bright yellows, fiery reds and burnt oranges of the changing leaves in places like Algonquin and Niagara-on-the-Lake. While it can be busy at this time, Ontario's fall displays are far less-visited than those of New England.
Start planning your trip to Ontario in Canada

Start thinking about your experience. These itineraries are simply suggestions for how you could enjoy some of the same experiences as our specialists. They're just for inspiration, because your trip will be created around your particular tastes.
View All Tours in Canada