Self-drive holidays in western Canada are all about exploration. As you pass beneath immense mountains and around forest-fringed lakes, these drives are as much about the journey as the destination. We'd encourage you to pause, and to follow scenic drives that veer off from the main route.
Here, Canada specialists Kerry and Annie outline their recommended routes for western Canada, and how to make the most out of them. You might want to explore the Canadian Rockies' hidden corners, taking a detour to sample some of Canada's home-grown wines. Or, take in British Columbia's wild coastline, crossing over to Vancouver Island to watch whales and bears.
Driving the classic route from Vancouver to the Canadian Rockies
Allow two weeks minimum
If you're visiting western Canada for the first time, certain places are likely to be on your radar, such as Banff, Lake Louise and Jasper.
Our Jewels of the west itinerary takes in these key highlights. You can read more about how to make the most of them in our guide to the Canadian Rockies, including advice on how to get away from the crowds.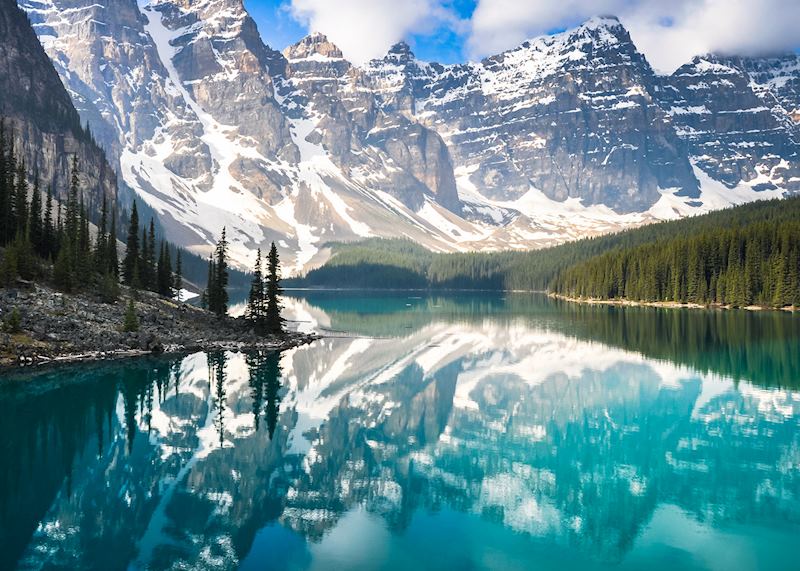 Driving a quieter loop through the Canadian Rockies and British Columbia's wine region
By Kerry
Allow two weeks minimum
This lesser-known route begins (and ends) in Calgary, just an hour and a half east of Banff and a gateway to the Rockies. Rather than heading into the thick of it, though, you drive two-and-a-half-hours south along the Cowboy Trail to Waterton Lakes National Park.
En route, I suggest detouring to the literally named Head-Smashed-In Buffalo Jump, a steep, grassy cliff once used to drive buffalo to their death. With a guide, you can tour this UNESCO-certified hunting site, used by Siksika (Black Foot) First Nation tribes and other indigenous plains people for more than five millennia.
In Waterton, you'll find steep-sided glacier-carved valleys filled with clear lakes, and bison and black bears grazing in wildflower meadows. And you'll have it mostly to yourself. I suggest spending three days here to take it all in.
From a kayak or boat, you can often spot moose coming to drink. Walking trails lace the forests and meadows, varying in length and difficulty. Look out for elk, white-tailed deer and bighorn sheep as you walk. You can also follow the Bison Paddock Loop Road for close-up views of grazing bison.
Waterton to Fernie and Nelson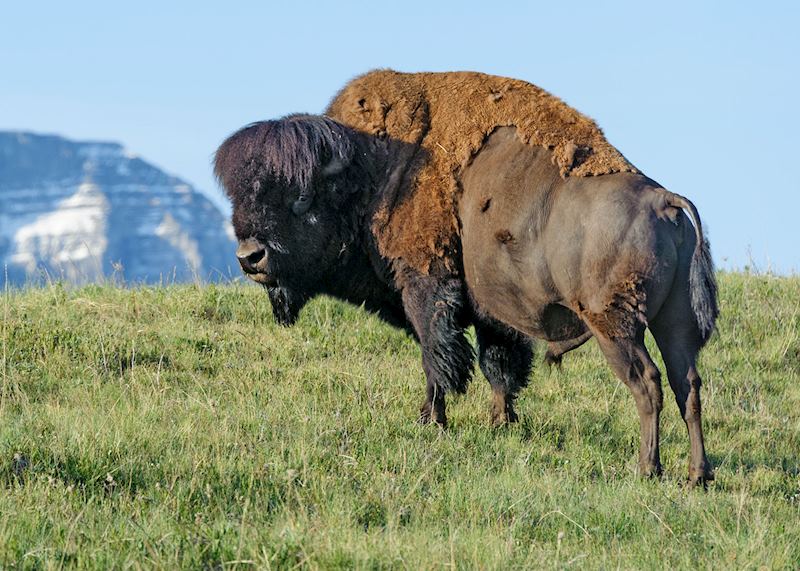 You then drive two-and-a-half hours northwest, passing into British Columbia as you follow winding mountain roads. Halfway up Crowsnest Pass's western slope, you reach the former coal-mining town of Fernie. Its main street is lined with heritage buildings that have barely changed in over a century, watched over by a wall of mountains.
Basing yourself here for a couple of nights gives you the chance to follow hiking trails through the town's alpine surroundings. You could also go kayaking, canoeing or white-water rafting in the Elk Valley's rivers.
Next, you take a three-and-a-half-hour drive west to Nelson. The landscape is predominantly green as you pass through tree-smothered mountains interrupted by the occasional town or lake where you can get out to stretch your legs. The road sometimes winds high around the edge of mountains, giving you far-reaching views over steep-sided valleys. As you drive farther into BC, you can feel it getting warmer.
Set within the Kootenays region, Nelson is a former mining town tucked away in the Selkirk Mountains beside Kootenay Lake. More than 350 of its silver-rush buildings have been restored, and there's a variety of galleries showcasing local art.
While here you can go kayaking on the lake and mountain biking or hiking among the mountains of nearby West Arm Provincial Park. I also recommend driving 45 minutes outside Nelson to spend an afternoon at Ainsworth Hot Springs, where you can soak in thermal waters while looking out over Kootenay Lake.
Nelson to the Okanagan Valley

You then drive for four hours to Kelowna in the Okanagan Valley. The scenery changes from forested mountains to arid open fields interspersed with lakes. Then, as you approach the Okanagan Valley, you'll see gentle hills woven with vineyards.
I suggest staying for two or three nights here to tour some of the local wineries. These vary from large, well-established operations to small, family-run properties.
I like Quails' Gate Winery, which has been passed down three generations of the same family. After touring its vineyards and cellars and learning about the wine-making process from start to finish, I enjoyed a meal in the restaurant, where wines are paired with each dish.
Okanagan Valley to Revelstoke and Golden
From here, you could continue westwards for four and a half hours to end your trip in Vancouver. If you'd rather return to the Rockies, I suggest driving three hours northeast to the mountain resort town of Revelstoke. The landscape becomes green and mountainous again as you wind back into the Rockies.
Revelstoke sits on the banks of the Columbia River, close to the border of Mount Revelstoke National Park. The town's known for its skiing during the winter months. But, the rest of the time, you can follow hiking trails to Sutherland or Begbie Falls, kayak or canoe on nearby lakes or go white-water rafting along the river. In the evening, the town comes alive thanks to its collection of live-music bars, pubs and restaurants.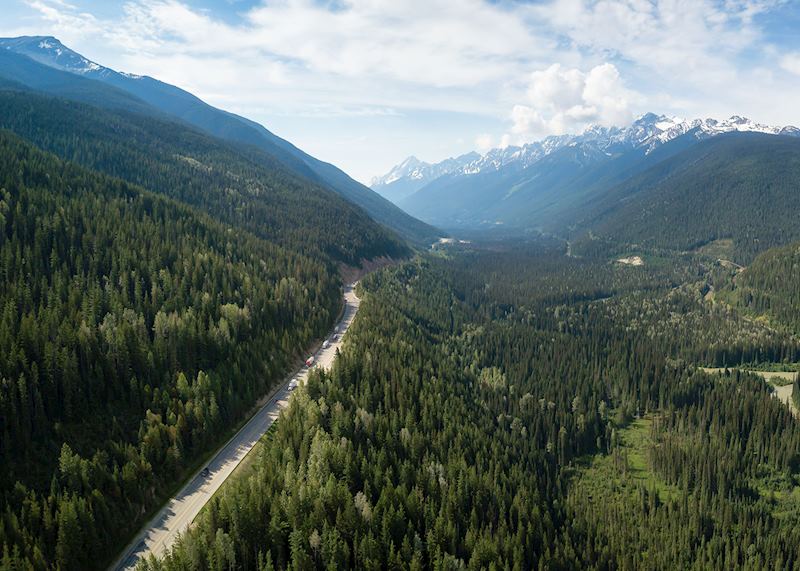 You then head farther into the Rockies, driving for two hours to Golden. Much of the journey cuts through Glacier National Park, with jagged peaks surrounding you on all sides. Allow time to stop for photographs.
Golden's sprinkling of buildings is dwarfed by the presence of snow-streaked mountains. Staying here, you have easy access to five national parks: Glacier, Yoho, Kootenay, Banff and Jasper, but the town is much quieter than inside the parks.
You could drive for an hour to visit Lake Louise at sunrise or sunset, thus avoiding the worst of the crowds. Alternatively, drive along part of the Icefields Parkway to the Athabasca Glacier. Or, stay in Golden and go white-water rafting along Kicking Horse River, followed by a barbecue lunch.
From Golden, it's a three-hour drive through the Rockies to Calgary, where you can catch your flight home.
A self-drive trip along British Columbia's Sunshine Coast and through Vancouver Island
By Annie
Allow ten days minimum
Usually the preserve of Vancouverites who come here for relaxing long weekends, not many overseas visitors know about British Columbia's Sunshine Coast. But, that's part of its appeal.
Following the higgledy-piggledy coastline, you can drive along the Sunshine Coast Highway from Vancouver to Powell River, hopping across island-strewn inlets by ferry. I then suggest crossing over to Vancouver Island and spending time in Tofino and Victoria before finishing back in Vancouver.
Vancouver to Langdale and the Sunshine Coast Highway

After spending a couple of days in the city, you begin your journey with a 45-minute ferry ride from Horseshoe Bay, just north of Vancouver, to Langdale. This journey was one of the highlights of my own trip — the early morning mist hung low on the water, partially shrouding the forested islands that we passed.
You then begin your drive along the Sunshine Coast Highway. The road wends through dense firs, but you get the occasional glimpse of water. And, there are barely any other vehicles.
While it's possible to drive the whole route in a day, it's worth taking your time, staying for two or three nights in a waterfront property.
I like the Painted Boat Resort Spa and Marina, about an hour's drive from Langdale. It has 30 one-, two-, and three-bedroom villas, each with a kitchen, sitting room and a deck overlooking the marina. From here, you can hire kayaks for gentle paddles on the sheltered water, indulge in a spa treatment, or explore nearby walking trails.
The Sunshine Coast Highway to east Vancouver Island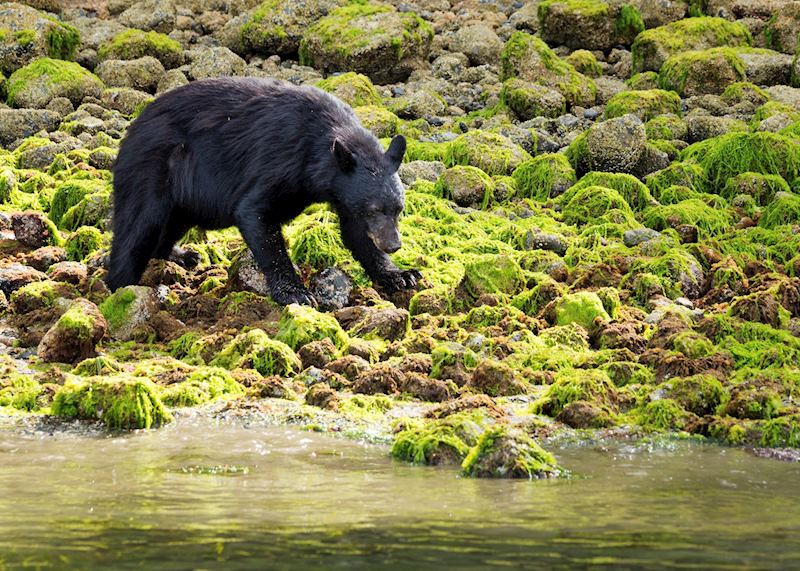 You then continue along the highway for half an hour to Earls Cove, where the road is stopped by the coast. Another 50-minute ferry journey takes you across a more open body of water to Saltery Bay.
From there, you follow the highway along the shoreline for another half an hour to Powell River, perhaps stopping for lunch among the coastal rainforest. Through the gaps in the trees you can glimpse Vancouver Island across the Johnstone Strait.
The Sunshine Coast Highway ends here, and you catch a one-hour ferry to Comox on Vancouver Island's east coast. I recommend staying overnight at nearby Courtenay to break up your journey, before driving across to Tofino on the opposite coastline.
Courtenay to Tofino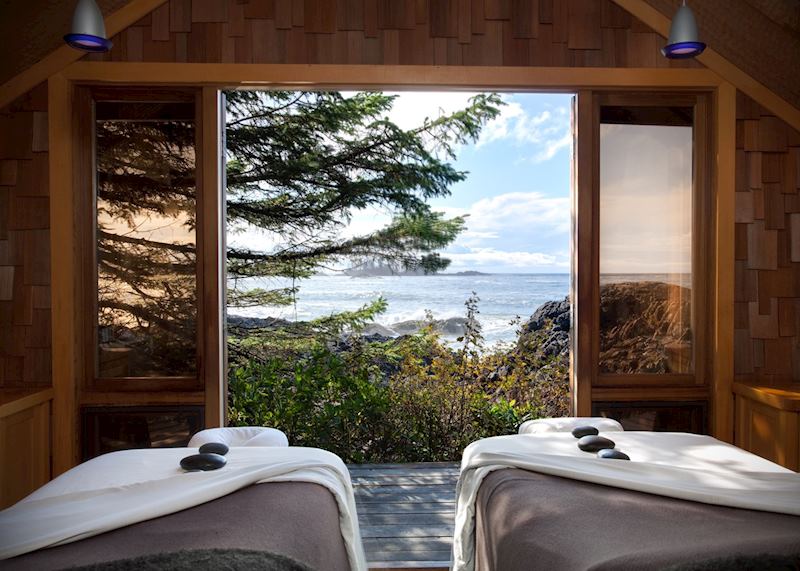 This drive through the island's wild interior takes about three hours if you follow the Pacific Rim Highway. Much of the route is lined with western hemlock and Sitka spruce trees, which cover the gentle curves of the island's hills and mountains.
As you travel along the edge of the Pacific Rim National Park, you can take time to stop and stretch your legs in the temperate rainforest, pausing for a picnic beside waterfalls, lakes and rivers strewn with driftwood.
After passing along the shores of Kennedy Lake, you drive along the edge of the shoreline, where forest meets deserted sandy beaches scattered with fallen trees.
Tofino sits on the edge of a peninsula, surrounded by the Clayoquot Sound. It's a surf town, but there are lots of other things to do, too — from rainforest walks and sea kayaking to morning Zodiac trips to see black bears foraging for clams along the shoreline.
It's worth staying for at least three nights in an intimate B&B such as the Red Crow Guesthouse, which sits right on the waterfront. Or, you could opt for the luxurious Wickaninnish Inn. It's a short drive from Tofino and perches on rocks facing out to the ocean.
Tofino to Victoria

Because there are so few roads on Vancouver Island, your next stretch over to Victoria takes you back the way you came along the Pacific Rim Highway. Then you head along Highway 1, which takes about four hours.
Victoria has a distinctly European feel thanks to its British roots. Despite being the provincial capital, it's compact enough to explore on foot. You could browse its galleries, visit the Royal BC Museum, which houses a collection of totem poles and other First Nations relics, or tour the British Columbia Parliament Buildings for an insight into Canadian politics.
I highly recommend joining a whale-watching trip here. The sheltered waters close to Victoria are the best in Canada for seeing orca. On-board naturalists keep an eye out for any passing pods and can identify them by the shape of their dorsal fin. They answer any questions you have about the whales and tell you more about their lives and how they interact, as well as the threats that they face.
After a two-night stay in Victoria, drive half an hour north to the Swartz Bay ferry terminal. From here, you can take the hour-and-a-half journey across to Vancouver for your onward flight.
Read more about self-drive trips in western Canada

Start thinking about your experience. These itineraries are simply suggestions for how you could enjoy some of the same experiences as our specialists. They're just for inspiration, because your trip will be created around your particular tastes.
View All Tours in Canada