Summer in Europe certainly has its pleasures, but we prefer visiting in autumn. In the cities, you can take the time to slow down and enjoy the less-crowded streets and museums, and stroll through atmospheric parks where the crisp auburn and yellow leaves make a patchwork carpet across the grass. And, if you venture into the countryside, you'll find many villages that have been returned to the locals, as well as blazing foliage and vineyards bustling with the grape harvest. There are also some great festivals that you can only enjoy in the autumn.
1. Fewer crowds and better prices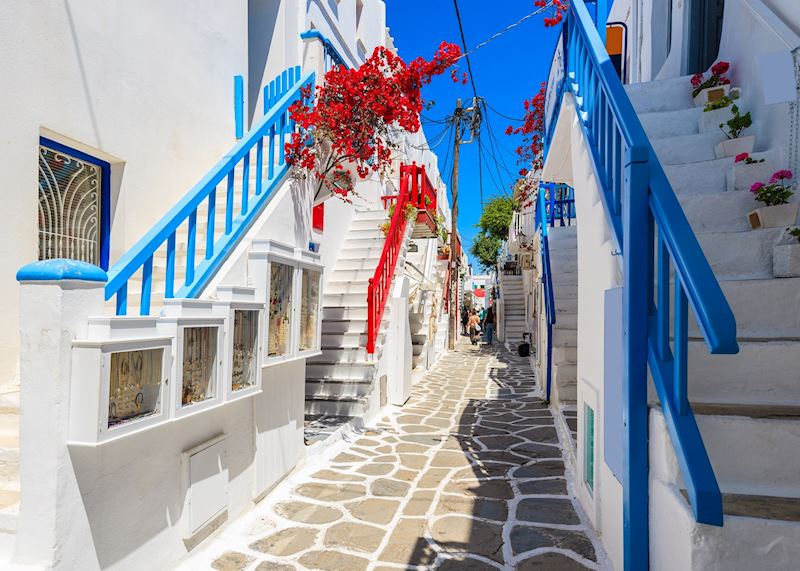 Though we have clever tricks for mitigating the difficulties of navigating summer throngs, there's no denying that Europe's most popular sights can get crowded during June, July and August. However, autumn's brisk winds blow the worst of the crowds away, and you'll find it's much easier to navigate Europe from late September through November. In some small villages and towns, you might be one of just a few visitors, lost amid all the locals.
Along with fewer people, you'll also find lower prices in most places, which means you can extend your stay. This is true almost everywhere (except vineyards: see more below) but you'll find lower prices during the early part of October at coastal regions like Costa del Sol and the Greek islands. You can enjoy these often-jam-packed destinations when they're quieter but not yet shuttered for the winter. And, while the locals might consider it far too cool to swim, the sun-warmed water is very comfortable to hearty swimmers from northerly climes.
2. Wine harvest fêtes in France and beyond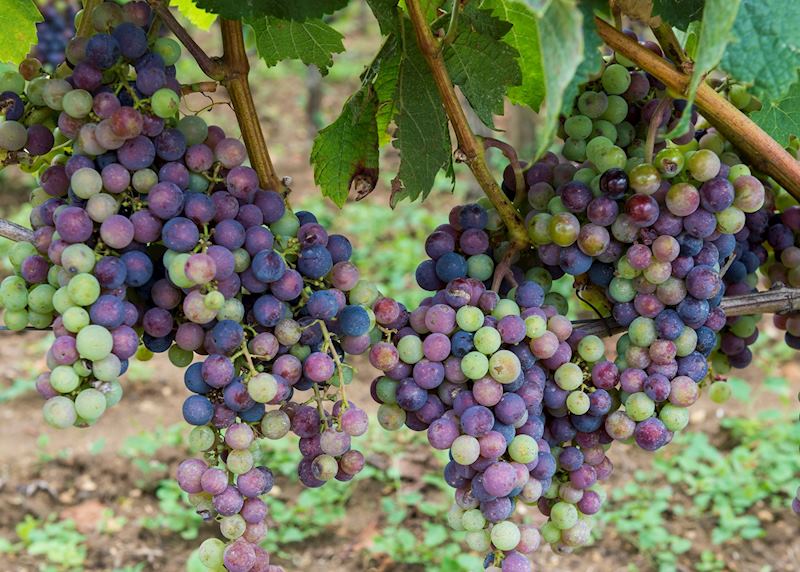 Autumn is undeniably the best time to visit wine regions across the continent. Vineyards are at their most photogenic, leaves turning golden and russet in the cooling air with fat bunches of grapes ripening under the slanting rays of a mellow September sun.
Autumn is also harvest season, which generally stretches from the end of August until October, though the precise timing can change depending on the weather. This is also the one exception to the 'fewer crowds' rule and you need to book well in advance for wine harvests — up to a year in advance for popular options like Portugal's Douro Valley.
France abounds with harvest fêtes this time of year, including Festivini in Saumur in the Loire, the Grape Harvest Proclamation in Saint-Émilion in Bordeaux, and celebrations in Chenôve and Côte-d'Or. They're all worthy of your time, but if we had to pick just one, we suggest the Fête du Vin Bourru, held each October at the covered market of Nuits-Saint-Georges in Burgundy.
Also in France, the Beaujolais Nouveau Festival is celebrated at midnight on the third Thursday in November. Originally a festival held among grape growers to celebrate the end of the harvest, it's the first taste of the year's wine and has become a national party. (The wine isn't great to be honest, but it's fun to share a toast with a whole country.)
Of course, France isn't the only country with a wine-growing tradition. In Spain, you can attend the Fiestas de San Mateo, held on 21 September in the Rioja town of Logrono. In Italy, we suggest avoiding the vast vineyards (and equally vast crowds) of Tuscany and instead head to the Piedmont region, where you can see the Barolo and Barbaresco harvest.
Most vineyards won't let unskilled workers pick the grapes, but there are a few that let you enjoy a more hands-on experience… or even feet-on. At Quinta da Pacheca in Portugal's Douro Valley, you can slip off your shoes and indulge in some old-fashioned grape stomping. And, you can also choose to stay in a room that's effectively a giant port wine barrel, with a deck overlooking the vines.
3. Indulge in white truffles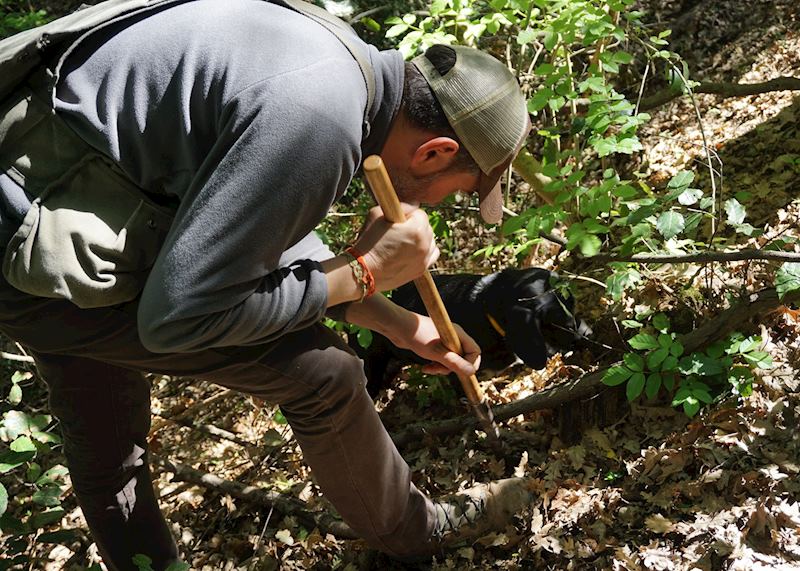 Wine grapes aren't the only crop being harvested in autumn. Truffles are also cause for celebrations across the continent. The best known is probably the White Truffle World Market, a self-proclaimed 'showcase of high gastronomy and Italian excellence'. It's held on weekends throughout October and November in the northwestern Italian town of Alba, just an hour from Turin.
Truffles are prized for both their exquisite, earthy taste and for their rarity. Finding these mysterious fungi is an act that's half art and half science, performed by highly skilled pairs of humans and dogs working together. If you'd like to learn what it takes to sniff out the subterranean treasures, we can arrange for you to go on a truffle-hunting expedition with an expert in Tuscany, Piedmont, Provence and Greece.
4. Gunpowder, treason and plot: Bonfire Night in England

On the 5th of November, England's night sky is lit up by a host of roaring bonfires as well as displays of fireworks. They're attended by crowds eating toffee apples, piping-hot baked potatoes and sipping warm cider (alcoholic and otherwise). This is all in remembrance of the notorious Gunpowder Plot of 1605, the failed attempt to blow up the Houses of Parliament.
Though explosives expert Guy Fawkes gets all the press — scarecrows called 'Guys' are flung into the bonfires to be burned in effigy — the coup was led by Robert Catesby, a disaffected Catholic. You can turn out for the event anywhere in England, but don't look for a burning Guy in the city of York — Fawkes was born there, and the city treats the memory of its native son more gently than the rest of the country.
5. Human 'castles' in Catalonia, Spain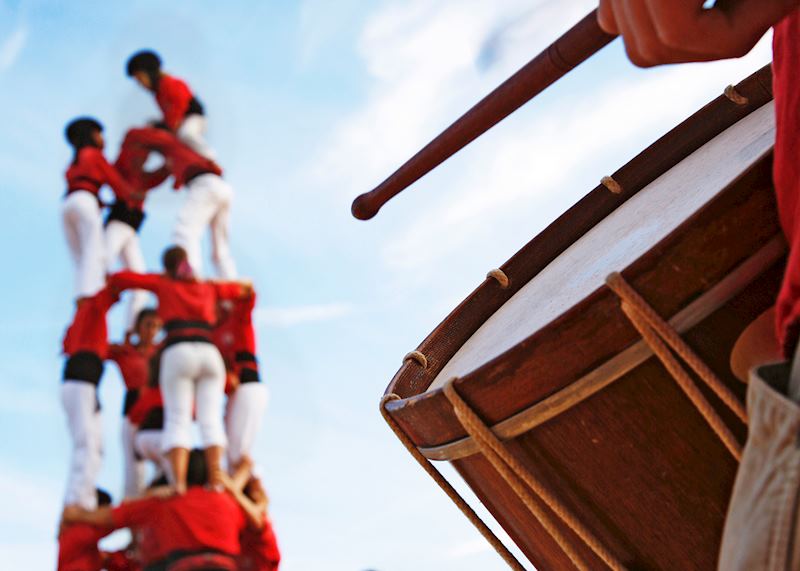 In Catalonia, you can witness a less-grim autumn celebration of local pride — ten-story-high human towers known as els castells. Hundreds of people come together to form the different layers, usually crowned by four agile and lightweight children. Beginning in the summer and continuing through the autumn, large teams of Catalans perform this daring feat in competitions across Catalonia as a celebration of regional pride.
The tradition began as an extension of 18th-century Valencian dances which would end with a small human pyramid, and by the 19th century, towers reached up to eight and nine levels. Franco outlawed the castells as part of his attempt to quash regional identity, but they made a resurgence after his death in 1975. UNESCO put them on its list of Intangible Cultural Heritage of Humanity in 2010.
6. Hiking amid the heather: how to enjoy autumn foliage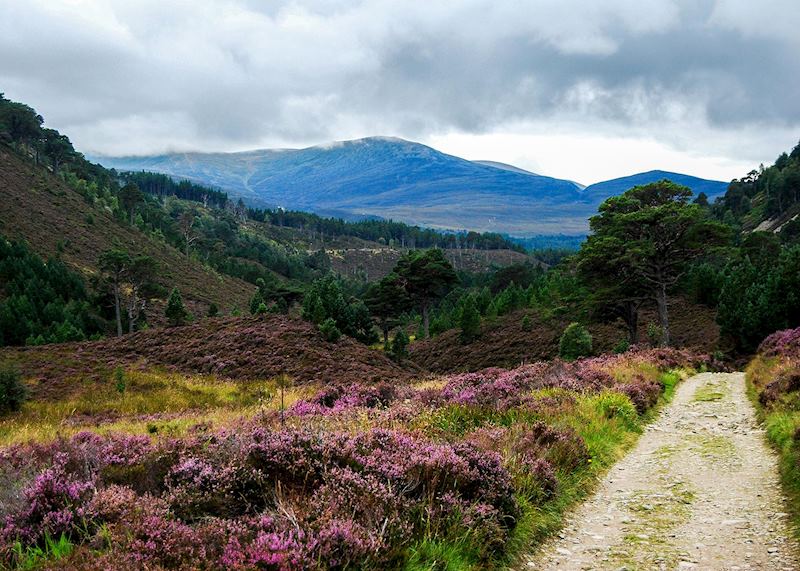 Though it doesn't share the same renown as the USA's New England, Europe's autumn foliage can be similarly glorious, if you know where to go.
The Scottish Highlands are incandescent in late September and early October, with glens awash in shades of gold, russet and amber, all reflected in the mirror-still surface of remote lochs. The Cairngorms are particularly lovely when huge swathes of purple heather bloom in the early autumn. As a bonus, Scotland's omnipresent midges disappear with the heat.
There are a variety of ways for you to explore, including guided hikes, a private cruise across Loch Ness, driving tours, a seaplane tour, or even a steam train ride. After a day spent in the wilds, you can retreat to a snug country hotel for a warm drink by a roaring fire.
If you prefer a more urban setting, you can visit London, where the city's many parks blaze with orange, crimson and golden leaves and the Thames is bedecked in atmospheric morning mist. (If you visit in early November, save some time on the 9th for the Lord Mayor's Show, a bit of pomp and pageantry that dates back more than 800 years.)
In the heart of the Greek mainland, the remote and unspoiled Pindus Mountains offer sweeping vistas of autumn foliage, which you can take in via a 4x4 safari. Nearby, you'll enjoy similar views if you visit the Byzantine monasteries perched high on the slender stone spires of Meteora. You can explore on foot or on e-bike.
The French Alps also offer panoramic views, though the high altitude means the window of photogenic foliage is brief and variable. If you're willing to take the gamble, consider a guided hike in Chamonix, which will take you through the trees and give you a chance to enjoy an alpine picnic with a view of Mont Blanc. If you want to admire the leaves in a more relaxed fashion, you can take a private boat tour of Lac d'Annecy or a cable car ride up a mountain and a glacier tour.
Read more about trips to Europe

Start thinking about your experience. These itineraries are simply suggestions for how you could enjoy some of the same experiences as our specialists. They're just for inspiration, because your trip will be created around your particular tastes.
View All Tours in Europe