Germany's largest cathedral, a singular waterfront and a sophisticated city lifestyle — all in Cologne, on the banks of the Rhine.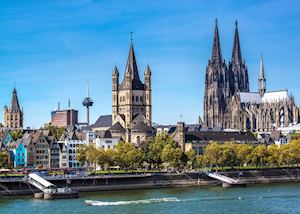 Sophisticated Cologne spreads along both banks of the Rhine, and its medieval old town, hyper-modern buildings and hip culture provide a great base from which to explore the Rhine Valley. You can stay here and visit Frankfurt, Oberwesel and other destinations along the river. We can also arrange for you to visit from those other cities and see Cologne's highlights on a boat or walking tour.
The 2,000-year-old city, once a provincial capital in the Roman Empire, is still a major shipping thoroughfare, cultural landmark and chic waterfront destination. Influenced by its proximity to France and its deep history as a crossroads, Cologne boasts an international, cosmopolitan feel, with fast trains to Amsterdam, Brussels and Paris, the busiest shopping district in Europe and a strong LGBTQ culture.
At your leisure, you can explore the churches and museums more deeply, walk across the love-locks-covered bridge and enjoy the local beer offering — pale Kölsch served in dainty cylindrical glasses called Stangen.
Things to see and do in Cologne
Cologne Cathedral
The single most visited landmark in Germany, the monumental Cologne Cathedral or Kölner Dom dominates the city skyline with its 157 m (515 ft) twin Gothic spires, blackened by weather and industry. We can arrange for you to see the cathedral as part of a walking tour of the city.
Construction began in 1248, but was only finally completed over 600 years later, in 1880. It's best known for its intricate double towers, dizzyingly high and narrow choir and extensive treasures, including the golden Shrine of the Three Kings. The cathedral even has its own miracle story — when extensive bombing flattened most of the city, the cathedral was hit 14 times, but never fell. It's said that the local Kölsch beer may only take that designation if the Dom is visible from the brewery.
Great Saint Martin Church
Often overshadowed by the nearby cathedral, the Great Saint Martin Church is Cologne's second-most-renowned place of worship, built in the 12th century atop the remnants of a Roman chapel and older than Cologne Cathedral by several hundred years. Its Romanesque construction, including its central tower with four pillar spires on its corners, is a fixture of Cologne's skyline, and you'll see it on your walking tour of Cologne's old town — or from the water on a boat tour.
Heavily damaged in World War II, the church's towers were reconstructed afterward according to the original medieval design. Excavations underneath the choir also revealed the foundations, and you can see the transition point from the Roman warehouse to the walls of the church aisles.
Garden of earthly delights
Home to more than 10,000 species of plants, the Flora and Botanical Garden offers an excellent example of traditional public parks of the 19th century.
Besides its serene and symmetrical arrangements of flowers, hedges and trees around stone steps, pools and fountains, Flora includes a grand arched iron-and-glass orangery, fashioned after London's Crystal Palace. Renovated in 2014, the building now hosts concerts, conferences, galas and weddings.
You can also visit several greenhouses and specialty gardens, including tropical rainforest plants, a cactus house with desert succulents, a medicinal plant garden, an Italian Renaissance garden and an extensive Alpine garden with over 2,000 individual species.
Bridge of sighs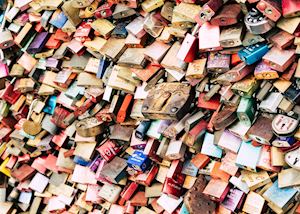 With its green metal arches stretching across the Rhine, the Hohenzollern pedestrian and rail bridge is a beloved Cologne landmark. You can walk from the Gothic cathedral on one bank to its antithesis on the other — the KölnTriangle, a modern glassy tower.
Constructed in the early 20th century and revived after World War II, the bridge carries more than 1,200 trains across the Rhine daily. Since 2008, its pedestrian walkway has been festooned with decorated padlocks, left by couples pledging eternal love by locking them to the fence, then throwing the keys into the river below. As a result, the Hohenzollern has been nicknamed Love Locks Bridge.
Hohe Strasse
One of the oldest streets in Cologne, the 680 m (2,231 ft) Hohe Strasse, or High Street, is a pedestrian-only shopping lane that runs from the Cathedral to the Schildergasse, where medieval artists once painted heraldic coats of arms.
In Roman times, the Hohe Strasse was the city's Cardo Maximus, or main street, lined with smithies, shops and vendors. It also housed Cologne's Jewish quarter, beginning in late antiquity. Today, both streets form one of the busiest shopping districts in Europe, which is home to a panoply of modern brand of clothing, electronics, accessories and food and drinks.
Heinzelmännchenbrunnen
In front of the Früh brewery, one of the places where the Cologne-specific beer Kölsch is made, you'll find a fountain celebrating another of Cologne's curious local charms: the legend of the Heinzelmännchen.
These little house-gnomes were said to do the work for all of Cologne's lazy citizens, who could then relax all day long. The story goes that a curious tailor's wife scattered peas on the floor to trip the little men, and, infuriated, they left and never returned.
Built as part of a larger garden wall by Edmund Renard der Ältere & Heinrich Renard in 1899, the detailed and playful stone fountain is also inscribed with a poem that tells the tale.
The scent of history
Across from City Hall in a grand sandstone factory building is the Farina Fragrance Museum, which gives you a glimpse of the history of perfume production from the early 18th century. Its focus is naturally on Eau de Cologne, a now-generic term for certain concentrations of perfume and particularly for that used by men. However, it was originally developed in 1709 by Johann Maria Farina in the factory at Cologne's heart.
The museum offers private tours, where you can learn about three centuries of fragrance and cultural history and see flacons, paintings and art associated with this rich history.
Romano-Germanic Museum
A Brutalist concrete slab hunkered just outside the cathedral, the Romano-Germanic Museum provides a protective bunker for some of the oldest treasures of humankind in the region, including 100,000-year-old tools recovered from caves in the Eifel National Park.
The museum, built in 1974, stands on the ruins of a third-century Roman villa, which was uncovered in 1941 during an attempt to build an air-raid shelter. A well-preserved mosaic floor with a Dionysus theme is one of the highlights of the museum's extensive Roman exhibit, which includes the world's largest collection of locally-produced glass from that period.
Pure imagination
The Schokoladenmuseum, or Chocolate Museum, opened in 1993 and exhibits the entire history of chocolate's relationship with humans, from its beginnings with the Olmecs, Maya and Aztecs to its contemporary production. You'll see the glass-and-metal modern constructions complementing the old factory building as you pass on the Rhine boat tour.
Founded by German chocolate producer Hans Imhoff, who had been passionate about creating the museum for decades, the museum is now co-run by Swiss chocolatier Lindt. On your visit, you can enjoy a sampling from the streaming chocolate fountains first imagined by the museum's founder.
Ludwig art museum
Museum Ludwig, a curving metal and glass building whose modernity contrasts starkly against the cathedral, was founded in 1976 to house works of Pop Art, Abstract and Surrealism, as well as one of the largest Picasso collections in Europe. You'll pass it as part of your walking tour, and can visit more extensively at your leisure.
The building, which looks like a series of waves from the side and a sheet of corrugated metal from above, is also home to the Kölner Philharmonic. Walking on the public square outside its northeast side is prohibited during concerts, as it creates acoustic disturbances for the concert-goers. You can visit the museum between 10am and 6pm, Tuesday through Sunday.
Best time to visit Cologne
Cologne is very busy in the summer months of June through August, and the shoulder seasons of April to May and September to October can be both cooler and less crowded. The Christmas markets, which run from late November to early January, are also excellent here, particularly the cluster of booths around the cathedral.
Speak to someone
who's been there
Start planning your tailor-made trip to Cologne by contacting one of our Germany specialists
Places & hotels on the map
Accommodation choices for Cologne
We've selected a range of accommodation options for when you visit Cologne. Our choices usually come recommended for their character, facilities and service or location. Our specialists always aim to suggest properties that match your preferences.