By Audley concierge specialist Catherine
Choosing the right honeymoon is a very personal thing. Some couples want to laze on a tropical beach, while others prefer to hike in the wilderness or explore the cuisine of an exotic city. But, one thing I've discovered through helping people plan their honeymoons is that most couples, no matter what their interests, enjoy a trip that includes at least some time to relax.
Please take my suggestions as mere starting points, which can be adapted by your specialist. In life, love and in travel, timing is everything, so I've broken the trips down by season in the Northern Hemisphere.
Best winter honeymoons
Argentina
Wine tasting, gauchos, glaciers and tango

Perito Moreno Glacier, Patagonia, Argentina
Home of the passionate tango, Argentina combines the cosmopolitan pleasures of Buenos Aires with a diversity of natural attractions that include wind-swept grasslands, the thundering Iguazú Falls and the mother of all glaciers, the Perito Moreno.
Oenophiles can visit the bodegas (wineries) that surround the city of Mendoza in a region that's responsible for more than 70 percent of the country's wine production. Nearby, you'll find the Alta Montaña route, which travels up the highest mountain in the Americas.
You also have many options for an outdoor adventure, such as canoeing through the Ibera Wetlands. Gliding silently between the embalsados (floating islands), you might see comical capybaras or delicate marsh deer, as well as hundreds of species of endemic birds. You can sail alongside the immense might of Upsala Glacier or hike to the secret corners of Argentinian Patagonia to see ponderous condors circling high above.
One of the South America's great cities, Buenos Aires is known for its cafe culture, exceptional parillas (steakhouses), French- and Italian-inspired architecture, leafy plazas and vibrant barrios (districts). As you explore, you can pause to watch dancers tango in the street or listen to traditional musicians play.
In Argentina's estancias, you'll see the exceptional horsemanship of the gauchos on display as they herd sheep and wrangle cattle. Your visit will be based around wine, asado (barbecue) and horse riding. Set in the vast and quiet countryside, they're an excellent retreat where you can unwind at the end of your honeymoon.
Belize
Snorkeling, diving, rainforests and Maya ruins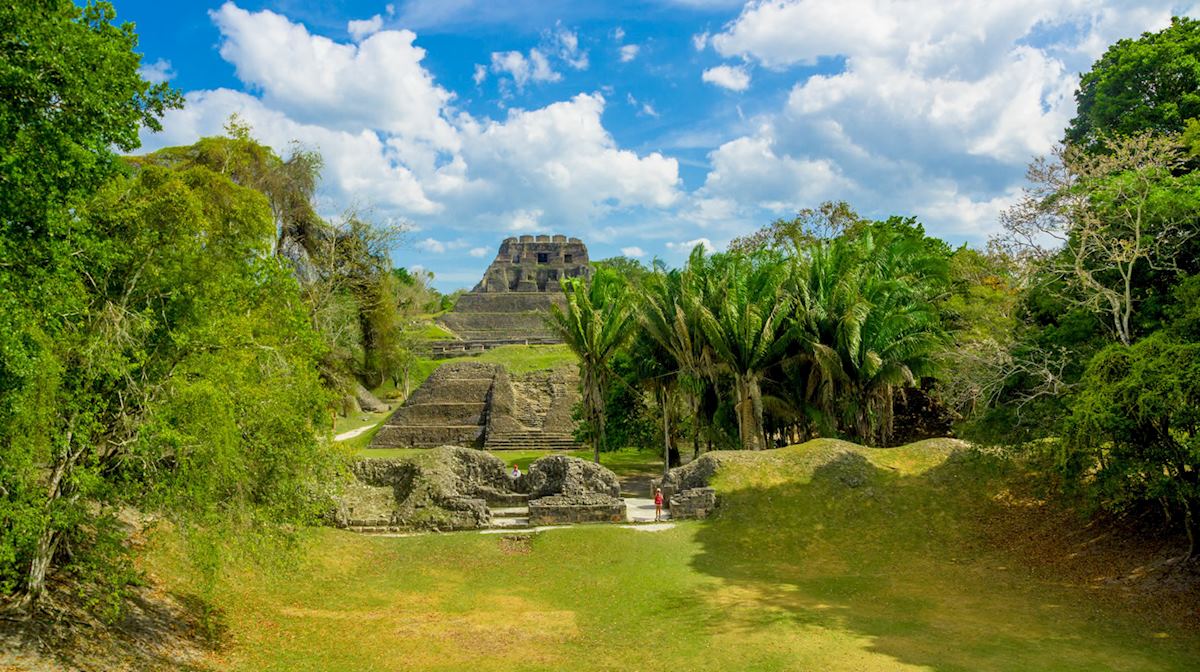 Maya ruins at Xunantunich, Belize
Belize combines tropical waters, subtropical rainforests and a laid-back culture that invites relaxation. All of these attractions are packed into a small country that's easy to navigate, thanks to the fact that the official language is English.
This Caribbean nation is probably best known for its snorkeling, particularly along the Belize Barrier reef, the second-largest in the world. A UNESCO World Heritage Site, the reef is surrounded by glass-clear water and home to an astonishing array of different marine life, including silvery schools of horse-eye jacks, sleek blacktip sharks and slow-moving sea turtles.
Divers can explore the Great Blue Hole, a massive underwater sinkhole (some 300m [1,000 ft] across) surrounded by a coral atoll. The brilliant aqua water deepens to ultramarine here as the seafloor suddenly plunges down more than 120 m (400 ft) into an immense cavern filled with a forest of stalactites.
Farther inland, you can explore the rainforest wildlife at a number of low-impact lodges where you'll wake to the chorus of howler monkeys. Guided walks through the jungle put you in sight of brightly plumaged birds and long-limbed spider monkeys gambolling through the canopy. On after-dark boat safaris, you might spot red-eyed tree frogs, caiman or even a fleet-footed coatimundi darting through the hot night.
In the west of the country, the Cayo District also has a surfeit of wildlife, but you come here for its Maya ruins. Xunantunich (Stone Woman) is one of the country's most accessible archaeological sites, reached by a hand-cranked ferry across the Mopan River. Nearby is the much larger Caracol, once the largest Maya city in Belize.
The Belize Cayes are a handful of small islands scattered in rough line off the coast. Most are uninhabited, but Ambergris Caye offers a restful place to end your trip with sugar-sand beaches, unspoiled reefs, turquoises waters and a Caribbean-casual attitude. You can cycle along a beach path, charter one of the island's many dive operators or simply enjoy the impeccably fresh seafood.
Best spring honeymoons
The Maldives
White sand, pristine water and bright corals

Maldives beach
With blindingly white, powder-soft sand, waters of the purest blue and supremely opulent hotels, the Maldives are the ne plus ultra tropical beach honeymoon destination. Somehow, though, the superlatives fail to capture the unspoiled beauty of this archipelago.
Because it's far from any major landmass, the ocean surrounding the islands is possibly the cleanest you can find. Thanks to the nutrient-rich currents and bright corals, the marine life flourishes here, a playground for snorkelers and divers. You'll see brilliant triggerfish with their psychedelic zebra stripes, pink-lace profusions of soft sponges, delicate fans of gorgonians and neon-limned parrotfish.
The safe, shallow waters are warm enough to let you forgo a wetsuit, and they offer a gentle introduction to diving for novices. Hotels have their own dive instructors and well-maintained, modern equipment. Snorkelers, too, can borrow the resorts' gear and swim straight off the beach or book a boat to deeper waters.
There are more than 1,000 tiny islands, scattered among dozens of atolls, and many of them are entirely taken up by hotels. I'm particularly fond of Kurumba, the first private island to welcome visitors. Its eight different dining options include a teppanyaki overwater restaurant. I also like Conrad Rangali, which is spread over two islands and offers over-the-water stilted villas for romantic privacy.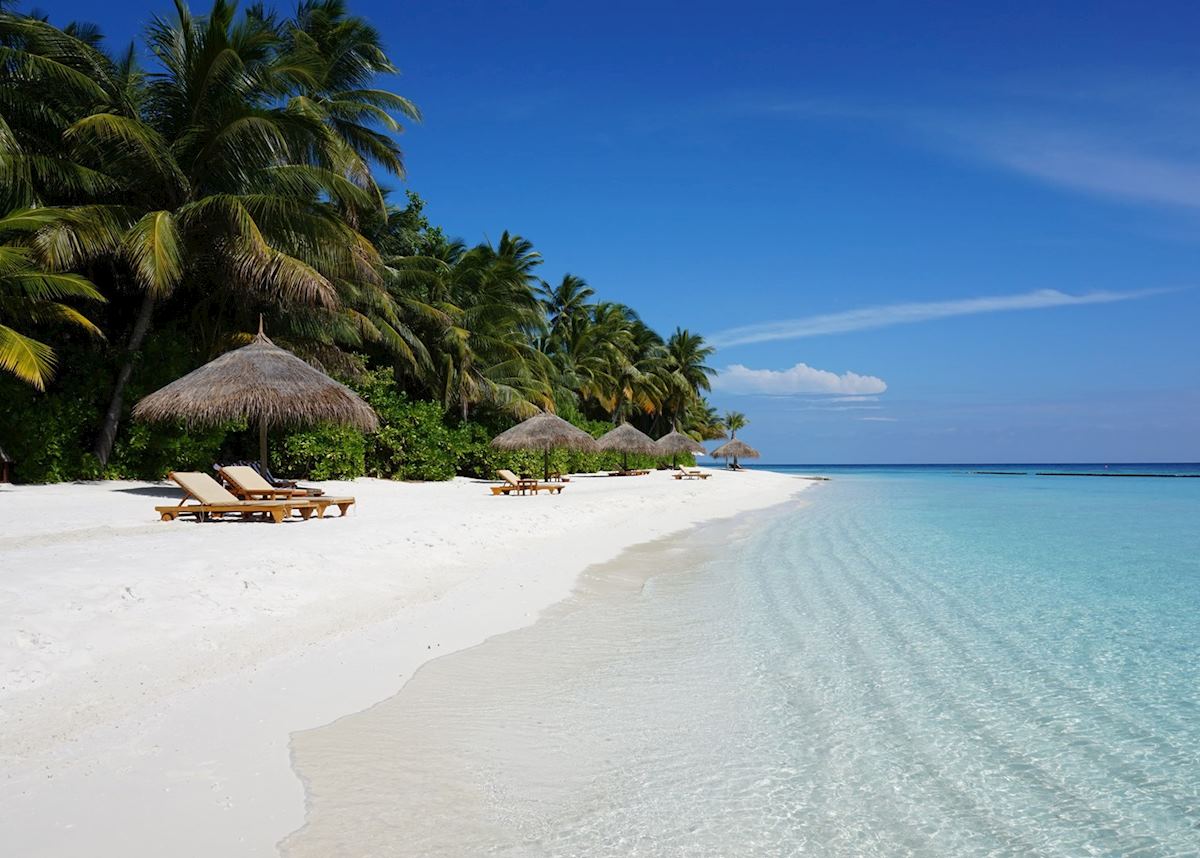 Beach, Conrad Rangali
Restaurant, Conrad Rangali
Vietnam
Street food, colonial architecture and quiet beaches

Rice fields, near Hanoi
Vietnam's irregular shape means that it's graced with a wide variety of microclimates. There's just a brief window — February to April — during which you can tour the length of the country and have a good chance of all-round good weather.
In the south, frenetic Saigon combines timeless temples, colonial relics and 21st-century skyscrapers into an intoxicating urban whirl. You can join the bustle on an after-dark Vespa tour and ride pillion behind a guide who'll take you to the best cafes and street stalls, hidden down small alleys. In the north, Hanoi represents a more authentic feel as you explore the tree-lined streets of the French Quarter and the narrow lanes of the Old Quarter. You can also take a street-food tour with a local blogger, who'll introduce you to the region's complex cuisine.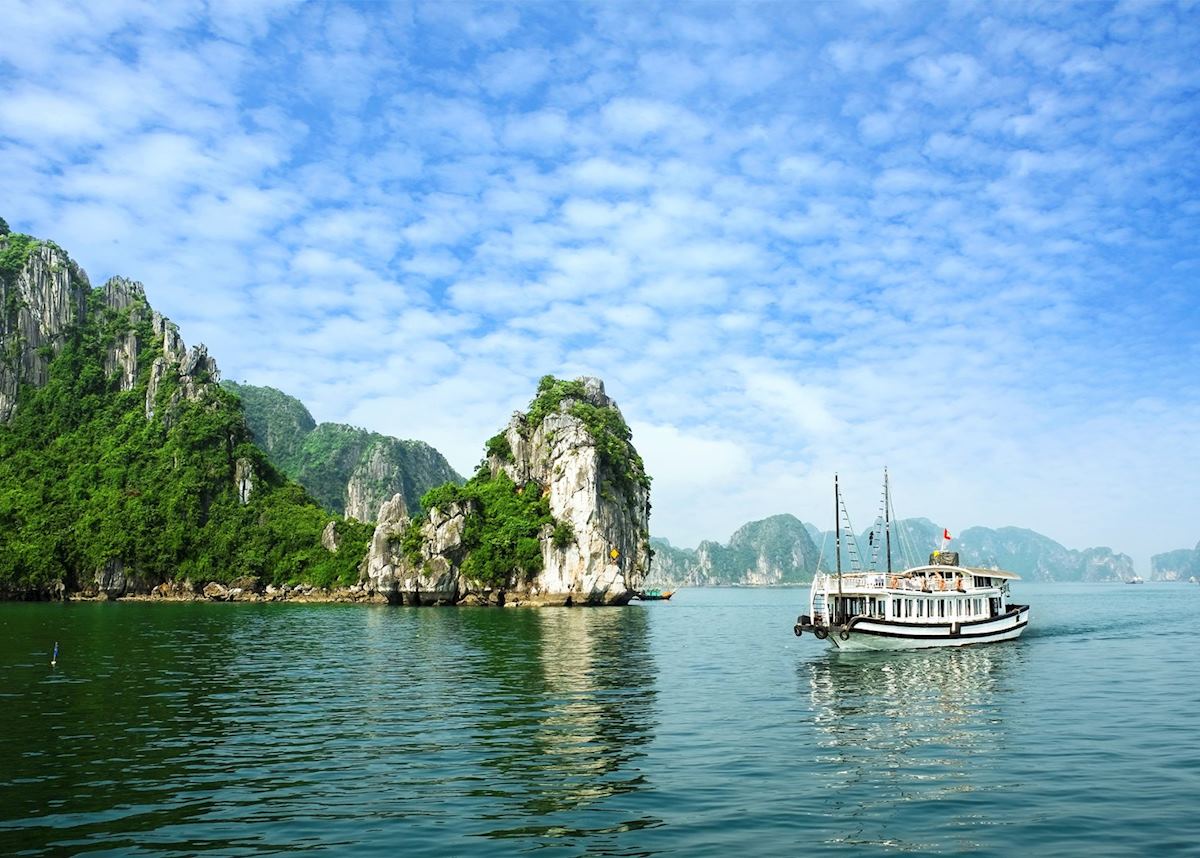 Halong Bay, Vietnam
A private cruise on Halong Bay, just three hours from Hanoi, takes you past some of the thousands of karst islands rising up from the emerald water, many topped with a luxuriant patch of forest. Your vessel, a traditional fan-sailed junk, offers a chance to appreciate the glory of the sun setting over the bay.
Having explored the rest of the country, you can end your trip with a stay on the beaches of central Vietnam. Long and luxuriously quiet, these white sands blend into clear aquamarine waters that invite snorkeling and diving, especially at Lang Co. Nearby Danang has an international airport, simplifying your trip home.
Best summer honeymoons
Tanzania and Zanzibar
Safaris and spice-scented shores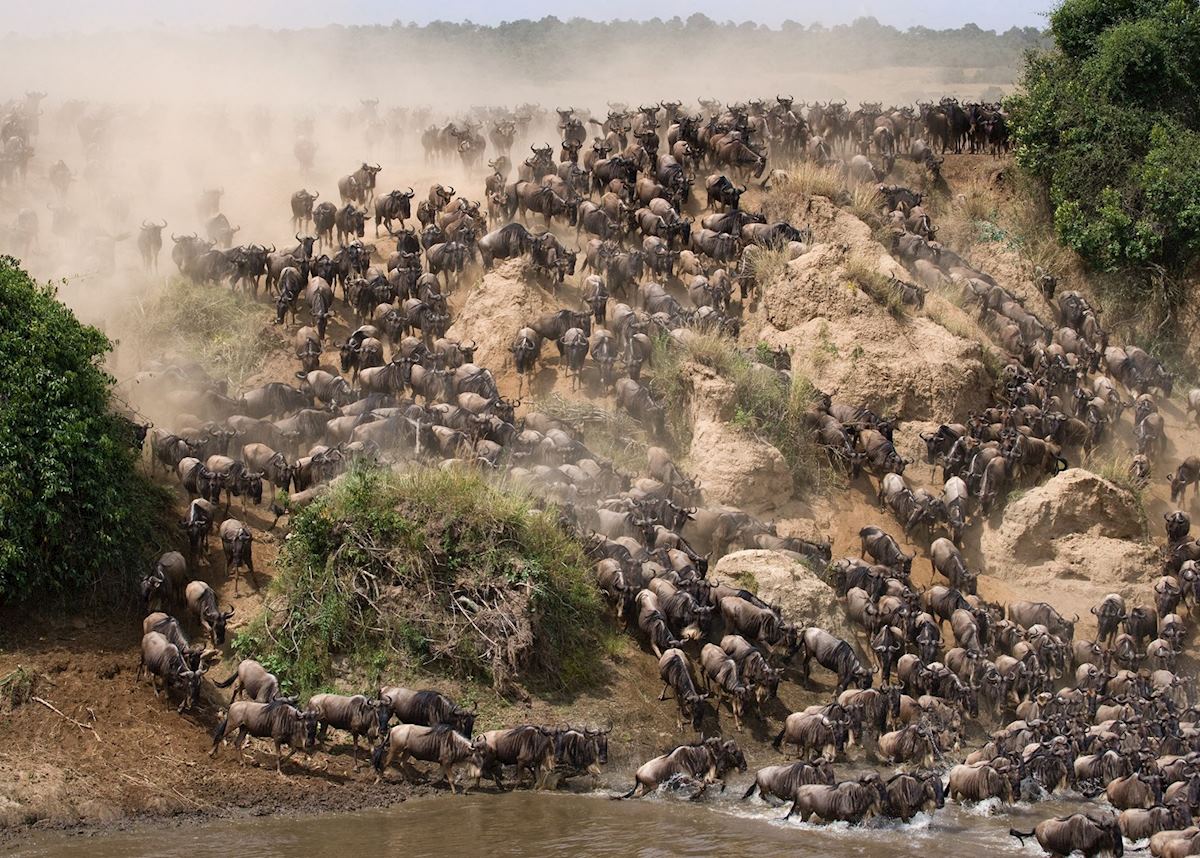 Wildebeest crossing the Grumeti River, Tanzania
A honeymoon during our summer months is well timed to catch the Great Migration in Tanzania, when millions-strong herds of wildebeest stir up billowing veils of dust as they graze their way across the sere landscape.
There are several parks and reserves in Tanzania (your specialist can help you choose the right one for you). I'm particularly fond of Ngorongoro Crater, which cradles some of the easiest and most rewarding game viewing in east Africa inside its titanic bowl.
Serengeti National Park is perhaps the country's best-known reserve, but it's so big that you can still find a quiet corner, away from other visitors. We use smaller camps and experienced guides who can help you spot ponderous hippo grazing or see leopard sprawled in the branches of an umbrella tree.
Selous Game Reserve is Africa's largest protected area, but it has somehow managed to avoid the crowds. It's home to the largest populations of lion, elephant and buffalo on the continent, as well as some of the last remaining black rhino.
Tanzania's well-developed infrastructure makes for a diverse range of places to stay, from treetop lodges to camps where you can fall asleep to the sounds of the wildlife all around you.
The spice island of Zanzibar offers a relaxing end to your safari adventure. This archipelago, just 30 minutes off the mainland, boasts powder-soft beaches, brilliant coral reefs and pristine water that teems with tropical fish.
Ireland
Green hills, scenic drives and distant islands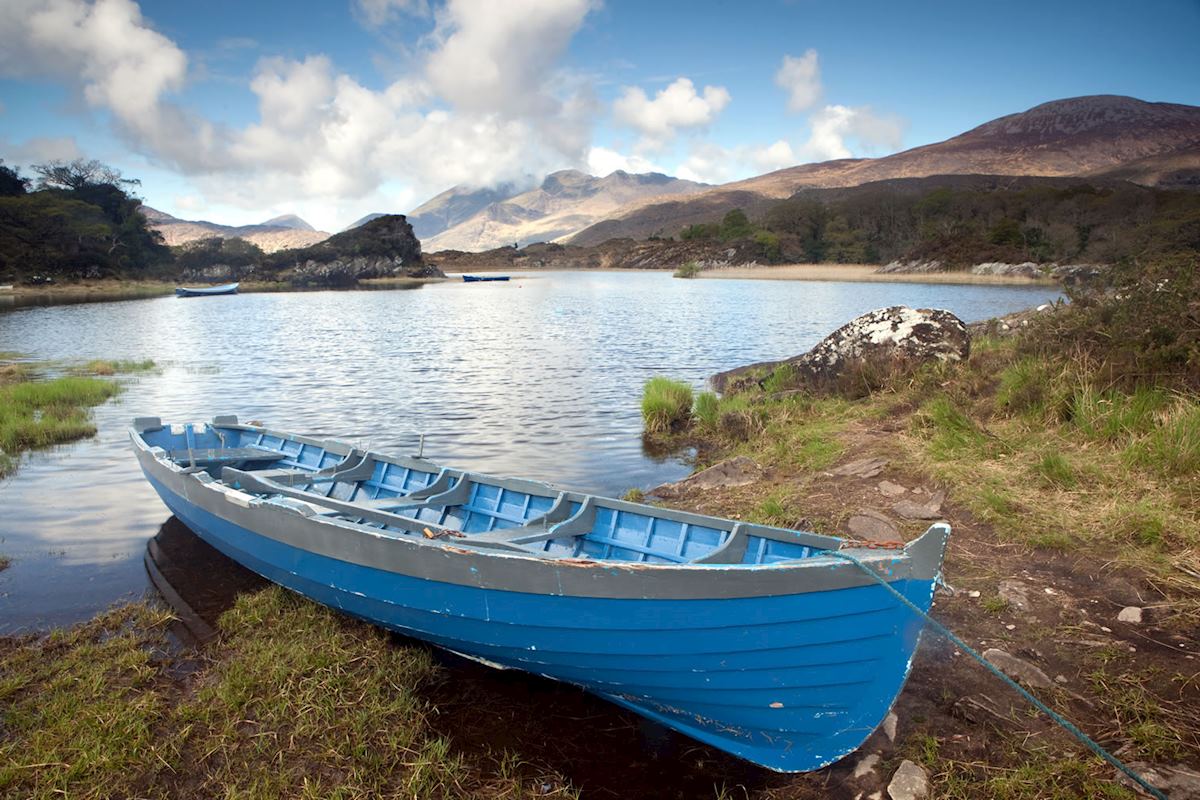 Lake in killenary, Ring of Fire, Ireland
If you'd like a relaxed Irish honeymoon, I suggest staying near Galway. It's smaller and easier to walk around than Dublin, though the students ensure that there's plenty of nightlife. Because it's the heart of Ireland's traditional music scene, you can find live bands playing folk music in almost any pub at night. It's also a great place to explore the Irish culinary renaissance.
I always suggest you schedule a day to visit Inis Mór, the largest of the Aran Islands, where the locals still speak Irish. You can visit Dún Aengus, a prehistoric fort perched high on the edge of a cliff overlooking the ocean.
To the west, Connemara is an unexpected corner of Ireland. Instead of rolling green hills, you'll find a landscape of rugged peaks as well as Ireland's only fjord. You can get a real sense of the area's scenery by driving through the Inagh Valley, or on the coastal Sky Road.
With rocky shores and blue waters on one side and tiny Irish farmhouses on the other, the Sky Road offers much the same natural beauty as the Ring of Kerry, without the traffic. Instead, you'll pass farmers driving their tractors or stop for sheep ambling slowly across the road.
When staying in the area many honeymooners choose Ashford Castle, a historic hotel that combines modern amenities with Old World opulence. However, I prefer Ballynahinch Castle, a more casual retreat set on a sprawling estate.
And if your honeymoon is just not complete without one beach day, I'd nominate a visit to Silver Strand. This little beach seems like it's lifted from more tropical climes, with soft white sand and limpid blue waters.
Best autumn honeymoons
Japan
Autumn foliage, skyscrapers, geishas and gardens

Maple trees surrounding Lake Chuzenji, Japan
I think that autumn in Japan is even lovelier than the cherry blossom season, especially when the momiji (maple trees) turn vibrant red and fiery orange. Navigating between cities is simple and fast, thanks to the bullet train network. This allows you to take your time admiring the countryside or strolling through the country's many gardens, which take on a poignant beauty this time of year.
In Tokyo, futuristic skyscrapers and neon-lit streetscapes stand next to incense-wreathed temples and traditional noodle bars. This is also the city with the most Michelin-starred restaurants in the world, a lovely destination for an indulgent honeymoon.
Kyoto, about two and a half hours from Tokyo by bullet train, offers a window on Japan's past, a city where silk-clad geisha still teeter along narrow lamp-lit streets. There are more than 1,000 Buddhist temples here, alongside many of the country's most elegant gardens.
Away from the cities, you can stay at a ryokan in the central Alps. Mostly family run, these traditional rural inns offer experiences such as the precise delights of kaiseki (a formal multi-course dinner) and soaking in an onsen (hot spring) as you gaze at the snow-brushed mountains.
At the end of the trip, you can spend a few relaxing days in the Okinawa archipelago. This string of more than 100 islands has a sub-tropical climate that remains balmy even in autumn, long after the summer crowds have left.
Tawaraya Ryokan, Kyoto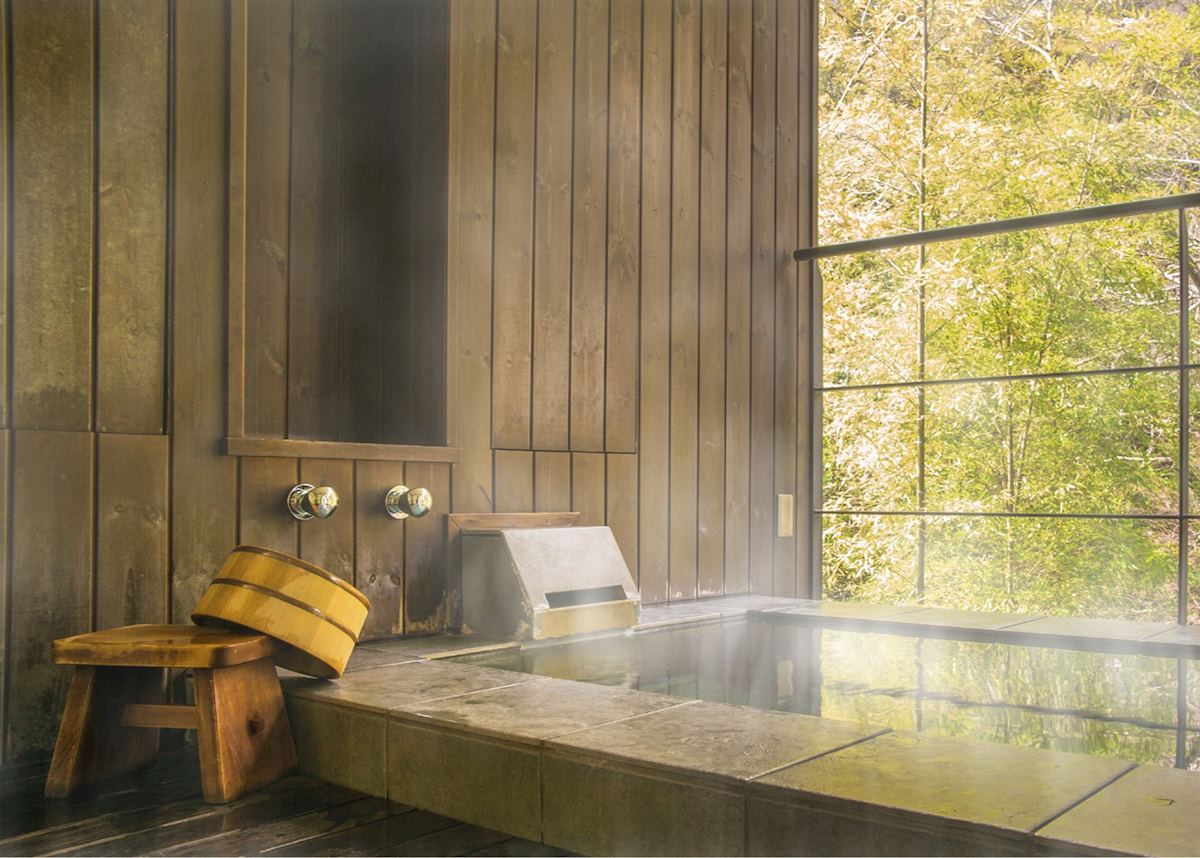 Typical hot spring or onsen
Mauritius
Jungle waterfalls, rare animals and shipwrecks
Mark Twain once said that, 'Heaven was copied after Mauritius.' Despite this resounding endorsement, however, the island has managed to avoid feeling overly developed and offers lots of opportunities for outdoor activities, making it a lovely place for an active autumn honeymoon.
The Black River Gorges National Park, encompassing much of the Chamarel Mountains, is the last refuge of many rare species endemic to the island including the Mauritian flying fox. This golden-furred megabat (yes, that's a real term) has with a wingspan of almost 80 cm (32 inches).
Not far away, you'll find the Chamarel Waterfall, which streams down off a high cliff in two or three narrow channels, as well as the Seven Coloured Earth. This curious natural phenomenon, created by unevenly cooled molten lava, is a series of striated dunes, with seven different shades of sands swirling together.
Even if you can't dive, you can still come close to the shockingly vivid surgeonfish, firefish and fragile fans of corals. You could take a boat trip along the coast, with stops to snorkel or swim, or a submarine tour of the many coral reefs and shipwrecks.
France
Art, cuisine, sparkling wine and sun-drenched shores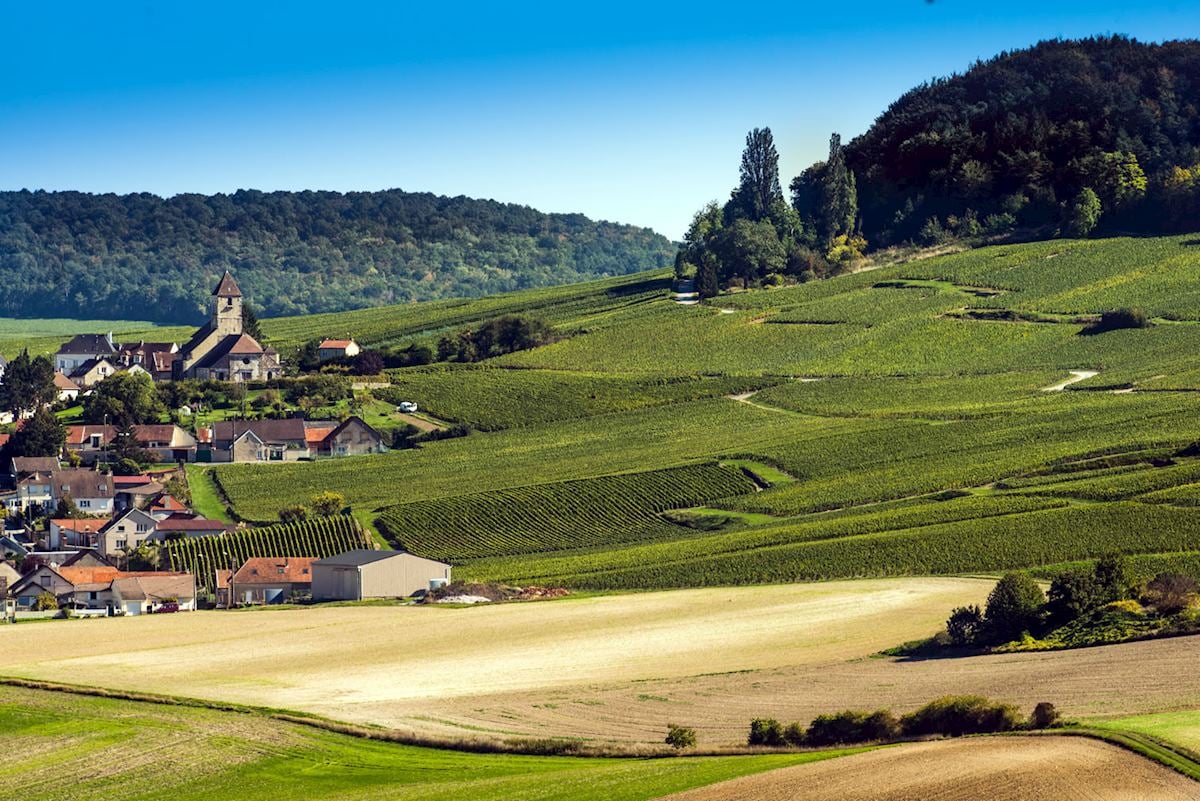 Champagne region, France
A two-week honeymoon in France allows you to enjoy both the cultured elegance of Paris and the sun-drenched glitz of the Riviera.
Though Paris is dense with historical and cultural wonders, I think it's best if you plan lots of free time into your visit. Take the time to embrace the slow pleasure of la vie en France and enjoy lazy mornings lingering over a cup of coffee and chocolate brioche at a cafe. Or at the other end of the day, spending hours eating dinner late into the night and taking long walks along the Seine.
Possibly the only thing in Paris more romantic than kissing under the sparkling lights of the Eiffel Tower is eating on the tower at the Michelin-starred Restaurant le Jules Verne with the glittering lights of the city below you. You can also take a guided tour of the Louvre at night.
Oenophiles might want to schedule a trip to the Champagne region, a short drive from the city, to discover the vineyards and people who create the sparkling wine.
On the Riviera, the pebbly beaches don't invite barefoot frolics but waves here are Mediterranean blue and the area is blessed with nearly endless sun. You can lie by an opulent pool, don a pair of dark sunglasses and watch the passing crowds for celebrities and aristocrats, or take a sunset cruise along the coast, sipping Champagne as you watch the golden light fade over hilltop villages.
Start planning your honeymoon for 2018/2019
---
Start thinking about your experience. These itineraries are simply suggestions for how you could enjoy some of the same experiences as our specialists. They're just for inspiration, because your trip will be created around your particular tastes.