By Seychelles specialist Selina
One hundred and fifteen islands make up the Seychelles archipelago so how do you choose where to go and what to do? Whether you want to laze on a tropical beach, take part in water sports, browse local markets or discover jungle-clad mountains this guide will help you narrow down your choices.

Mahé Island
Mahé is the largest island in the archipelago with all international and domestic flights originating here. It's a busy island compared to the rest of Seychelles and while you may hear locals and other islanders complaining about how busy the roads have got, it's still a very quiet, sleepy pace of life compared to home.
Victoria, the capital, is busier with plenty of restaurants and shops to explore, but outside the city it's mainly small hamlets scattered along the coastline with a couple of local restaurants and a small general store.
Some travelers prefer to get around using public buses or taxis, but I love the freedom of renting a car and zipping around the island under my own steam.
The Victoria Market takes place every day, showcasing a huge array of colorful vegetables and fish. It's perfect for pottering around for an hour or so and combines well with a visit to the Botanical Gardens.
If you're feeling a bit more energetic then there is a variety of clearly marked coastal hiking trails, many of which go through the scenic Morne Seychellois National Park.

Praslin Island
Praslin is one of the greener islands in the archipelago with the vestiges of a natural palm forest at its heart. The Vallée de Mai Nature Reserve on the island is a UNESCO World Heritage Site and protects endangered species such as the Seychelles blue pigeon, Seychelles sunbird, black parrot, bronze gecko and the rare tiger chameleon. It's here that you may well see the largest seed in the plant kingdom, the Coco de Mer, weighing in at around 33 pounds.
Praslin's coastal appearance is dominated by huge granite boulders contrasting with the white sand and clear turquoise waters. My favorite excursion from Praslin is a day-long catamaran cruise which stops off at three isolated islands for snorkeling or swimming.
Stopping off at the second island, I jumped out of the boat onto this beautiful powdery white sand beach, which was completely deserted. The guide started to set up our Creole BBQ but pointed around one of the large boulders and that's when I saw my first ever giant tortoises. These huge creatures were completely unfazed by our presence and we were able to observe them for quite some time.
Places to stay on Praslin
L'Archipel
L'Archipel is one of my favorite small boutique hotel on Praslin and it's located in the northeast of the island at the end of Côte d'Or beach is unmatched. All of the beaches in the Seychelles must give access to the public as well as hotel guests but at L'Archipel the natural distribution of the large, rounded granite boulders effectively cut it off from the rest of the beach, giving it a uniquely private feel.
This hotel doesn't come with a spa or all the fancy bells and whistles of the larger resorts but the D'Offay family have owned and run the hotel for generations and it has a lovely atmosphere. I like sense of space here, with each room offering ocean views, and it really does offer amazing value for money.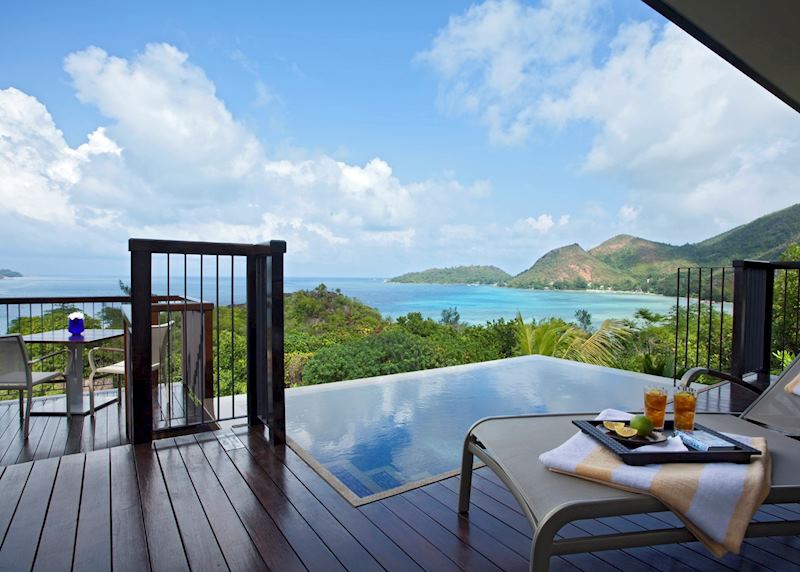 Raffles
For a more luxurious option on Praslin, I'd recommend Raffles. The individual villas are absolutely huge; they are tastefully decorated and each comes with its own private pool. The views across the lush green vegetation to the ocean are incredible. The spa is a highlight, offering traditional treatments along with private sunrise yoga lessons on the beach or a massage under the stars.
The hotel's food is excellent and there is a choice of themed restaurants as well as the option of dining under the stars on Anse Takamaka beach. Eating freshly caught and prepared seafood whilst listening to the waves lapping the beach all by candlelight was a highpoint of my last visit.

La Digue Island
The slow-paced, sleepy La Digue is one of the smaller islands on the archipelago. I love that there's only a handful of cars, so everyone gets around either on foot or by bicycle. It is around a 15-minute ferry ride from Praslin or a potentially choppy 90 minutes from Mahé.
Places to stay on La Digue
Le Repaire Boutique Hotel
Le Repaire Boutique Hotel is a small, no-frills hotel in a perfect location right on the beach and just outside the center of the largest village on La Digue. I love how intimate and quiet the hotel is, with only nine rooms, a lovely little pool and calm, relaxed atmosphere. The Italian owners serve amazing food and it's great for families or couples traveling on a budget.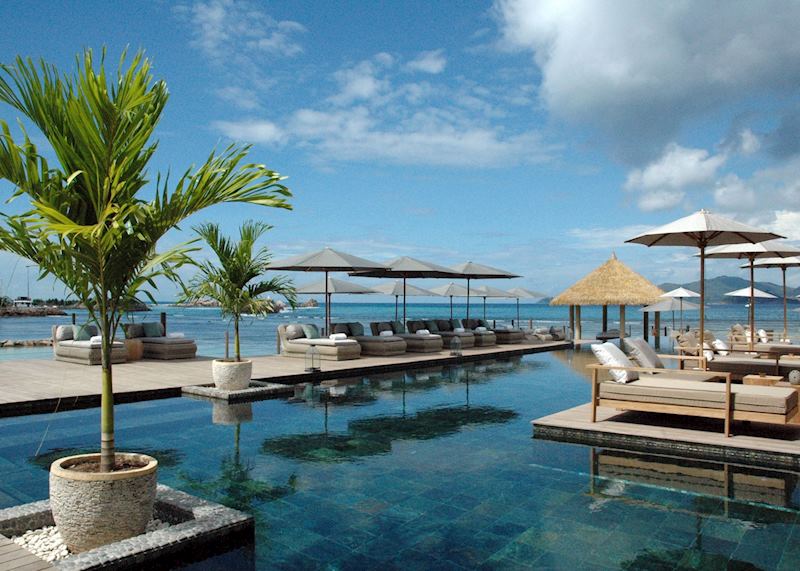 Le Domaine de L'Orangeraie
Le Domaine de L'Orangeraie is a more upmarket hotel on La Digue. There is plenty of space so as guests you don't feel that you're on top of each other. The spa is located right on the top of the hill with views over the greenery and out to sea.

Stay on Denis Private Island
Denis Private Island is a really special place. It's accessed by a short light aircraft flight from Mahé. As it's a coralline island, surrounded by its own reef, it is perfect for snorkeling. The resort has a wonderfully ecologically responsible ethos and grow 90% of the food used in their kitchens on the island and make their own high quality furniture.
There's a forest which is safe and easy to explore alone or with one of the resident nature guide and you may encounter nesting turtles along the beach or several species of bird endemic to the Seychelles. If you really want to get away from it all then Denis is a great option as there is no Wi-Fi or television in the rooms but there is plenty to keep you occupied such as deep sea fishing or kayaking.

Stay on Bird Island
Bird Island definitely inhabits its own niche in the Seychelles. It is a tiny private island just over half a mile square and is the northernmost island in the archipelago, around a 30-minute flight from Mahé. The resort here is a true ecolodge — it is not fancy or polished but really appeals to nature enthusiasts.
I like how stunningly raw the landscape is and would call it an authentic castaway style setting; there are no phones or televisions here although there is plenty of noise from the birds. As the name suggests there is a phenomenal bird population including sooty terns, common noddies and my favorite, the fairy tern. You may also see hawksbill and green turtles nesting on the beaches at certain times of the year.

When should you visit?
People visit the Seychelles year round, but it's quieter between December and February when the islands get the most rain and humidity. During July and August it can become windy, making the ferry crossings less comfortable and disrupting inter-island flight schedules. Occasionally seaweed will be washed onto the beaches and the wind will stir up the sand making the ocean appear cloudy, so if you're looking for the usual pristine white sand and clear sea then it's best to avoid these months.
A practical note
The soil in the Seychelles is poor and not much is grown here. This means that most food and drink items, apart from seafood, are imported and can be expensive. I always look forward to the red snapper on my visits, but the Seychelles are renowned for all of their seafood. You also have to try the locally produced coconut ice-cream which is real treat when the sun is shining.
Once in the Seychelles it's totally up to you whether you'd rather stay put in one place or visit a couple of islands. If you are visiting Bird Island or La Digue you will probably want to twin them with one of the other island for more activities and variety, but the others all work well as stand-alone destinations or can be combined with a stop in Dubai or a safari in mainland Africa.
Start planning your vacation to the Seychelles

Start thinking about your experience. These itineraries are simply suggestions for how you could enjoy some of the same experiences as our specialists. They're just for inspiration, because your trip will be created around your particular tastes.
View All Tours in The Seychelles