By Audley specialist Marissa
I had an image of pastoral Ireland as a place where sheep dot the fields. A place where, when the light's just right, the hillsides and farmland glow even greener, contrasting with the neon primary yellow of the furze that flowers year-round.
This Ireland exists, but I didn't know until fairly recently just how narrow my impressions were. It's the bucolic Emerald Isle, but it's also a land where mountains loom over glassy lakes. An island with a savage-looking coastline and monstrously high cliffs, juxtaposed with white-sand beaches more reminiscent of the Caribbean than northern Europe. A place where prehistoric hill forts stand watch over a far-flung archipelago of bleakly beautiful, rocky terrain, surrounded by a churning Atlantic.
From the coast of Northern Ireland (part of UK territory) to the tip of the Dingle Peninsula in the southwest, I've picked the island's places of natural beauty that most resonate with me.
Northern Ireland's Antrim Coast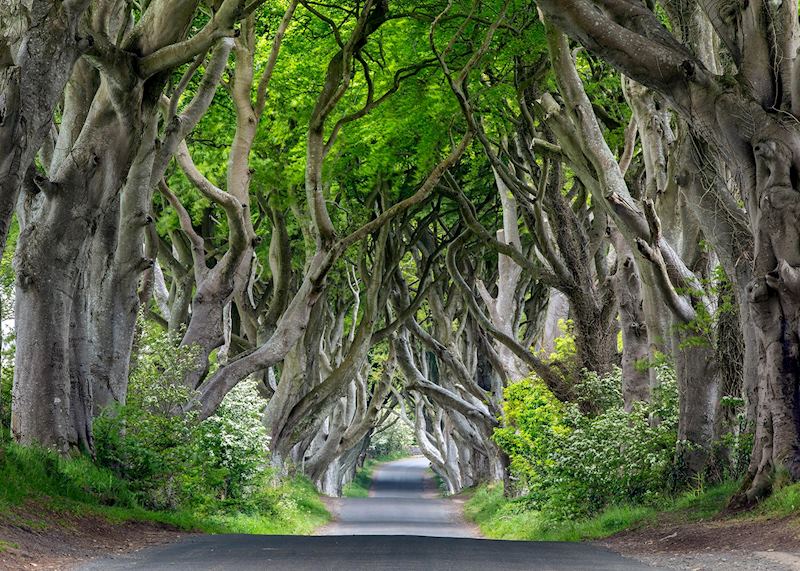 Belfast has grown up around its industry, but within ten minutes of clearing the urban sprawl you're surrounded by pristine emerald countryside. Its proximity to the city makes the coast easily accessible.
En route to the Antrim Coast, there's the opportunity to see the Dark Hedges in Ulster Province. This is a strip of road lined with beech trees that lean forward to almost entirely enclose the road in a natural tunnel of intertwined branches. The result looks like some sort of pathway to fairyland.
You can no longer drive down the road due to the damage the constant traffic was causing to the root systems, but you can walk underneath the tangled canopy, which I'd argue is more atmospheric anyway.
Giant's Causeway and the Carrick-a-Rede Rope Bridge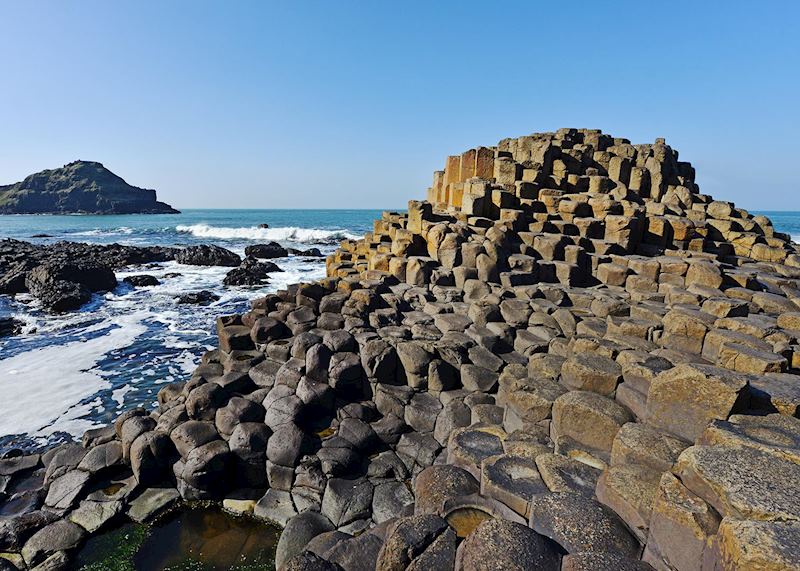 It's a good idea to travel with a guide in Northern Ireland, as so much of what you're seeing is enhanced by the freight of local myth and legend, which a knowledgeable guide can bring to life.
This works especially well when you visit the UNESCO World Heritage Site of Giant's Causeway, a headland formed by 40,000 dovetailed basalt columns on a bed of chalk. It stretches out to sea like an oversized stairway. The varying heights of the otherwise almost identical hexagonal columns makes them seem like enormous stepping stones, steps indeed big enough for a giant's tread.
Guides recount the folklore behind this geological curiosity just before you first set eyes on the causeway, and it certainly builds the suspense. One version alleges that local giant Finn MacCool was aiming to build a bridge over to Scotland to reach his love.
You can either walk down the cliff side to the base of the Causeway, which takes 10 to 15 minutes, or catch the tram to the bottom. A word of warning about walking on the columns: the farther out you go, the causeway becomes more treacherous and wave-battered. Only attempt it if you're sure-footed.
Another visually arresting sight on the Antrim Coast is the Carrick-a-Rede Rope Bridge. It was strung up by salmon fishermen in 1755 to connect the mainland to Carrick-a-Rede Island, a grassy chunk of gray tuff (consolidated volcanic ash). Nowadays, the only remnant of the fishermen's precarious existence is a white stone cottage.
Crossing the secure, but insubstantial-looking wooden-slatted rope bridge can be an exhilarating — or terrifying — experience, depending on how you look at it. The bridge dangles over a 30 m (100 ft) chasm and trembles as you walk, while the foamy waters below occasionally spatter you with droplets of spindrift. You can opt to watch from a distance, and try to spot the dinosaur prints in the rocks around the bridge entrance.
Connemara National Park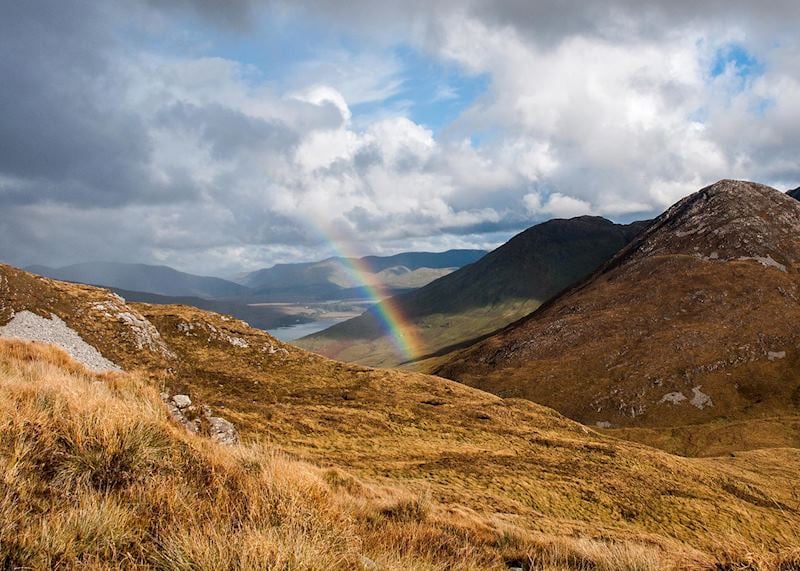 Connemara fulfilled my expectations of Ireland's scenery: in places it has lusciously green pastures that rise and fall in gentle hills. Yet it also has a rawness that I wasn't prepared for, as you look inland to heathland, bogs, quartzite mountain ranges and vast forests of oak, ash and spruces.
One way to get a feel for the park is to drive for 30 or 40 minutes down the well-marked, coast-hugging Sky Road. Sheep graze right down to the water's edge and, when I last visited, the fields were full of calves and spindly-legged foals.
Heading north, you'll see secluded coastal inlets on one side, and mountains rising up on the other. Before I visited, I'd never seen mountains so close to beaches.
I lost count of the number of tractors and snug-looking villages I passed. I also learned of a local superstition: if a woman sees more than seven white horses in one day, the next unmarried man she meets is destined to be her husband. As it happens, I saw 15 white horses in a matter of hours on the Sky Road (I'm still awaiting the husband).
Silver Strand Beach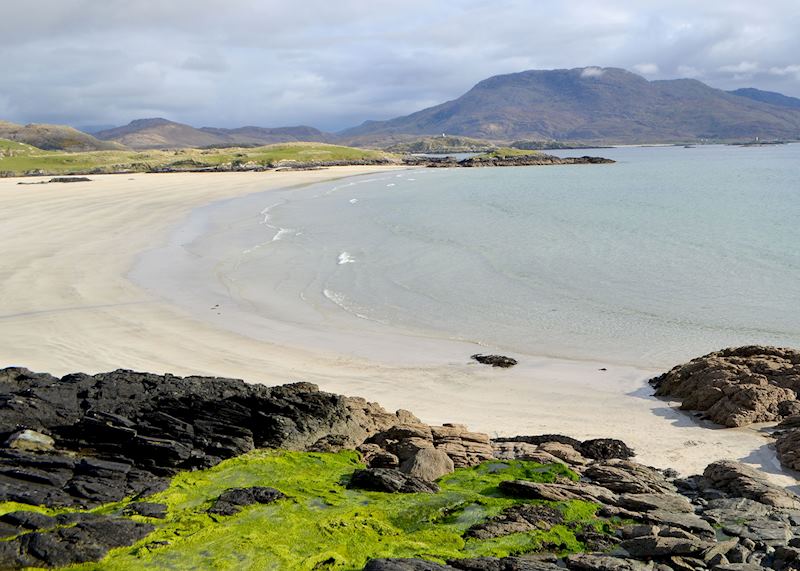 What I like most about getting behind the wheel in Connemara is the chance to stop off at its many beaches. I've developed a particular penchant for Silver Strand Beach, located just west of Galway, which has the sort of starkly white fine sand you'd normally associate with warmer climes. The beach curves around a sheltered inlet, and the ocean is calm enough for children to swim in. The water is remarkably limpid — again, not something I was expecting.
At low tide, I like to walk out to an algae-cloaked rock that's normally under the waves and sit on it, looking back to shore. Low tide is definitely the best time to visit, as it's when you can explore the tidal pools that appear. They throng with crabs and many small fish.
Overall, it feels like Ireland meets Cape Cod meets The Bahamas, and because of the beach's generous proportions, it's serene at almost any time of the day.
Where to stay in Connemara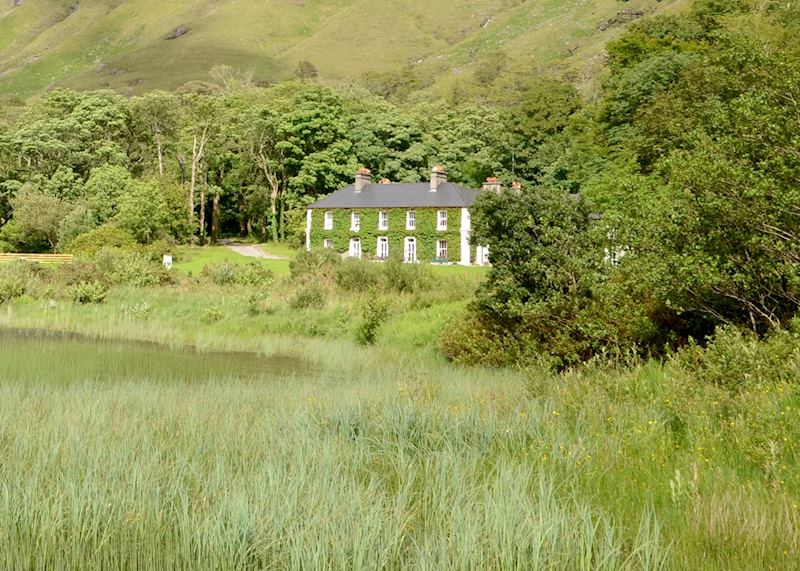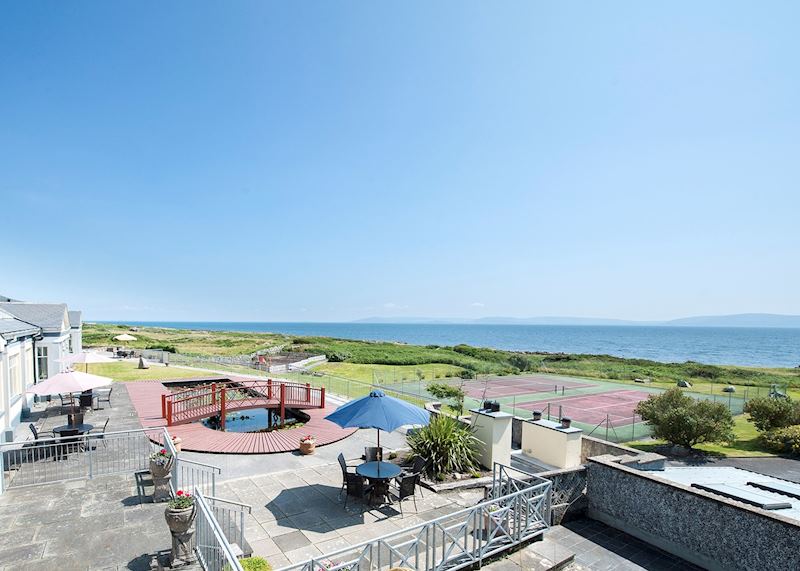 I really like Delphi Lodge, with its manicured lawn, long communal dining tables, library and roaring fire. Alternatively, a good family option is the Connemara Coast Hotel. It has a light, sunny design, a pool and a playground, and two dining rooms — one reserved for families and one for fine dining.
Exploring County Clare
Burren National Park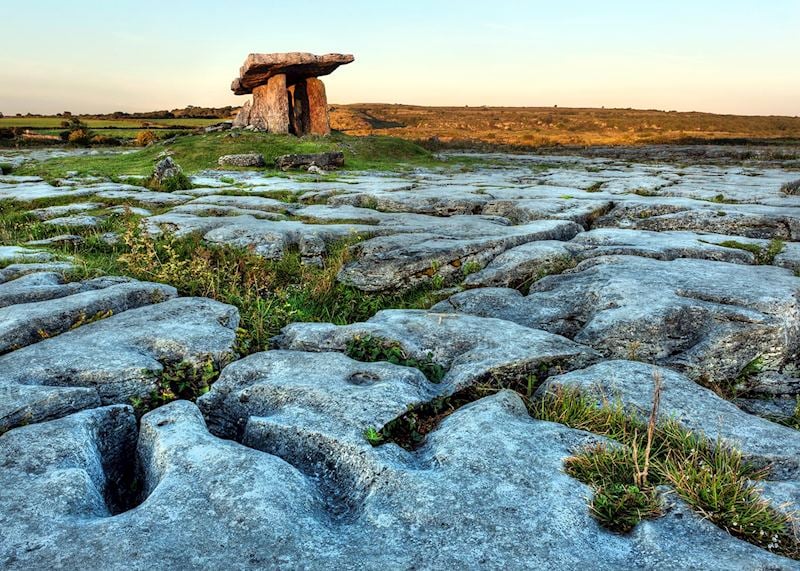 The landscape of the Burren feels so alien compared with the patchwork of verdurous rolling hills I've become accustomed to in Ireland. You look out over a limestone karstic plateau gouged with great cracks and clefts. Sometimes, these dents are filled with tufty grass, mosses and the bright sprigs of wildflowers — periwinkle-blue gentians and puce lousewort.
For a landscape that, at first, seems composed of nothing but barren rock (its name hails from the Irish Boíreann, meaning 'rocky place'), it has a surprising variety of geological features and formations. The terraced ridge of Mullaghmór looks like a huge whipped swirl of melting rock, and in some parts the stone and scrub are punctured by table-like dolmens (megalithic tombs or barrows). At sunset, they stand out in eerie silhouettes.
There are many walking trails all over the area, but a less strenuous way of exploring the Burren is to take a tour of its many artisanal workshops and cottage industries. You might visit a farm producing goats' cheese, meet a 'wild food' local chef who'll teach you about foraging, and admire the handiwork of silversmiths or perfumers. Ballyvaughan, a small port town, is a good place to lunch on seafood.
Cliffs of Moher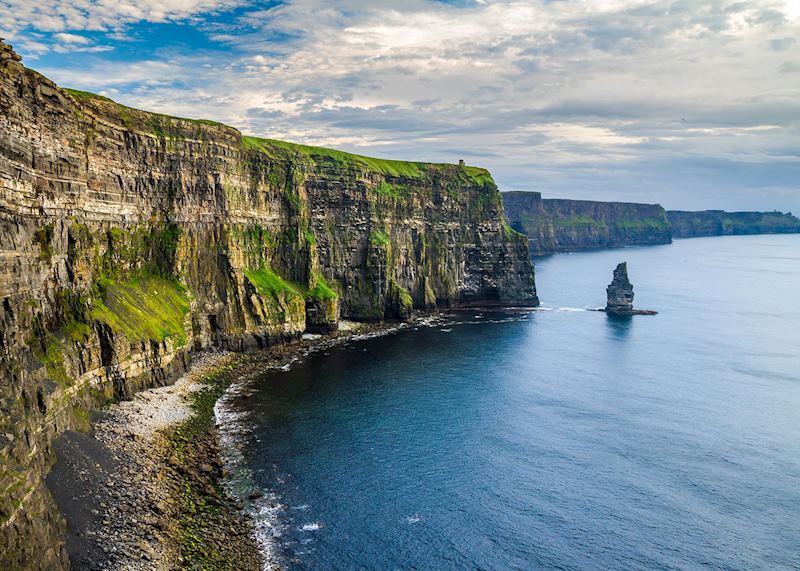 While you're in County Clare, this stretch of cragged, chillingly sheer cliffs is well worth a visit. On a clear day, the grass-topped cliff faces plunge straight down into a spuming dark-blue Atlantic. But I think they look even more brooding with fog billowing over them, so don't be disappointed if the weather isn't good. I once visited when the clifftops were initially obscured by sea fret, but it soon cleared.
The best way to appreciate the cliffs' scale and detail is by boat although you'll need sea legs for the choppy ocean. The rock face only reveals its secrets once you're at water level. Not only do you begin to see the colossal strata more clearly, but you notice that the cliff faces are pockmarked with nesting puffins, which are indistinguishable from above.
Inis Mór, the Aran Islands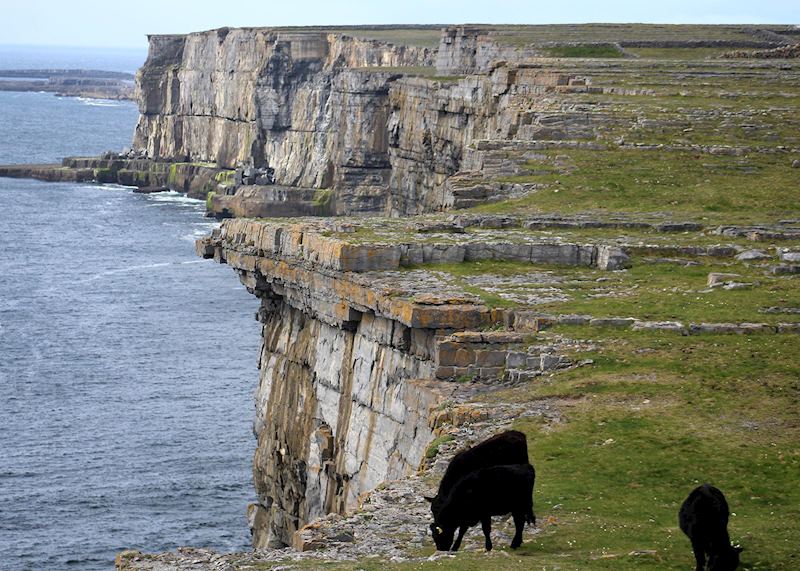 For me, Inis Mór ultimately surpasses both the Burren and the Cliffs of Moher when it comes to drama. It's the largest island of the Aran archipelago, which lies a six-minute seaplane journey or 45-minute ferry ride from Ireland's west coast (which can take longer if the sea is choppy).
But, more than ocean separates the Aran Islands from the mainland. Setting foot on them is like stepping into a rural, unspoiled Ireland of yesteryear. The biggest settlement is no more than a village, with thatched cottages and a handful of shops. You hear islanders turn to speak to each other in lilting Irish. There are few cars and fewer roads: jaunting car (horse and carriage) and bicycle are the main modes of transport.
Topographically, Inis Mór and its two smaller siblings look like the Burren: a sometimes grassless expanse of rocky escarpments, fissured fields of limestone and stone walls measuring out parcels of farmland. Due to the limited soil, Aran farmers would use a makeshift alternative of sand and seaweed. The pewter-toned stone is contrasted by wildflowers — wild roses, fuchsia, and bloody cranesbill geraniums with their shocking pink petals.
I urge you to go to Dún Aonghasa, a semicircular Bronze Age limestone fortress on the south side of Inis Mór. My guide showed me how its seemingly primitive dry-laid stones were actually arranged in an intricate lace-like pattern, enabling strong winds to pass through rather than buffet the walls.
Inside its layers of walls, the ground drops away suddenly to the sea. Unlike the Cliffs of Moher, there's no protective barrier. The last time I was there, I lay down on the grass and peered over the edge to watch the waves crashing below.
Where to stay in County Clare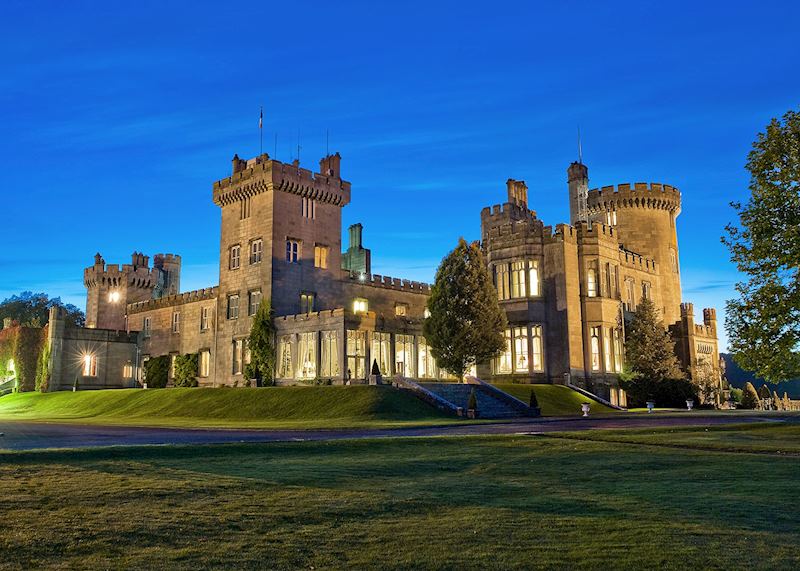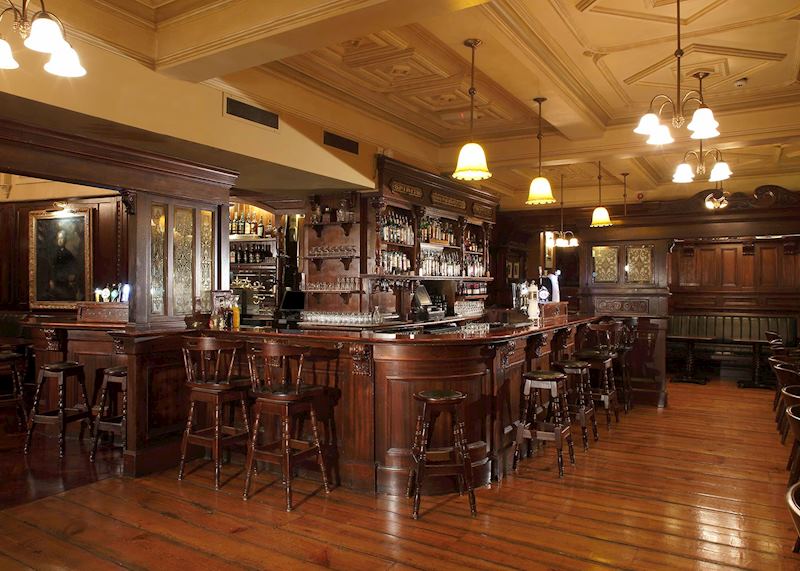 Located in the south of County Clare, 19th-century Dromoland Castle is set on a sprawling estate. The hotel offers elegant rooms, fine dining and a wide selection of unusual activities to its guests. Visitors can indulge in archery, falconry, horse riding, shooting or fishing, or simply stroll through the grounds, which include parklands, ponds and a historic rose garden.
Centrally located in the town of Ennis, the Old Ground Hotel is a convenient base for exploring County Clare. Its in-house pub, the Poet's Corner Bar, provides an amiable place to unwind with a pint after a long day.
The Wicklow Mountains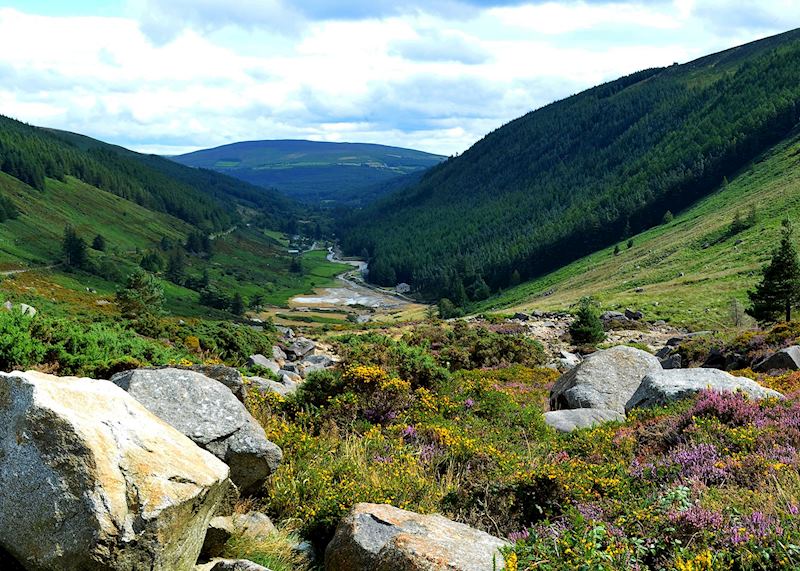 Even if you're only staying in Dublin and have limited time, you can still get a taste of Ireland's countryside by driving 45 minutes south to Wicklow Mountains National Park.
Despite its proximity to the city, the park feels untouched. It's a good place to explore many of Ireland's various habitats, including Liffey Head Bog, an active mountain blanket bog that supports moisture-loving plants with poetic names such as bog rosemary, star sedge, and devil's-bit scabious. The park is home to many birds and animals, including deer, stoats and goosanders.
For walking, the valley of Glendalough is laced with scenic walking trails that take you around two lakes and past ruins of early Christian settlements. You can pick up coded maps that display all of the park's walks (rated by difficulty), from a short, simple lakeside stroll to more challenging ascents skirting Poulanass Waterfall, which pours into a secluded ferny dell.
Around Killarney: the Dingle Peninsula and the Ring of Kerry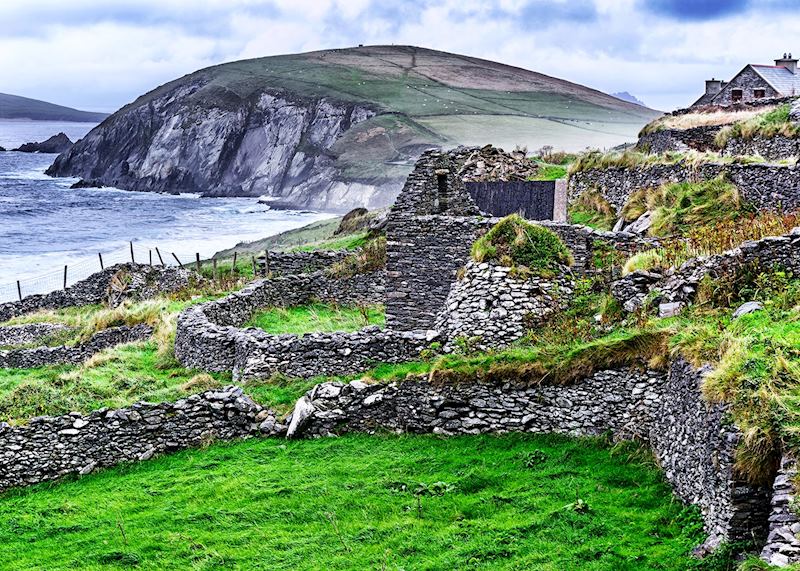 Ireland's southwest corner peters out into several peninsulas, trailing into the North Atlantic like long thick fingers. I think the most northerly of these, the Dingle Peninsula, is the most scenic. Inland, you see field after field in (to quote my guide), 'forty shades of green'.
The entire peninsula is speckled with stone churches and archaeological sites, from the dry stone beehive huts inhabited by monks in the Dark Ages to the bleak upright ridges of abandoned potato beds — part of the failed crop that resulted in the Great Famine.
Dingle's coastline is all rugged black rock formations and white-sand beaches. If you stand at the westernmost tip, you can see the green humps of the Blasket Islands smudging the horizon. They were inhabited until 1953.
The Ring of Kerry, the peninsula to the south of the Dingle, traditionally receives the most visitors, but a good guide can help you sidestep the extra people. Mine took me to a viewing spot for Macgillycuddy's Reeks, Ireland's highest mountains, which apparently enchanted Queen Victoria when she visited in 1861. It's just a few miles down the road from Ladies View, the same view but with crowds of people.
Killarney
The town of Killarney, situated in County Kerry 65 km (40 m) from Dingle town, makes a good base for exploring this area. As an added bonus the town is nestled into Killarney National Park. You can take guided kayaking trips on the park's three deep lakes, passing through limestone cave formations and listening to stories of Muckie, the Loch-Ness-Monster-like inhabitant of Muckross Lake.
Where to stay in Killarney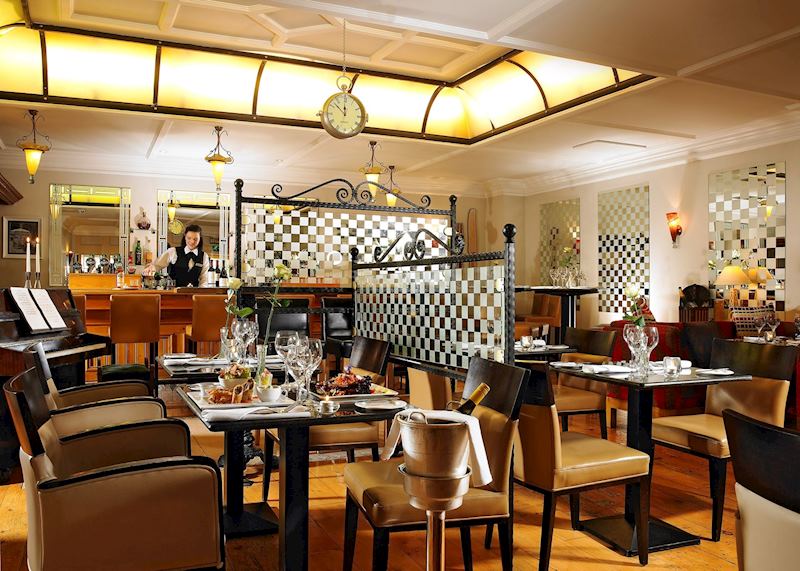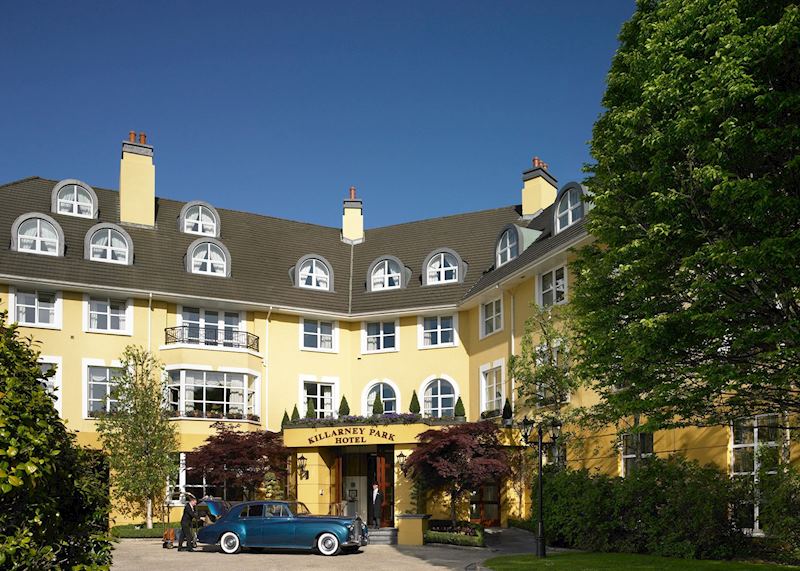 The Killarney Royal is located in the heart of town. The family-run boutique hotel provides attentive service — when I visited over Easter, they made sure everyone in my party got a seasonal gift basket.
The Killarney Park Hotel provides a tranquil retreat, with manicured grounds, spacious rooms and a spa. It also offers an elegant afternoon tea.
A note on driving
The roads in much of West Ireland can be very narrow. Sheep and cattle occasionally wander onto them. I've had to back up several times to reach a passing place when I've met approaching traffic — but local drivers usually smile and thank you for letting them pass. Unless you're a confident driver, I advise taking guided tours in most of the areas I've talked about, with the exception of Connemara.
Best time to visit Ireland's outdoors
I'd always choose to visit in spring (March to May): there will be lambs in the fields, fewer crowds and slightly milder weather. Be aware, though, that spring is fishing season and there are regulations on boating and kayaking. The second-best time of year to visit is September, when the heather is in bloom on some of the mountainsides, and the summer visitors have dispersed.
Start planning your trip to Ireland

Start thinking about your experience. These itineraries are simply suggestions for how you could enjoy some of the same experiences as our specialists. They're just for inspiration, because your trip will be created around your particular tastes.
View All Tours in Ireland