By Ireland specialist Jackie
Thanks to centuries of emigration, Ireland looms large in the American imagination, an ancestral land of sheep-grazed hills, thatched-roof cottages and cities where you can hear fiddle music and enjoy a pint in a packed pub. And, I'm glad to say, it's a postcard vision of Ireland that's still easy to find.
Alongside some ways to find traditional music at pubs or the best Guinness in Dublin, my suggestions below focus on tours to help you delve deeper into Ireland's rich culture. That's whether you're dipping your toe in with a short jaunt to Dublin and Galway or indulging in a longer luxury Ireland itinerary.
Where to hear traditional music at a pub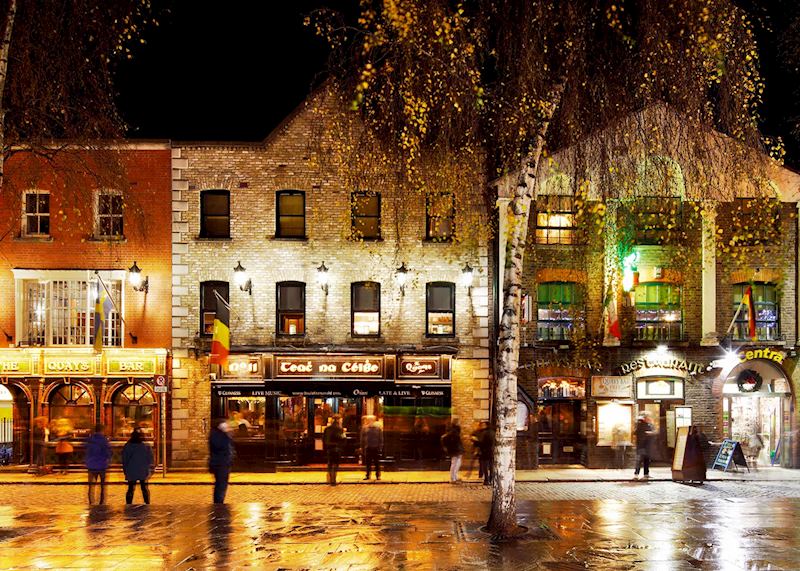 Pubs in Ireland are always busy. Locals, visitors, couples, singles, seniors, families all come for a meal of hearty pub fare and a pint of stout, as well as craic, or pub conversation. They also come for the music.
Many pubs schedule musicians, especially on weekends. But, you're just as likely to hear a spontaneous performance from a random pub customer who pulls out a fiddle and starts up a rousing rendition of Galway Girl or Wild Rover. The playlist probably also includes the latest pop hits, albeit sung with an Irish lilt.
In my experience, the best pub is the one you're in, but there are a few standouts. Founded as a hostelry in 1198, the Brazen Head in Dublin's Temple Bar district lays claim to the title 'Oldest Pub in Ireland'. You'll find live music almost any time you visit.
Slightly further from the busy parts of the city, the Cobblestone bills itself as 'a drinking pub with a music problem' and has step-dancing shows on weekends.
Galway is arguably the country's music capital, and Quay Street is lined with pubs as well as buskers. For traditional music — known as 'trad' — I suggest the Quays, the Spanish Arch Bar and Hotel or the Kings Head. Beyond Quay Street, Monroe's Tavern is popular with locals and Aran Islanders over for the day.
Sheepdog demonstrations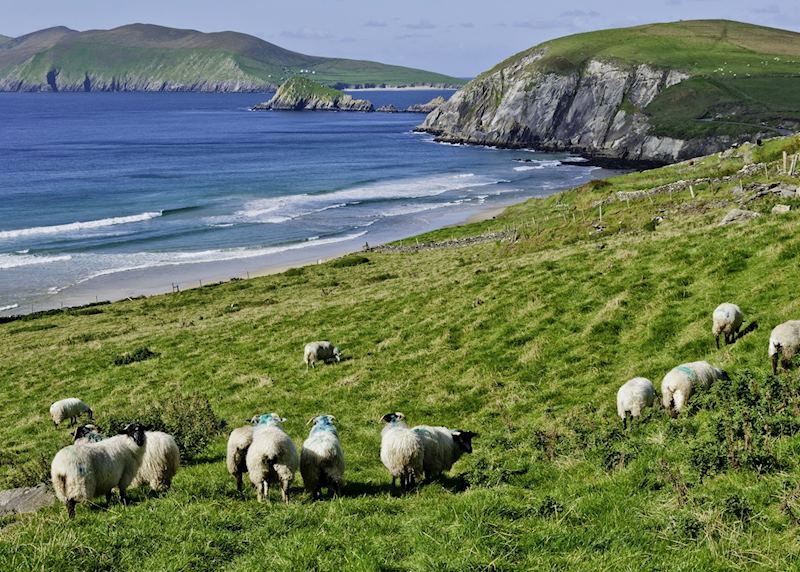 In 2016, Ireland boasted 5.2 million heads of sheep, half a million more than people. And, where you find sheep, you also find sheepdogs. I love to watch these clever, agile dogs herd their charges, acting in response to cryptic whistles or calls from the shepherds.
We can arrange for you to watch a demonstration of this ancient art at a small historic farm in Slea Head, while you're staying on the Dingle Peninsula.
I was last there in April, when the lambs were gamboling in the fields. Working in tandem, two of the farm's dogs urged the sheep through a gate, occasionally darting forward and then freezing suddenly, only to creep slowly along the ground, with their bellies pressed to the damp grass.
The farm is also home to examples of the clocháns (beehive huts), famine cottages and other ruins that are common in the area — after watching the dogs, you can ramble around the farm and visit the remains.
With high mountain passes, forbidding headlands and sweeping beaches, the Dingle Peninsula's beauty equals that of its better-known counterpart, the Ring of Kerry, but without the traffic-clogged roads.
Traditional Irish villages on Inis Mór

With its whitewashed, thatched-roof cottages and pocket-sized gardens, Adare is often touted as the prettiest village in Ireland. It's a distinction that means the small streets can be clogged with visitors. To appreciate Adare's charms, you can stay in the village and see it early in the morning. You can also splurge on a few nights at nearby Adare Manor, a great house that's been converted into an opulent hotel.
For a less contrived Irish village, I suggest heading to the Aran Islands and visiting Inis Mór. This flung-out little island in the North Atlantic has just three roads — one restricted to cyclists and pedestrians — and seven tiny villages. The 800-or-so locals speak Irish more often than English.
You can tour the island on a horse-drawn cart — rattling along on the most common form of conveyance while hearing about local life from your native-born guide. The landscape between the villages resembles that of the Burren, across on the mainland. Fractured fields of broken limestone pavements shelter a riot of diminutive wildflowers in their hollows.
The island is also the setting for Dún Aengus, a 2,000-year-old stone fort high on a cliff that's slowly falling into the sea. But, for me, the slow pace of life and the music of the Irish language are the real attractions of Inis Mór.
Where to taste Irish whiskey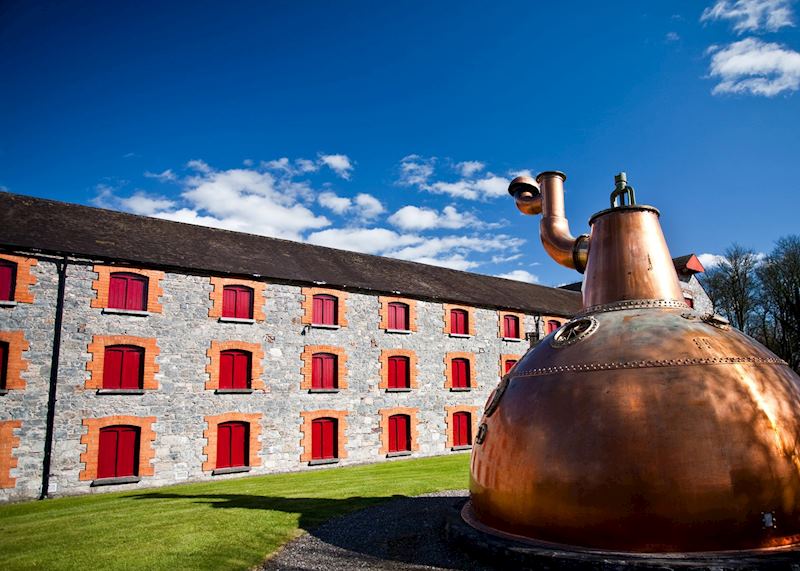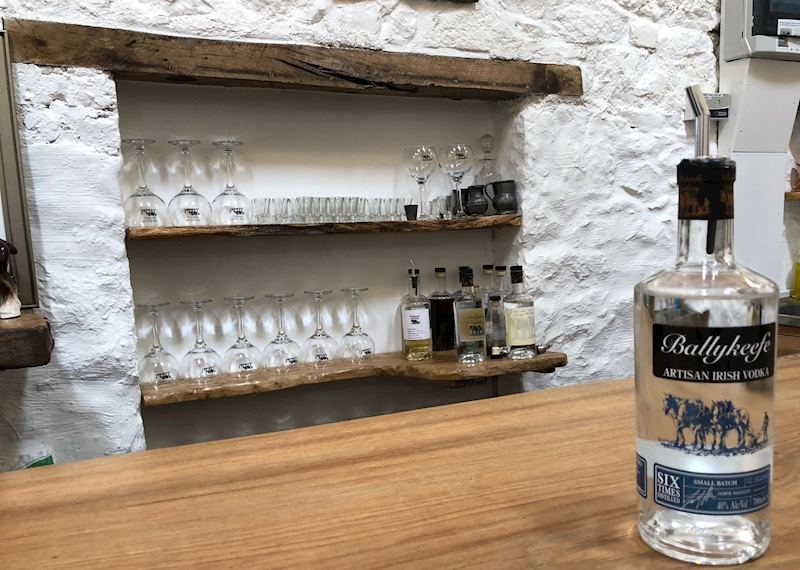 Once, Ireland was littered with hundreds of distilleries that ranged from backyard stills to large-scale operations. That was before economic woes caused the industry to collapse down to a few large labels in the early 20th century.
The oldest and best-known of the early whiskeys is Jameson, which has two facilities you can visit. The historical distillery, in Dublin, offers tours, but I prefer the behind-the-scenes tour of the new distillery that's about three hours to the south in Midleton, County Cork. You'll get to see the whole production, from water source to cooperage, ending with a tasting.
I'm also happy to report that the small farmhouse-style whiskeys are starting to make a slow but steady comeback. One of the first of the new breed is Ballykeefe, just outside Kilkenny, about halfway between Midleton and Dublin.
Distiller and owner Morgan Ging runs it as a family business on his ancestral farm, and the startup is so new that you can't drink the whiskey yet. Instead, sample their vodka or bone-dry gin, or gird your loins and try a sip of their poitín (whiskey's raw spirit).
Many of Ireland's most prestigious writers had a fraught relationship with spirits, including James Joyce. You can delve into their lives, works and drinking haunts on a literary pub crawl of Dublin.
How to get the most out of a visit to the Guinness Storehouse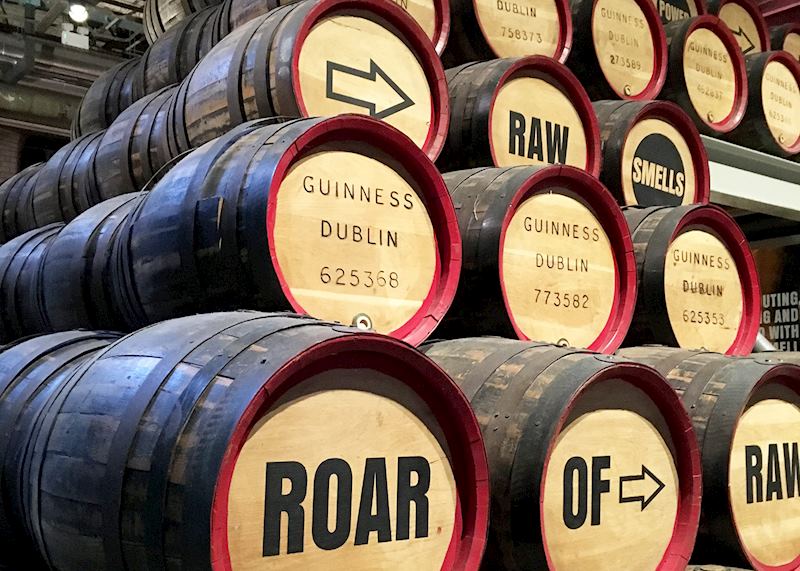 Does Guinness taste better when you drink it in Dublin? Drinkers of 'the black stuff' have argued the issue for generations. But, for me at least, a pint drawn at the Guinness Storehouse definitely tastes better than any I've had elsewhere.
The storehouse is a seven-floor, multimedia temple to Ireland's most popular drink, combining slick, high-tech exhibits with the old-fashioned equipment that tells the brew's history. It's a fitting combination for a beer founded in 1759, but whose double-pour method was perfected when mathematician and brewer Michael Ash determined that the all-important settle period should be exactly 119.5 seconds.
You can hear about this vital contribution to Irish culture and other aspects of the beer's history on the standard self-guided tour of the storehouse. But, to delve fully into Guinness, I suggest the Connoisseur Experience.
An expert will lead you through a Guinness tasting, during which you can sample everything from the brewery's first, 250-year-old recipe to its most recent creations, as well as some hard-to-find exports. You can also try your hand at Ash's six-step pour method.
Afterwards, you retire to one of the storehouse's bars to quaff a 'stoutie' — a pint of dry stout with your face printed on the white foam, using malt.
The headquarters of Guinness and Jameson get all the press, but Dublin is also home to a thriving, ever-changing array of eateries. You can sample your way through the city's cheese shops, bakeries, food halls, chocolatiers and other artisan producers on a guided food tour with a local expert.
Why you should visit the Blarney Stone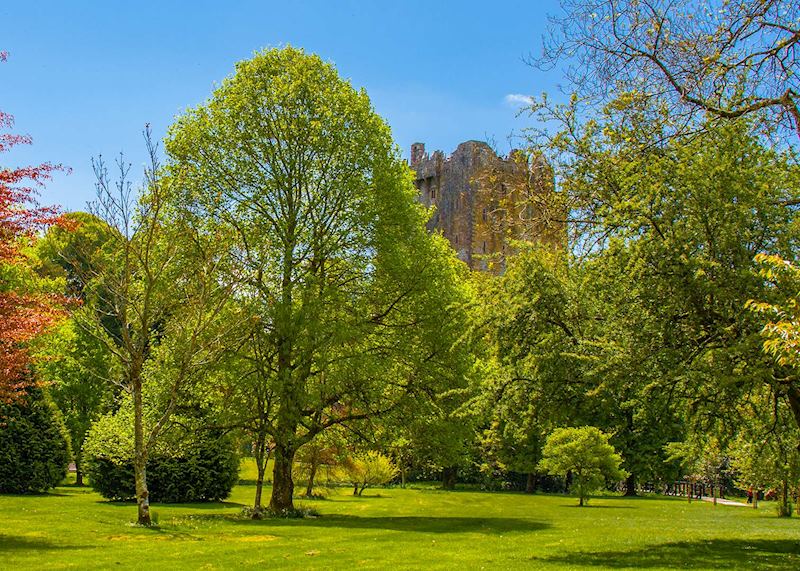 Almost everyone visiting Ireland comes to Blarney Castle, just a 20-minute drive northwest of the city of Cork, to get the gift of the gab. Like most, I've waited hours to file up the narrow spiral stair to the ramparts and bend over backwards to kiss the stone.
I'm not sure it has helped my eloquence, but I can say that the trip was worth it. Not for the slightly silly ritual, but because Blarney Castle is set on a parkland estate that boasts some of the country's loveliest gardens. It's an easy stop between Cork and Dublin and, if you bypass the stone, you'll have plenty of time to ramble.
The Poison Garden is a Gothic delight, festooned with skull-and-crossbones warning signs, where many of the plants — you'll see mandrake, wolfsbane and rue, among other poisonous pretties — grow in cages.
Near the icehouse, you can stroll through more than 80 varieties of ferns, including the towering, primitive-looking Dicksonia antarctica, the tallest fern in Ireland at up to 5 m (17 ft).
If you do want to kiss the stone, I suggest getting there early in the morning, before the tours arrive. Or, visit in April or October, when the lines will be somewhat shorter. An April visit will also get you there just as the bulbs and spring-blooming flowers burst forth in a welter of pastels.
For formal gardens, the 17th-century Jacobite estate at Lismore Castle is an hour to the east of Blarney. Lismore is one stop on a day-long tour of the southeast coast, which also includes Dungarvan Castle and the Copper Coast.
Read more about trips to Ireland

Start thinking about your experience. These itineraries are simply suggestions for how you could enjoy some of the same experiences as our specialists. They're just for inspiration, because your trip will be created around your particular tastes.
View All Tours in Ireland