By Israel specialist Sophie
Whether you're rappelling down the side of a desert cliff, digging up ancient pottery shards on an archaeological site or exploring the spray-painted backstreets of Tel Aviv, Israel offers a veritable playground for families.
Here, I've suggested five activities that might tempt children, from little ones who want to live out their dreams of playing Indiana Jones to politically minded teens who are interested in exploring the country's charged street art. You can easily add all of these to any Israel visit, or you can enjoy a whole eight-night trip designed specifically for families.
Desert adventures in the Negev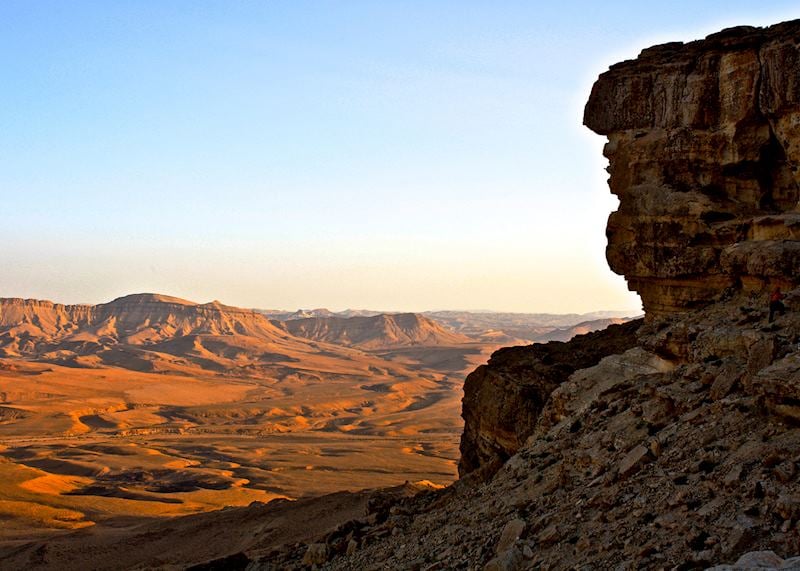 'A crater is caused by an impact or volcano,' my guide, Adam, said, gathering sand into a hill. 'A makhtesh is caused by erosion.'
With that, he slowly poured a bottle of water into the pile — the liquid disappeared rapidly into the thirsty sand, carving out a small divot. The small-scale demonstration helped me understand the epic forces that created Makhtesh Ramon, where I was standing under a sweltering sun.
Almost half of Israel is desert and no trip here is complete without a visit to the rocky, barren swathe of the Negev, located a few hours' drive from Jerusalem. I was here to explore with Adam, a swarthy, well-tanned man sporting a neatly trimmed beard who took me on a jouncing drive to explore the rocky gullies in a 4x4 Range Rover. He pointed out ibex picking their way among stony ravines as he explained the makhtesh was 40 km long (25 miles) and some 500 m (1,600 ft) deep.
To get a visceral sense of the makhtesh's depth, however, I suggest you try rappelling down the side.
Looking over the edge of the cliff, I saw that the walls weren't perfectly sheer — they bump in and out in a way that made my stomach flutter. When Adam showed me the harness, I admitted that I was nervous — the straps only circled my hips and waist and I was worried I might tilt backwards, leaving me dangling upside down.
'No problem!' He pulled out a five-point harness that also went over my shoulders. Safely outfitted, tied off to the ropes, and guided by Adam's comforting voice, I walked to the precipice and leaned backwards against the tension of the line.
With palms sweaty on the nylon line, forcing myself to take that first step was the hardest part of the experience. But after a few minutes I found my groove and made my way more confidently down to the landing ledge, my heart thudding in triumph as I surveyed the views from the bottom.
Archeological dig for a day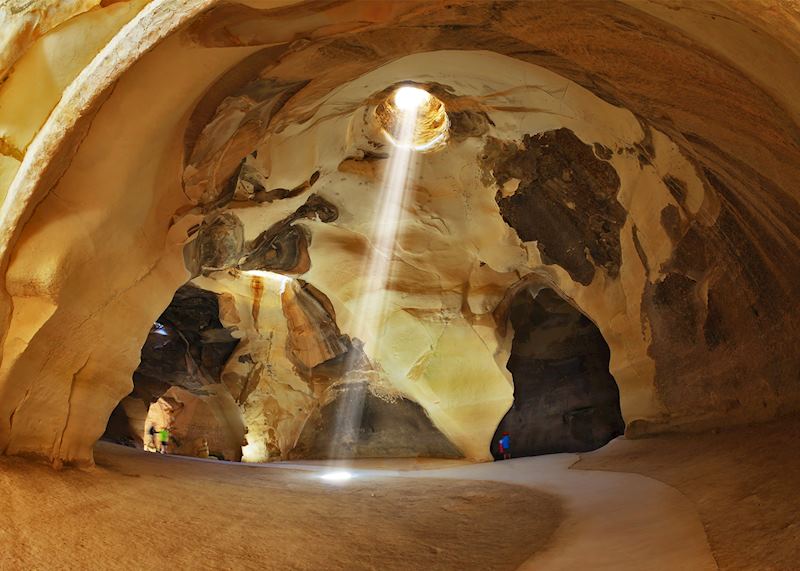 A sprawling archaeological site located an hour from Jerusalem, Beth Guvrin didn't look like much when my driver pulled into the surrounding national park — just a rocky scrubland dotted with small trees. However, this was where I was going to fulfill a childhood dream and get to be a real archaeologist… if only for an afternoon.
Joining about 20 or so other visitors, I learned the park's real treasure is buried underground, a labyrinth of man-made caves that once housed a large industrial complex during the period of the Second Temple (516 BCE to 70 CE). Researchers have uncovered evidence of olive oil production, weaving, water cisterns and baths — proof of a vibrant and sophisticated culture.
Each neophite archaeologist got a small pick, a shovel and two buckets (one for soil, one for items we might uncover) and a brief primer on what we might discover (mostly pottery shards). Then we headed down into a shady cavern where I began digging.
My dreams of making a big discovery were unfulfilled, though I did uncover some dusty pottery pieces. Despite the prosaic nature of the finds, it was remarkable to hold a piece of broken jar in my hand and to understand that the last person to touch this lived and died before Julius Caesar. A woman near me uncovered something a touch more exciting — an intact bronze bracelet, its elegant curve obscured by a crust of dark oxidation.
After the dig, you troop back out into the sunshine to sift out any tiny bits that may have escaped notice. After that, you'll head into a cave complex that's completely untouched to get a glimpse of what the caves looked like before they were excavated. (I don't suggest this for anyone with even a hint of claustrophobia — it's very tight in places.)
Coffee with an Arab-Israeli family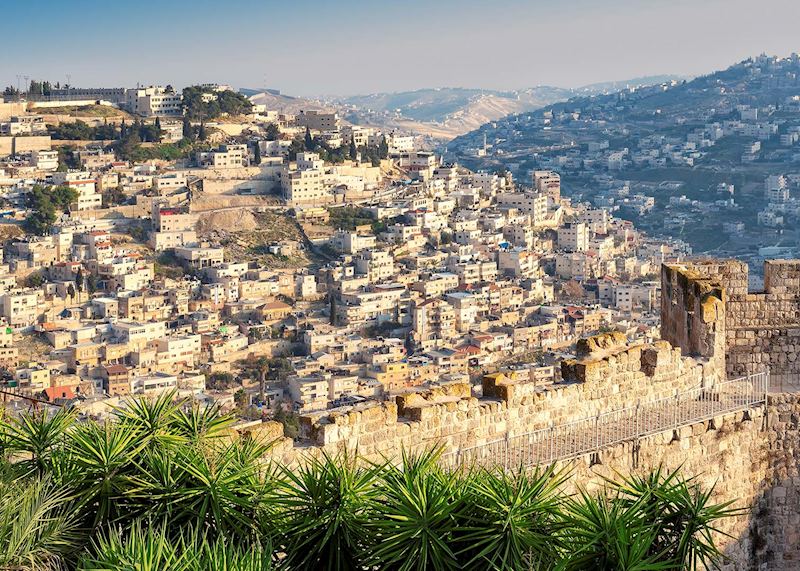 A hilltop village with sweeping views of the Judean hills, Ein Rafa is one of the handful of Israeli Arab villages scattered across the lands outside Jerusalem. The lives of the residents are complicated, as you might imagine, but I feel that visiting one of these villages is an important part of understanding Israel. If you agree, we can arrange a chance to visit Ein Rafa and meet one of the residents.
Though she was born and raised in Britain, Jessica converted to Islam after she married an Israeli Muslim man named Musa — when I met her, she was wearing an ivory hijab and floor-length djellaba.
On a visit, you'll be invited into her home, a flat-roofed stucco building that seems to burst with the energy of her four boisterous children. When I was there, we sat on the small patio out back, shaded by green vines and surrounded by pecking chickens.
There, she told me about her life in Israel, a fascinating and sobering conversation that charted the fraught everyday realities of being a Muslim in Israel. Her husband's family have lived in Ein Rafa for a long time and she can talk about their experience in the 1948 Israel War of Independence and the 1967 Six Day War, as well as her own interactions with the authorities.
She regularly meets with visitors like me as well as groups of Israeli schoolchildren to educate the curious about the lives of Israeli Arabs. Her hope is that by building bridges today, she can help ease the country's tensions in the future.
The experience adds a vital piece to the complicated mosaic that is Israel, especially alongside a visit with a local Druze family and a Shabbat dinner with a Jerusalem family, which we can also arrange.
Crusader tunnels in Acre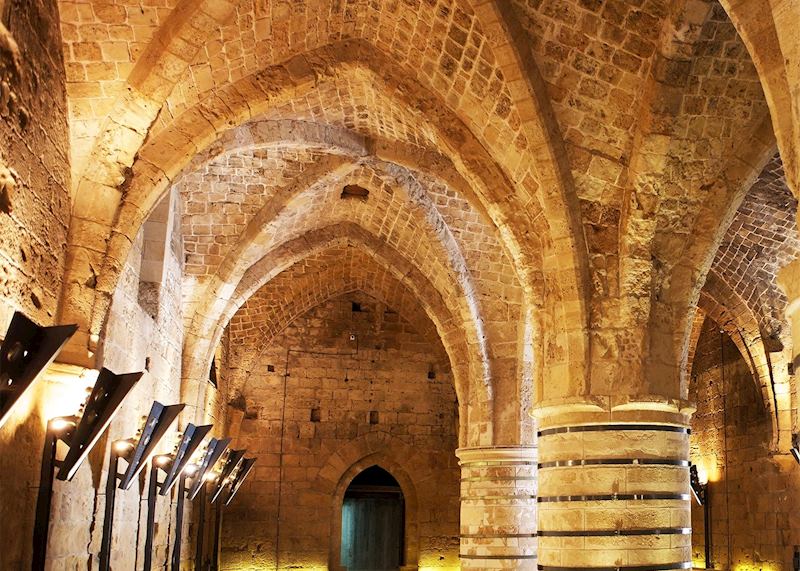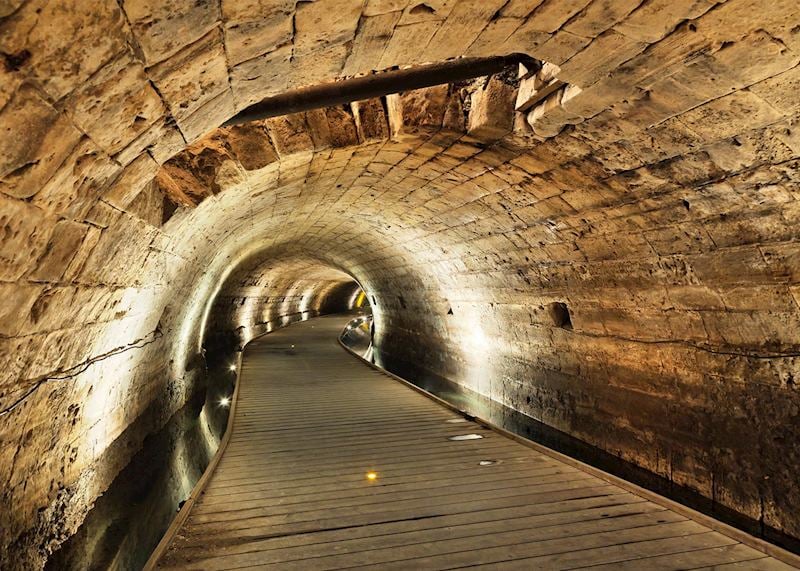 Though it's been a major port city for more than 4,000 years, today the city of Acre is literally defined by the Crusades — the old city is surrounded by thick medieval stone walls built by the Christian invaders. This was an important hub for the European armies that came to capture the Holy Land. It's also home to some of the best-preserved remnants from the era: Acre Citadel.
Constructed by Crusaders on Roman ruins during the 12th century, the citadel had all the features of a whole city. You'll see dungeons, a dilapidated Gothic church and several vast halls. Probably the highlight of my visit was the Knights' Hall, a soaring stone hallway with arched ribs meeting at elegant angles overhead.
Stepping into the echoing hall, lit by sconces that evoked torchlight, suddenly transported me back to childhood days when I read stories about Robin Hood returning from the Holy Land. My guide, Dan, explained that this was a hall maintained by the Knights Hospitallers (a monastic military order). Pointing at a patch in the ceiling, he explained that it was the result of an escape attempt by a group of Jewish underground prisoners being held in the citadel by the British in 1947.
Almost as impressive was the Templars' Tunnel. Stretching to 350 m (about 1,150 ft) between the citadel and port, it was likely designed to protect the Templars' looted treasures as they transported it to ships waiting on the Mediterranean Sea.
Listening to my footsteps reverberate up and down the lengthy passageway, I could easily imagine the days when the Templars loaded their looted treasure onto small boats to glide in secret silence under the busy city.
A street-art tour of Tel Aviv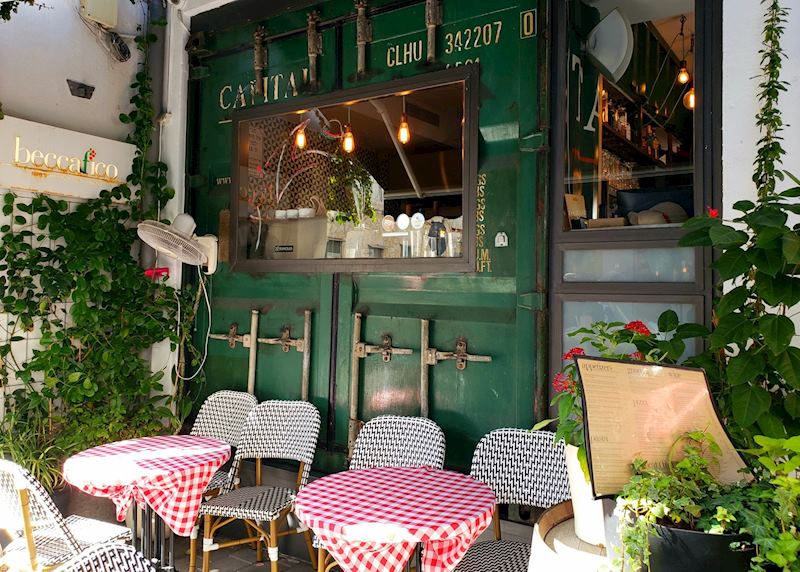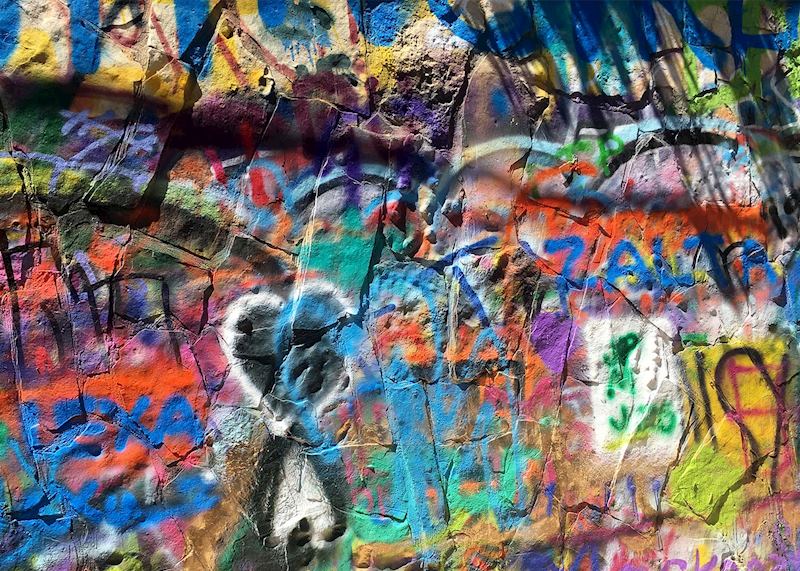 In Tel Aviv, Israel's swirling morass of politics and culture manifest artistically, as brightly painted scrawls dominate the faces of buildings and the walls of alleys. The street art here ranges from simple slogans and intense but primitive eyes to sprawling, elegant murals and installations on fire hydrants.
The street art is easy to appreciate no matter where you go in the city, especially in the Florentin area, a rapidly gentrifying enclave that's retained its artistic roots. But, even if you can read both Arabic and Hebrew, the best way to understand what you're looking at is by joining a guided tour led by an expert.
My tour began with a simple directive — 'Always look up!' — from my guide, Eric. He explained that much of the best artwork is on the higher levels, where it's harder to paint over.
Eric deciphered the different scripts, explaining the politics behind the scrawls. I was surprised at how often it was something as simple as 'love' or 'peace.' He also pointed out tags in Aravrit, a new typography that combines both Hebrew and Arabic so that the artist can communicate across language barriers.
Read more about trips to Israel

Start thinking about your experience. These itineraries are simply suggestions for how you could enjoy some of the same experiences as our specialists. They're just for inspiration, because your trip will be created around your particular tastes.
View All Tours in Israel