By Madagascar specialist James
Some countries wow you with their scenery, others with their historical buildings or cultural quirks. But Madagascar wowed me with its wildlife. Like the cast of a circus, the insects, reptiles, birds and mammals here are the weirdest and most fascinating I've ever encountered both for their appearance and character. What's more, around 80% of species are endemic to the island, so visiting Madagascar really does provide an extraordinary opportunity for wildlife enthusiasts.
There's also a rich culture to explore as you venture into areas all but cut off from the wider world, while the wild, remote coastline offers beaches you can stroll along without seeing anyone else.
Visiting Madagascar

Travel around Madagascar can be time consuming and things may not always go to plan. The poor infrastructure around the country means that you have to fly back to the capital, Antananarivo, each time you want to visit a different region. Internal flights are often unpredictable, with cancellations and delays likely. There'll also be a lot of road travel, although you'll have a private vehicle and driver for all journeys. As a result of these issues, I recommend exploring two or three areas in-depth rather than trying to fit in the whole island.
Things to see and do in Madagascar
Seek out weird and wonderful wildlife
The key draw for me, and most others, when visiting Madagascar is the chance to see some of the Earth's most bizarre and fascinating creatures. Two of the most memorable species I encountered during my travels were the fossa and the aye-aye, both of which are endemic to the island.
Tracking the fossa
To find the fossa — a cross between a cat and a dog in terms of looks and size — I headed to Kirindy Reserve, close to the mid-west coast. While fossas are present in most of Madagascar's reserves, Kirindy's deciduous forest gives you the best chance of spotting them as it's more open than rainforest. Fossas also tend to wander through your camp at least once or twice a day to forage for food, giving you really close-up views.
On one occasion, I watched a female fossa for about five minutes before she disappeared into the forest. I followed, thinking I'd lost her, when suddenly she was right there in front fixing me with a sharp stare. After ten seconds she grew bored and climbed up a tree, lying on a branch around 30 m (98 ft) up. She then let out an eerie wail, which I was told was a mating call.
The fossas' mating ritual (which usually takes place around November) involves the female letting out a call from a branch. When a male approaches, if she doesn't approve of him she simply moves closer to the end of the branch, working to the principle that the heavier males would snap the branch if they moved closer.
Tracking the aye-aye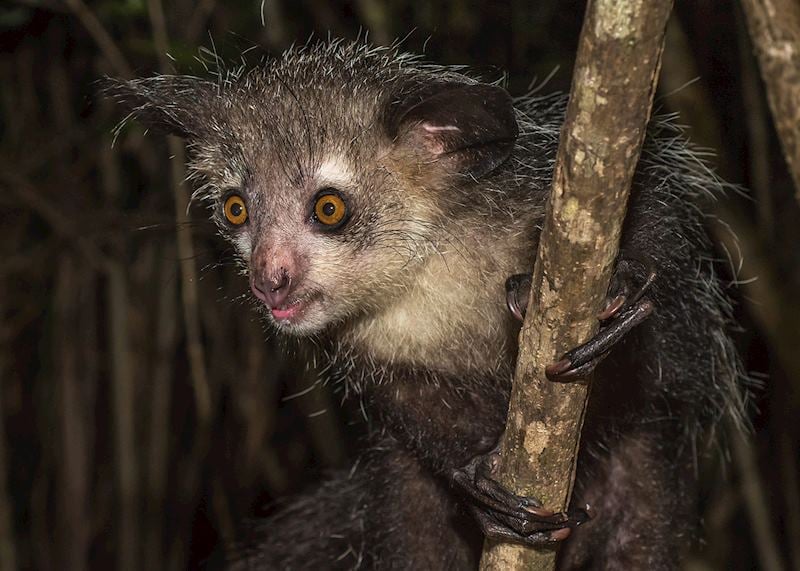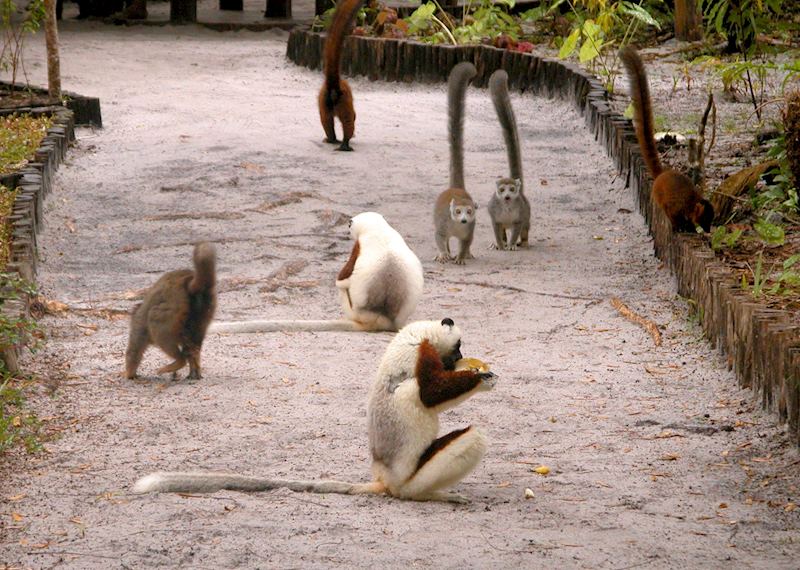 In my mind, the aye-aye is the weirdest, rarest and (arguably) ugliest of all Madagascar's wildlife — an elusive lemur species that was almost eradicated by hunting. An exceptionally long middle finger, used for scooping out insects from tree bark, coupled with aye-ayes' nocturnal nature and generally odd appearance, means many locals are superstitious of them, and encountering one is seen as a bad omen. But, after their plight was highlighted, they became a protected species and their numbers are on the rise.
They're still extremely difficult to find in the wild, but at Le Palmarium hotel in the Pangalanes on Madagascar's east coast, food is put out in the evenings to encourage aye-ayes and other lemur species to emerge from their hiding places in the forest. I was lucky enough to see an aye-aye come into view, grab a piece of fruit and scoop out the juices using its distinctive finger. It was one of the most unbelievable wildlife sightings I've ever had.
Explore culture on a riverboat cruise

One of the best ways to break up your time wildlife viewing is embarking on a three-day riverboat cruise along the Mahajilo and Tsiribihina Rivers, drifting from the town of Miandrivaso to Belo Tsiribihina near Madagascar's mid-west coast. There are still opportunities for spotting birdlife, lemurs and other wildlife during the journey, but the main focus of this trip is seeing everyday life along the river and learning about the local Malagasy culture.
As we sailed past farmland, baobab trees and mountainous scenery, I sat out on the open deck. Fishermen were out on their boats, while local villagers bathed, washed clothes and collected water at the riverbank. Visitors are rarities in these parts, which are only accessible by boat, and we were greeted by the local people with enthusiastic waves and wide smiles.
We set up camp on the riverbank just outside one of the villages, which are mostly made up of simple mud huts with corrugated roofs. A group of villagers came to watch us erect our tents and, with my guide as translator, we were able to exchange conversation. I was also shown around the local school.
The boat is simple but comfortable, and you'll usually have it to yourself. Meals are eaten on the lower dining level, while most of the day is spent reclining on the upper deck, watching the world go by. With other travel in Madagascar often causing difficulties (as explained above), a boat trip gives you a few days of relaxation and a completely different experience to the rest of your trip.
Go trekking in Tsingy de Bemaraha National Park

In the northwest of Madagascar, Tsingy de Bemaraha National Park is known for its incredible rock formations, as jagged limestone karsts and needles stretch as far as the eye can see, interspersed with splashes of green vegetation.
It's quite an arduous journey to get here, requiring a long drive whichever direction you're arriving from. But, despite the park's name ('tsingy' translates as 'where one cannot walk'), the trekking in this stone forest is exciting and adventurous. I hiked through tunnels, squeezed between narrow gaps in the rock and shuffled my way across rope bridges hanging over deep canyons.
Trails of varying lengths and difficulty levels cover the park. The two main routes are the Petit Tsingy and Grand Tsingy walks. The first takes around two to three hours as you make your way through a labyrinth of vertical stone, stopping at several viewpoints to gaze over the sea of pinnacles and looking out for lemurs clinging to the rock.

I wanted to take on the longer Grand Tsingy walk. You'll need at least half a day and a good level of fitness to explore this path through a vast expanse of gray peaks; I chose to spend longer than average and was out there with my guide for seven hours. A highlight was passing over several rope bridges. Clipping myself on with a harness, I walked across them at a slow but steady pace, gripping the sides and occasionally glancing down at the rocks and trees far below.
What I liked about the walk was the different perspectives it gave me of the park: sometimes from above and sometimes from deep within the limestone forest. There's no other scenery like it on the island.
The park is also a haven for wildlife, with 11 lemur species living in the deciduous forest and playing among the rocks. This includes Decken's sifaka, which lives exclusively in western Madagascar, as well as red-fronted brown lemurs and tiny gray mouse lemurs.
The park is exceptional in that just under half of its wildlife species are endemic to the local area. Over 100 bird species and 45 reptile and amphibian species have also been recorded here, including the Madagascar iguana and the Antsingy leaf chameleon.
Enjoy Masoala National Park's pristine rainforest and coastline

Set on a peninsula in the far northeast coast of Madagascar, Masoala National Park is the island's largest protected area. Relatively untouched, I find this far corner encapsulates the Madagascar of people's dreams: pristine rainforest teeming with life, beautifully wild stretches of butterscotch beaches backed by mangrove forest, and clear waters filled with tropical marine life.
There are very few areas still like this in Madagascar, so it's definitely worth making the journey: a flight from the capital to Maroansetra, followed by an hour and a half boat ride.
The national park includes three marine parks (Tampolo in the west, Ambodilaitry in the south, and Ifaho in the east), where more than 3,000 fish species swirl around the coral reefs. Here you can kayak, swim and snorkel. From July to early September you'll have a chance of spotting migratory humpback whales, and I recommend taking a boat trip out on Antongil Bay with an expert guide to see them up close.

Guides will also take you on walks deep into the rainforest. Around half of all species on Madagascar exist in the park, including the aye-aye, red ruffed lemur and another eight lemur species. You may also spot tomato frogs (yes, they are bright red), a variety of chameleons and geckos, the day-flying Madagascan sunset moth and birdlife such as the helmet vanga, serpent eagle and red owl.
Sometimes, I found it harder to spot wildlife because the forest was so dense and wild. The animals are far less habituated than those found in Madagascar's other parks. This only added to the feeling of being out in the wilderness, following trails that few others had trodden, and made it all the more rewarding when we finally encountered a lemur, frog or chameleon.
The guides are well-trained in spotting even the most hidden wildlife. Mine pointed to a tree in front of us as he'd sighted a leaf-tailed gecko sitting on the trunk. It was so perfectly camouflaged, I still couldn't see it after several minutes until it was pointed out to me.
Lesser-known highlights of Madagascar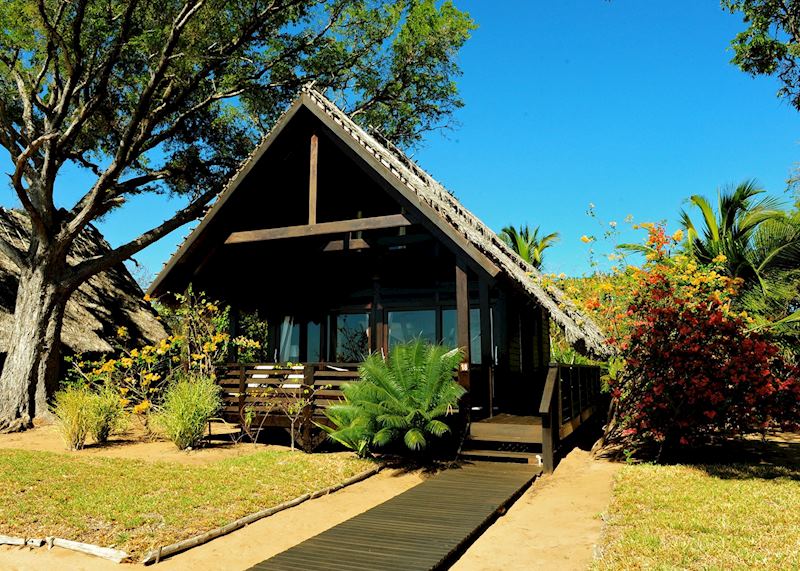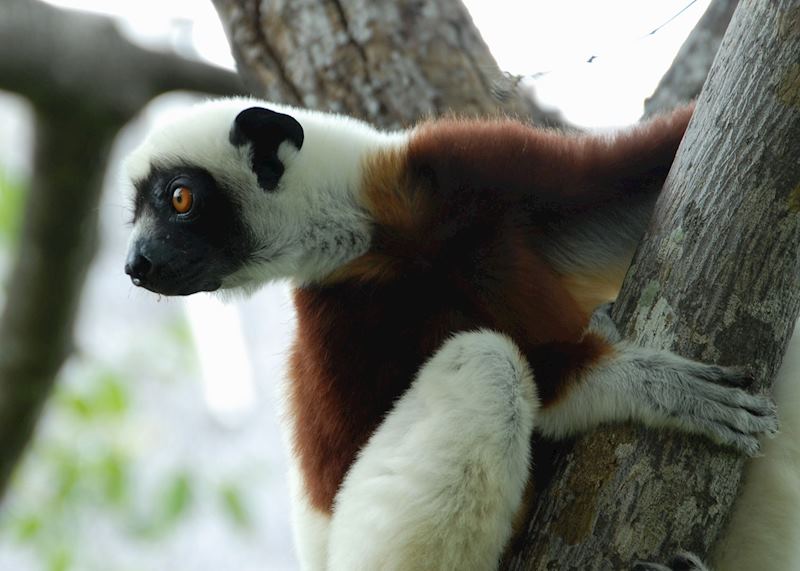 Staying at this remote and luxurious lodge on the northwest coast, I gained my closest views of sifakas — an endemic lemur species — sometimes when I wasn't even trying to find them. One morning, I'd just got out of the shower and found two Coquerel's sifakas playing on my balcony.
Coquerel's sifakas have large back limbs, which allow them to stand upright and bounce across the ground in a similar way to kangaroos. Covered in creamy white and brown fur, they fly through the canopy using their arms, legs and long tails, sometimes with a baby tucked under their arm. Along with common brown lemurs, they're frequent visitors of the lodge, playing in the trees or around the grounds of the property.
The lodge itself is within Anjajavy Private Nature Reserve, set on a secluded beach looking out across the Mozambique Channel. You'll stay in a seaward-facing villa with its own balcony. During your stay, you can swim in the saltwater infinity pool, relax on the beach and enjoy water sports such as snorkeling, windsurfing and kayaking.
I recommend venturing into the wider reserve. The deciduous forest is home to over 1,800 floral species — many endemic — as well as vivid frogs, chameleons, many bird species and fossas. You may also come across baobab trees, which only grow on the west of the island.
Another thing I like about this lodge is its commitment in supporting local community projects. A portion of its profits are put toward building, maintaining and operating schools, health provisions and other services in three local villages. Its tree nursery also helps reforestation efforts in the area.
Start planning your trip to Madagascar

Start thinking about your experience. These itineraries are simply suggestions for how you could enjoy some of the same experiences as our specialists. They're just for inspiration, because your trip will be created around your particular tastes.
View All Tours in Madagascar