By Audley Asia specialists Nick and Adam
Our journey along the Silk Route was by no means relaxing, nor was it luxurious. But it was the best travel experience we've ever had, and that's no overstatement. As we ventured to places barely visited by Westerners, it showed us just how much there is to discover away from the well-trodden corners of the globe.
In three or four weeks you can span the width of China, looking back on thousands of years of history through art, architecture and cultural practices. Meet people whose identities have been shaped by political upheaval or traditions passed down the generations. And travel through modern cityscapes, singing sand dunes, snow-covered mountains and grassy plains dotted with wild horses.
What was the Silk Route?
The Silk Route was actually a network of trading routes rather than one long road. Its roots stretch as far back as 207 BC, when silk was first produced in China and transported for trade. It eventually grew to link Asia, the Middle East and Europe, branching off into the Indian Subcontinent and Russia.
Silk Route trade didn't stop at silk. Goods, from spices and teas, salt and sugar, to ceramics, ivory, jewels and furs, were shuttled back and forth as countries discovered new items produced in far-away lands. Less tangible exchanges also took place: ideas, languages, cultural practices, religions and even diseases were passed on between traders.
Journeying along the Silk Route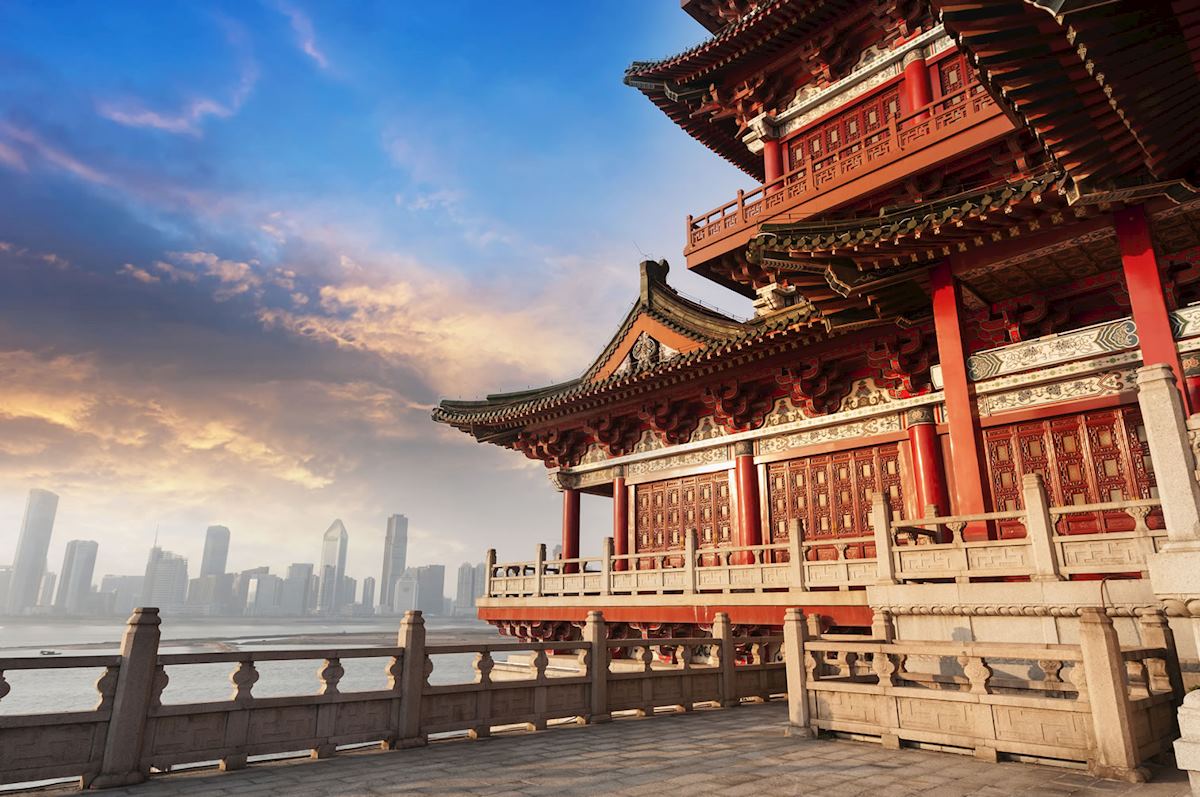 Old and new architecture, Beijing
Your route usually begins in Beijing and ends in Tashkent, Uzbekistan, spanning the width of China and Kyrgyzstan en route. As you're covering such a vast distance, long journeys are part and parcel of a Silk Route tour. Some days you'll spend seven or eight hours in a car.
What did come as a surprise was these lengthy drives created some of our best memories of the trip as we passed through a variety of landscapes, from China's cities and wide-open desert, to Kyrgyzstan's mountains, lakes and plains. Your private driver does all the driving, so you can spend your time gazing out of the window.
As well as long car journeys, the trip does involve several flights. You may also take a few train journeys, depending on where you visit and your personal preferences. As an indication, our trip included three train journeys (including a high-speed rail journey between Beijing and Xian), and four flights in addition to our long-haul flights.
Accommodation along the Silk Route
Where you stay can be fairly simple, particularly outside China, but you rarely stay in one place for more than two nights.
Kyrgyzstan is full of family-run guesthouses where the warm welcome and endless cups of tea make it very homelike. In Uzbekistan you're likely to stay in characterful boutique hotels featuring Islamic architecture.
Highlights of the Silk Route
Xian's Terracotta Warriors, Shaanxi province, China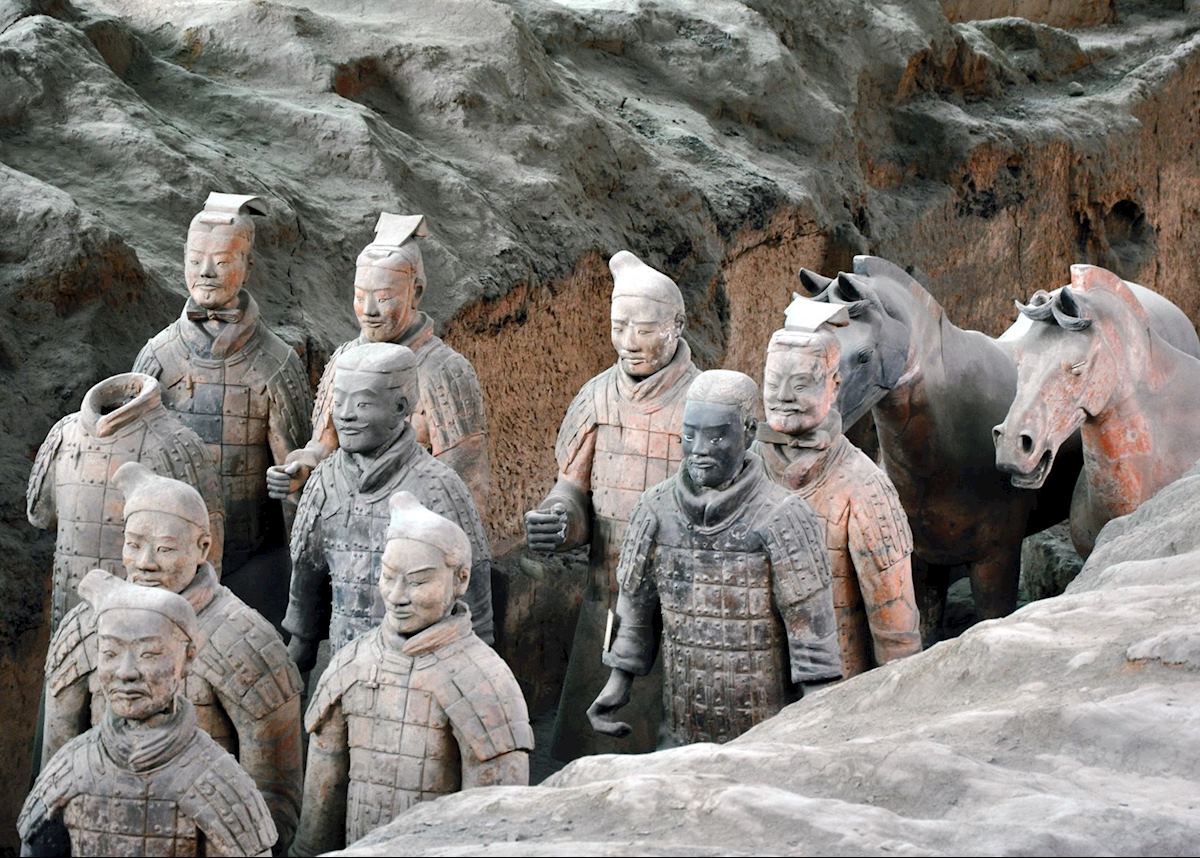 Terracotta Warriors, Xian
By Nick
Every year, millions of visitors descend on China's ancient capital, Xian, to see one of the world's biggest archaeological discoveries. While the Terracotta Warriors are one of China's best-known attractions, I knew relatively little about them prior to my trip.
I hadn't anticipated the size and number of the warriors: thousands of life-sized soldiers and generals, each over 1.8 m (6 ft) tall. The high level of detail that was put into their creation is still apparent; each has his own facial expression and intricately carved clothing indicating rank, which remnants of paintwork reveal were once brightly decorated.
The 8,000 warriors were made more than two millennia ago to line the mausoleum of Qin Shi Huang Di, China's first emperor. They lay buried until their accidental discovery in 1974 by local farmers digging a well. But, as I discovered, not all of the warriors have been uncovered yet and excavation work continues.
Likewise, the emperor's tomb still lies undisturbed, complete with its funerary goods. The whole site has the sense of anticipation of a live archaeological dig, and you can see the work areas where shards of terracotta are reconstructed.
Dunhuang, Gansu province, China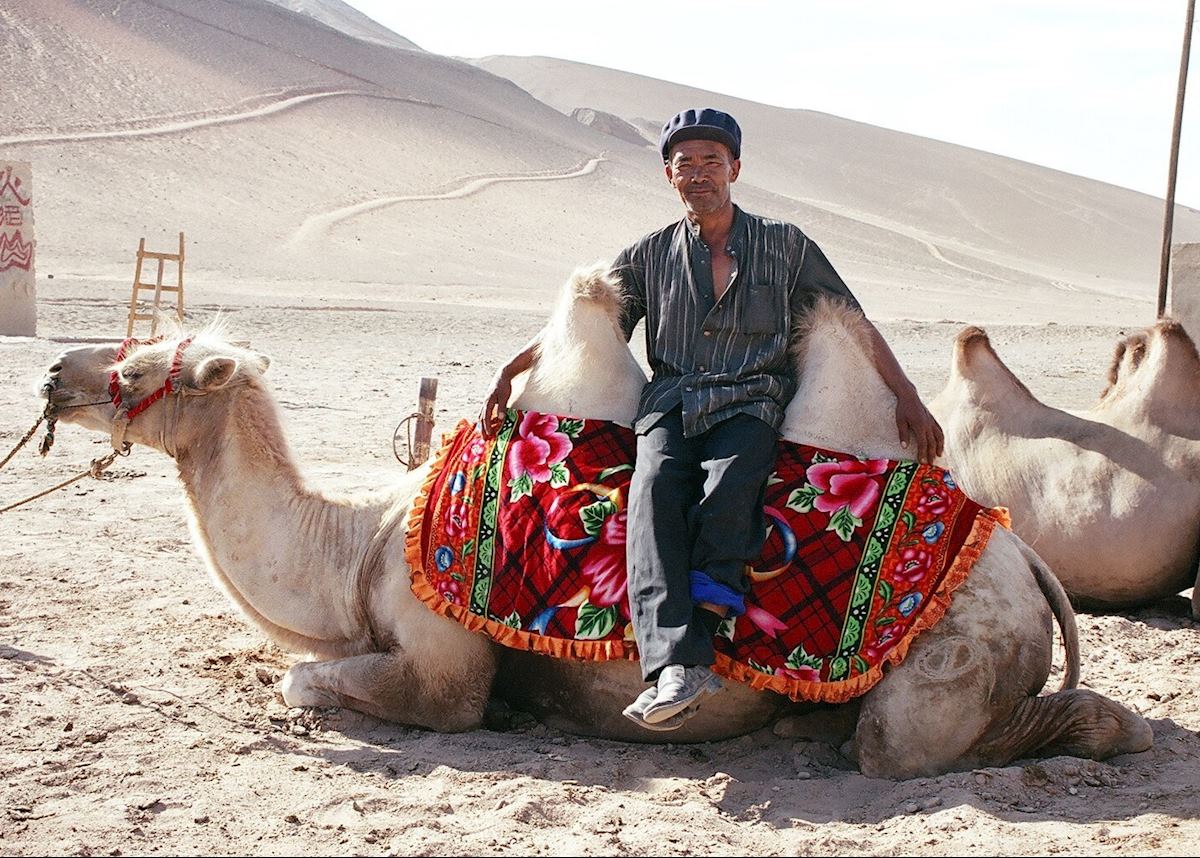 Camel herder, Dunhuang
By Nick
As you travel to China's far northwest corner, it starts to feel like you have entered an Arabian Nights tale. The landscape dries up and becomes cracked and golden, until you're surrounded by vast sandy plains.
On the edge of the Gobi Desert sits the historic city of Dunhuang, its green trees standing out against the otherwise sand-hued backdrop. Its strategic location between the Silk Route and the main road connecting India with Mongolia made it an important stop for traders (Dunhuang means 'to flourish and prosper').
While you can explore Dunhuang's markets and soak up a very different culture to that of western China, the city serves best as a base for exploring other attractions nearby.
Mingsha's 'singing' sand dunes
I'd never associated China with sand dunes, but just outside Dunhuang are some of the tallest in the world. You can walk up to the top of them for sunrise or sunset as the changing light gradually illuminates the surrounding sands or casts them in shadow. Listen carefully and you might hear the sand dunes 'sing'. It's still a mystery why the dunes make this echoing musical sound.
You can also visit nearby Crescent Lake, which appears like a mirage among the dunes. The lake is far smaller than it used to be, but nevertheless its turquoise waters contrast impressively against the sand.

Crescent Lake, Dunhuang
Mogao Caves
Stretching for 1.7 km (1 mile) along a canyon wall at the edge of the dunes, the Mogao Caves are actually a system of 492 temples filled with more than 1,000 years of Buddhist art. They were carved out of the rock by Chinese Buddhists as far back as 366 AD.
Within these grottoes, Buddhists would sleep, worship and carve figures of Buddha out of the rock, as well as paint the walls with religious murals. Stepping inside was like entering an underground gallery: the floor-to-ceiling Buddhist imagery has been preserved over the years by the caves' stable conditions.
Most memorable were the two giant statues of Buddha measuring 27 m and 35.5 m (88.6 ft and 116.5 ft) respectively and dating to the 8th century. While one has been significantly restored, the other remains largely intact.

Buddhist murals, Mogao Caves
What's also special about these caves is that some of the paintings track the spread of religion across Asia, the Middle East and Europe, which flourished in part by the Silk Route. While mostly depicting Buddhist imagery, some of the original illustrations were destroyed or painted over when a new dominant religion took hold.
I was shown an example of this, where early Christian images of the Garden of Eden had been replaced with illustrations of Buddha. In turn, these had been scratched out and superseded with Arabic scrawl when Islam reached China. Later attempts were made to erase the writing during the Cultural Revolution and the rise of communism, when religion was suppressed in China.
Kashgar, Xinjiang Uyghur Autonomous Region, China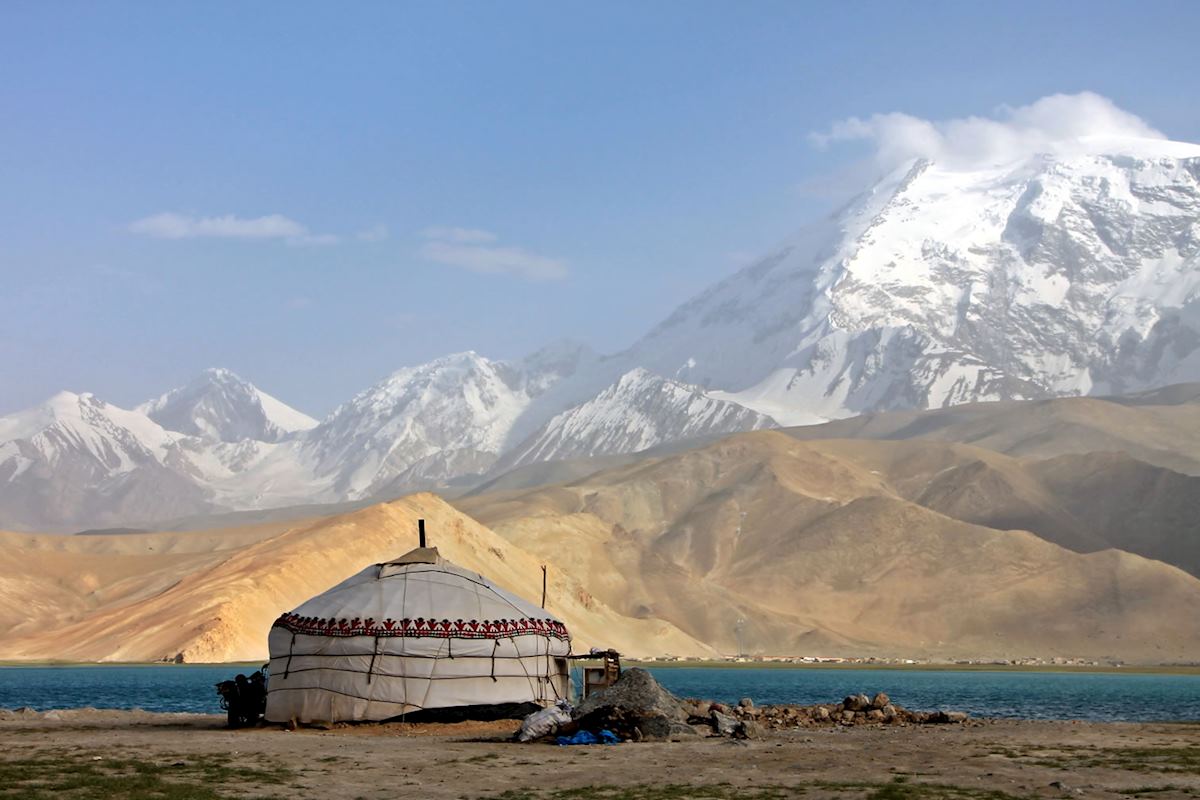 Yurt, Kashgar
By Adam
Closer to Turkey than Beijing, Kashgar could have been plucked from the Middle East: 90% of the population are Muslim, a large number of whom are Uyghurs — a Turkic ethnic group. We spent a couple of days in this far-western city and it completely changed my perception of China.
Like Dunhuang, Kashgar thrived as a crossing point for international routes and became a cultural and commercial hub. Walking around the city, it appears unchanged over centuries. We made our way through a web of narrow, dusty lanes, passing old brick houses that looked like they'd been standing for a thousand years.
Kashgar's Sunday markets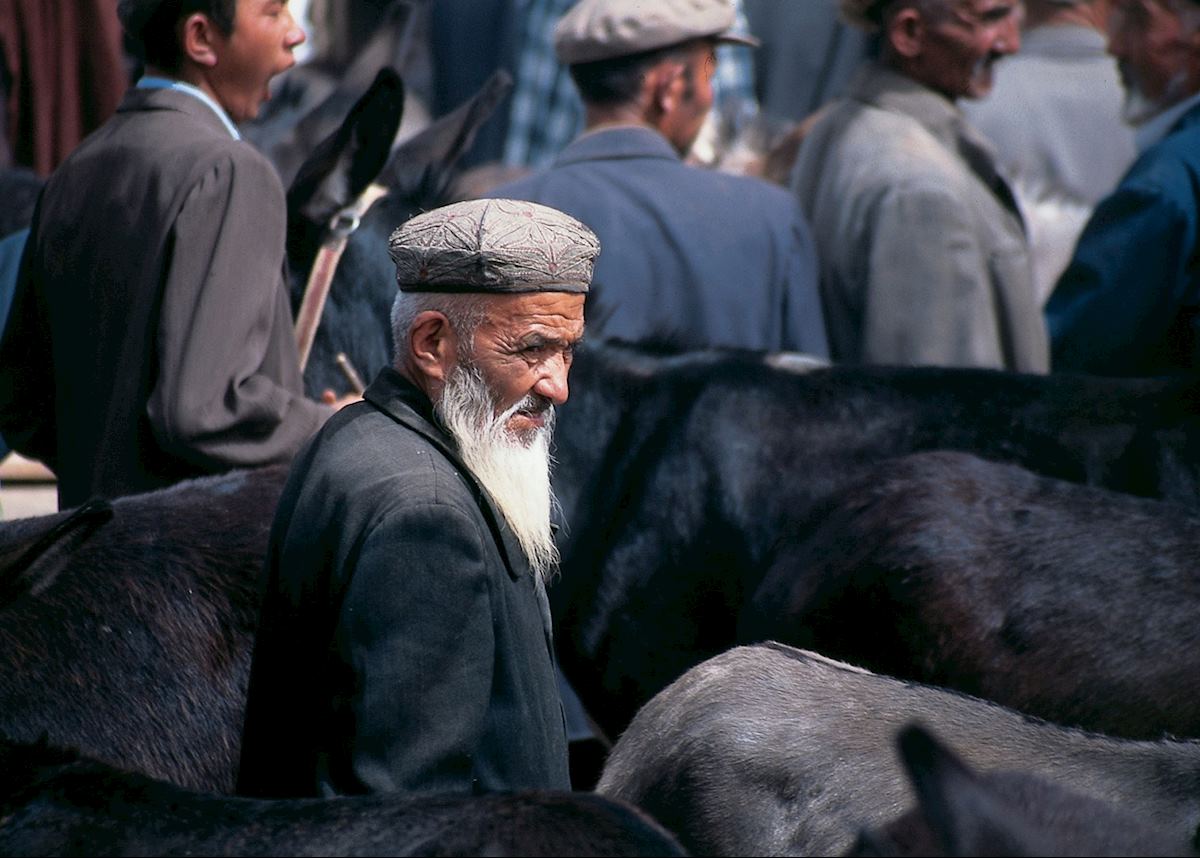 Kashgar Sunday Bazaar
With no other large settlement anywhere near, this is the place people flock to from far and wide to buy and sell, swelling the city's population by thousands every Sunday, though you're unlikely to see any other western visitors.
Kashgar's Sunday Bazaar is a hubbub of noise and commotion, as people set up shop and flog their wares — anything from goats and hats to sacks of spices and kaleidoscopic rolls of silk — to the most-skilled haggler. There's even a track for people to 'test drive' horses before deciding to buy. I simply wandered around and watched people barter, gossip and play cards among the chaos.
Uyghurs from rural villages and towns lead their donkeys, sheep, goats, cows, mules and camels to the city's Sunday Livestock Market in the hope of trading them for profit. This same journey has been made every week for centuries, and little has changed in how the market operates.
This market was even more of a whirlwind than the bazaar, as people and animals made their voices heard. The animals are closely inspected by prospective buyers, and we watched a ritual that had probably been observed for hundreds of years. Those interested in purchasing a cow piled their money on the animal's back, the man with the highest pile claiming the prize.
Lake Karakul and the Karakoram Highway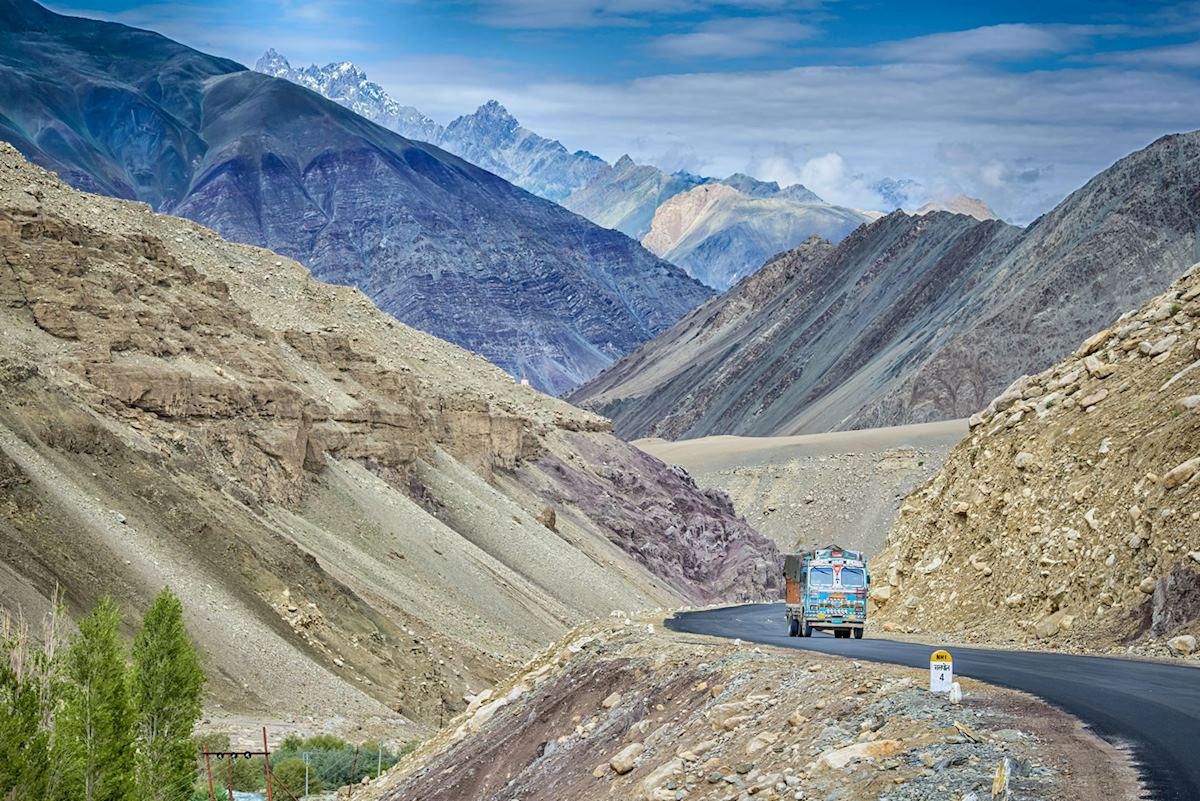 Karakoram Range
From Kashgar, you can drive part of the Karakoram Highway, which once formed a branch of the Silk Route. The highest paved international road, it stretches 1,300 km (800 miles) from Kashgar, across the Himalaya, to Abbottabad, Pakistan.
I was glued to the window as we passed through mountains draped in snow, climbing up to an altitude of 4,000 m (13,123 ft). After around four hours of driving the landscape opened up to reveal the vast, mirror-like Lake Karakul. I'd never seen a lake of this scale before. Its azure waters faithfully reflect the surrounding peaks, yaks graze in the foreground, and yurts are dotted around the shoreline.
Kyrgyzstan's scenery and culture
By Adam
After spending days in the arid landscapes of western China, Kyrgyzstan's vivid-green steppe grasslands, lake-filled alpine valleys and sky-punching mountains seemed all the more spectacular.
Getting to the border takes around four hours by car from Kashgar. The border controls can then take another hour or two. Our driver made sure it all went smoothly, and we entered the country through a Soviet-era iron gate on the Torugart Pass.
The pass takes you over the Tian Shan mountain range at an altitude of 3,752 m (12,310 ft). We then descended through the high steppe grasslands and into the valley of Tash Rabat. Up until this point we hadn't seen a great deal of wildlife, but as we drove deeper into Kyrgyzstan we passed wild horses grazing in herds, marmots scuttling across the rocks, and golden eagles and vultures circling in the sky.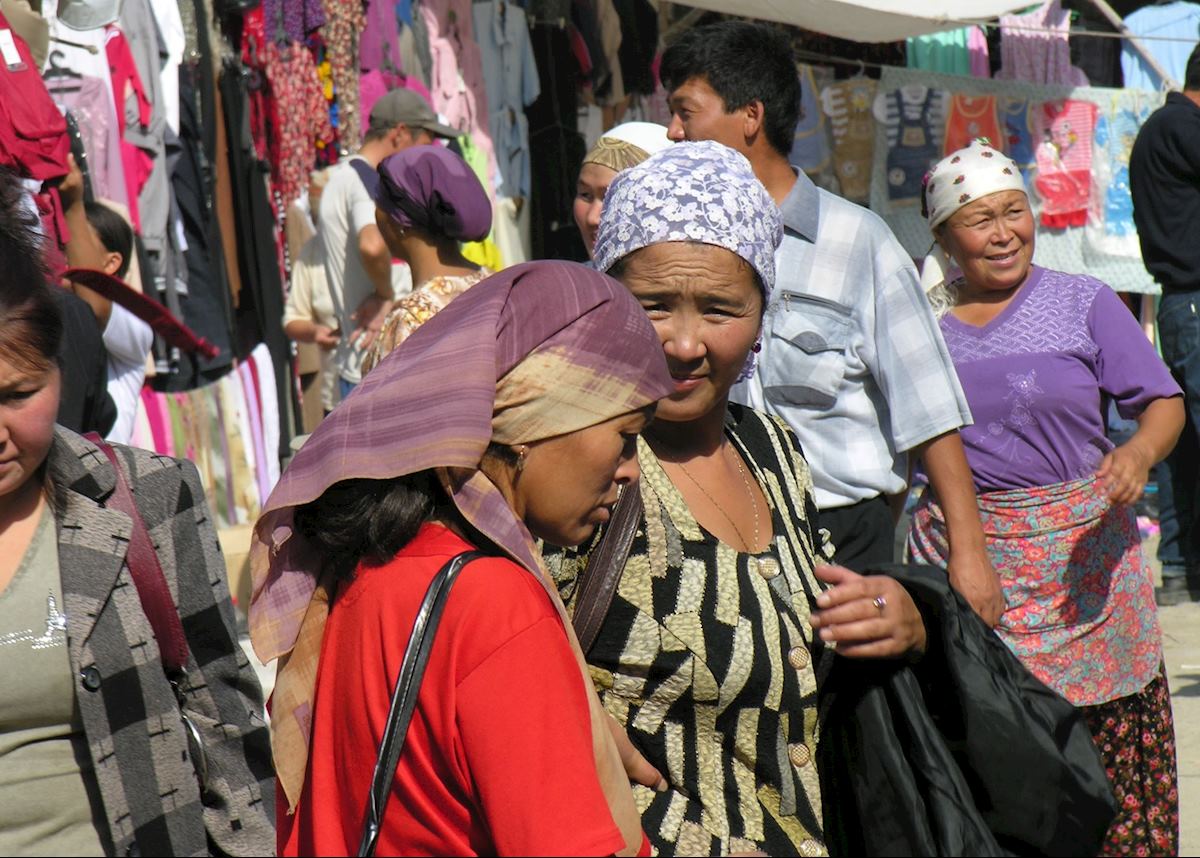 Kyrgyzstan market
Exploring Kyrgyzstan's nomadic culture
Hiking and horse riding are popular activities in Kyrgyzstan. But our trip focused on the country's people, many of whom have maintained a semi-nomadic lifestyle.
If you're visiting between June and September, you could spend a night in a traditional yurt on the remote shores of Lake Song Kol, which sits high in an alpine valley surrounded by snowy peaks.
The design of these domed felt structures hasn't changed for centuries, and they're cooling in the summer and a warm retreat during the harsh winters. They even appear on the national flag.
While facilities are very basic (there's no running water), staying in a yurt gives you a better knowledge and appreciation of this modest way of life. At night, you can gaze up at the inky, star-strewn sky, rising early the next morning to watch the sun rise over the lake and mountains.
If you don't have time to spend the night, you can still visit a nomadic family for lunch or join in with a local craft workshop. In the village of Kochkor in central Kyrgyzstan, we joined a felt-making workshop run by a lady called Fatima in her home. She shows you how to make bags, slippers or simple decorations from felt using traditional methods.
Afterwards, Fatima invited us to have lunch with her family. The food here has a heavy Russian influence — a result of the country's Soviet past — but also blends Chinese and Central Asian ingredients. We dined on barbecued mutton shashlik, nuts and raisins, and freshly baked bread.
Uzbekistan's Islamic architecture
By Nick
They may border each other, but Kyrgyzstan and Uzbekistan are worlds apart. The latter has a strong Middle Eastern feel and a drier, more barren landscape with a stark beauty. Yet many of its people lived through the not-too-distant Soviet years that's resulted in a more liberal attitude than other Islamic countries. On one evening in Samarkand we were out having dinner when a group of local people noticed we were on our own and coaxed us onto the bar-restaurant's dancefloor. We ended up sharing anecdotes (and a few shots of vodka) as we danced away the rest of the evening.
Islamic architecture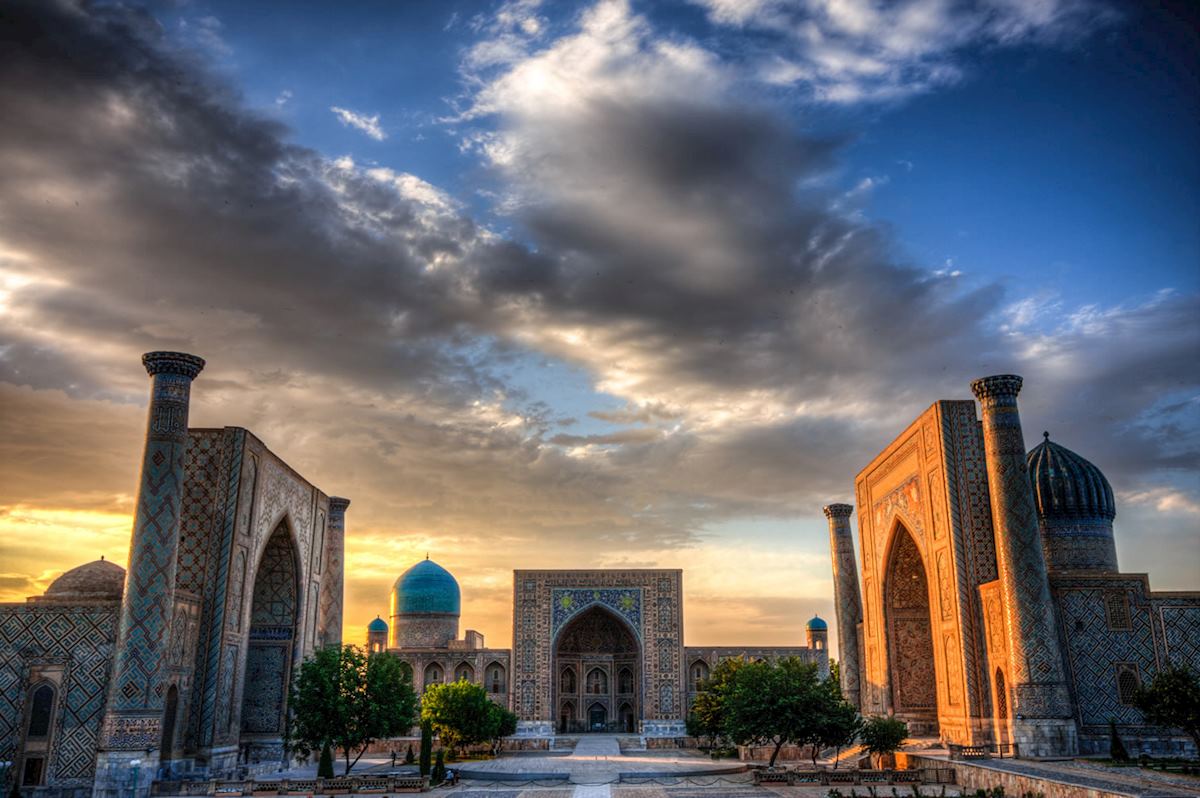 The Registan, Samarkand
Search for Uzbekistan online and you'll serve up images showcasing the country's intricately decorated mosques, madrasas and public squares. In places like Khiva, Bukhara and Samarkand, their blue domes and patterned mosaics stand out against the surrounding sand-toned structures.
Some of the finest examples can be seen at Samarkand's Registan. This centuries-old public square sits at the heart of the city and played host to royal announcements, public executions and important ceremonies over the years. Its trickling fountains, grassy quads and mosaicked flooring are framed by three large madrasas: Tilya-Kori, Sher-Dor and Ulugh Beg.
Built between the 15th and 17th centuries, the madrasas have towering minarets rising on both sides, huge domes, and archways that are symmetrically decorated with bright tiles. My guide pointed out the significance of the Sher-Dor's decoration: it uses images of tigers, despite the general rule in Islam that living beings shouldn't be depicted on religious buildings.
We dined in a restaurant overlooking the square; the madrasas were subtly illuminated against the night sky, children ran around playing, and we watched people coming and going below us.
Best time to follow the Silk Route
As you're covering a vast area, it's hard to travel at a time when everywhere is at its best. We recommend embarking on a trip along the Silk Route in April to early June or September to October, when it's warm but not uncomfortably hot like it is between late June and August. Avoid visiting during Chinese national breaks, when some places get very busy.
Practicalities of journeying along the Silk Route
Temperatures can vary dramatically, from the cooler, high-altitude regions of Kyrgyzstan where you might need a coat and hat, to the relentless heat of western China and Uzbekistan. It's a good idea to bring layers, plenty of sun screen and comfortable walking shoes.
There are little-to-no vegetarian food options for much of the trip. Dishes are generally not up to Western standards, but you're likely to try things you have never encountered before.
Be prepared for last-minute changes to your itinerary: not everything runs smoothly when visiting this region and there can be unexpected delays or closures.
If you want to travel the whole route in one trip, you need to set aside at least three weeks. However, you can opt to undertake smaller sections of the route.
Start planning your trip along the Silk Route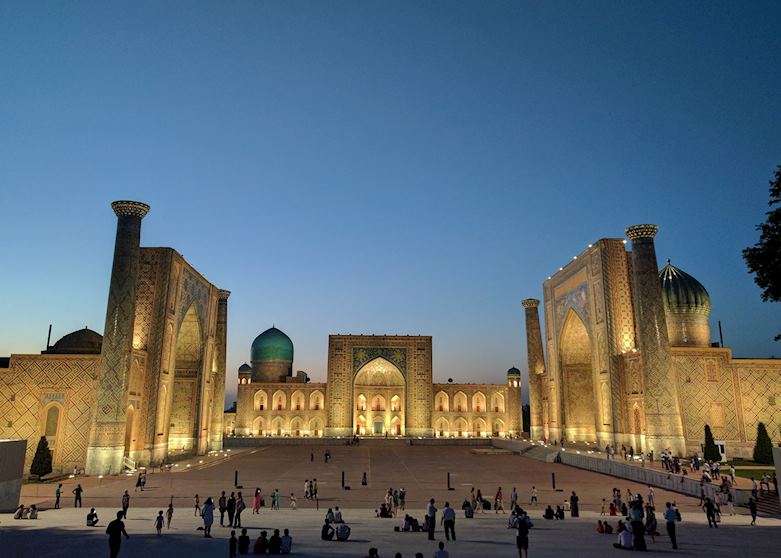 Uzbekistan and Kyrgyzstan
---
Start thinking about your experience. These itineraries are simply suggestions for how you could enjoy some of the same experiences as our specialists. They're just for inspiration, because your trip will be created around your particular tastes.