Stephanie's passion for travel first started while she was studying international relations in England, France and Italy, during her time at university. She has since been around the globe, visiting Africa, Asia, Australia, Central America, and Europe. Most notably, she spent a year in China teaching English, although she also took the opportunity to explored the country and became intrigued by the geographic and cultural juxtapositions.
After working in the retail industry in global sourcing, she decided to turn her love of travel into a career. Since joining Audley, she has had a chance to return to China, travel extensively through Sri Lanka and explore the Maldives.
When not planning her next adventure, Stephanie enjoys everything music related, discovering new food spots in Boston and doing anything active.
Speak to Stephanie

Start planning your tailor-made trip with Stephanie by calling
1-855-787-2148


Recommend Stephanie to someone you know
Help your friends and family discover the world with Audley. Recommend Stephanie today.
After travelling from Guilin along the Li River, I was blown away by the beauty of the limestone peaks, winding rivers, and lush farmlands of the surrounding countryside. There are countless ways to relax and discover the countryside.
My favourite memories include cycling along the riverbank, through farmlands and villages and then taking a bamboo raft down the Yulong River. Other memorable experiences include a cooking class and seeing the Liu Sanjie performance, which is an incredible water-based show from the choreographer of the Beijing Olympics opening ceremony.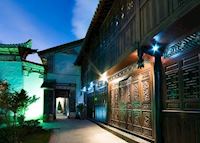 The Linden Center in the Yunnan province is one of the best places to discover the Bai culture.
Located in a small Bai village called Xizhou, the Linden Center allows you to truly immerse yourself in daily Bai life. A nationally protected heritage site, this small boutique hotel is built across four 150 year old Bai style courtyard, set in local farmlands. Newly restored, it offers modern comforts and spectacular views from the rooftop terrace. The activities here are endless, from cooking classes and village tours to tea plantation visits and local temple excursions.
No matter what you choose, you're guaranteed a unique cultural experience.
I'll never forget when…
My most memorable experience from my recent trip to China was a visit to the Songzanlin Monastery in Zhongdian, also known as Shangri-la. The Songzanlin Monastery is the largest Tibetan monastery in Yunnan and houses over 800 monks, one of which I was lucky enough to meet. The Monastery has a tangible effect on you and you can spend hours there soaking up the calming atmosphere, observing daily life of the resident monks, or admiring the 300 year old art and architecture.