By Alaska specialist Jon
As a wildlife destination, Alaska ticks all the boxes. You watch with bated breath as grizzly bears look for clams on the shoreline, just a few steps away. Cruise mountain-backed fjords to see humpbacks fluke and spout. And, staying in a wilderness lodge, you have the chance to kayak among sea otters or hike along forest trails recently trodden by bears.
Southern Alaska's coastline is typically where you'll see the most wildlife, thanks to its range of undisturbed habitats. But, drive along almost any of the state's near-deserted roads and you might come across moose taller than horses, black or grizzly bears feeding on grass verges and bald eagles tracing figures of eight overhead.
It's possible to cover a wide area of Alaska in a single self-drive trip, perhaps dipping into Canada's Yukon province along the way.
Wildlife experiences in Alaska
Roadside sightings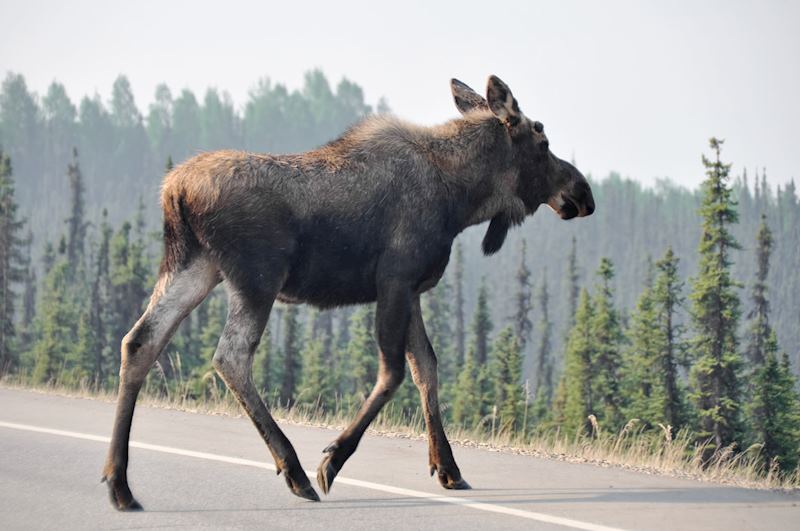 In Alaska, encountering wildlife can be as effortless as heading out behind the wheel and seeing what you come across. Some of my most memorable sightings have been at the roadside, and you soon get used to the feeling that a bear or moose could be around any corner.
Black and grizzly bears tend to emerge from the forests in June to graze on sedge grass along the roadside. Touring at that time, I pulled over to watch a mother grizzly and her three cubs taking advantage of the grass, which grows luscious and green on the verge in the increased sunlight.
On another drive between Seward and Homer, I was distracted by a couple of bald eagles flying just ahead of me when the unmistakable outline of a moose caught my eye. If you've seen moose in Canada before, expect Alaska's to be much bigger — known as giant moose, they grow up to 2 m (6.5 ft) tall, an evolutionary device to survive harsh winters and deep snowfall.
As I got closer to the moose — a female — I noticed she was with a calf. I pulled over and watched them wading in a swamp just to the side of the highway. Alaska's roads are near-empty most of the time, so more often than not you have sightings like this to yourself.
Bear watching in Katmai National Park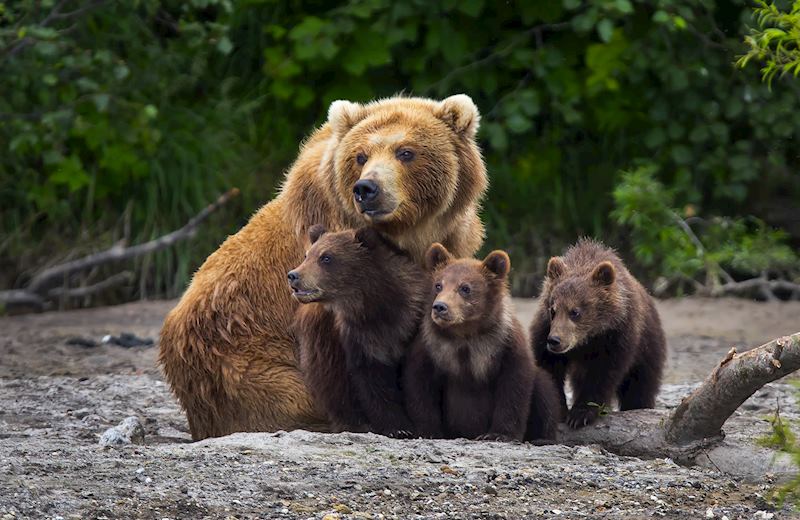 Seeing a bear from your vehicle is one thing. Seeing a group of bears, just a few steps away, while on foot is something else.
You board a small plane in Homer for the hour-long flight over to Katmai. Situated on a knobbly peninsula in the south of Alaska, the park supports thousands of grizzlies. The bears here are larger than those you see inland because they get first pick of the salmon.
There were just eight of us in the plane I flew out on, along with two guides, Zach and Josh. They told us about the area's wildlife and volcanic geology along the way. It felt more like an expedition than a tour as we flew over the island-speckled Cook Inlet and snowy mountain peaks.
Reaching the park's coastline, Zach and Josh told us to look down. I could just make out tiny dots along the beach — my first bear sightings of the day.
Immediately after landing, you feel that you've left human territory. We touched down directly on the beach in Hallo Bay. Glancing around at the mountains, shallow bays, grassy fields and rock-strewn sands, I couldn't help thinking I'd choose to live right here if I were a bear.
Our guides knew exactly where to lead us for our first close-up encounter with the park's residents, having spotted them from the air. After walking across the bay for just a few minutes, Zach signalled for us to stop and stay quiet. My heart skipped a beat as I followed his pointing finger to look upon a large female grizzly with three cubs, just a stone's throw away, sleeping in the grass. Our presence woke them and the mother stood up and looked at us, but soon decided we weren't a threat and proceeded to nurse her cubs in full view.
Over the next few hours, we encountered another nursing female with two cubs, as well as five more adult grizzlies farther inland. None of them batted an eyelid, so accustomed were they to our guides' scent.
Just before we left, we came across the huge paw prints of a large male grizzly in the sand — Josh explained that this particular male had been following the nursing female around in the hope of mating with her, but so far she'd managed to fend him off (males often kill cubs in their pursuit of a mate).
As well as Katmai, we can arrange bear-watching trips to Admiralty and Kodiak Islands. Or, during the salmon-run season (usually August), you can see bears fishing at Katmai's Brooks Falls on a dedicated viewing platform beside the river.
Humpbacks and orcas in Kenai Fjords National Park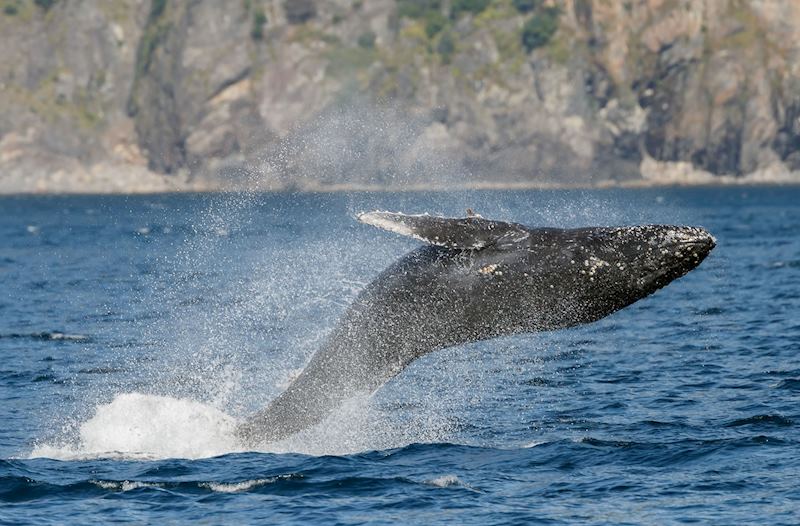 Just five minutes after departing Seward, we were still in Resurrection Bay when a voice on the boat's speakers told us to, 'look straight ahead — humpbacks.' We rushed to the railings just in time to see the colossal mouth of a humpback open up and gulp in seawater filled with krill and capelin.
Over the next 40 minutes, we watched five of them feeding, fluking and spurting plumes of water from their blowholes. Gulls circled above, waiting for scraps, and I could hear the whales swoosh through the water as they passed close to our boat. The on-board guides tell you whale facts, but they also know when to stay silent so you can fully appreciate the sighting.
It's easy to become solely focused on finding wildlife on this full- or half-day cruise through the Kenai Fjords, but the setting matches the experience. Mountains clad in snow are all around you, and there are glaciers up to 2.5 km (1.5 miles) wide. As we approached Aialik Glacier, I witnessed it calve a huge chunk of ice into the water with a satisfying roar.
About 20 minutes after our humpback encounter, we came across a raft of sea otters. Females tend to rest in these large groups, wrapping themselves in kelp to keep from drifting. Lounging on their backs while preening themselves, they looked as though they didn't have a care in the world.
Within the next couple of hours, I crossed off bald eagles, porpoises, puffins and Steller sea lions. But, my cruise was complete when someone called out that they'd seen water spurting in the distance. We waited expectantly for the next sign of life, unsure where exactly to look. Then, closer this time, the shiny black-and-white bodies of three orcas curved above the sea, spraying water into the air as if in celebration.
Spotting wildlife from a wilderness lodge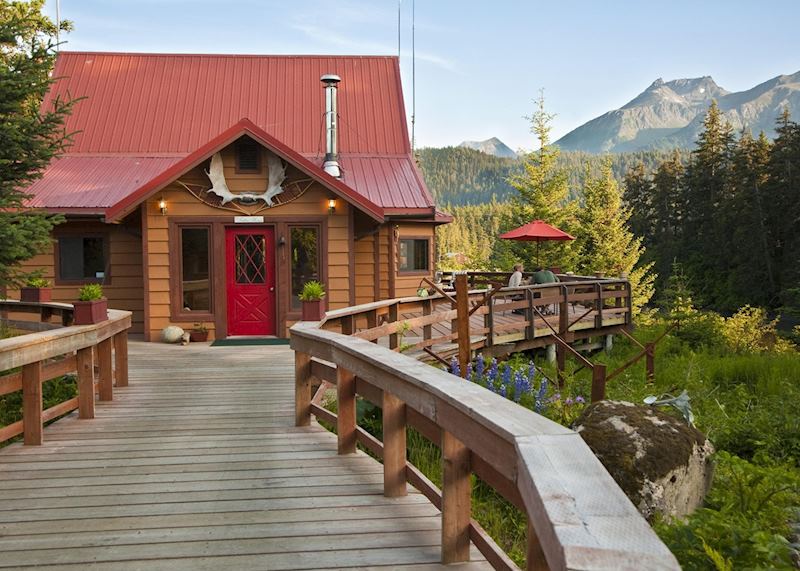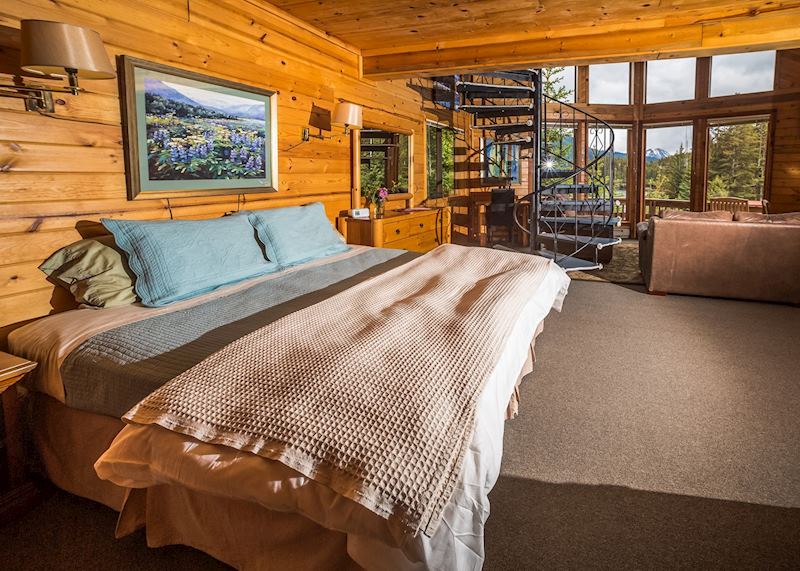 Alaska has a number of wilderness lodges, usually accessed by light aircraft or boat, that take advantage of the state's natural beauty.
I stayed at Tutka Bay Lodge, a 25-minute water-taxi ride across the bay from Homer (look out for orcas and humpbacks en route). The lodge is set beside the water in a secluded cove on the south-coast Kenai Peninsula. Old-growth Sitka spruce forest surrounds it, attracting bald eagles and black and grizzly bears.
There are just six cabins — some sleeping up to seven people — and no other properties in sight, so you feel as though you have the whole area to yourself. I woke early one morning to join a yoga class on the waterfront deck, taking in the sweet smell of pine, the bird calls and the gentle lapping of water against the shore. There's also a boathouse where you can borrow a kayak or rowboat and paddle around the sheltered cove (perhaps joined by an inquisitive sea otter).

The guides at the lodge are experienced in wildlife viewing and have an incredibly detailed knowledge of all things fauna (and flora). One of them, Dan, accompanied me on a three-hour walk through the forest and along the shoreline.
From identifying the type of animal dung I almost stepped in (it turns out we were following in the recent footsteps of a black bear) to pointing out a bald eagle's nest high in a tree, he helped to bring the landscape to life.
The highlight, though, was spending 20 minutes or so in the company of a large, male sea otter. Floating happily on his back, close to the water's edge, he didn't show any signs that we were intruding. He continued preening himself from head to tail, even taking time to clean his teeth.
Things to consider when viewing wildlife in Alaska
If you see wildlife when driving, stay in your vehicle — the mother bear and three cubs I saw would most likely have run away if I had got out of my car.
If you encounter a bear while out walking, remain calm — they aren't naturally aggressive. Keep still, and don't run. It's always best to hike with a guide who's able to read the situation and advise you how to behave. Avoid walking alone.
Best time for seeing wildlife in Alaska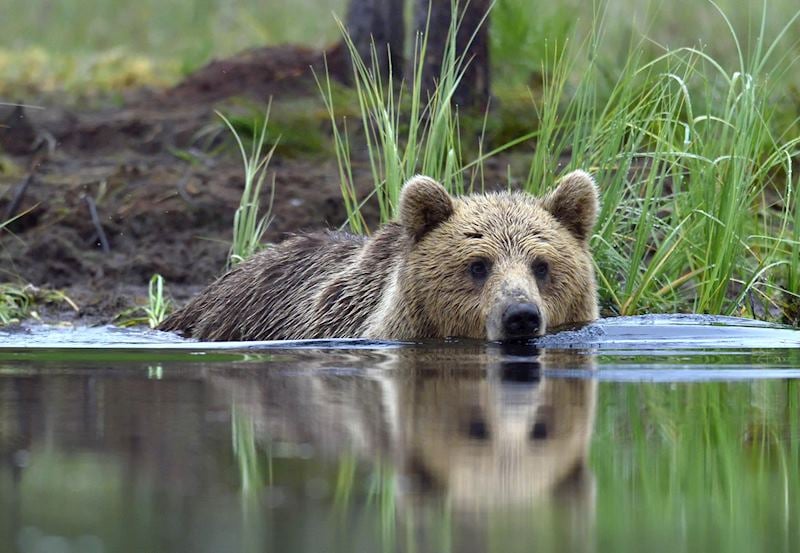 Due to its cold, dark winters, Alaska is best visited between June and mid-September. Bears are out of hibernation at this time, and humpbacks will have migrated into Alaskan waters for the summer.
Wildlife trip ideas in Alaska

Start thinking about your experience. These itineraries are simply suggestions for how you could enjoy some of the same experiences as our specialists. They're just for inspiration, because your trip will be created around your particular tastes.
View All Tours in Alaska